Just before 8:30AM, they start to assemble at Washington Park in Burlingame. On a shaded basketball court, a mixed age range of women (from mid-40s to two insanely fit 80-year-olds) unroll their mats the prescribed distance apart and strategically position water bottles and personal hand weights within easy reach. No mirrored walls, whirring exercise machines or TV screens here. Or pumped-in music. Instead, a natural soundtrack of birdsong accompanies the buzzy chatter of friends catching up.
"Alright, let's get started!" Eric Haugen calls out, fully knowing he'll have to repeat it a few times, given the lively conversation. "Arm circles," he directs, triggering a wave of arms reaching up towards the slightly hazy blue sky. Over the next three minutes, the group cycles through a familiar dynamic stretching drill of alternating knee hugs, quad grabs and lateral lunges, while Eric previews the never-twice-the-same workout ahead. "Today we'll be repeating circuits of three minutes of cardio, three minutes of lower body, three minutes of upper body and three minutes of core," he advises, as the final round of single-leg balances concludes. "Okay runners, you're doing the square park lap. Walkers, the triangle lap. Go!" In a staggered departure, shoes hit the pavement, winding past fragrant flowers and heritage trees.
This is the Burlingame edition of OutFit—just one of several Peninsula offerings that Eric has been leading since he launched his business in 1999. "OutFit is the contraction of outdoor fitness," he explains. "And an outfit is a team, it's a group of people working towards a common goal—the tenets are health, nature and community."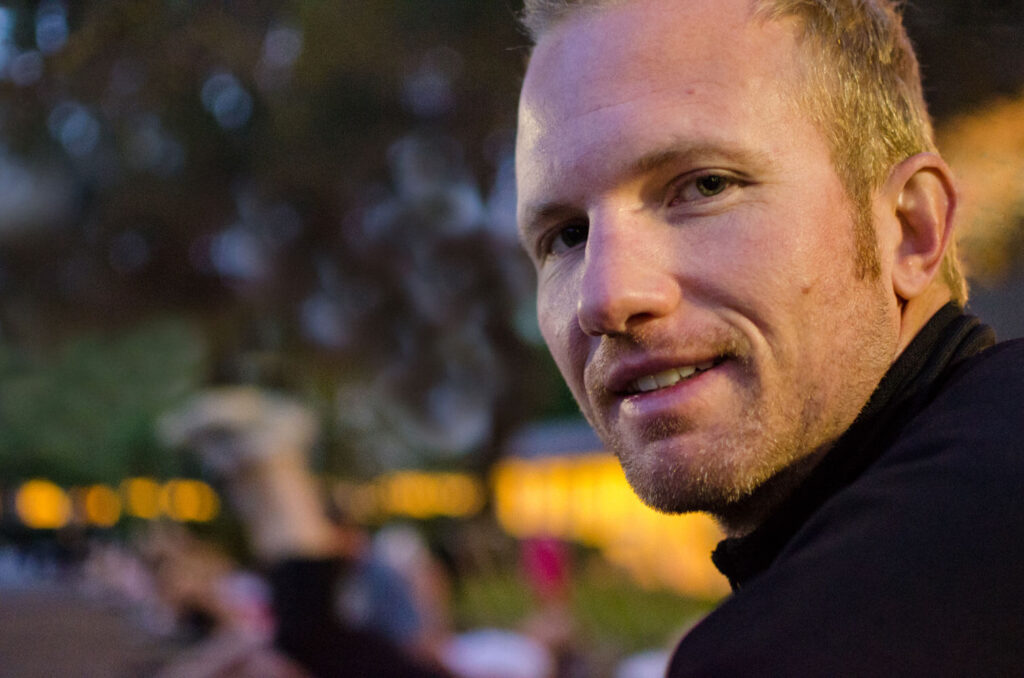 Along with more recent Zoom options, OutFit programs include 8:30AM and 9:30AM Burlingame classes, a 6AM Palo Alto class, Urban OutFit hikes and customized fitness retreats. They all share a common, vital ingredient: fresh air. "Being outside in nature is more energizing," Eric says. "There are so many studies that show how being outside can lead to decreases in tension and depression; you get that dopamine and serotonin release so there are mental as well as physical benefits."
When it comes to embracing outdoor fitness, Eric doesn't just talk the talk—he walks it, runs it, hikes it, climbs it and bikes it, with a passion sparked early in his South Bay childhood. Favorite memories include weekend outings to Alum Rock Park and Rancho San Antonio, cross-country running, mountain biking in the Santa Cruz Mountains and annual Half Dome climbs starting at the age of 12.
Eric headed off to UC Davis as a neurophysiology major, with his sights set on becoming a neurosurgeon. While there, he discovered road cycling, helping his Davis team win an NCAA national championship in 1994, which led to racing triathlons. When he found himself questioning his chosen path, he took a year off to reexamine his focus.
"I was contemplating, 'Do I really want to go to med school?' I wanted to save lives, but for some reason, exercise just kept calling to me," he says. "Then I realized I could help improve the quality of lives—I decided I wanted to help people prevent illness rather than treat illness."
Eric returned to Davis to complete a B.S. in exercise physiology with a minor in nutrition. After graduating, he moved to Palo Alto, where he built up experience as a personal trainer; however, working indoors didn't sit well with his soul. "I wasn't a gym guy," he reflects. "So I started an outdoor morning class on my own."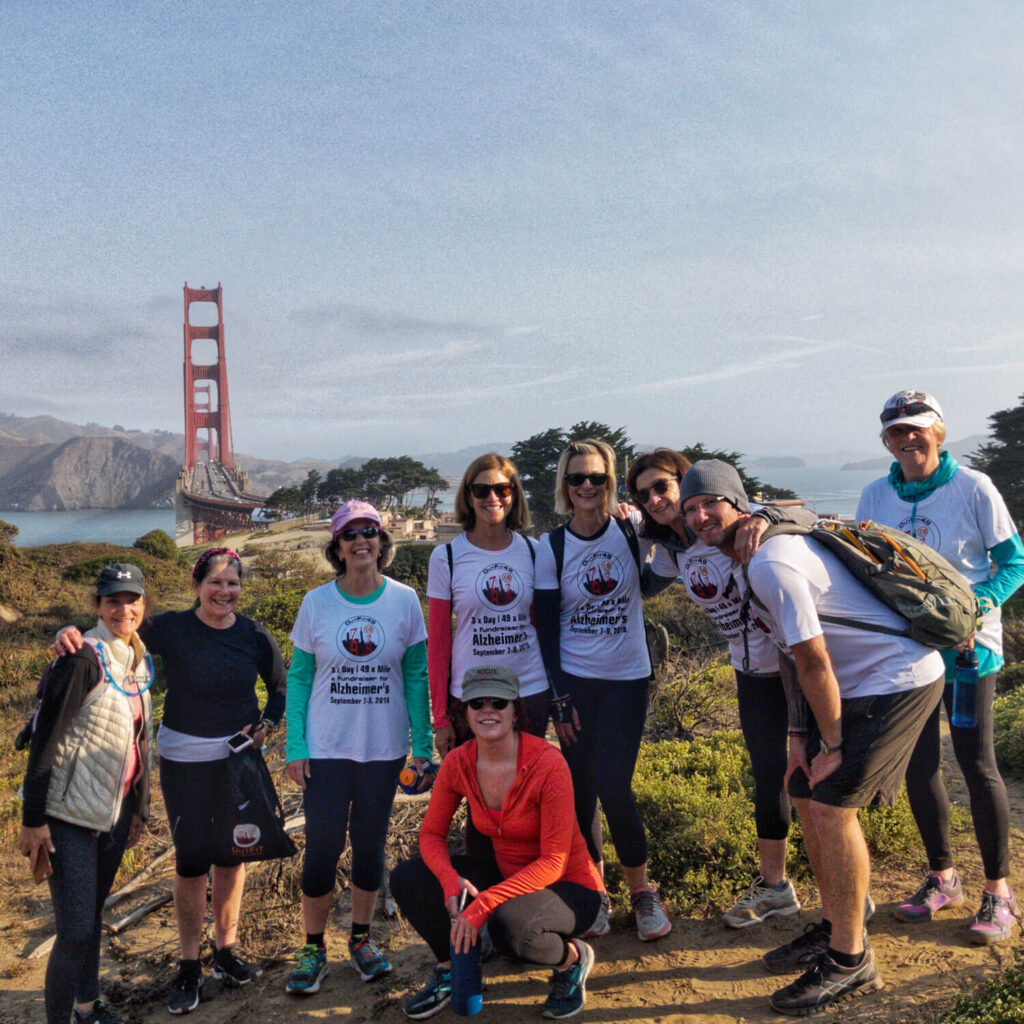 Morning, as in 6AM. Through referrals and word-of-mouth, Eric attracted a loyal crew—including a handful of original clients who still work out with him today. "OutFit is like a healthy Cheers," he jokes. "Where everybody knows your name." Initially meeting at Menlo-Atherton High School and then later migrating to Palo Alto locations, Eric crafted a signature blend of intermittent cardio and strength training—individualized (and easy to modify) workouts in a group setting. Targeted at "go-getters with busy schedules," his mixed-gender 6AM session offers additional side benefits: "We get to see the sunrise, and we're already crossing fitness off the list for the day, getting it out of the way early."
Burlingame classes followed in 2001. After Eric moved to Burlingame in 2003, he finally began exploring San Francisco. "Being in the shadow of the City, I just started walking all over and trying different restaurants and uncovering all this green space," he says. "I realized I had become 'Peninsulated.' I had been doing my routines on the Peninsula and I wanted to branch out beyond that."
In 2010, Eric devised a way to extend his favorite hobby into a new social-fitness activity. Drawing from 40 carefully-scouted routes—5 Peninsula, 25 San Francisco and 10 Marin—he launched Urban OutFit Hikes. "They're fitness hikes, typically 7 to 10 miles, and they're tailored toward people who live on the Peninsula," he says. "Whether you grew up here, or relocated, there's a good chance you've only seen a small slice of what's around us."
As an example, Eric's "Golden Gate Treasures" hike touts exploring "San Francisco's 1,000-acre national landmark… 2 windmills, 2 waterfalls, 10 lakes, a 450-foot hill, a 360-view of SF, bison and Janis Joplin's tree," followed by the option to have lunch at the Cliff House, Park Chalet or a picnic in the park.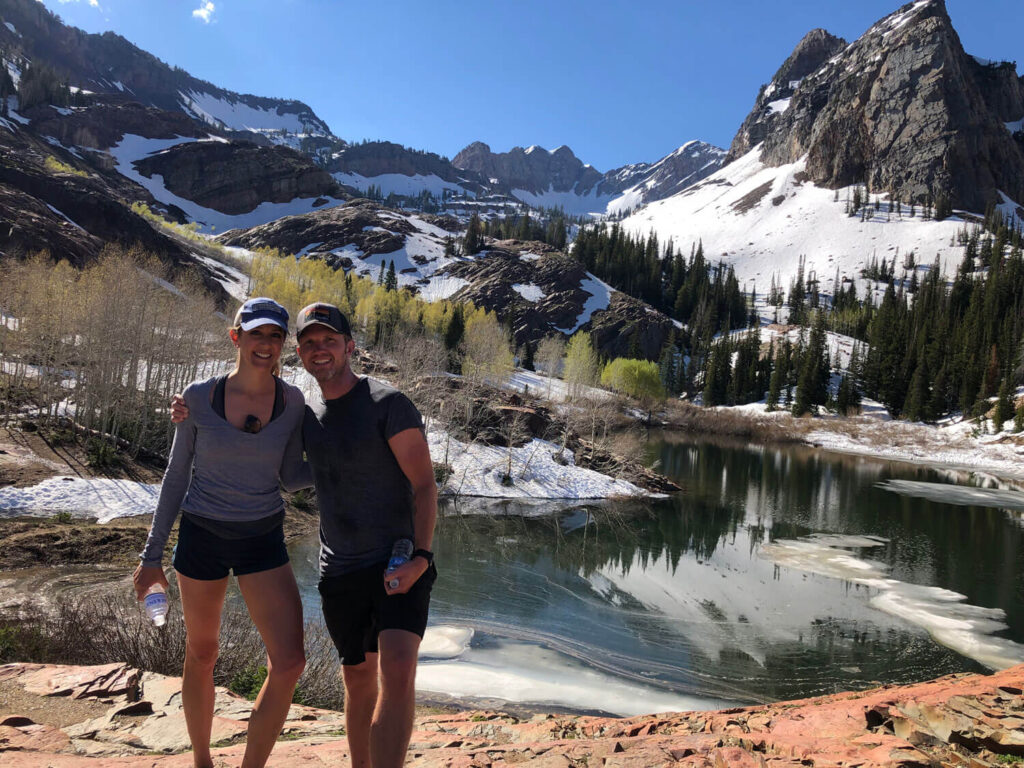 "The hikes are always evolving; I'm always finding ways to make them interesting," Eric says. "I love diving into the history. I'm usually up in the front talking about what we're seeing, but for the most part, people just like to blindly follow and not get lost and have a three-hour adventure seeing all kinds of cool stuff and connecting with other people."
In recent years, Eric's wife, Kate Oppenheimer, can typically be found at the back of the pack, happily tagging along and making sure the hiking group stays together. The two met online in 2013, which the pair finds amusing given that they lived a mile apart in Burlingame. "She's really into fitness too, but our paths never crossed," Eric says. "She's got the same spirit for adventure."
The two married in 2018, and Kate's expertise as an executive coach helped enhance another growing branch of OutFit—corporate and small-group retreats. "She focuses on personal development and I focus on fitness," Eric says, referring to offerings that range from customized day hikes to week-long programs in Kauai, Lake Tahoe and Yosemite.
With excursions of any distance curtailed by the COVID-19 outbreak, Eric feels constant gratitude for the breathtaking vistas that hooked him early in life. "The Peninsula is really an outdoor mecca," he observes. "You have the Bay on one side, you have the mountains on the other and you have the beach if you can get there. There are just so many options for people to get outside, to bike or hike or walk."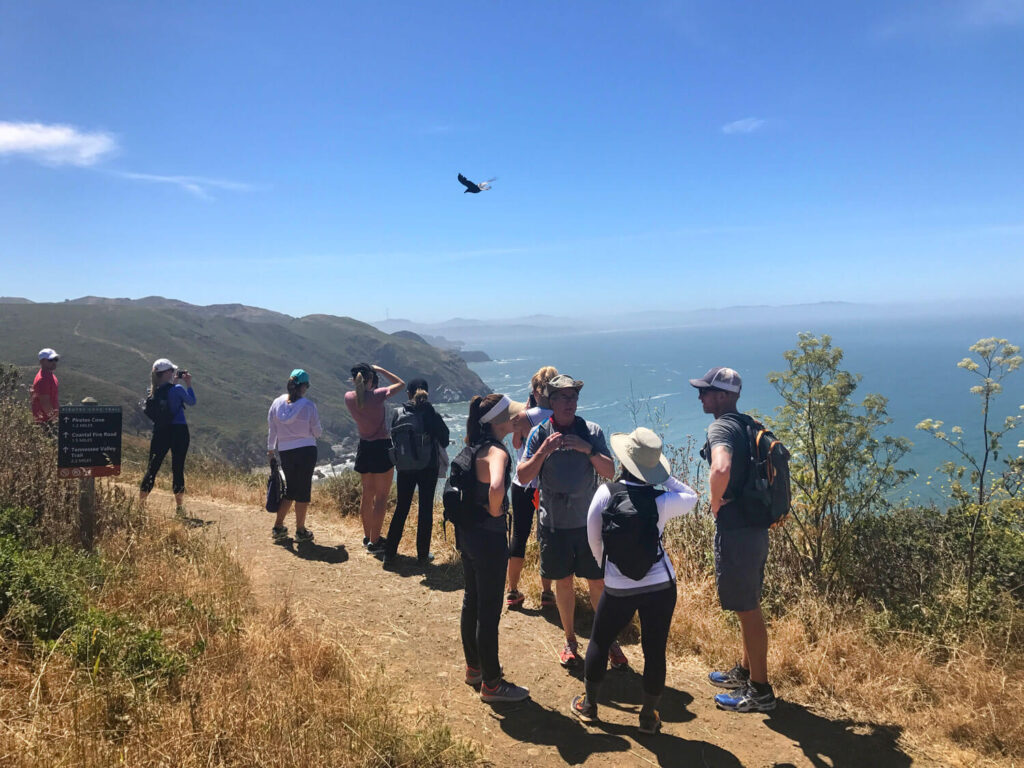 To that point, Eric references one upside to the recent constraints: an opening up of awareness. "People used to feel it was a chore to walk the dog around the neighborhood; it was just another obligation," he notes. "I'm seeing more people outside. Now it's an integral part of people's day, to escape their homes and get some fresh air and connect with nature."
Eric says he's continually adapting OutFit programs to ensure safety and abide by recommended protocols and guidelines. Recognizing that indoor gyms will make a slower comeback, he's working with fellow trainers Vicky Ferreira and Josh Edick to provide additional options in the unbound space of the outdoors. "We are already equipped to get people outside," Eric says. "We see a huge opportunity to grow OutFit as a company and have a bigger impact on people's lives."
Back in Burlingame, the group is returning from a three-minute cardio circuit, and Eric is primed and waiting. "What do sprinters have for breakfast?" he asks, as water bottles are lifted and gulped. From the bemused (and indulgent) expressions, the group clearly knows what's coming. "Nothing. They fast!" Eric retorts, to a smattering of laughs and groans. "I try to keep it positive, especially in this environment—no politics or current events," he confides later. "I always have a stupid joke, some piece of trivia or some talking point to get people engaged. I want them to leave class feeling better—not just physically but mentally and emotionally too."
Sample Urban OutFit Hikes:

+ SF Summits 

+ Stanford Campus

+ Mission Murals

+ St. Paddy's Day 

+ Rags to Riches

+ Heart of the City

+ Tourist's Delight 

+ Golden Gate Treasures

+ Hidden 'Hoods

+ The Outside Lands

+ The Barbary Coast

+ Batteries & Bluffs

+ Blue Angels

+ Holiday Lights