Words by Sheri Baer
"We call this our panoramic patio," says Heather McGrail, as she pours the third entry on the tasting menu, a 2018 Cabernet Sauvignon Reserve. The first sips register well-rounded and smooth, as we relax into the expansive views and soft hilltop breezes. "Just northwest, you've got Mount Diablo, and then farther west, that's obviously San Francisco," Heather gestures in the distance. "When you look out to the northeast, you have the windmills and the Altamont Hills."
As one of the owners of McGrail Vineyards and Winery, Heather's roots run deep in Livermore Valley. Even so, it wasn't her plan to stay here. "When I left for college, I was never coming back to this cowtown, those were my words," she laughs. "And here I am, raising my three children here. But it's changed so much—it's amazing."
Less than an hour's drive (steering clear of commute hours) from the Peninsula, Livermore Valley is elbowing its way out of the shadow of Napa and Sonoma. Founded in 1869, this East Bay enclave is one of California's oldest wine regions but struggles to get the attention it deserves. "We've really grown up as a wine country," observes Heather. "We're getting busier every day, and I think we're at this beginning phase of a Livermore Valley wine renaissance."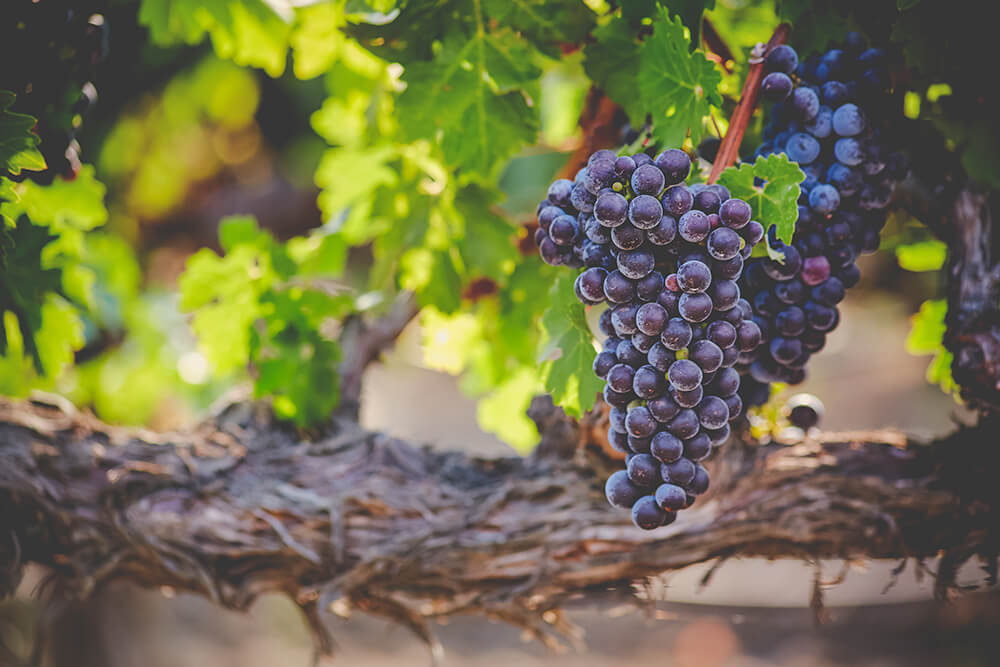 Photos: Courtesy of Wente Vineyards, Ron Essex Photography, Lukas Plato
The Allures of Livermore Valley
Recognized as the birthplace of both California Chardonnay and Cabernet Sauvignon, Livermore Valley attracted pioneers in the 1840s looking for ideal conditions for growing grapes. Local rancher Robert Livermore (for whom Livermore is named) planted the first commercial vines in the region, followed by notable early winemakers C.H. Wente, James Concannon and Charles Wetmore, who founded wineries in the 1880s. Steeped in viticultural history, Livermore Valley's present-day enticements include tasting opportunities of over 30 wine grape varietals at more than 50 wineries, quaint downtown streets with boutique shops, miles of walking/biking trails winding through vineyards, an olive oil farm and a slew of restaurant, brewery and distillery offerings.
Ground Your Stay at the Purple Orchid
Although easily doable as a day trip, an extended stay in Livermore Valley offers a relaxing backdrop to refuel (not just on wine) and unwind. In this geographic oval bowl punctuated by seven cities (Danville, San Ramon, Dublin, Pleasanton, Sunol, Livermore and parts of Castro Valley), you'll find familiar hotel chains and a sampling of Airbnb offerings, but Livermore's Purple Orchid Wine Country Resort & Spa is the region's sparkling gem. Surrounded by rolling hills and vineyards, Derek and Rhiannon Eddy play host at this 9,000-square-foot log cabin-style property set amidst beautifully landscaped grounds and acres of olive trees.
The couple put down stakes here 12 years ago as they contemplated starting a family. "We liked the small-town charm of Livermore and there's really no place we'd rather be," Derek says. "When we got here, the downtown was just beginning to come into its own and the wineries have continued to up their games and produce some world-class wines."
As a popular wedding venue with ten guest rooms and suites, Purple Orchid books up quickly, so planning ahead is essential. Stays include a full breakfast as well as an early evening "Gathering Hour" featuring local wines and a cheese board accompanied by Purple Orchid's own olive oil.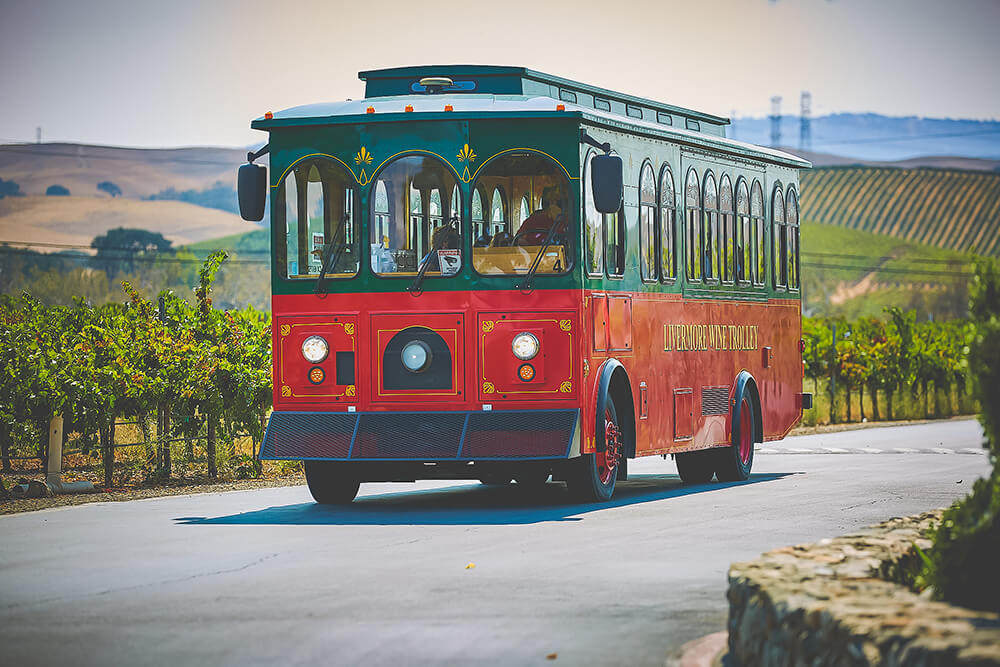 Wine Tasting With a Relaxed Vibe
As Livermore Valley looks to differentiate itself as a wine region, descriptors like "approachable," "unspoiled" and "not stuffy" consistently get touted. "We take our winemaking seriously here, but we don't take ourselves too seriously," explains Steven Kent Mirassou, a sixth-generation winemaker from San Jose who uprooted to Livermore Valley to launch The Steven Kent Winery with his father. Now, with four separate brands, including the winery's flagship Lineage, Steven partners with the seventh generation, his son, Aidan, to elevate Livermore Valley's winemaking reputation.
"We've got all of the conditions that lead to potentially great fruit," remarks Steven, as he savors a Cabernet Franc. "There is something immensely joy-producing and challenging about trying to make world-class quality wine." In three distinct settings—The Cellar, The Salon and The Patio—The Lineage Wine Collection presents "experiences" for sampling both crisp whites and bold reds. "We like to teach about wine," Steven says. "We like people of all experience levels to come here and grow with us."
As the oldest continuously-operated, family-owned winery in the country, Wente Vineyards offers an expansive Tasting Lounge for exploring small-lot, award-winning wines. Murietta's Well, named for a local Gold Rush bandit, is also part of the family's estate. Murietta's Well wine ambassador Suzie Sylvia moved to Livermore in 1988. "This used to be Timbuktu," she comments, as she delivers a tasting flight and charcuterie board. "It's exciting to see all the changes."
With a large barrel room and picnic grounds, family-owned Darcie Kent Estate Winery offers sweeping views of the surrounding hills, along with artwork created by painter and fifth-generation vintner Darcie Kent. At McGrail Vineyards' hilltop tasting room, Heather McGrail embodies the theme of taking the "snobbiness" out of wine tasting. The winery's grassy picnic area is a popular gathering spot with events ranging from "Music in the Vines" to "Vinyasa and Vino." "When you come wine tasting, it should be fun," stresses Heather.
With more than 50 wineries dotting Livermore Valley, it's still possible to drop in for tastings, but reservations are recommended if you have a specific destination in mind. For a scenic ride through rolling hills, oak trees and vineyards, bring your bike and explore eight miles of paved trails winding through 16 of the wineries. Or make the Livermore Wine Trolley your designated driver for wine tastings paired with savory bites and local insights.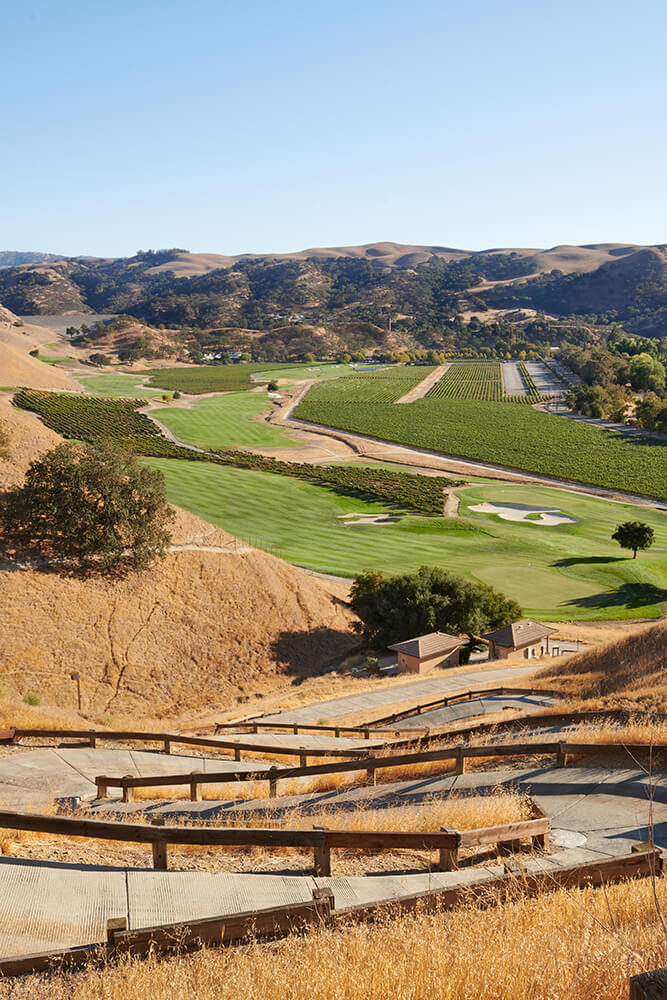 Sample Estate-Grown Olive Oil
The same Mediterranean-like climate that nurtures Livermore Valley vines also provides the perfect conditions for olive trees. Established in 1881, Olivina has been owned by the Crohare Family since 1939. "We are just stewards of the land," imparts Charles Crohare, who teams with his father to grow, harvest, mill and bottle California extra virgin olive oil on the historic estate. With 11,000 olive trees in production and a state-of-the-art Italian olive oil mill, Olivina opens its tasting room to the public every third Sunday of the month from Noon-4:30PM. "We love sharing our olive oil and the history of the land," Charles says, as he pours a small sample with a peppery finish. Private tours are also available by appointment.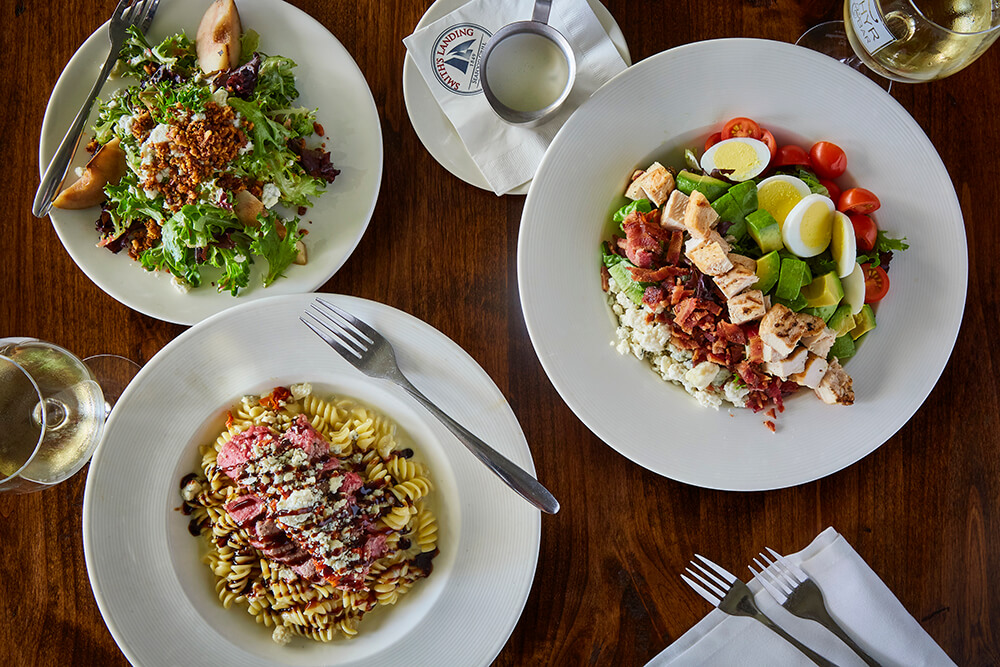 Foodie Culture and Other Libations
"We didn't even have a Taco Bell," exclaims Suzie Sylvia, when we ask how Livermore has evolved since she moved here. Today, Livermore Valley is a foodie and libation haven with an eclectic mix of restaurants, breweries and distilleries. Interwoven with boutique shops, downtown Livermore reveals lively sidewalk dining options, outdoor beer gardens, artisan coffee shops and bakeries. Upscale mainstay Zephyr Grill & Bar features classic and contemporary American cuisine. We opted for potato-wrapped halibut and a delicious grilled asparagus salad finished with a drizzle of Olivina olive oil. With both outdoor patio seating and striking indoor decor, Uncle Yu's at the Vineyard is another local favorite, blending innovative Asian cuisine and a Wine Spectator award-winning list of 600 wines. We indulged in the Chef & Sommelier's five-course tasting menu and smiled when the Wagyu short rib medallions came paired with a McGrail Vineyards selection.
Under the shade of terracotta umbrellas, we enjoyed a midday lunch break at Garré Café, surrounded by vineyards and gardens. Range Life, an inspired neighborhood spot owned by husband and wife team Bill and Sarah Niles, attracts devout fans. Situated in an historic brick carriage house, the locally and seasonally focused eatery has earned Michelin Bib Gourmand recognition.
Other tips we picked up: Posada for contemporary Southwestern cuisine, Sauced BBQ & Spirits for slow-cooked Southern barbecue and Bar Quiote for artisanal spirits and inventive gourmet hot dogs. Stop by Sidewinder Distillery for a craft spirits offshoot of Livermore winery Occasio, or if hops are more to your taste, local spots include Pennyweight Craft Brewing, Altamont Beer Works, Shadow Puppet Brewing Company and Homegrown Hops Brewing.
Add In Some Action
Wine taste. Eat. Wine taste. Eat. With all that consumption going on, Livermore Valley offers plenty of ways to expend some energy too. You'll find numerous golf courses here including The Course at Wente Vineyards. Cap off a round with lunch at The Grill overlooking scenic golden hills and all the action on the 18th hole. Walk, bike, hike or jog through the 847-acre Sycamore Grove Park or explore a network of multi-use trails that traverse the area. Heather McGrail tipped us to one of her favorite hikes—a steep uphill trail that leads to panoramic views of Lake Del Valle. Keep in mind, Livermore sees spikes of summer heat, but it also gets breezes sweeping in from the Bay with temperatures that dip in the evening.
Accessible and laid-back, Livermore Valley is finally building genuine buzz as a wine and dine destination. "One thing people always say is they are shocked by just how close we really are," says Derek Eddy at the Purple Orchid. Steven Kent Mirassou echoes the sentiment. "The beauty of this place is three miles off the freeway," he points out. "And there's a feeling that we're on the cusp of things—Livermore has a sense of hipness and cool that it has never had before."