Words by Sophia Markoulakis
Highway 116 cuts through groves of redwoods and glistening fields of ferns with fresh dew. Winding our way through the intense greenery and towering redwoods of the Russian River Valley, we felt like we were entering Fangorn Forest, Tolkein's mythical place where trees come alive and hobbits thrive.
The Russian River Valley and the towns that dot its landscape were established during the late 1800s when the San Francisco and North Pacific Railroad built tracks to transport lumber, and later tourists, down to San Francisco and back. For the last hundred years, as industries evolved, towns like Guerneville, Forestville and Monte Rio have seen their fair share of subcultures latch on in these parts, only to be uprooted by the next flock or fad. But, the pursuit of physical and spiritual wellness remains a big part of the Russian River Valley, and it tethers many members of these communities to the area. Although the meandering flow of the Russian River is a magnet for those looking to escape the summer's heat, during the winter, the region tends to go dormant and allows visitors to see a more authentic Russian River Valley.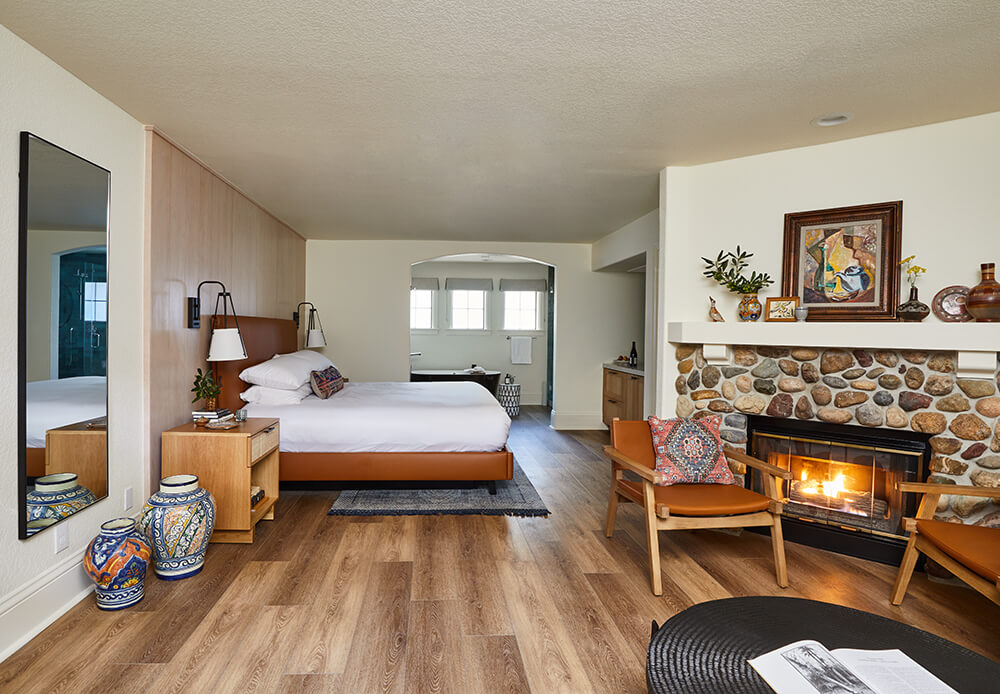 Wellness Oasis
The Stavrand Russian River Valley, a newly refurbished boutique hotel in the heart of the valley and minutes from Guerneville, provided us with the ideal location to explore the area and indulge in wellness offerings. The Stavrand's new ownership is spearheaded by Emily Glick, a Kimpton Hotels veteran with a lifelong love of travel and exploration. Emily didn't set out to acquire a property. She was seeking a creative outlet when COVID-19 forced the closure of the San Francisco Kimpton she was managing. The Spanish-Revival property, formerly the Applewood Inn, was on the market and too good to pass up. The Stavrand opened in September 2021.
The project encompassed an overhaul of all outdoor and indoor public spaces, including the 21 rooms that occupy three buildings—Belden, Cazadero and Armstrong. Belden, built in 1822, remains the most aesthetically tied to its past. Cazadero and Armstrong, built more recently, carry a coastal-warm California vibe with Talavera tile-surround fireplaces, natural fiber rugs, birchwood headboards and leather seating. It was important for Emily and the team to create a luxury boutique property that had all the amenities of a one-of-a-kind wellness experience, from outdoor private cedar-soaking tubs and s'mores-equipped fire pits to resort-like splurges including a private chef and the use of bikes and kayaks. "We used a whiteboard to work through how to be the best in every type of property—be it a boutique hotel, resort or even an Airbnb," Emily says.
Our room, in the Armstrong building, had unobstructed views of towering redwoods from windows and a balcony and was outfitted with comfortable seating for two and enough room for morning salutations. A memory foam-topped king bed with luxury linens, a tile-surround soaking tub and warm wood floors tempted us to linger; but we had exploring to do before dinner.
Minutes from the property is the iconic Armstrong Woods. It's hard not to notice remnants of the fire on the forest floor left behind from the August 2020 Walbridge Fire. But, the 1,400-year-old redwood Colonel Armstrong was saved and remains the park's main attraction. As we explored some of the three trails that are currently open—the Pioneer Trail, Armstrong Nature Trail and Discovery Trail—we met up with a docent from the Stewards of the Coast and Redwoods, who shared his perspective that fires are necessary for the forest's ecosystem.
We made it back to the property in time to enjoy a fresh blueberry cocktail that Emily was mixing up in the central courtyard, opposite the outdoor guest reception desk. We chatted about the history of the property and then carried our drinks up a string-lit trail to an upper meadow and enjoyed the sunset accompanied by a family of deer who seemed oblivious to our picture-taking.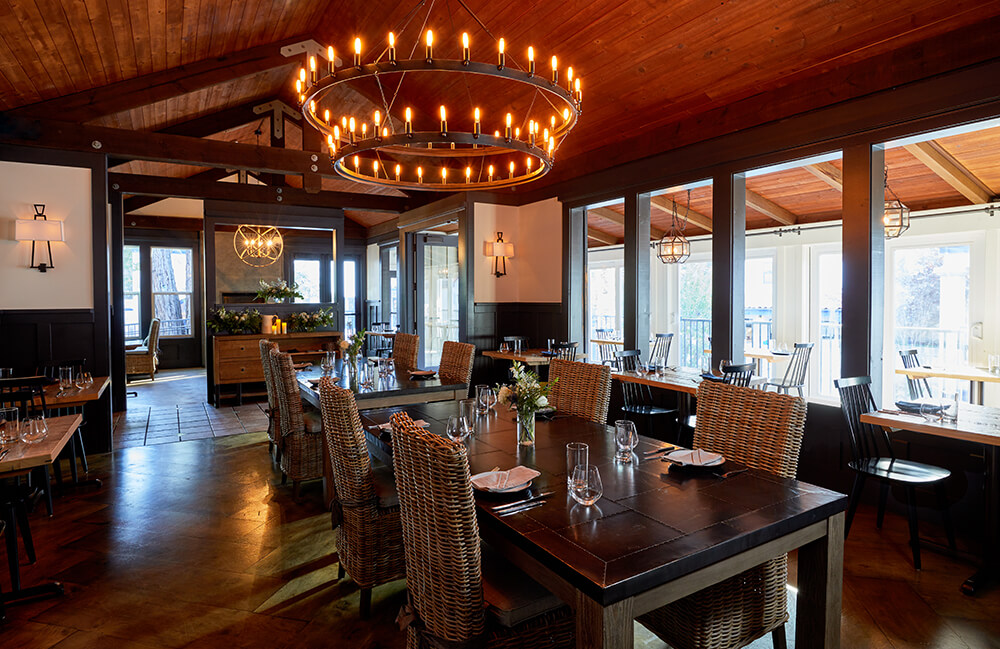 Intimate Dining
Every night there's a different three-course, wine-pairing menu and our dining experience was on par with the area's most coveted reservations. The property's seasonally-driven culinary program is rooted in a dedicated year-round orchard and vegetable garden that provides healthy fresh provisions from Chef Jeremy Clemens and his team.
Breakfast was just as stellar as dinner, and the vanilla-lavender bacon and a local egg scramble with house-made chili sauce was perfect fuel for our morning hike on the Pomo Canyon and Red Hill Trail. We started at the Jenner Beach parking lot and hiked the Pomo Canyon Trail to the fork, where you can either continue on or loop back to the beach via the Red Hill Trail. No matter which route you choose, you'll have spectacular views of the ocean and walk through redwood groves.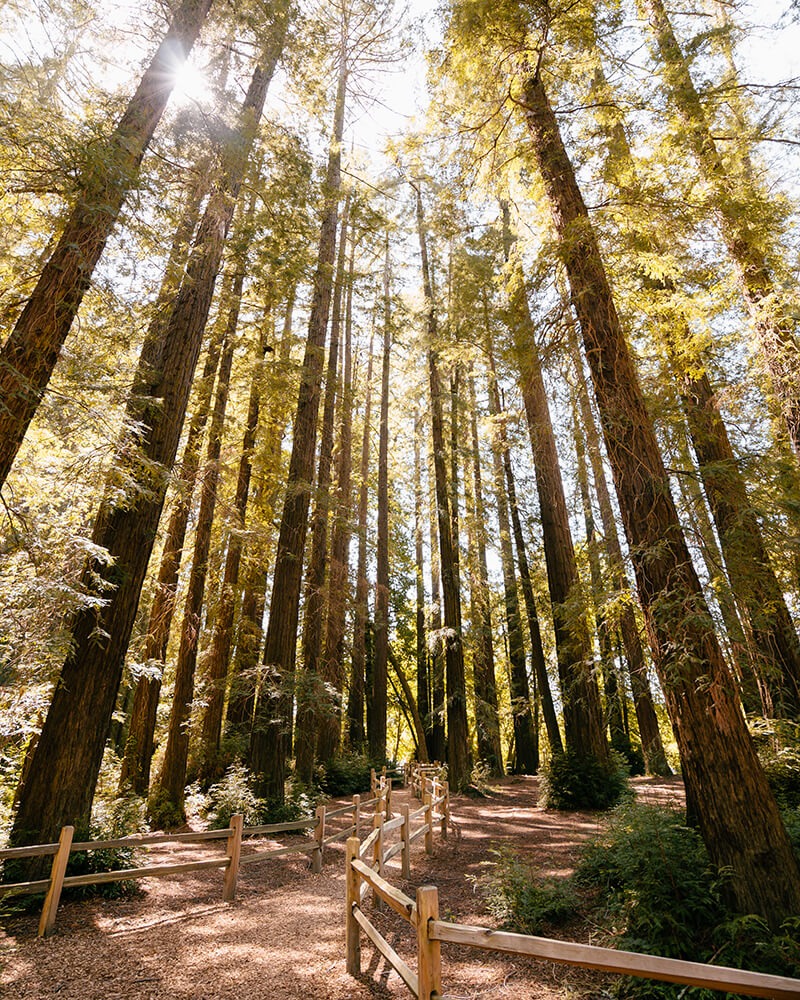 Spa Spectacular
A well-earned spa reward was now in order, and we headed inland on the River Road and made our way to Forestville's Farmhouse Inn and Wellness Barn. In 2021, brother and sister co-owners, Joe and Catherine Bartolomei, hired Irisha Steele to revamp the spa and its treatment menu. "I learned the essence of Sonoma County while building this out," says Irisha, who last headed up the Remede Spa at Aspen's St. Regis Resort. She sourced retail and treatment products locally and had Sebastopol-based Sumbody Skincare create a custom body oil infused with flowers and herbs that are grown on the property. "Our custom blend reminds me of Farmhouse first thing in the morning. I'll wander with my cup of coffee and take in the scents. We were able to put that fresh forest smell in a bottle," she says. "It's very grounded and peaceful."
I opted for Gems and Stones, which incorporates a therapeutic massage with warm basalt stones and cool gemstones treated with different infused oils. After 90 minutes, I felt simultaneously relaxed and rejuvenated, thanks to the circulatory effects of the cold and hot stones. It was hard to part ways with the Wellness Barn and its indoor-outdoor vibe, heated marble floors and cozy fireplace; but as with all escapes, it was time to relinquish ourselves to reality and return home.