Words by Jennifer Jory
Stepping off the plane into the high-desert landscape of Santa Fe, I am greeted by lights from pueblo-style homes dotting the distant landscape. The faint smell of New Mexican piñon (pine nut) wood fires hangs in the air as I set a course for the heart of town, Santa Fe Plaza. For travelers coming from the Peninsula (fly direct to Albuquerque followed by an hour drive or book connecting flights from San Francisco or San Jose), Santa Fe offers adventurers a centuries-old culture that celebrates art, architecture and food.
To get the inside scoop, I connected with Hillsborough transplant and art history buff Heather Weir, who traveled to Santa Fe for years until she and her husband eventually made it home. "Santa Fe isn't like the Southwest. It feels like an international city," describes Heather. "It has 400 years of Spanish influence and 1,000 years of indigenous culture. People come from all over the world for the art and art festivals."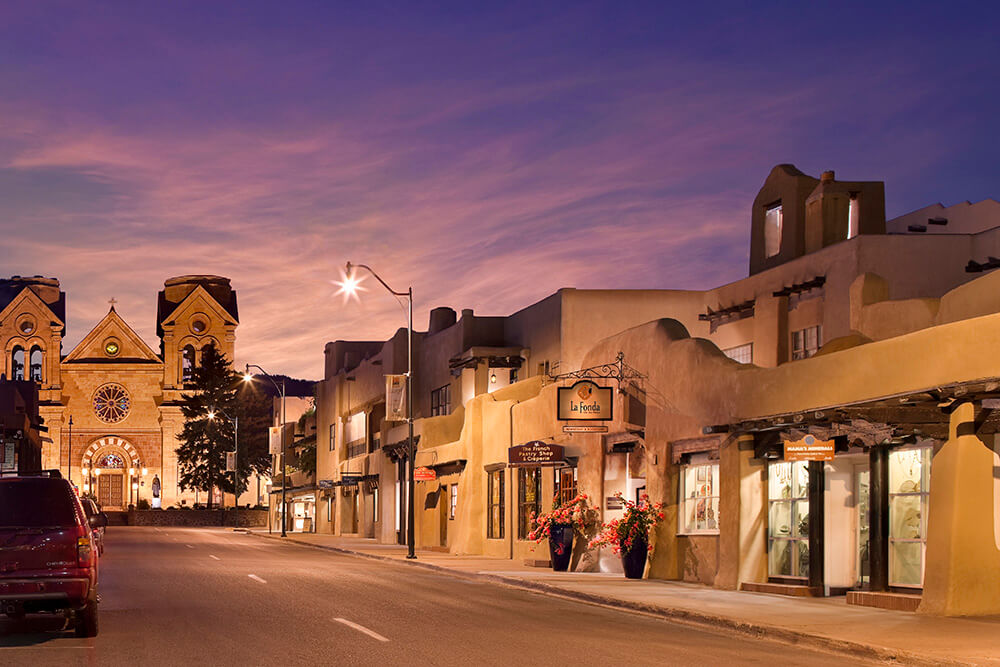 Courtesy of La Fonda on the Plaza
Where to Stay
Located right on Santa Fe Plaza, La Fonda on the Plaza is the perfect jumping-off place to explore the city on foot with easy access to museums, galleries and restaurants. As I wander the hotel halls that are chock-full of museum-quality art, I feel as though I have stepped back in time. The hotel marks its 100th anniversary this year, but an inn has been located on this site for 400 years throughout Santa Fe's storied past as a Spanish and Mexican territory. "La Fonda is the heart of the city," emphasizes Heather. "Locals and visitors love to meet here." Accented with authentic carved timber-beamed ceilings, the hotel spans a block in the center of town and includes a rooftop bar.
The ambience of Santa Fe's pueblo-style accommodations adds to the charm of the city, and rooms often include wood fireplaces with authentic Spanish furnishings. "Since the early 1900s, city code dictates that buildings can't be taller than four stories," adds Heather. "They also must be the color of the earth." Just around the corner, the Rosewood Inn of the Anasazi offers close proximity to the center of Santa Fe. Nearby, The Inn of the Five Graces also provides high-end accommodations designed in a bold fiesta of color throughout. Visitors who prefer a resort experience can stay five minutes from town at the landmark 300-acre Auberge Bishops Ranch, where guests can take in a sunset view by the fire on the patio.
What to Do
From the Plaza in the center of town, we walk a block to the Cathedral Basilica to experience a free concert by the Santa Fe Symphony Chorus. Built in 1869, the Cathedral's hand-painted arches and walls graced with oil paintings from the 1700s create a sublime setting to take in a concert. "An important part of the culture in Santa Fe is music," explains Heather. "In August, locals and visitors congregate for free concerts in the square several nights a week." In addition, the Santa Fe Opera's summer performances draw people from all over the country to its venue outside of town set in an iconic New Mexican landscape.
After the concert, we stroll a few blocks to the Palace of the Governors, where we connect with local Native Americans selling their jewelry and pottery under the portal. "Jewelry sold here must be real silver and local turquoise," notes Heather. "Artisans are chosen through a lottery system and vetted by the New Mexico History Museum." In the summer, one of the most celebrated and renowned events for Native American art enthusiasts is the annual Indian Market, drawing artisans from all over the West to showcase and sell their work. The Folk Art and Spanish Markets are also popular summer festivals for fans of these traditions.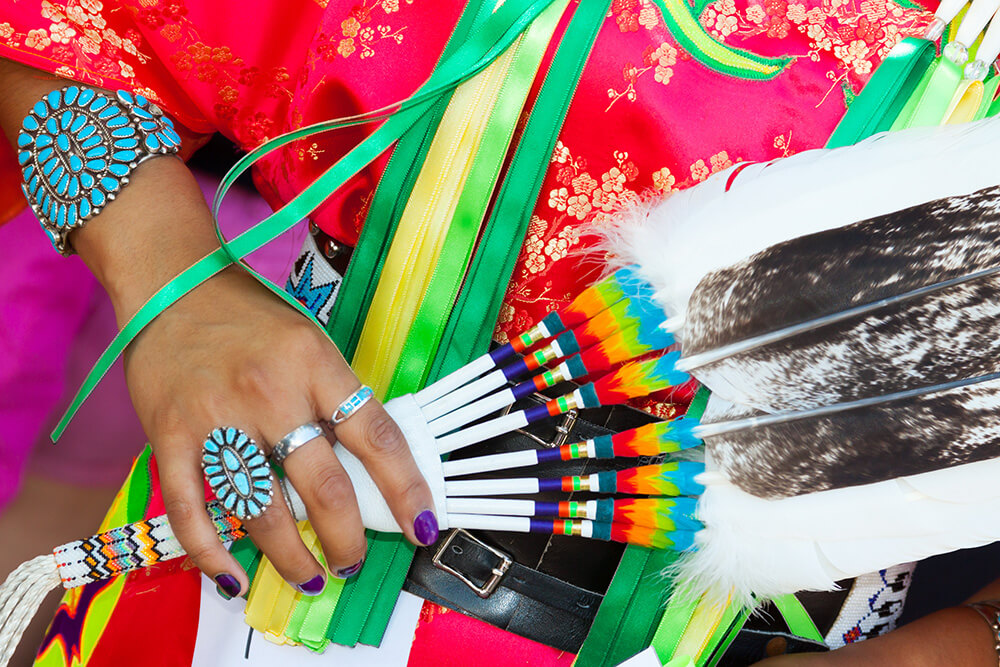 Art (Including Culinary)
Recently ranked the sixth largest art capital in the world, Santa Fe is a mecca for art lovers. More than 80 galleries lining picturesque Canyon Road provide visitors a chance to stroll for days through exhibits and meet the artists. While local studios represent art of all genres from ancient to modern, the Native American collections in museums and galleries are unrivaled worldwide. "What makes it interesting from an art and history viewpoint is that the majority of the Native American population surrounding Santa Fe is on their original land," says Heather. "They were not nomadic and are known for their weaving and pottery. They contribute a lot to the experience because their art has been here before anyone else got here."
To view a variety of Native American Art, we drive five minutes to Museum Hill and tour the Museum of Indian Arts & Culture and the Wheelwright Museum, showcasing one of the largest collections of Native American jewelry in the world. Here, visitors can take in several other museums and a botanical garden as well. The views from Museum Hill provide sweeping vistas of Santa Fe with its surrounding snow-capped peaks and a chance to photograph a dazzling New Mexican sunset.
Next on our list, a few blocks from the Plaza, we redeem our tickets at the Georgia O'Keeffe Museum and step into this art enclave. Art enthusiasts can visualize the New Mexican terrain through the eyes of one of the Southwest's premier artists. "Georgia O'Keeffe developed a style of painting that really reflects America," Heather points out. "She is part of the lore here." Afterwards, we head to The Shed, where we dine on authentic New Mexican enchiladas and signature margaritas. Don't let the humble name of this renowned family establishment fool you—advance reservations are needed.
To get a sense of the local culinary scene, a trip to the sprawling Santa Fe Farmers Market on Saturday morning is a must. In the fall, the smell of green chilies roasting onsite adds a distinct aroma to the market. "Some of the crops such as chilies were brought here by the Spanish and still grow here 400 years later," Heather shares. Chefs dream up everything from green chili cheese burgers and stews to green chili milkshakes and lattes. Cafe Pasqual's breakfast of huevos rancheros with green chili sauce and the chorizo burrito provide quintessential Santa Fe flavors.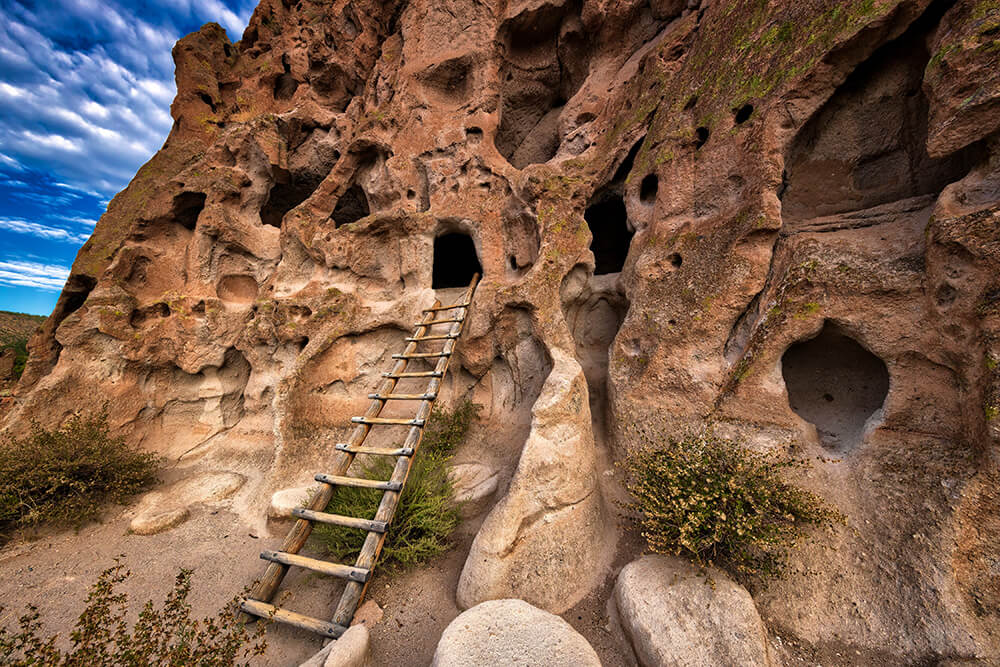 Excursions Outside Santa Fe
To gain perspective on the surrounding landscape, we make an overnight escape to Taos Ski Valley, just a two-hour drive from Santa Fe. Our trip takes us through the artist colony of Taos where Ansel Adams and D.H. Lawrence once lived. Traveling the "low road," as locals refer to it, we pass a herd of elk and stop on the red-cliffed banks of the Rio Grande River, where we encounter a bighorn sheep just 10 feet from our car.
For a shorter day trip, spa devotees can travel an hour outside of town to historic Ojo Caliente Mineral Springs, one of the oldest natural health resorts in the country. Here, on lands first settled by the Pueblo Indians 1,000 years ago, geothermal mineral waters flow from a subterranean volcanic aquifer. A day pass allows guests to sample various healing pools of different minerals as well as a swimming pool set in the high-desert scenery. For those who prefer to stay closer to town, Ten Thousand Waves spa is known for its natural mineral springs and Izanami restaurant.
For outdoor enthusiasts, one of the premier adventures is Bandelier National Monument, with over 70 miles of trails less than an hour from Santa Fe. Hikers can explore the ancestral Pueblo Tribe cave dwellings carved into the canyon walls and adventure up ladders to peek inside and discover petroglyphs from as early as the mid-12th century. Closer to town, the hills surrounding the city offer immediate access to open space through a network of hiking and mountain biking trails.
Steeped in Spanish, Mexican and Native American life, Santa Fe will leave you feeling as though you have been immersed in another culture. "Santa Fe is not a one-trick pony," smiles Heather. "It's the package deal of art, music, history, food and the outdoors, unlike any other place."