Words by Sophia Markoulakis
The allure and charm of the Central Coast is as varied as its topography—fertile valleys from Salinas down past Ojai are protected and buffered by various mountain ranges. This 300-mile region between the Pacific Ocean and the Los Padres National Forest is a playground for visitors looking for recreation and relaxation. Early spring is an ideal time of year to make your way down U.S. 101. Our destination for a weekend getaway was San Luis Obispo (SLO), and our plan was to enjoy the charming downtown while also exploring the region's agricultural riches through food, farms and wineries.
Wineries
Head in any direction, and within minutes, you'll run into a winery. There are 40 AVAs in the Central Coast, but we focused on two: Templeton Gap (a sub-appellation of Paso Robles AVA) and SLO Coast. Iconic winemaker, Ken Volk, coined the term "Templeton Gap" in 1982, and it became a region known for growing cooler climate Rhône varietals.
Many of the Templeton Gap wineries surround the town of Templeton, a quaint stretch of blocks that resemble a Western movie set. We popped into Kitchenette for a delicious breakfast before heading to AmByth Estate, a short drive through the area's rolling hills. The winery, established by Phillip Hart in 2005, is now run by his son Gelert and daughter-in-law Robyn. The couple raises their two sons on the land and share it with a llama named Scarlett and an ever-growing flock of sheep.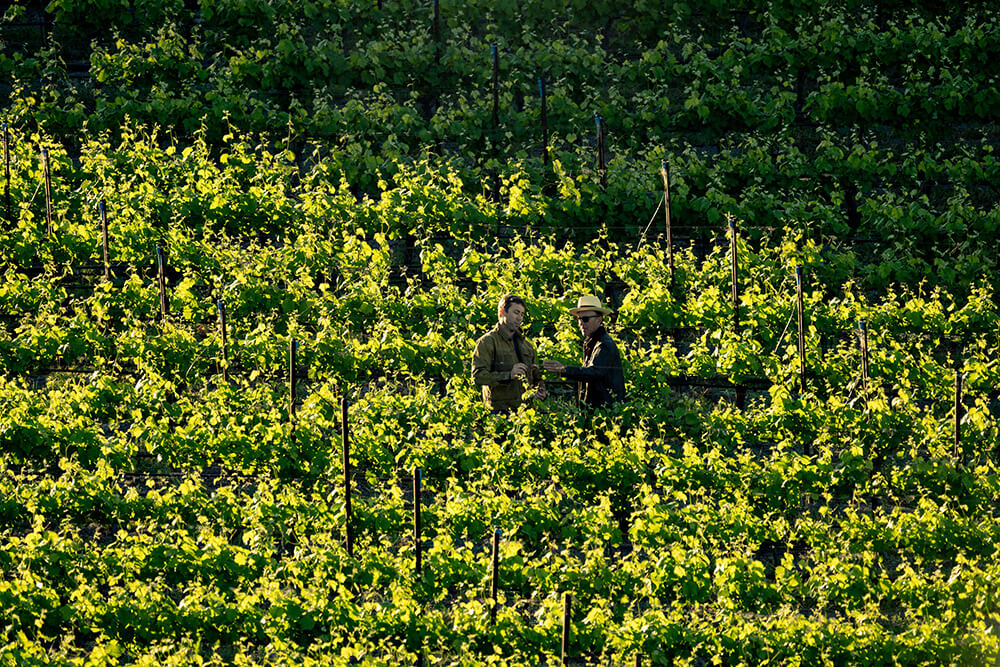 All of the 20 acres of vines (11 varietals) and 3 acres of olive trees (several Italian varietals) are dry-farmed, and the land and plants are certified organic and carry the Demeter biodynamic certification. The wines are considered natural and receive no additives like sugar or yeast. They produce roughly 1,500 cases a year, and unlike plenty of natural wines that can carry a distinct "funk," AmByth's wine doesn't. "We won't release a wine until the funk is gone," comments Robyn. "Many natural wines are bottled too soon and continue to age in the bottle, which can be a turn-off."
South of SLO is Talley Vineyards in the Arroyo Grande Valley. This farming family produces grapes within the newly designated SLO Coast Wine AVA. Brian Talley, a third-generation farmer, led us through a tasting of his family's estate wines in their beautiful tasting room overlooking Rincon Vineyard. We talked about his grandfather's legacy and the land he once rented and then purchased. "It's one of the wisest things he did," Brian reflects. Brian's parents met at Cal and returned to the family's six vineyards in 1962.Talley predominantly grows chardonnay and pinot noir grapes, and the finesse and balance of the wine reflect the unique terroir.
Even with a production of 20,000 cases per year, you still get the sense that this is a family operation, run by real people who care deeply about the land. We talked about how SLO and this wine region, in the shadow of Paso Robles, feels undiscovered. "We're still a forgotten pocket," Brian acknowledges. "An undiscovered gem."
Where to Stay
To soak up the essence of SLO, we booked a stay at Hotel San Luis Obispo (Hotel SLO), a bustling downtown property that feels like an urban oasis. With only 78 rooms, the space boasts a boutique-y atmosphere, yet has all the amenities of a full-service hotel with a spa, coffee bar and live entertainment. Its location, a block from Mission San Luis Obispo de Tolosa and within the city's historic Chinatown, is close enough to shops and restaurants for easy access, yet once inside, feels a world away.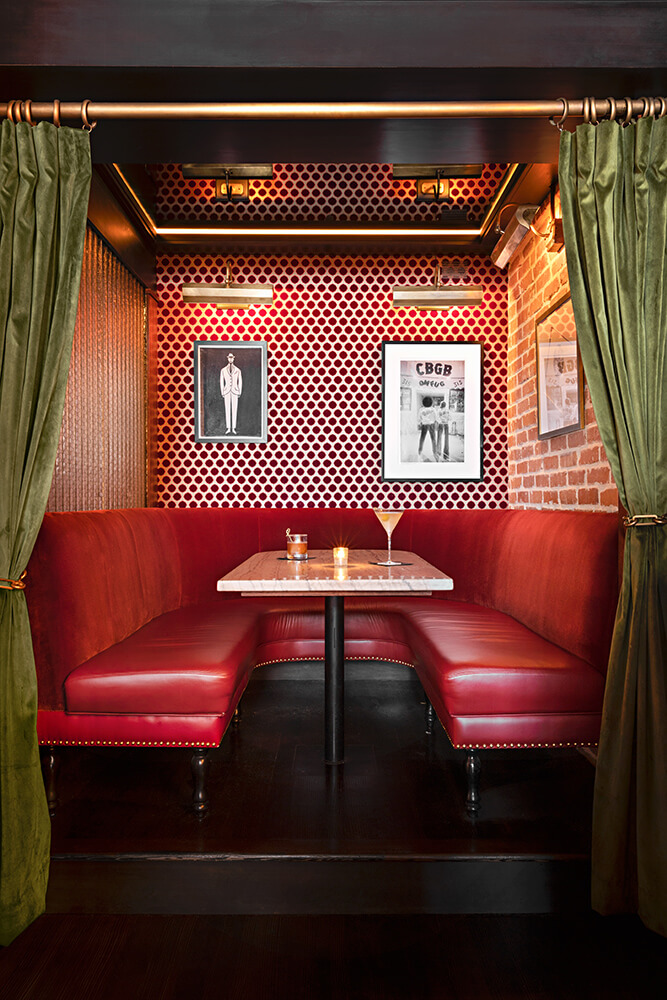 Our room was bright and airy with plenty of space to spread out. An outdoor balcony with table and chairs offered views of the surrounding hills and historic terracotta-tiled roofs. We enjoyed every square inch of the property, from the rooftop High Bar to the casual restaurant Piadina and the elegant steakhouse, Ox + Anchor.
The Granada Hotel & Bistro is also located downtown. With only 17 rooms, this boutique property has a European vibe with its historic brick exterior, wrought iron Juliette balconies, Persian rugs and original hardwood floors. The property's all-day eatery, The Granada Bistro, serves Parisian food with a Spanish flair.
Downtown Shopping
For locally-owned shops with inventory unique to the area, visit Buen Dia for colorful and affordable wall art, The Mercantile (right around the corner from Hotel SLO) for California casual western wear, Cattaneo Brothers for jerky and The Larder Meat Co. for local meat and provisions. Grace Lorenzen opened The Larder Meat Co. last fall as an ancillary business to her husband's meat company. A few steps away, her twin sister's Idlewild Floral offers preserved and dried flowers. "It was great luck to find spaces so close to each other," remarks Grace.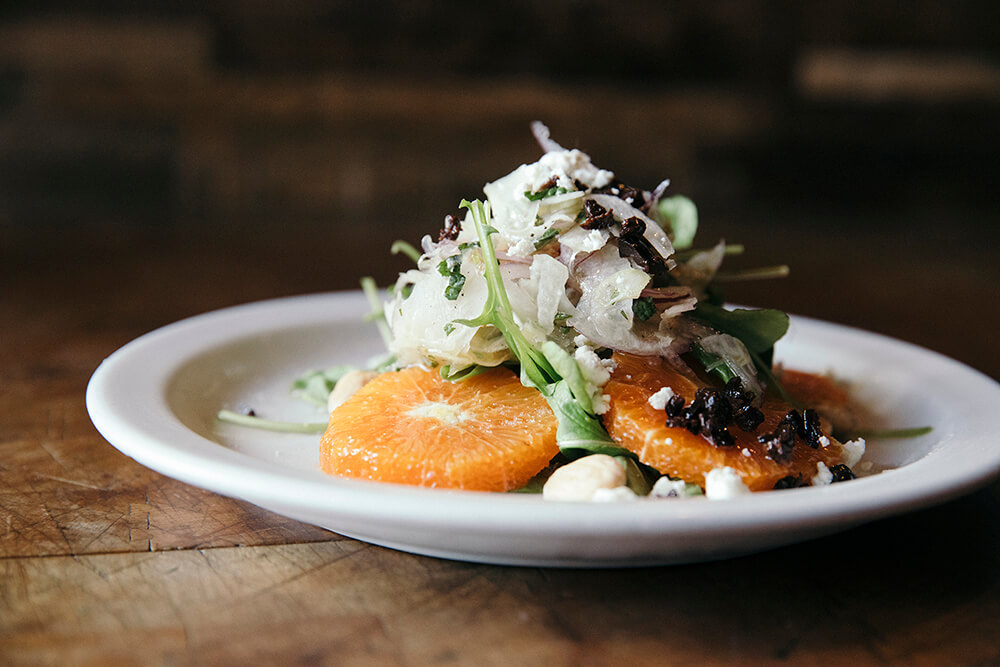 Drinking and Dining
San Luis Obispo is a progressive region when it comes to its cash crop—grapes—and many wineries are reducing waste from the winemaking process by producing spirits. We are fans of good whiskey, so we headed to Rod & Hammer's SLO Stills distillery and tasting room, a few minutes from our hotel, for an afternoon of fries and rye. Follow the region's distillery trail for a comprehensive list of all the spirits being produced in the area.
We dined at Ember Restaurant in nearby Arroyo Grande and enjoyed chef/owner Brian Collins' take on locally-produced provisions. Brian spent many years working at Chez Panisse and brought his pedigree back to his hometown. Book at least one visit for your trip—it's that good. For phenomenal wood-fired pizza, drop by Bear & The Wren, one of a few restaurants housed in The Creamery Marketplace.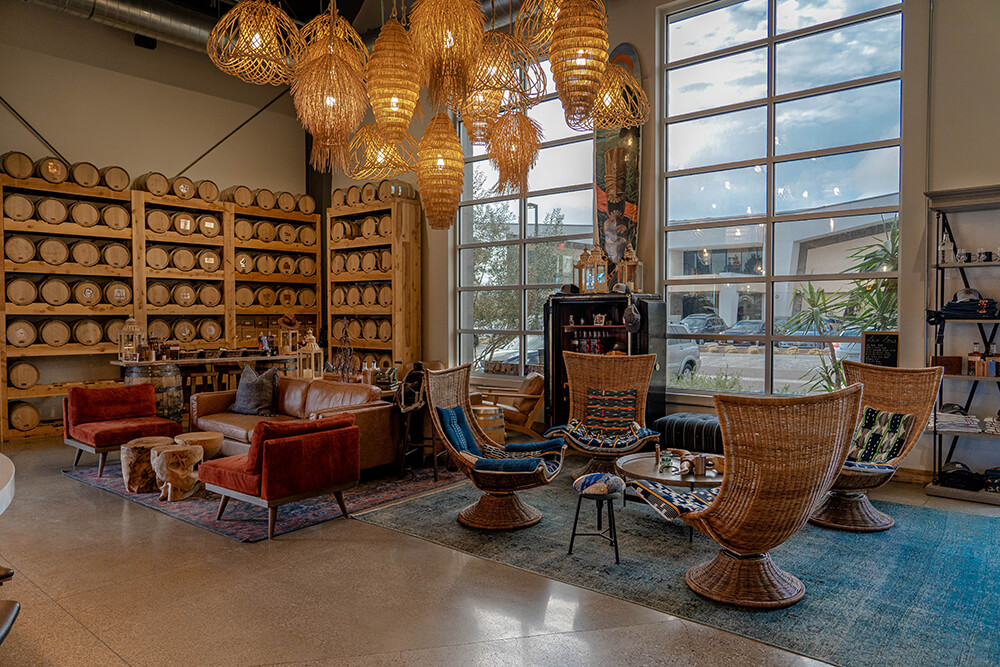 Food and Farms
Agriculture is the leading economic driver for San Luis Obispo County, and there are endless opportunities to experience this through farm and winery visits. FARMstead Ed, a farm trail map and educational resource for visitors and residents of the county, was created by Lynette Sonne, who saw a gap in connecting small farms with the area's tourism industry. Many farms host experiences like soap- and cheese-making workshops, which bring people out to see where their food originates. Back in town, Higuera Street turns into the epic SLO Farmers Market every Thursday evening.
Adventure
If you look closely at the rolling green hills, you'll see patterns of native and non-native wildflowers in shades of orange, purple, blue and yellow. To admire the local flora, and potentially a superbloom, head for the rugged coastal cliffs of Montaña de Oro State Park or the vast Carrizo Plain National Monument. Both are about a half-hour drive from downtown SLO. Central Coast Trailrides lets you couple wildflower viewing with a horseback ride via Roan or Appaloosa. And if you're up for a challenging four-mile hike (including a 500-foot elevation gain), Cerro San Luis, the mountain at the center of SLO, delivers panoramic views extending from Arroyo Grande Valley to Morro Bay.
Take it SLO