If you're not a horse person, you might not know that horses need new shoes every six weeks, and that making those shoes and attaching them to the horse's hooves is both an art and a craft. It's tough work that requires skill, training and strength. As such, being a farrier is not typically considered a female profession, but it's one that Margie Lee has been plying for the past three decades. "Being a farrier means I get to be around horses and get to be creative, seeing things that need fixing," says Margie.
Margie's been around horses her entire life. She grew up riding on her grandfather's ranch in Portola Valley and showed competitively, initially in eventing—comprised of dressage, cross country and show jumping—and more recently in dressage only, riding her Dutch Warmblood Allure (aka Al). Another of her horses is retired in Pescadero, and the third, Kit, is semi-retired. "A young lady leases him, and he teaches her about riding," Margie explains. "He's resisted retirement—he prefers to stay in the action!"
Margie's path to becoming a farrier started 30-plus years ago, when one of her horses turned up lame. Caught in a disagreement between her vet and her farrier, she started trimming the horse's hoof herself. That led to her apprenticing with two notable farriers, Dick Threlfall and Margo Jolly. During Margie's first six months as an apprentice, she focused on equine anatomy and physiology, gaining a better understanding of the biomechanics of a horse in motion. From there, she graduated to working with specific horses and their individual needs. As Margie sums it up, "Learning the horse shoeing trade was both physically and mentally challenging."
Margie explains that horses' hooves grow ¼ to 3/8 of an inch over a six-week period, and they've been getting shod for 2,000 years. The earliest shoes were more like leather sandals.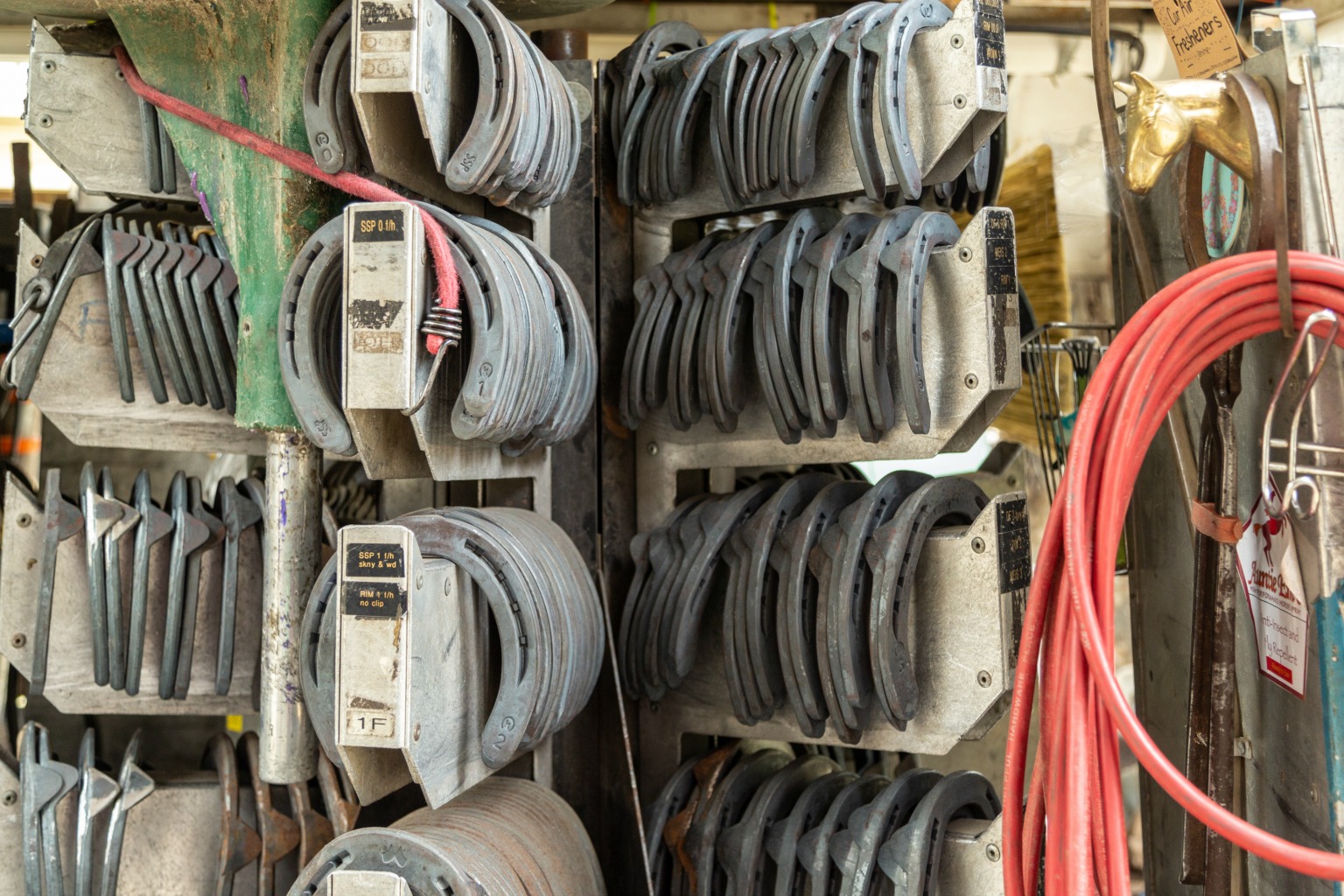 "Following that model, steel horse shoes were initially tied on," says Margie. "Then someone got brave and started nailing the shoes on. With a wild horse, the hoof capsule is in contact with the environment and stays trim. And indeed, some domesticated horses don't need shoes, but most do." Horses are also shod therapeutically. "We shoe to improve performance, to help horses rehabilitate from injuries, and to help horses with conformation faults," Margie says. "Our goal is to help them continue the job they do and to stay sound."
The human body is in an awkward position when shoeing a horse. "You're taking little hits all the time," she says. "The horse is leaning on you or pushing you or dropping extra weight on you. Cumulatively it takes a toll on your body." To compensate, Margie takes Pilates classes and goes to the gym. She also limits the number of horses she shoes a day, typically four if she's out solo, a couple more if she's with colleagues.
Given that women farriers are few in number—about 15% in California and from five to seven percent nationwide—Margie has tried to take a leadership role over the years. She's the only woman to serve as president of the American Farrier Association, and she's been on its board as a regional director. She also volunteers her services at the National Center for Equine Facilitated Therapy in Woodside. "Margie makes a huge contribution to this organization, shoeing 15 horses every six weeks," says NCEFT Executive Director Gari Merendino. "Her in-kind contribution saves us thousands of dollars."
Margie says she's learned a lot about shoeing over the years. "Every new horse makes you better. You learn to be efficient, to apply your skill in distinct ways," she reflects. "Being a farrier has been a great journey for me. I wouldn't trade it for any other job. I love horses, and I've been able to do a job where I get to spend every day with them."