Words by Johanna Harlow
Graduate Palo Alto isn't for the modern minimalists. In the lobby of University Avenue's eclectic new hotel, general manager David Joseph stands before a showstopping gallery-style wall, brimming floor-to-ceiling with paintings, scientific illustrations and pressed plants. "We actually had a woman try to pry the pictures off our walls one time because she wanted crystal chandeliers and one lone art piece on a blank wall," he recalls with a chuckle. "That's not us." Now, if you're looking for an exuberant space with an explanation behind every design detail—the kind of maximalist design you can really sink your teeth into—you're in the right place.
When Graduate Hotels (a hotel group that themes each of its locations around college nostalgia) opened its Palo Alto site this past January, it aesthetically delivered a love letter to Stanford University. At first glance, you'll pick up on this motif through the key cards made to look like student IDs of notable alumni as well as the study table with lamps in the lobby, evoking student libraries of the past. You'll notice it in the hotel stationery, embellished with a bubble test pattern, beside a yellow No. 2 pencil with the hotel's motto: "We are all students."
But it's in all the subtle touches too. The in-house design team has meticulously woven historical and cultural allusions to the region and the school throughout the entire fabric of the hotel—right down to the art on its walls, the carpet in its hallways and the menus at its in-house dining options.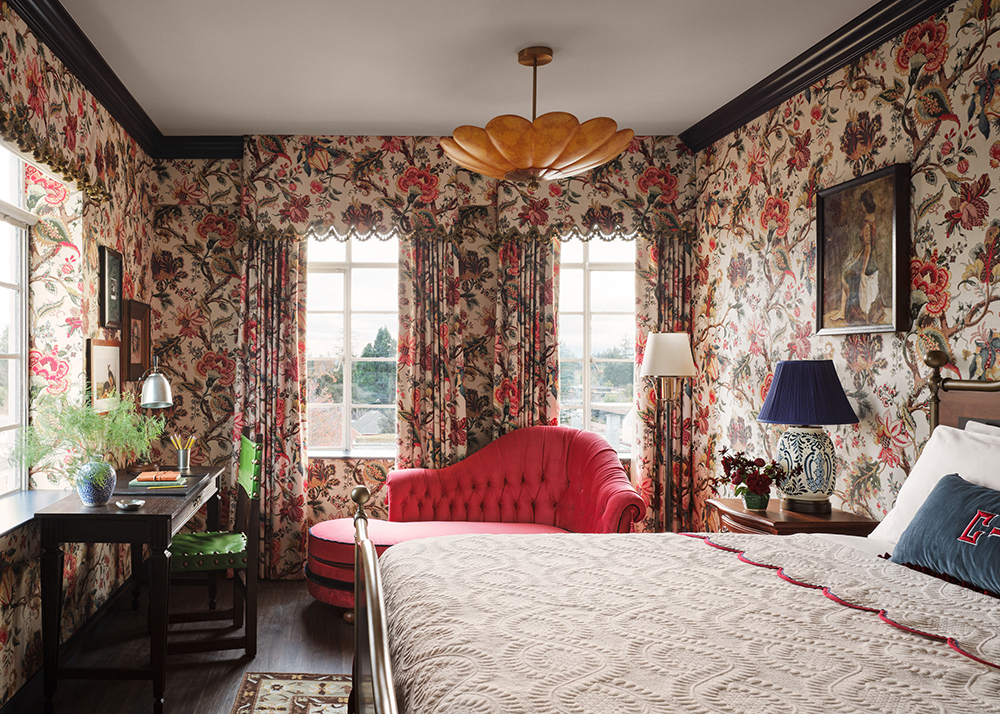 Lifelong Students
So why the academic aesthetic? "Attending university can be such an impactful time in somebody's life," reflects David Joseph. "There's a sense of excitement and novelty leaving home for the first time!" He adds, "Some of our best memories and some of our biggest memories come in that transition from youth to adulthood. We really try to lean into those stories."
Designed for and by lifelong learners and curious souls, almost every design detail—and we mean everything—is location-specific, paying tribute to Stanford, its history or the surrounding California landscape. Take the hallways, often a nebulous in-between space in hotels. Not so at Graduate Palo Alto. David points out the native aviary woven into the carpet: our state bird, the California quail, as well as the finch, northern mockingbird and American kestrel. "I'm strangely a snob about hotel hallway carpeting," David admits, "because it's one of those things that either has too much personality or zero personality—and I love that ours tells a story."
The carpet also features a series of numbers that mirror Stanford class plaques found in the campus quad. Since 1896, graduating seniors have left behind time capsules—and the numbers at the hotel correspond to milestone years at the University. "There are people in this building who can tell you the story of each number and say, 'Oh, this is the year when the Queen of England came and visited Stanford," notes David.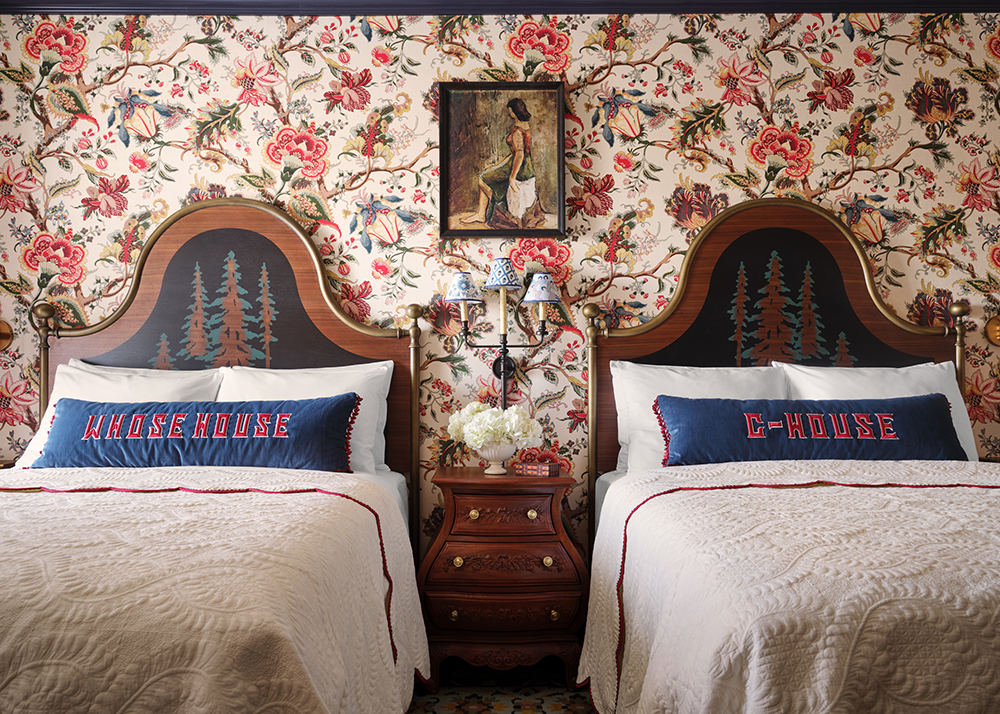 Push all the elevator buttons, and the door will open on curated collections of Stanford-themed memorabilia on the opposing wall. Everything—whether it's sheet music, sports memorabilia, historic photos or old maps—references back to those time capsules.
The academic narrative extends to the rooms. After you manage to pry your eyes from the wild botanical wallpaper, you'll find that the wall art pays homage to Stanford alumni. A framed cover of Mice and Men tips its hat to John Steinbeck, while the sketching of a comely undergrad reveals a student-aged Sigourney Weaver. The cluster of redwood trees on the headboards is also a nice touch, representing both Palo Alto's namesake as well as the Stanford band's unusual mascot.
Not even David has identified all the hidden references tucked throughout the hotel. "There's a really robust sense of design that keeps you discovering every day. There are a million small details. Every day I'm in this building, I learn something new," he reflects. "It's fun to be in a space where we truly are all still students."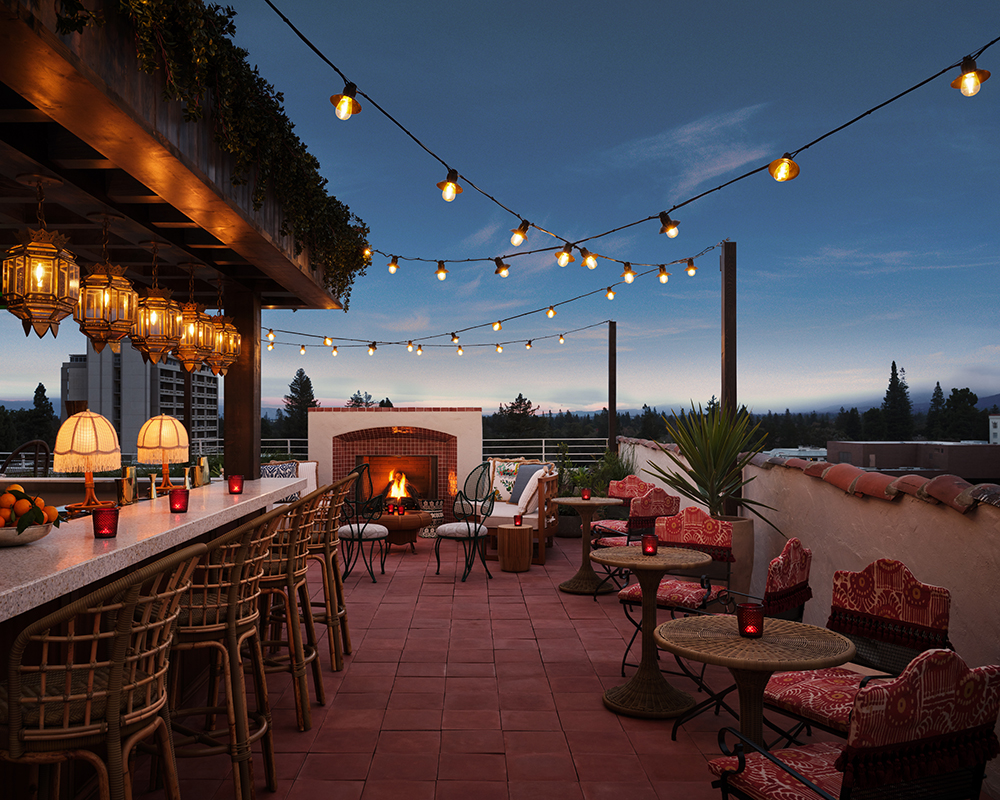 harkening back
But the design team didn't stop there. Graduate Palo Alto owes its Spanish Colonial sensibilities to the building's previous tenants. As it happens, this building was formerly known as the Hotel President during the first half of the 20th century. Its historic architect, Birge Malcolm Clark, studied at… you probably guessed it: Stanford.
Graduate Palo Alto's exposed wood ceiling beams, the enormous wall tapestry behind check-in, the carved credenza serving as the front desk and the Spanish tilework all harken back to Mr. Clark's choices a century ago. Meanwhile, the art in the lobby features paintings inspired by Spanish Colonial interiors (alongside illustrations of California botanicals). The original building's staircase and ironwork remain. "We tried to reimagine the space while still paying tribute to what came before," shares David.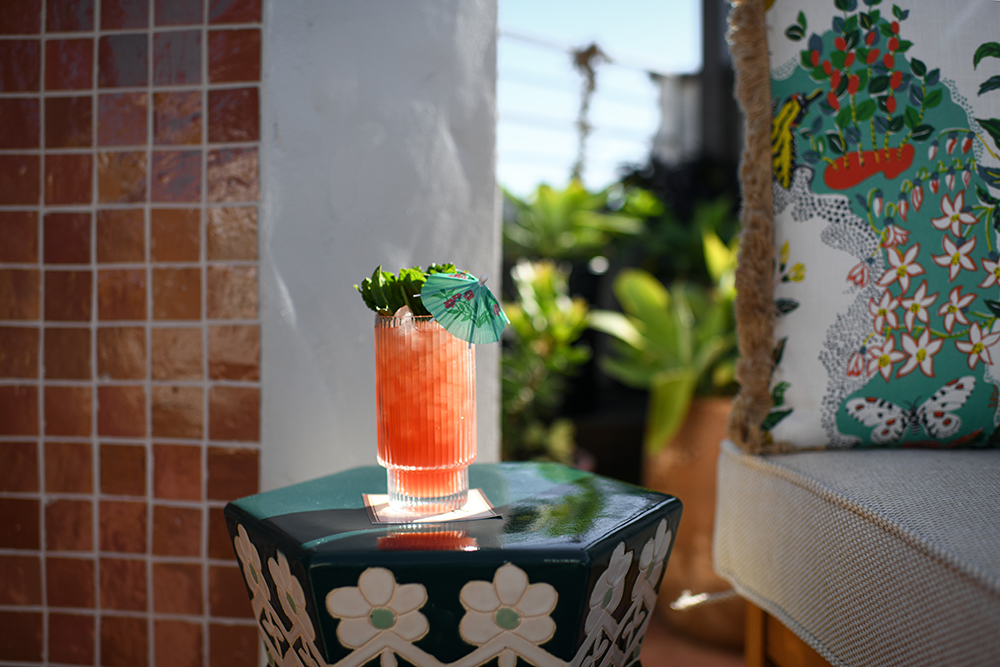 A Taste of the Past
That Spanish flair extends to the President's Terrace, the hotel's enchanting rooftop lounge awash with terracotta tiles, pops of color and playful patterns. Pendant lights swing above the bar, while tasseled patio umbrellas crop up in red and white. "We've got the only rooftop bar and restaurant in Palo Alto! We're proud of that," David shares as nearby guests pull up rattan chairs to congregate around wicker tables.
As bargoers drink in unbeatable views of the Stanford Dish, Hoover Tower and the surrounding hills, they sip Stanford-themed cocktails concocted by master mixologist Bad Birdy. Kutilda's Thai Tea, spiked with brandy, is a nod to alumnus Tiger Woods, whose mother grew up in Thailand. West of Eden—cucumber, watermelon, vodka and gin, elevated with monk fruit and house-made fennel syrup—recalls another Steinbeck classic. And Leland's Gold Rush mocktail raises a glass to Stanford's founder with pineapple, lemon and elote. Other mocktails like Fountain Hopper and Full Moon on the Quad reference longstanding Stanford traditions, while The Peninsula and Silicon Sipper are more obvious callouts to the area itself.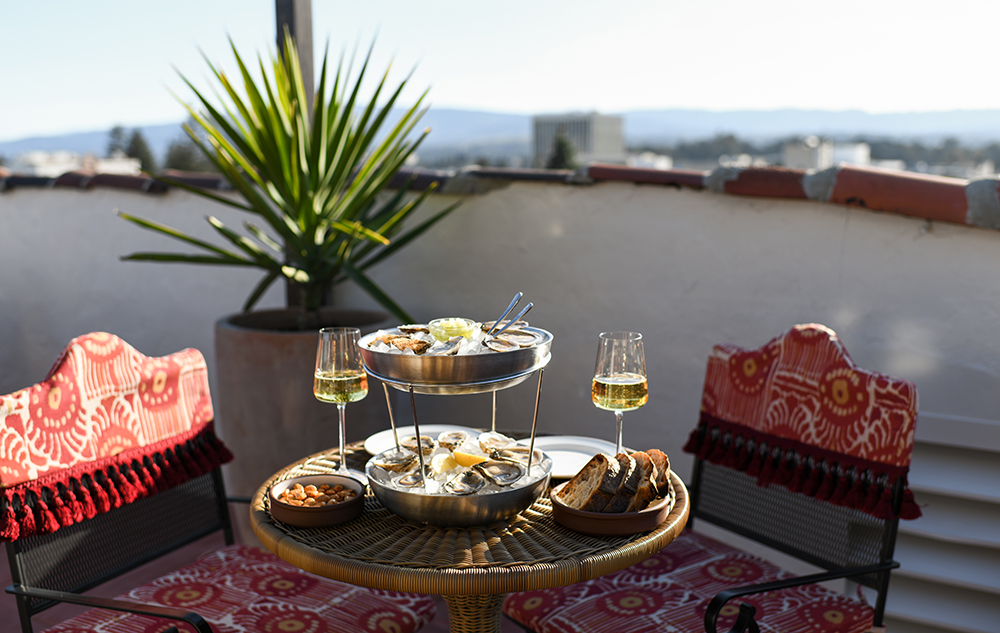 Light bites are also served. "Our executive chef Andrew Cohen has done a wonderful job in curating something that's so focused on the region as well as a lot of fresh seafood," says David. "We do amazing fresh oysters!"
David's favorite dish is the prime beef tartare, followed by the Bread & Butter, whipped bone marrow served with Manresa sourdough. "It's something so approachable but at the same time feels upscale," he relays. "And it's a labor of love. It's something that has a really distinct process."
On the ground floor, Lou and Herbert's café and bar offers a cozier experience with dark wood, a more subtle color palette and plenty of armchairs. "Downstairs should feel a little bit more intimate," David notes. "It's about the martini. It's about the spirit-forward cocktails that feel a little bit more appropriate for a sip-and-sit-back."
The title venerates Stanford lovebirds. Herbert Hoover, the 31st U.S. President (and one of the first students to enroll at Stanford) met his wife on campus. What's more, Lou was the first woman at the college to earn her geology degree. "It's meant to feel like that meet-cute, that space where you lean in a little bit," describes David.
The café is also open during daytime hours so make sure to return in the morning for Manresa pastries, chia pudding or a breakfast burrito along with a piping hot cup of Saint Frank Coffee.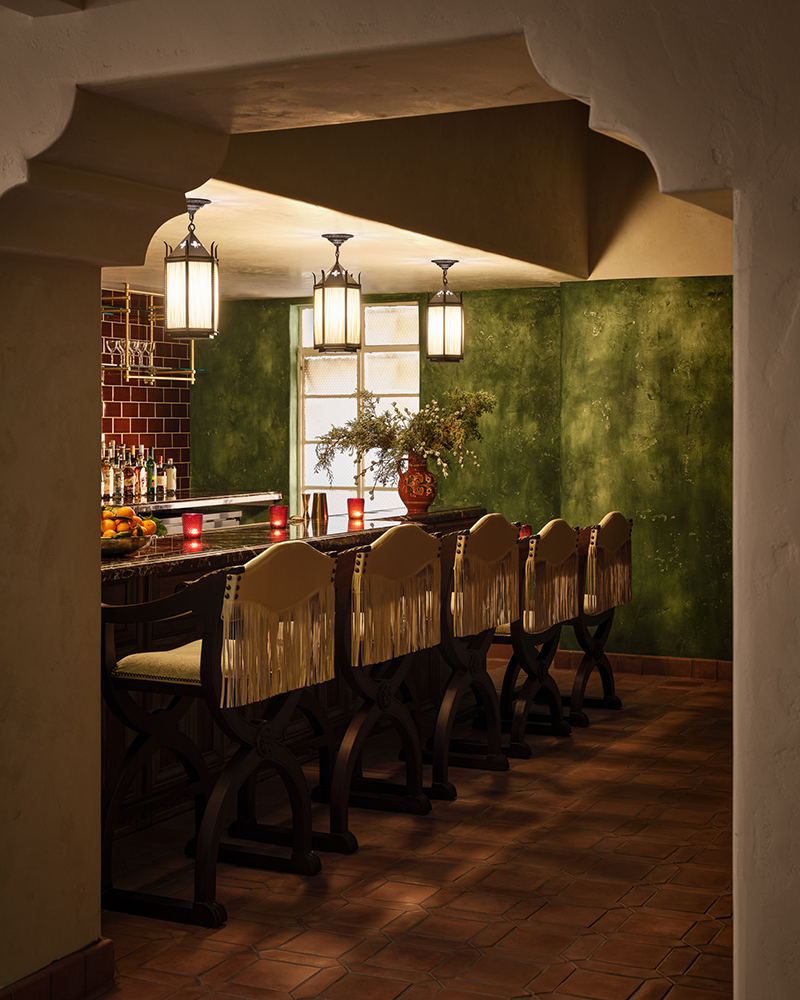 Real Neighborly
For a hotel seeking to not only act as a traveler's destination, but also as a neighborhood hub, downtown Palo Alto is the perfect setting. "We want to be the living room of the community in any location that we're at," David says. "We want students to be walking by—if we had a room full of people and they all had backpacks with them, we'd be thrilled."
And like the building itself, the area is textured in times past. "There's so much history along this street," David reflects. "So seeing some of the spaces that have transformed as we have, I think is really part of that neighborhood storytelling."
Back in the lobby with its joyfully maximalist layout, David adds one final thought: "When people join us—especially when it's a big weekend like back-to-school or graduation weekend—we're hoping that people staying with us are also creating their own memories and making us a part of their story."