Words by Emily McNally
The passion for the carefully crafted recipe runs deep in Lindsey Mifsud's family. "Food is my love language," Lindsey says with a laugh. "I come from a big, Italian family and being in the kitchen talking and cooking always came naturally to me. If I care about you, I'll drop off something sweet or make you a meal."
Lindsey, a Belmont native, grew up as a multi-sport athlete playing soccer, volleyball and basketball at Notre Dame High School before committing herself to softball. After a college pitching career at University of Redlands in Southern California, she became a certified nutrition coach. Lindsey's passion for food is grounded in the science of sustenance as well as flavors passed down through generations. "I can make something that is sugar-free and all-natural that tastes great and nourishes the body," she says. "I want to be a voice and example for healthy eating."
Given the family connection to cooking, there's a poetry to the fact that Lindsey made her first batch of best-selling granola in her Nonni's kitchen. "She had blood orange-infused olive oil and these dried apricots that she uses in her biscotti recipe," Lindsey recalls. "I made it for her and she loved it." As the addiction to her uniquely flavored granola spread among her friends and family, Lindsey began to envision bringing her delicious concoction to the larger stage.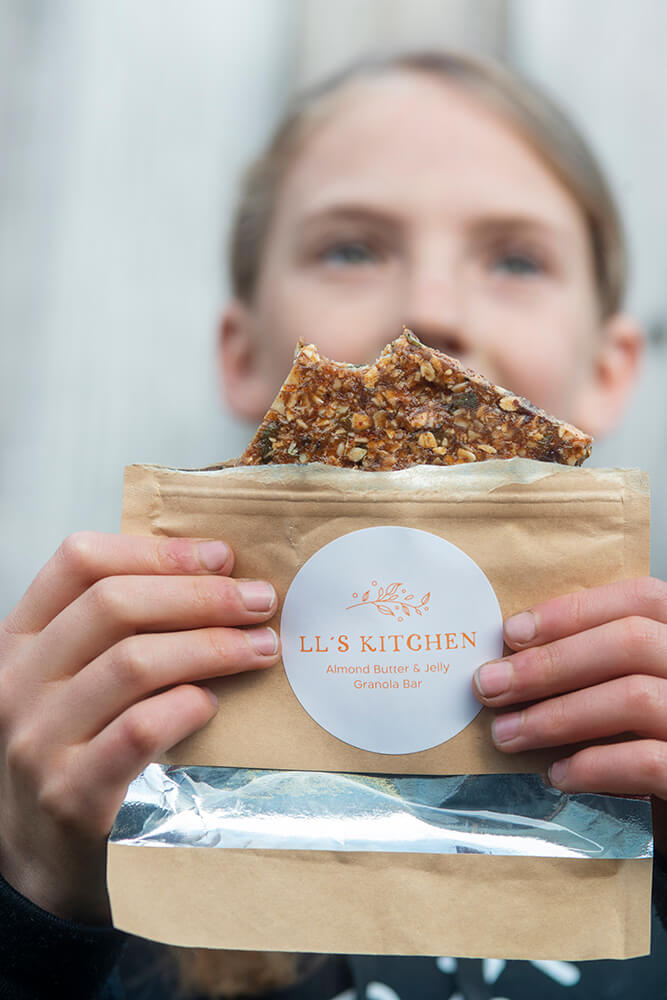 "I was dreaming up ideas for logos and packaging, and then more flavor profiles started to come to me. I started to think this was something I could really grow into a business," Lindsey explains with a wide smile. As the details crystalized in her imagination, she selected LL's Kitchen for a moniker—using the initials of her first and middle names, Lindsey Louise—then secured a cottage food license and took to social media to test the market.
Her first Facebook and Instagram posts appeared in September 2020. "Initially, it was a lot of support from my community," she recounts, "but pretty quickly I'd overwhelmed my parents' kitchen and had to look for professional cooking space." Lindsey moved her operation to San Mateo's KitchenTown where she can prepare and cook 15 trays of granola at a time, making enough to fill 120 bags of granola a day.
Lindsey credits her competitive nature with centering nutrition in her life. Though fueling for athletics had long played a significant role, she had an awakening in her junior year of college when she returned to Redlands after a semester abroad in Salzburg, Austria, and had to quickly prepare for the upcoming softball season. "I realized that I had to stop swinging from restrictive diets to indulging," she says. "I really wanted to eat well to feel better and compete at my highest level."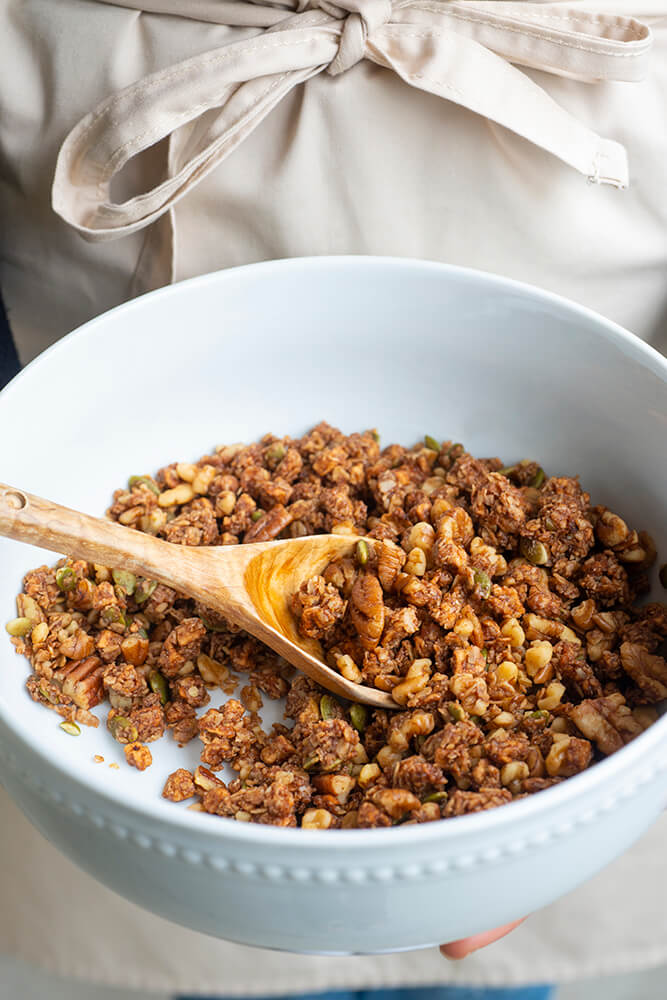 She began to cook for herself and her roommates, becoming known on her softball team as the resident expert on food and fitness. But the impact of sports on Lindsey's life goes beyond an intimate understanding of nutrition. "Athletics is where I learned all of my really big life lessons," she explains. "It's where I grew up and learned to take responsibility for both myself and a team. LL's Kitchen is my independence project, but I get a lot of support from my family. They are my team now."
Though the casual consumer may consider granola healthy, Lindsey points out that it's often loaded with refined sugar and additives, which she avoids.
"LL's Kitchen uses all-natural ingredients and honey as a sweetener instead of sugar; even our fruit is unsweetened," she says. "I add a variety of ingredients, like walnuts, pecans and pumpkin seeds to bulk up the nutritional aspect of LL's granola." Lindsey's product line has grown from the original, and still best-selling, Blood Orange and Apricot, to include her grain-free option, Paleo, as well as Cherry Vanilla and Apple Cinnamon. The latest addition to her product line are granola bars, in flavors of Super Berry, Pecan Pie and Almond Butter and Jam. "People really love an on-the-go treat," she notes. "I've been surprised by their popularity."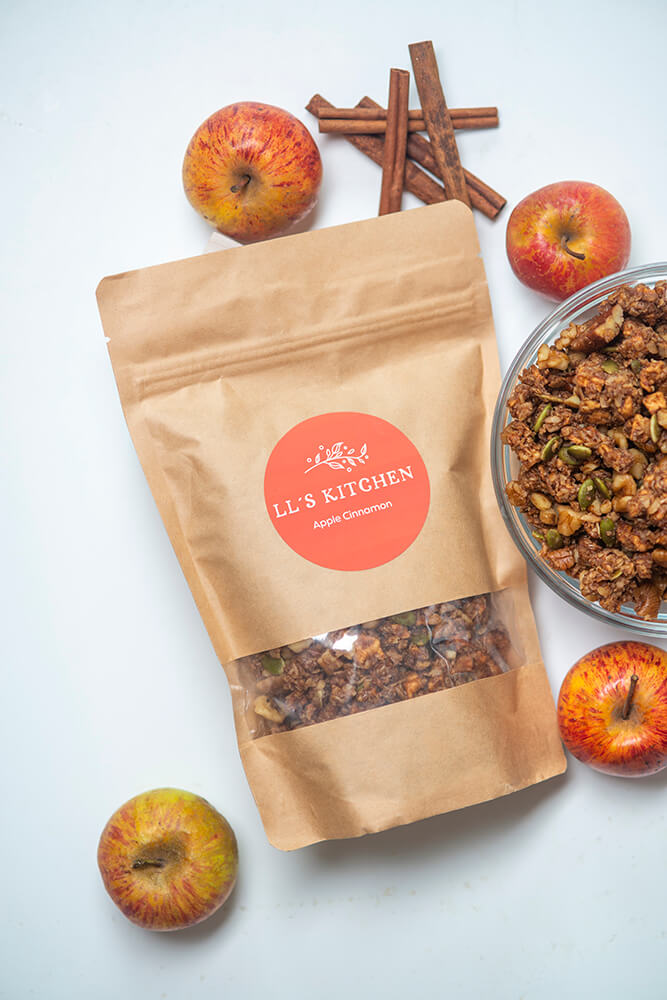 LL's Kitchen granolas are sold at Preston's in Burlingame, but the bulk of the sales come from the online store and Burlingame's Farmers Market. Lindsey fills the occasional bulk order for events or corporate gift baskets, but she likes the personal touch of selling directly to customers. "I'm hoping to find my way into more farmers markets in the coming months. I love meeting the people I sell to and forming those relationships," she says. "That's been the most satisfying aspect of the business so far."
Because her business has grown so fast, Lindsey is still a one-woman show, doing all of the cooking, packaging, delivery, shipping and direct sales herself. Though she knows she can rely on that big family that has always been her supportive team, she looks forward to hiring some help and working on the thoughtful expansion of LL's Kitchen. She hopes to own a cafe one day where she can sell other healthy baked goods as well as her granola, but she wants to move carefully to maintain the integrity of what she's created so far. "I'd love to have my granola all over the place," she shares, "but I care more about the personal touch."