Words by Johanna Harlow
We all know Peninsula real estate is among the most expensive in the world. But if you've ever wondered what the pinnacle of the high-end market will buy you, consider Green Gables.
Comprised of seven buildings and a sweeping 74 acres, this never-before-listed historic property is now available for sale—and it wouldn't be a stretch to refer to this Woodside treasure as "priceless." But what does that translate to in dollars? That figure is apparently $125 million, reduced from a higher price just for you.
The Grounds
It's hard to grasp the vastness of the estate's park-like acreage without driving it. To reach the main house, enter the property and wind along its eucalyptus, elm and oak-lined roads—past the tennis court and tea house—past the five-million-gallon spring-fed reservoir, a rowboat on its banks—past the expansive vegetable and herb garden. Only then will you finally arrive at your destination. If you choose to circumnavigate the property's perimeter by foot, prepare for a two-hour undertaking.
When identifying the main factors behind Green Gables' lofty price tag, Zach Goldsmith of Hilton & Hyland points to "the sheer size of the land in such a prime location." If Green Gables sells for its listing price, it will break the record for most expensive home ever sold in California—dethroning another Woodside property purchased by Masayoshi Son, founder of Softbank, for a cool $117.5 million.
There's no denying the desirability of this tree-shrouded zip code. "Woodside is one of the most affluent communities in the country," notes Zach, who is co-listing the estate with local Compass realtor duo Brad and Helen Miller. "So you're already starting off with something that I think gives this value that's almost unquantifiable."
Mortimer Fleishhacker, Sr. certainly thought so. Back in 1911, this San Francisco lumber, paper, banking and hydroelectric power mogul and philanthropist bought the property to create the quintessential family summer home. "It's protected from the fog and the coldness of the Bay," observes Zach, "and just 20 minutes south of the City."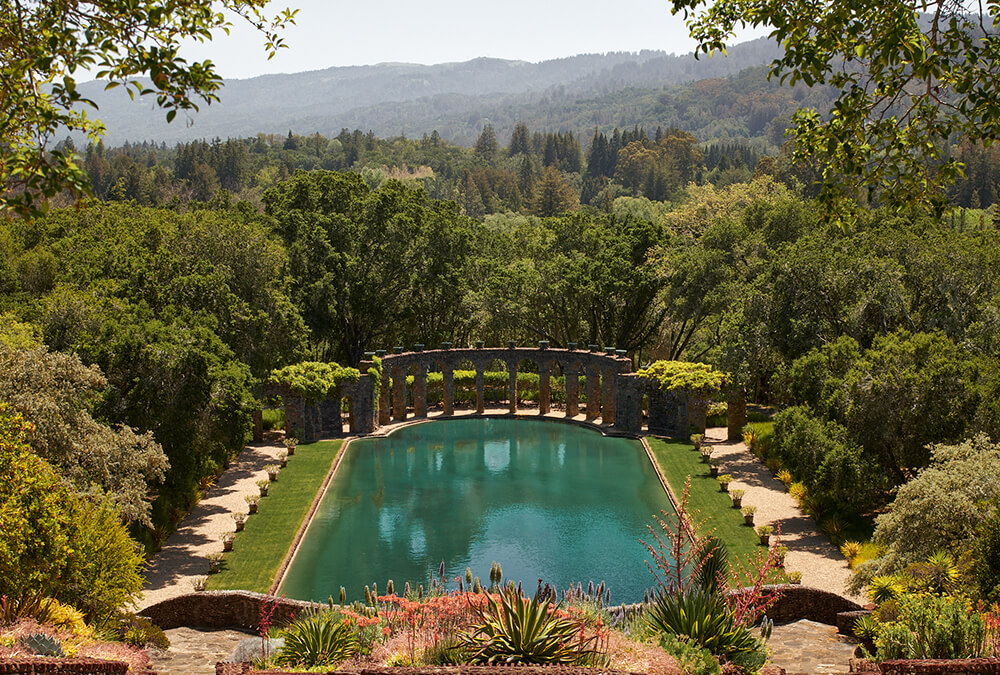 And did we mention the view? "It's not inundated with houses because most of it has been dedicated to open space," explains realtor Helen Miller. She gestures reverentially at the vast stretch of the Santa Cruz Mountains that play backdrop to Green Gables. "There's Huddart Park, the next range is called Teague Hill, and then there's Wunderlich and Windy Hill."
It doesn't take any imagination to picture this place as an exceptional event setting, acknowledges Marc Fleishhacker, great-grandson of Mortimer. The Florence-based marketing executive currently shares the estate with the third, fourth, and fifth generations of the Fleishhacker family. "We have hosted events with over a thousand participants, and it simply never feels crowded," he says. "There are also a myriad of quiet, private places, paths and nooks that also provide an amazing sense of intimacy to such a grand estate."
Events at Green Gables have spanned state dinners and the United Nations 20th anniversary gala to company picnics, bar mitzvahs and weddings (including Marc's own). The estate has played host to numerous dignitaries including the Secretary-General of the U.N., European royalty, U.S. senators, governors and business leaders. Legend has it that Emmy-Award-winning actress Michael Learned (of The Waltons) once skinny-dipped in the pool during an American Conservatory Theatre cast party. "Green Gables has seen it all," Marc quips.
When it comes to water features, the estate touts a tranquil lily pond and not one but three swimming pools (to accommodate your every whim for a swim). "Our big swimming pool was the setting for numerous naval warfare battles with my siblings and cousins," Marc recalls. "And gathering up the courage to jump off the brick wall was an essential rite of passage."
Easily, the property's most remarkable feature is its Roman reflecting pool—a football field-sized stretch of water flanked by a brick balustrade and a 50-plus-foot double staircase on one side, a hulking aqueduct-like series of stone arches evoking Old World grandeur on the other. "You feel like a caesar," Zach describes of the breathtaking scene.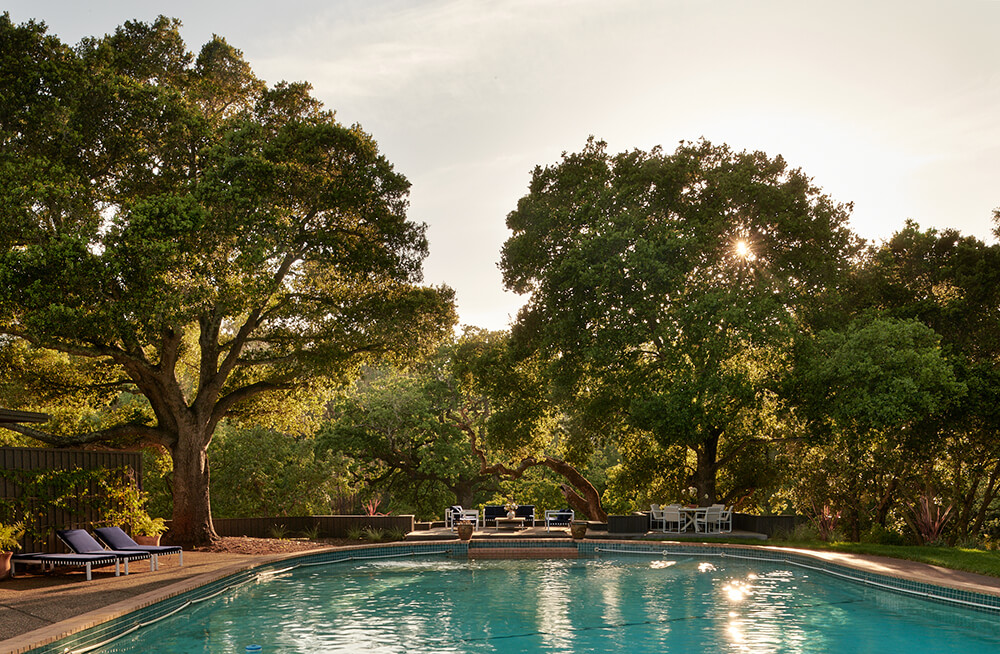 Julia Fleishhacker, Marc's wife and design guru, fondly recalls marrying her husband here. "There simply may be no more beautiful place on earth to exchange vows," she remarks. Marc wholeheartedly agrees. "I have traveled the world and witnessed extraordinary beauty from Tuscany to France to parts of Asia," he adds, "yet the view of the Roman pool remains one of the world's finest."
Elsewhere on the estate, a sprawling vegetable and flower garden flourishes. Irrigated by the property's own reservoir, it boasts everything from squash, onions and tomatoes to an entire medley of herbs. "With its amazing rose collection, bountiful crops of fresh produce and endless opportunities to create beautiful landscapes, it's my favorite Green Gables playground," professes Julia.
Another favorite place of Marc's is the patio terrace overlooking the lily pond. On quiet mornings, residents and guests often spy deer grazing on the manicured lawn (so perfectly positioned you wonder if they're on the payroll). "I always loved Sunday brunch with my grandparents on the terrace, looking out at the beautiful lawns, being served by the butler," Marc reminisces, "and then darting into the kitchen so the cook could sneak me an extra piece of something delicious."
The Main House
Arriving at Green Gables' main house, you're greeted by a discretely elegant two-story English manor-style building. Graced by ivy-draped walls, a gently-gabled roof and steam-bent, wave-course shingles, this turn-of-the-century house has been listed on the National Register of Historic Places since the '80s.
Over a century ago, Mortimer Fleishhacker, Sr. hired Greene and Greene—a firm run by renowned Craftsman-era architect partners (and brothers) Charles and Henry—to construct his family's summer home as well as shape the surrounding landscaping. These architects paid close attention to making one flow seamlessly into the next.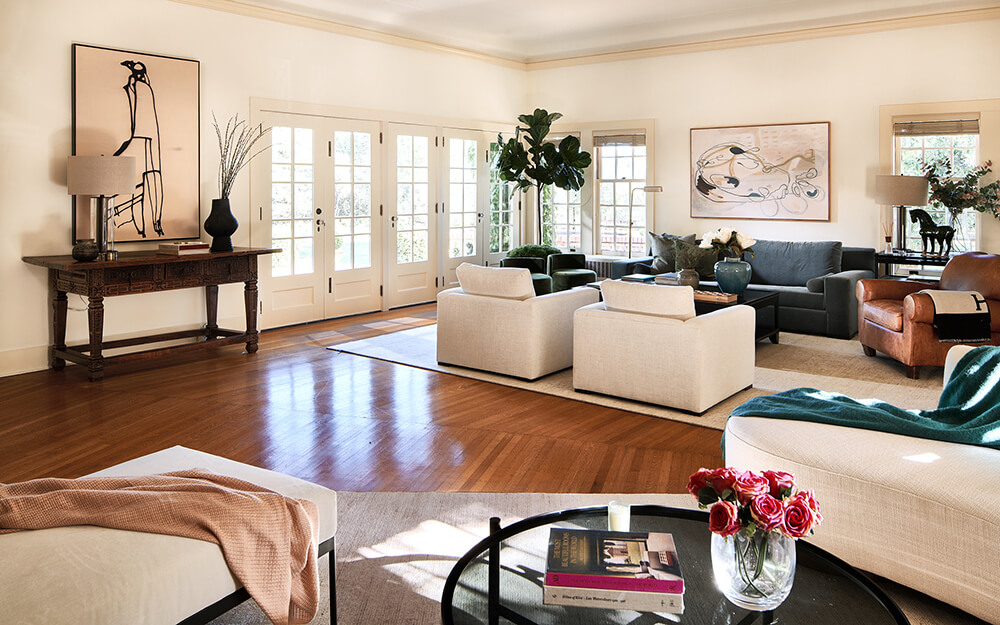 "Although I was not around at the time," Marc says, "I vividly recall the stories of how the Greene brothers would sit at the top of the hill where the main swimming pool is now located and look out at the site, sketching, planning and imagining how to structure and position the main home." Green Gables remains their largest project—even the glazed ceramic planter pots and hand-carved furniture found around the property can be credited to the brothers.
At nearly 10,000 square feet, the main house with its nine bedrooms conveys sophistication with a minimalist approach to style. "Many of the rooms lead to outside," comments Zach, who credits the Greene brothers with having the foresight to integrate the home with its stunning environment.
"One of the memories I cherish most is learning to play mahjong with my grandparents in the card room," relays Marc, calling out the light-flooded corner room featuring heavy beams and intricately carved wooden accents.
Zach emphasizes the home's great bones. "On both floors, you've got really wide hallways with tall ceilings that act as the main arteries going to the different wings," he explains.
The (Visionary) Buyer
At the end of the day, the discerning buyer will also play a vital role in determining Green Gables' inestimable worth. "It takes a great visionary," notes Zach. He envisions a future owner who appreciates the estate's storied past as well as the opportunity it presents. "You've got this rich history, but you've also got the canvas to paint whatever you want," he summarizes. "You're preserving a piece of history that can never be duplicated … that juxtaposition of the old with the new is priceless." Marc echoes the sentiment. "I just can't think of melding two better, more valuable worlds … I believe that all great estates evolve."
Perhaps the estate's next owner will establish a vineyard, golf course or equestrian grounds. "You could have riding rings on the property," suggests Zach. "You could build some insane all-glass car garage. It lends itself to so many different types of people and personalities."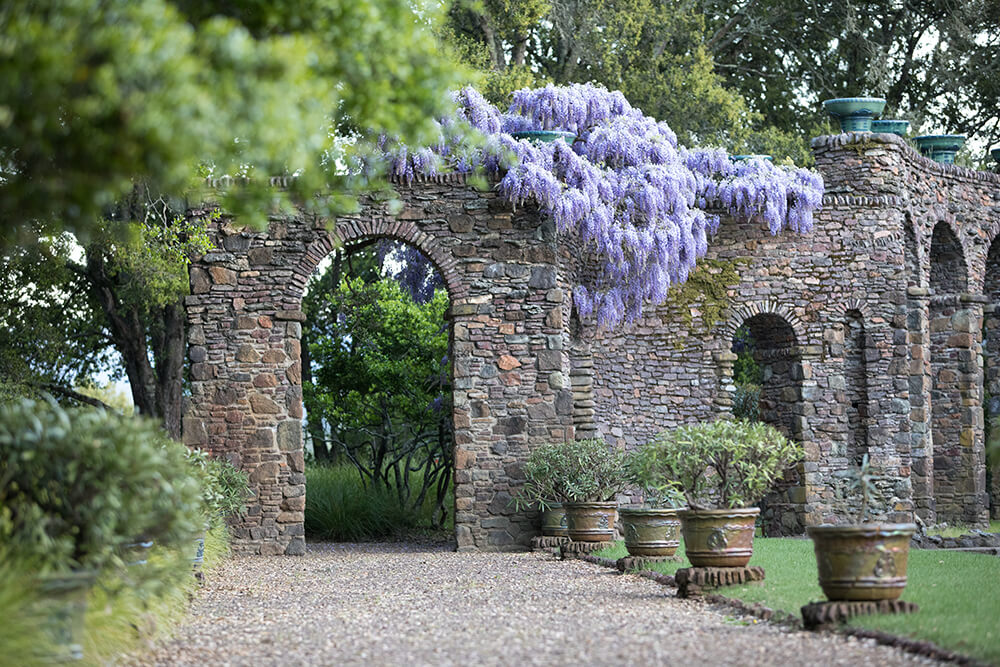 "The soil and climate of this area of the Santa Cruz Mountain appellation is ideal for cabernet, and possibly chardonnay and pinot noir," ventures Marc. Another possibility: a corporation might appreciate the property's size and proximity to San Francisco and convert Green Gables into a company retreat.
Perhaps Green Gables will attract the next big tech tycoon or titan of industry. "This is a giant think tank," Zach observes. "It just breeds thought and creativity." Continuing along this line of thought, he notes, "I envision the next Steve Jobs walking this property shoeless. I envision the next Elon Musk coming in and thinking of the next idea that's gonna change the world. It feels like this is the environment where that happens."
Since the summer of 1912, the estate has served as the Fleishhacker family's private oasis. But Marc acknowledges that it's time for a change. "The exciting question and mystery," he muses, "is what wonderful private moments will be created by the next fortunate owner of Green Gables?" Only time—and $125 million—will tell.