Cindy Burgdorf can teach you all about the birds and the bees—and about butterflies and backyard chickens, too. Not to mention growing the biggest and best tomatoes and peppers. When it comes to gardening and local wildlife, you can ask Cindy anything, and if she doesn't know the answer, she'll find out for you. That's the job of a Master Gardener.
Technically, Cindy is a UC Master Gardener, and she's one of nearly 200 in San Mateo and San Francisco counties. The UC Davis Farm Extension program initially launched here in 2006, and Cindy joined up in 2008. "The UC Davis professors work with commercial farmers and then we take some of that information and we use it to teach backyard gardeners how to grow fruit trees or how to grow strawberries or vegetables or how to prune their roses," she explains. "We use actual scientific information—not 'my grandma said this is the best way to do it' or 'I heard this works really well.'"
Being a Master Gardener is a second career for Cindy. She spent 30 years working in the finance field, and in her final capstone position as CFO of SanDisk, she took the flash memory manufacturer public in 1995. When she retired in 2000, Cindy began to ramp up her gardening hobby in her Atherton backyard, motivated by memories of helping out on her grandparents' ranch in Monterey County. "Once we moved here, my husband built vegetable garden boxes for me, and then some more, and then some more," she recalls. "It's something I've always enjoyed doing."
Cindy also enjoyed teaching at various stages in her career, so becoming a Master Gardener seemed like a natural extension—a way to further expand her knowledge and contribute to the community. She signed up for the program, committing to once-a-week classes taught locally over a quarter, getting a "basic grounding in the kinds of things you need to know." As a Master Gardener, Cindy is also required to put in continuing education hours each year—along with volunteer time (50 hours the first year, 25 hours after that) answering questions, teaching workshops, leading clinics or speaking on a variety of gardening subjects. "We have lots of people who are new to the area and they say, 'Gosh, I don't recognize the things I see in a nursery or know how to grow them', so they come to classes to learn how to do that," she says. "Other people are maybe buying their first home, and they might say, 'Whoa! What do I do with this yard? I've always wanted to have a vegetable garden, and here's my chance, but I don't know a thing about it. How do I get started?'"
Calling Cindy's own backyard an inspiration is a significant understatement. Starting with that first vegetable garden box, what Cindy has accomplished is difficult to fully comprehend. On her 1.5-acre property, she has year-round vegetable gardens, gardens devoted to bees and butterflies, a half-dozen varieties of fruit trees, five beehives, six chickens, a worm bin and six compost bins. Her yard is also a Monarch Waystation (Monarch Watch), a certified Butterfly Garden (NABA), certified WildLife Habitat (NWF) and certified Bee-Friendly Garden (Pollinator Partnership).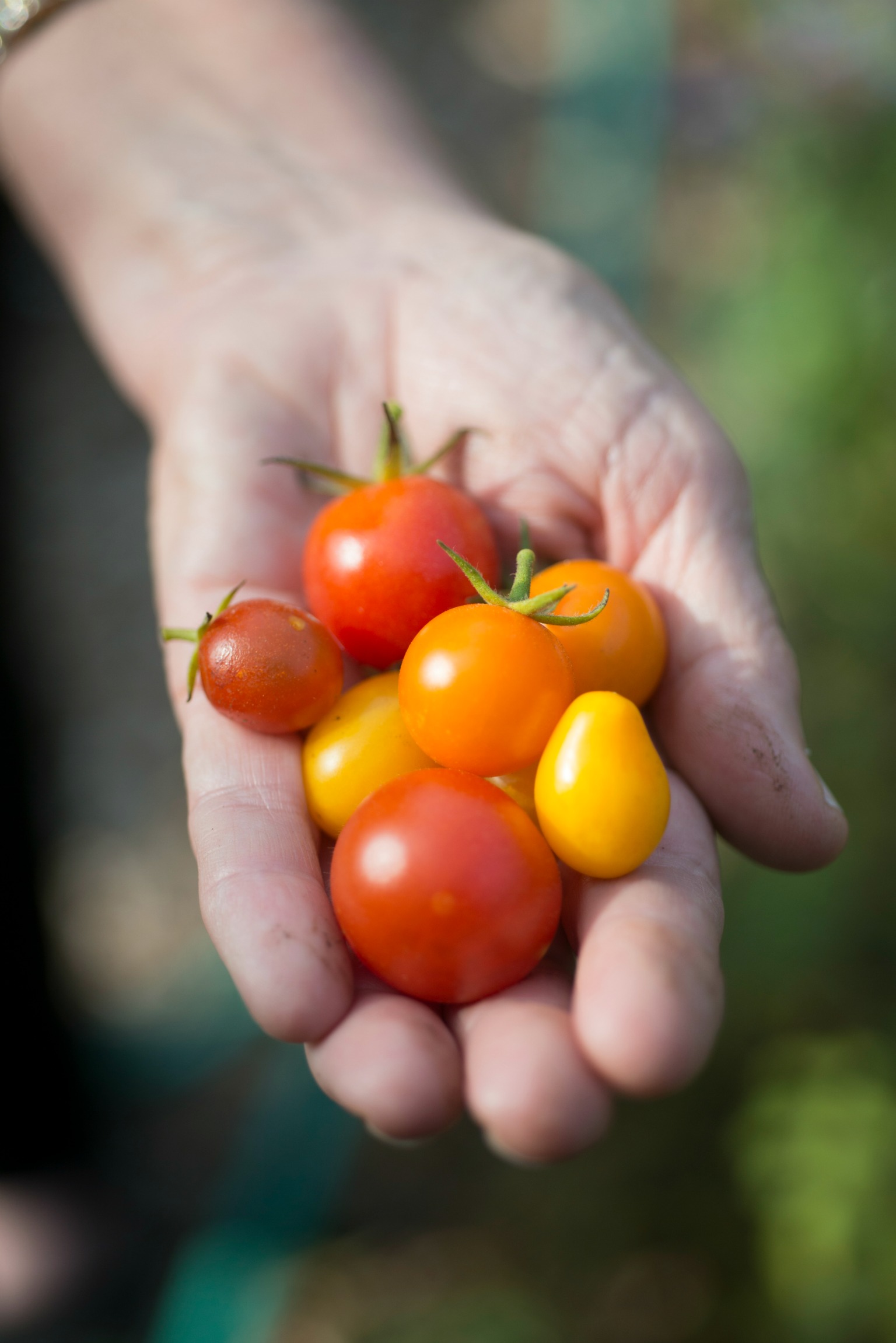 All of that knowledge is bundled up and ready to assist local gardeners with aspirations of nurturing their own green thumbs. And that's just Cindy. Every Master Gardener has their own expertise, bringing different interests and knowledge. "The Putnam sisters always teach about fruit trees and pruning and planting, and Stu Dalton loves roses and teaches people how to prune them," Cindy cites as examples. Keep in mind, all of these resources are readily accessible—whether it's free classes, online gardening tips (look for month-by-month hints) and even free public service helplines, including locations in Redwood City and Half Moon Bay, where you can email, call or walk in for help. To learn more, check out smsf-mastergardeners.ucanr.edu. And, if gardening is on your "must-do" list for 2019, below is some advice from Cindy to get you started.
VEGETABLE GARDENS
Everything tastes so much better when you grow it yourself, pick it yourself and then eat it right out of the garden. And hands-down, you can't beat homegrown tomatoes. You can start with a container on your back porch, so you don't have to have a big plot of land. If you want to grow tomatoes and peppers and things like that, you need six to eight hours of sun every day, so you need to pick the sunniest place in your yard. January is a good time to prune your roses, and it's also a good time to plant your fruit trees. It's also a good time to start thinking about what you want to plant where and to order your seeds.
BUTTERFLY GARDENS
There are about 150 species of butterflies in the Bay Area, and a large number of them are endangered. In fact, the Bay Area has the highest number of endangered butterflies in the United States and it's because of loss of habitat and loss of their native host plants. Every butterfly has a host plant on which they lay their eggs, and those are the only plants that they lay their eggs on. So, for example, monarchs lay their eggs on milkweed, so if there's no milkweed, there are no monarchs. For any species of butterfly, you have to have the host plant for them to lay their eggs on and then you have to have nectar plants to feed the adults. You have to have both.
BACKYARD CHICKENS
I've had chickens for about 10 years now. It was one of the things I wanted to do after I retired, and I'm now on my third flock. Fresh eggs taste so much better, and the yolks are so much richer. You need a secure coop because we have racoons, opossums, hawks and other things that are happy to feast on your chickens. You could have a coop with three chickens, and you'd get three eggs a day, and for most families, that adds up pretty fast. Six chickens for my family is a lot, so I give away a lot of eggs to friends. I have a feeder and water I can fill up so I can go away for a while, and I have an automatic door that lets them in and out, so from that standpoint, they can be easy to take care of. If you raise them from chicks, it takes about five months before they start laying eggs.
BEEHIVES
I think it makes it better for my whole garden if I have bees in the yard because they're pollinating everything. It makes it much easier to grow my vegetables because I've always got somebody working for me. It's expensive to start a hive, and the last couple of years, we usually lose one or sometimes two over the winter. This has been a problem for beekeepers in this area because people use pesticides in their yards, and the bees collect for you from a mile and a half all the way around. Usually about August is when you harvest the honey. You want to leave enough time in the fall for them to replace enough honey to live through the winter.
WORM/COMPOST BINS
I think it's really important to be able to recycle everything I can. The good news is that it helps me because I create all this compost that I can put into my vegetable gardens. Worms give off a really, really rich poop and liquid you can use to pour onto your plants. What I also do is I usually take a shovel of that and put it into my compost bin as I'm starting the compost, so the worms and everything all work together. One of my gardeners once told me, 'I tell everybody Cindy's garden is the best because she's got this great compost.' The compost really makes my tomatoes grow.
helpline & drop-in
Mondays and Thursdays
9AM-4PM
650.276.7430
Veteran Memorial Senior Center
1455 Madison Avenue
Redwood City
Elkus Ranch Conference Center
1500 Purisima Creek Road
Half Moon Bay