Words by Paulette Phlipot
Summer is the season for grilling! Instead of heating up the house, fire up the barbecue and enjoy the beauty of your backyard. PUNCH's resident foodie Paulette Phlipot shares her favorite recipes for summer entertaining.
Grilled Peaches
If you like peaches, you will absolutely adore them grilled!
serves 4
Ingredients
2 peaches, best if they
are still a little firm
olive oil
½ cup sour cream
1½ tbsp coconut sugar or
maple syrup
Preheat the grill to medium and oil the grates.
Stir the coconut sugar or maple syrup into the sour cream and set aside.
Slice the peaches in half along the seam, remove the pit, and brush olive oil across the cut side of the fruit.
When the grill is heated, place the peaches cut side down onto the grate. Grill until you can see grill marks–about 5 minutes–then oil the other side and flip over and grill for another 4-5 minutes. Remove from the grill and let them cool for about 5 minutes.
Place each peach half on a plate and top with sweetened sour cream before serving.

Grilled Lamb Loin Chops with mint & Tomato Salsa
Simple, sweet and special. With a little planning ahead, this recipe can be enjoyed even on the busiest of weeknights.
Serves 4
Ingredients
4 lamb loin chops
½ cup honey
½ cup Dijon mustard
1 tbsp dry vermouth
2 tbsp Worcestershire
sauce
2 tbsp fresh tarragon
Mint & tomato salsa
1 small tomato, diced
¼ cup mint leaves, chopped
2 tbsp olive oil
salt and pepper to taste
Place the lamb chops in a sealable container. Mix the marinade ingredients together and pour over the meat. Refrigerate overnight or for at least 6 hours, turning the meat occasionally.
Preheat the grill to medium-high and oil the grates.
Combine ingredients for mint & tomato salsa and set aside.
When the grill is heated, place the meat on the grates and cook until seared on both sides, about 4-5 minutes each side.
Remove from the grill, cover loosely, and allow to rest for 5 minutes. When ready to serve, spoon mint & tomato salsa on top.
Use caution when grilling lamb chops over fire since they have a fair amount of fat that can drip, which will cause flare-ups. It's helpful to leave part of the grill without coals, or turned off so you can move the chops until the flare-up calms down.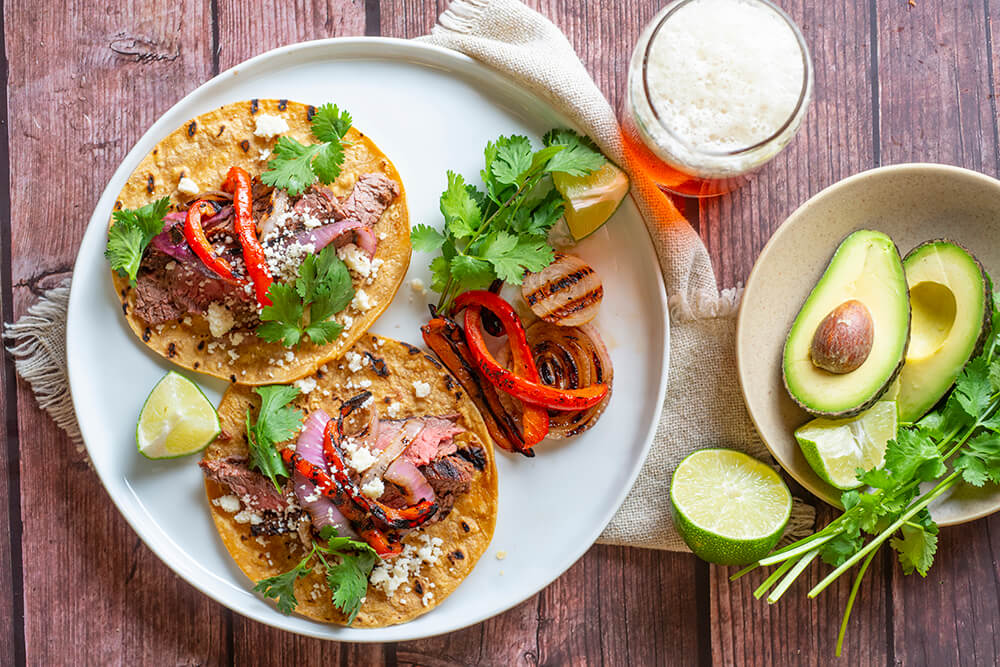 Grilled Flank Steak Tacos
Popular for using in fajitas, flank steak is a long, thin, flat cut of beef that is just as good for tacos. The meat can remain quite tender if cooked to rare or medium-rare and sliced thin against the grain.
Makes 8 tacos
Marinade Ingredients
2 tsp cumin seeds
2 tsp garlic granules
2 tsp chili powder
2 tbsp orange zest
4 tbsp olive oil
pinch of red pepper flakes
salt and pepper
Other Ingredients
1 lb flank steak
8 corn tortillas
1 lime
Topping suggestions
avocado
cilantro
grilled red pepper
grilled poblano pepper
grilled red onion
cotija cheese
sour cream
Place flank steak in a sealable container. Whisk the spices with the oil and pour over the steak, making sure the steak is evenly coated. Cover and marinate in the refrigerator for at least 4 hours with a maximum of 24 hours, turning the meat occasionally.
Preheat the grill to high and oil the grates. Place the steak on the grates, flip after 5 minutes and continue cooking for an additional 3-5 minutes. Let the meat rest for about 10 minutes before slicing.
Warm the tortillas on the grill, place a couple of slices of meat on each, and top with veggies and cheese of your choice. Serve with a wedge of lime.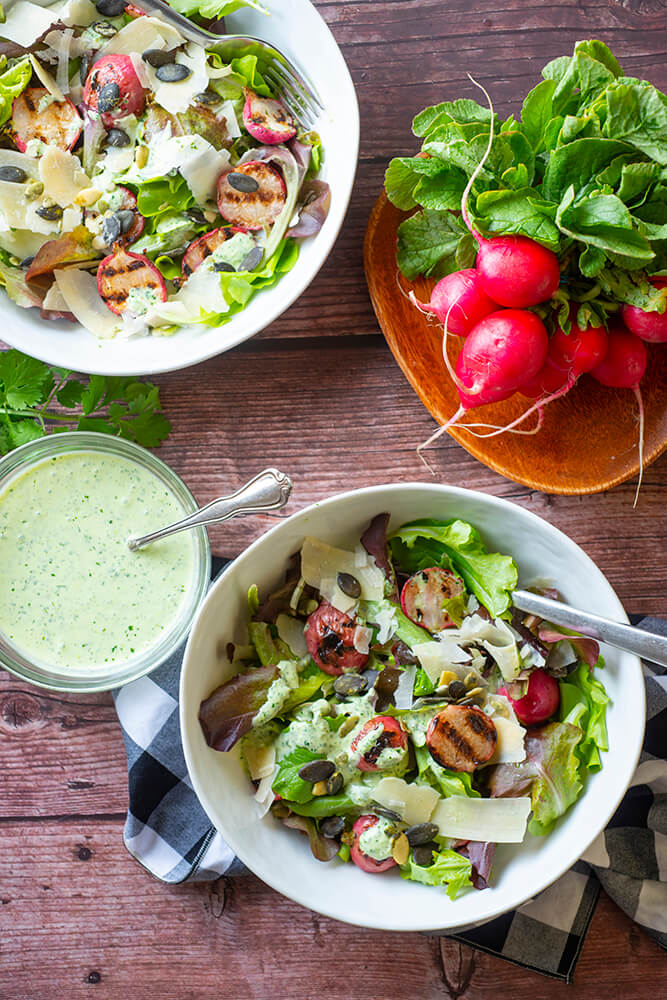 grilled radish salad
Radishes may not be the first vegetable that comes to mind when you think about grilling, but once you try these, you just may change your mind!
Serves 2
Cilantro dressing
1 cup fresh cilantro leaves
1 tsp chopped jalapeno
(adjust for preference)
1 clove garlic, minced
¼ cup sour cream
¼ cup full-fat plain Greek yogurt
1 tbsp fresh lime juice
3 tbsp olive oil
¼ tsp salt
Grilled Radishes
1 bunch of radishes
2 tbsp avocado oil
salt and pepper
Other Ingredients
4 cups salad greens
¼ cup shaved parmesan cheese
2 tbsp pumpkin seeds
Add all dressing ingredients to a food processor or blender. Puree until smooth. Set aside.
Trim the greens off of radishes, cut them in half and place them in a bowl. Drizzle with oil, sprinkle with salt and pepper and toss until they are all coated thoroughly.
Grill on medium-high heat directly on the grate or in a grill basket if the radishes are small. Grill for 3-4 minutes per side or until fork-tender, turning once. Place the radishes back into the bowl and toss to coat with any remaining oil in the bowl and set aside to cool.
Once the radishes are cool, place salad greens into two bowls, top with radishes, dressing, parmesan and pumpkin seeds.
Refrigerate remaining dressing and enjoy with eggs, potatoes or just about any vegetable.