Off the 101 in East Palo Alto, in the shadows of large retail and commerce structures ranging from IKEA to Amazon, is a small-yet-prominent, family-owned pepper farm. But you'd be hard-pressed to find Happy Quail Farms if you're just driving by.
Though their peppers are revered by locals at farmers markets and restaurant chefs alike, the private farm hides in plain sight.
Owner David Winsberg started Happy Quail Farms in 1980, not surprisingly, to raise quails to sell their eggs. Initially coming to the Bay Area as a glassblower apprentice, he pivoted into agriculture. Along with quails, David was growing basil and other herbs, delivering them by way of his Vespa scooter.
About the time he married and started a family, he decided that he needed a more durable produce with a higher demand to make a living as a self-sufficient farmer on small acreage on the Peninsula. Calling upon his past from his father's green bell pepper farm in South Florida, he settled on growing peppers in the clay, silt and loam-based soil of the Bay. The Happy Quail moniker, a vestige of his past, remained in name and represented the intentionally small, family nature of his farm.
Nearly four decades later, Happy Quail Farms produces a large variety of fresh peppers with some of the most sought-after produce in the country. It's also the last-known independent farm in East Palo Alto.
"We didn't intend to get big," soft-spoken David explains. "We wanted to become a small, specialty farm."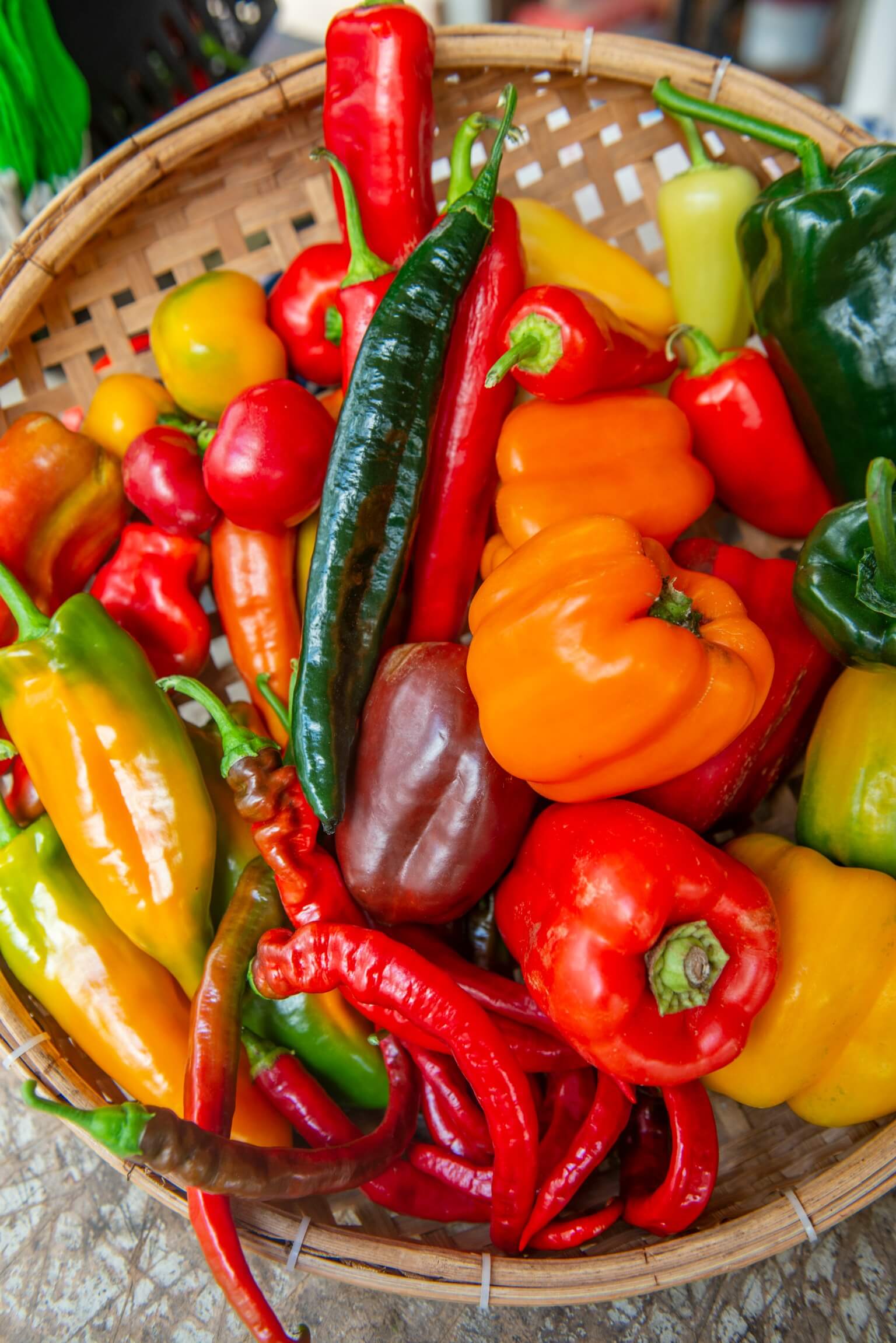 Longtime residents might recall the area's agricultural history but new neighbors may be surprised to learn how fruitful the ground is in East Palo Alto. How a fertile farm hides among the tech giants of Silicon Valley.
Happy Quail Farms grows many specialties of bell, poblano, shishito and padrón peppers—the largest assortment of any one pepper farm in the U.S. Famed food writer Calvin Trillin once remarked that the padrón is the only pepper he'd travel to Spain for and wondered why no one grew them in the U.S. According to David, Happy Quail Farms was the first to jump in, and lo and behold, these specialty Spanish peppers can be found in East Palo Alto.
David notes that Americans are just acquiring a palate for very hot peppers; therefore, the majority of his crop is sweet and red. While many pepper producers wax the vegetables to maintain their color and firmness for a longer shelf life, Happy Quail Farms decided to forego that preservation step to instead sell the produce quickly so customers can enjoy the freshness.
Restaurants as far away as Miami and Boston order directly from Happy Quail Farms with San Francisco's La Mar Cebicheria buying 80 percent of Happy Quail Farms' unique ají amarillo peppers for their ceviche.
The two main factors that determine the spiciness or heat of the peppers are temperature and length of season. Farmers in hotter climates, such as New Mexico and the Yucatán, grow spicier varieties. The Peninsula's cooler climate and shorter season is more suitable for a sweeter variation of pepper. The peak season for local peppers is between June and mid-October but can run all the way to February, depending on the amount of rain and cold weather.
Happy Quail Farms has become an institution at local farmers markets and even predates when East Palo Alto was incorporated in 1983. Over the years, the farm has grown and adapted with the times. New technology ushered in solar panels to defray energy costs to help run the water pump system and 20 years ago, David upgraded to a retractable roof greenhouse for passive climate control.
The greenhouse is tucked behind David's home and upon opening the large sliding door, the rows and rows of green leaves and peppers are magically revealed. Happy Quail Farms was the first to use this new roof technique for vegetable growing. The adjustable roof allows the greenhouse to cool the confines without the need and expense of fans. Peppers like it hot and David's greenhouse can maintain an internal temperature of approximately 100 degrees.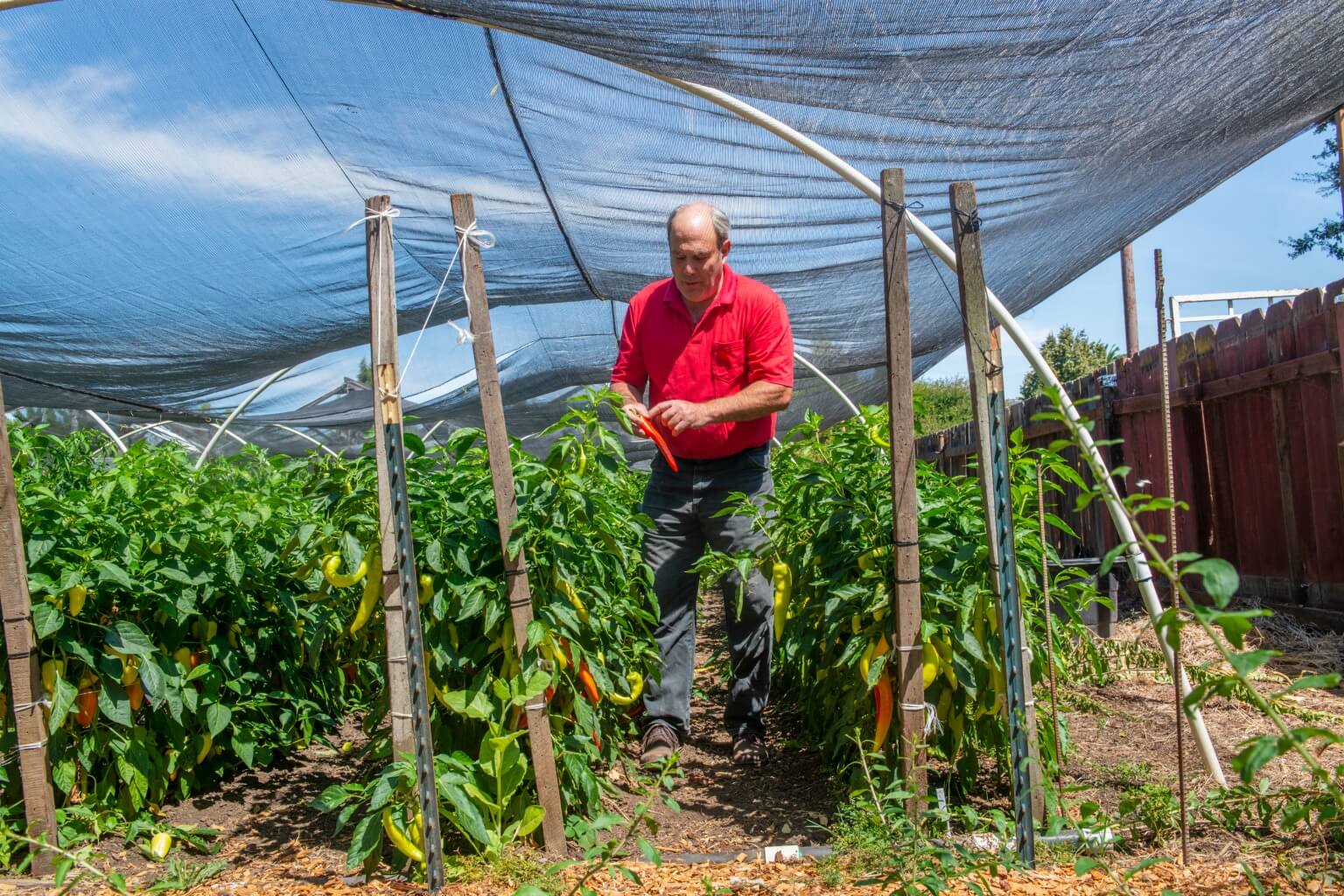 One of the disadvantages to the Peninsula is the familiar pangs of escalating real estate prices. Happy Quail Farms has expanded into other plots outside of the main farm but this past year, the owners of the lot where he grows rhubarb decided to develop their land. Not surprisingly, rhubarb can't compete with those returns.
While they won't have as much rhubarb, Happy Quail Farms plants a variety of other crops to help rotate what's grown in the farm's soil, such as cucumbers, strawberries, watercress and tarragon. In recent years, David decided to extend his pepper season and products by offering a popular line of powders, relishes and sauces, including Ají Amarillo, Habanero and their top-selling sauce: Smoky Cayenne. The processed peppers have grown to make up 20 percent of Happy Quail's business.
Any kind of farming is hard work, but the life of the pepper farmer can inherently sting. David and his team avoid touching their eyes when cutting peppers and while producing their pepper powder, use a respirator and gloves along with a ventilation system. David recalls the time he broke a bottle of habanero pepper powder in the back of his truck. "It was so potent, I couldn't drive for a month without sneezing and crying," he says.
What should you do if you eat a pepper that's too hot? David's tip is either bread or dairy. He says peppers have a sticky quality that latches onto our taste buds. While water provides little to no relief, David recommends something abrasive like bread or products with lactose such as milk or ice cream to help extinguish the inflaming pepper.
You'll find Happy Quail Farms at farmers markets in Menlo Park (Sunday 9AM-1PM), Marin County and the San Francisco Ferry Building. Look for the amazing variety (red, orange, yellow, white, green, purple and chocolate) of fresh and bottled peppers to add color and flavor to your dishes. You can also buy sauces and relishes at happyquailfarms.com. And if you're a pepper neophyte, keep a pint of ice cream nearby just in case.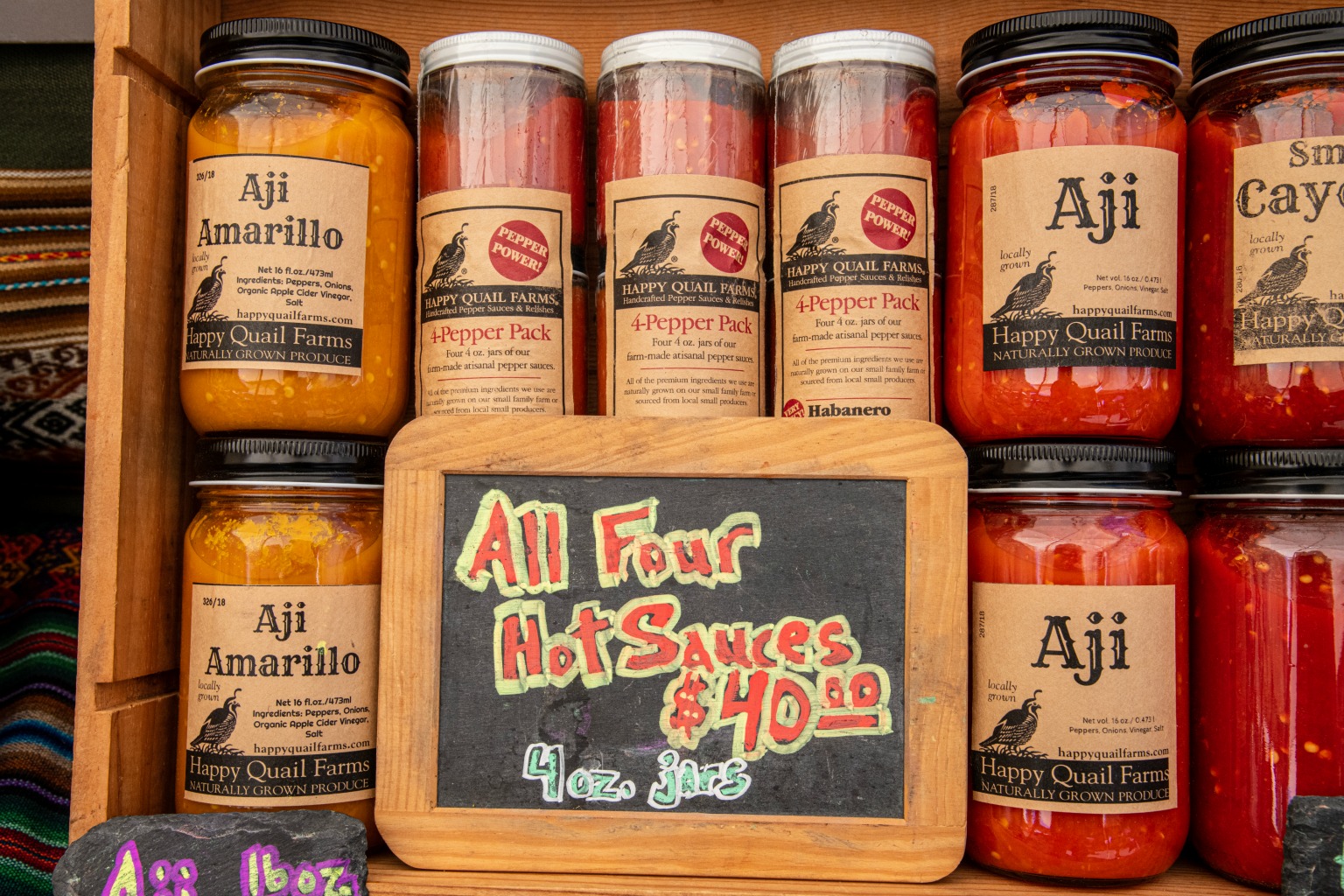 make it
DAVID'S SECRET SAUCE RECIPE
Ingredients
2-3 lbs long Cubanelle peppers
(vine-ripened if possible)
½ cup high-quality olive oil
1½ lbs tomatoes, cubed
2 onions
salt
ciabatta bread
pinch of sugar (optional)
Instructions
Slice the onions and brown them in the olive oil on low heat in a large, shallow pan until they are caramelized. While the onions are cooking, seed the peppers, slice them thinly either by hand or food processor. Add the peppers to the caramelized onions. They will first produce a lot of liquid. Let the liquid slowly evaporate. Add salt to taste and if you want, a pinch of sugar. Before it starts to burn, add cubed tomatoes and quickly stir. The tomatoes should not cook all the way. When the mixture is about done, cut the ciabatta thinly and toast. When you are ready to serve, drizzle the toasted bread with olive oil and put a spoonful of David's Secret Sauce on it. Makes for a great appetizer! If used alone, it makes a wonderful sauce for pasta, as well as a side dish along any main entrees like fish or meats.