Anyone else assessing the front yard of an Emerald Hills home for sale might have been discouraged by the steep, seemingly useless bank overrun with shrubs. But when Sarah and Steve Warto eyeballed the plot of land, they envisioned a south-facing terraced garden producing a year-round supply of fresh vegetables. Today, that hillside slope is teeming with tomatoes, eggplant, peppers, kale and radishes with splashes of glorious yellow and white dahlias lifting their faces to the sun.
Also strewn throughout the property are succulents—spilling from flower boxes, bursting out from a living wall of color and holding court in vibrant pots around the patio and porch. Meander down a backyard path and a hammock beckons from the corner and just across the way, a small stage tucked in the shadow of a redwood tree stands ready for imaginative play. Asparagus ferns and kangaroo paws abound, along with miniature birds of paradise, romantic soft grasses and groundcover popping with shades of burgundy and chartreuse.
"It's never going to be finished. Gardens evolve and that's what's so interesting," Sarah notes, gesturing out from the backyard deck. "They're always changing and growing and maturing."
The same might be said for the couple who created this haven.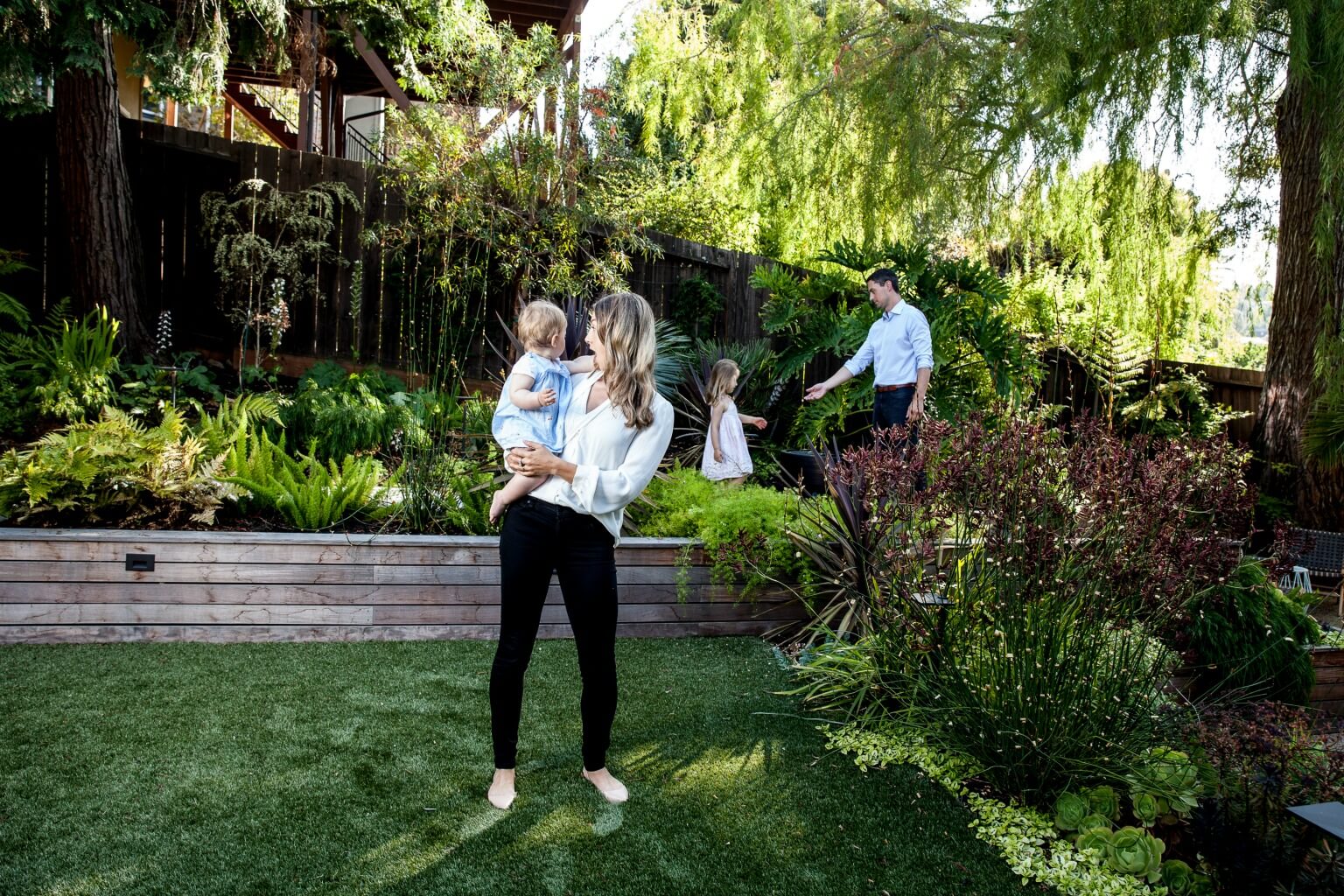 Sarah and Steve Warto trace their own roots to opposite coasts. Steve grew up in San Mateo, helping his dad with his ornamental tree pruning business and taking in plenty of Peninsula fresh air. "As a family with four young kids, my parents were always pushing us outside to get us out of the house," he reminisces with a chuckle. "Every weekend, we would be at a different local park, hiking or camping. That's how we spent most of our childhood." A sports enthusiast, Steve played golf at Aragon High School and found himself intrigued by the design elements of the courses he played. After graduating, he attended Santa Barbara City College, with the intent of transferring into a landscape architecture program.
Meanwhile, Sarah came of age in Westchester County, New York, heavily influenced by her mother, a landscape designer, and her grandmother, a botany lover. "It was a pastoral place to grow up in the suburbs, but you always had the influence of New York City close by," she says. "Being outside was always a big part of our lives." Sarah's passion for the outdoors, combined with her interest in math and engineering, led her to Cornell University. "Landscape architecture was a very, very small discipline there. Our class size was maybe 15 people."
It's at this point that their paths cross—with 19-year-old Sarah and 20-year-old Steve meeting in Ithaca, New York. "I had been at Cornell for a year and a half and so a fresh face coming into a small program with a Santa Barbara tan was very eye-catching," Sarah fondly recalls. "We became very fast friends and then started dating and then never stopped."
Whether it was classwork or courtship, their time together was always intertwined with the interests they shared. "We would take picnics, take walks, explore the gorge, do everything that we could do to be together and be outdoors," relays Steve. "There was a really easy bond between the two of us."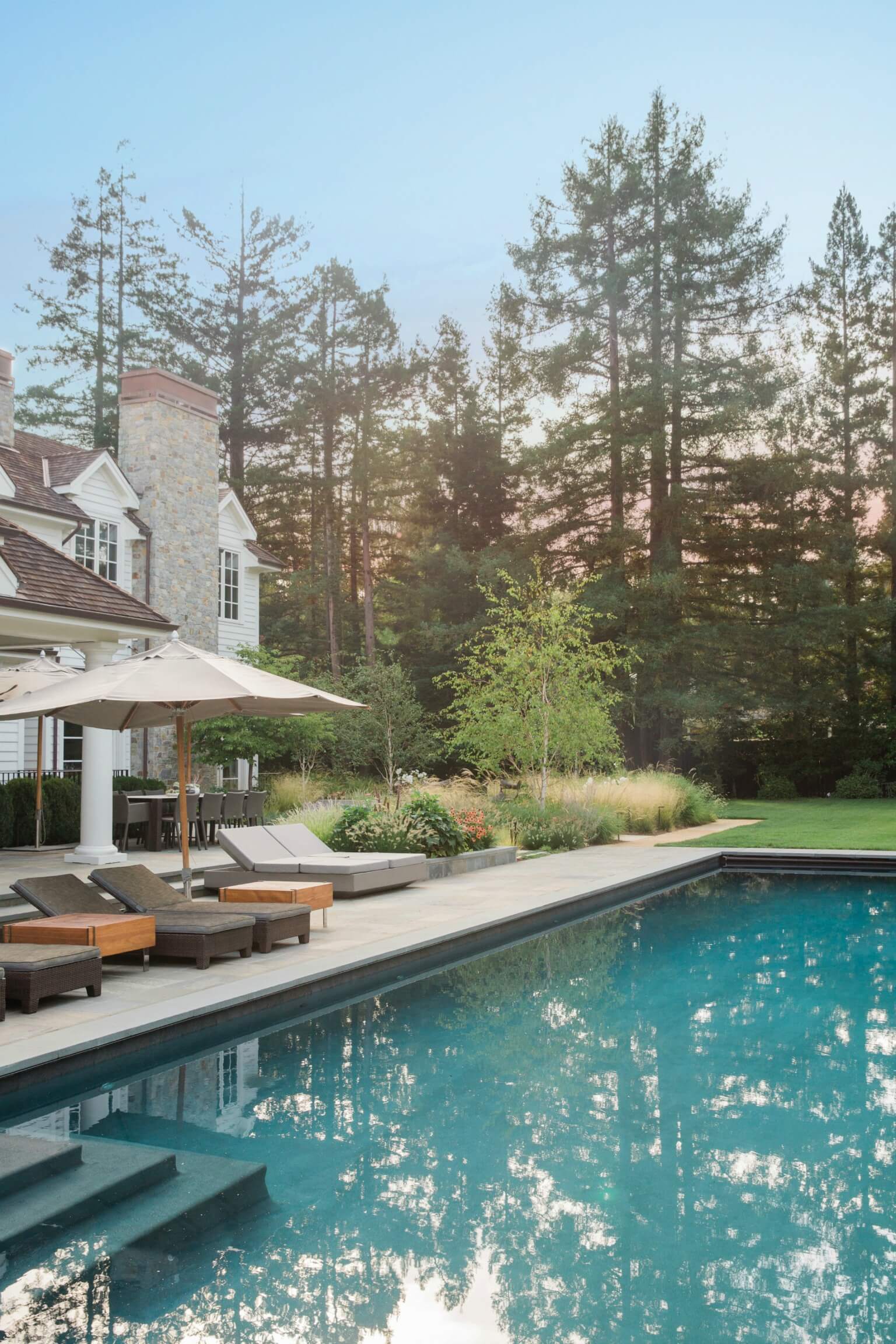 Holding tight to their relationship, the two found themselves veering in different directions after college. Sarah took a job in New York City, working for a global architecture firm with a focus on public and corporate landscape architecture projects. Steve headed back to California, launching his career in boutique design firms. With the long distance growing tiresome, the two set their sights on the Bay Area. "We wanted to give our love a chance on the West Coast and I knew that it would be an easy place to do what we love," Sarah says, with Steve nodding in agreement. "We've traveled a lot of places, and I can't think of a better place to live, especially given our profession," he adds.
Initially settling in San Francisco, Sarah transitioned from public and corporate projects into high-end residential design work. "Residential was such an easy connection for me. It was a people connection that I was really missing, and that was the piece that really started to make it blossom," she says. "So many of the really sweet moments of a garden are small and intimate and unexpected and that's what was so enchanting about moving to the residential sector."
In 2012, at the age of 29, Sarah decided to start her own business. "People thought that was risky but in my heart, it didn't feel risky. It felt really natural and I felt ready."
Sarah launched Boxleaf Design, and Steve, who had been running a different venture, recognized the opportunity to go all-in with his wife. "He figured out how to make us an official business and I started to run with the relationships," Sarah recounts.
"Over time, our roles sort of organically fell into place," echoes Steve. "It's the same thing in any relationship, especially marriages and partnerships."
Sarah completes the thought: "It's really nice to build a business with somebody you trust wholeheartedly."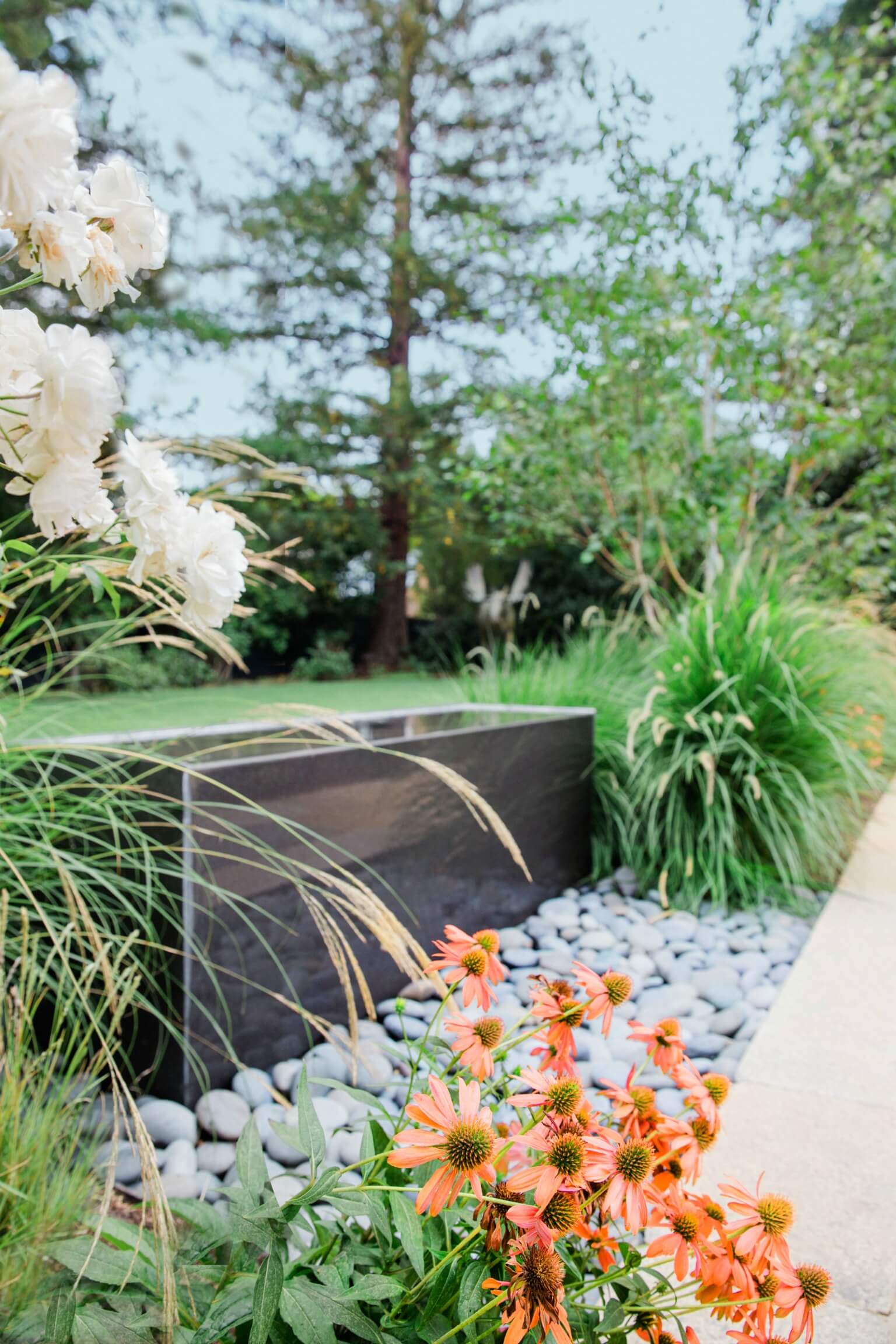 In 2017, along with their two-year-old daughter, Ivy, and a new puppy in tow, they moved to Emerald Hills and relocated Boxleaf Design in Redwood City. "We needed more space and our work was shifting down the Peninsula. Signs were pointing strongly in this direction," Sarah says. Today, Boxleaf Design has four full-time designers, with Steve running point on the business and family fronts, stepping up even more after the couple's second daughter, June, arrived last September.
Seven years into Boxleaf Design, Sarah and Steve are firmly ensconced in their landscape architecture sweet spot. "I think that the buyers on the Peninsula are smart. They know that there's more to a property than just the home value price. They move here and live here because they want an indoor-outdoor lifestyle," Sarah notes. "Our minds go to maximizing the potential of every space, and so we end up in projects where there's either a large palette to work with or a big problem to solve."
Projects always start with an interview, a chance to dive into a dialog about where people thrive and what makes them tick. "I ask questions like, 'Do you read the newspaper? Are you a morning coffee or an evening glass of wine person? Do you take out the trash? Do you like to dine outside? How do you like to socialize and entertain? Do you have kids and what are their ages?'" Sarah explains. "I'm sure most people don't know how the questions that I'm asking will translate into something in their garden, but it will; it always does. Our goal is to create an intuitive garden that functions as a seamless extension of daily life."
Whether Boxleaf is designing for a narrow San Francisco lot or a five-acre property in Woodside, Sarah sees clients expressing a common desire. "I think families in general want to live outside. We're creating outdoor landscape spaces that check every box for your creature comforts inside of your house," she says. "We expect our outdoor spaces to be elevated to the point where the two speak to each other and there's an easy transition from one space to the next."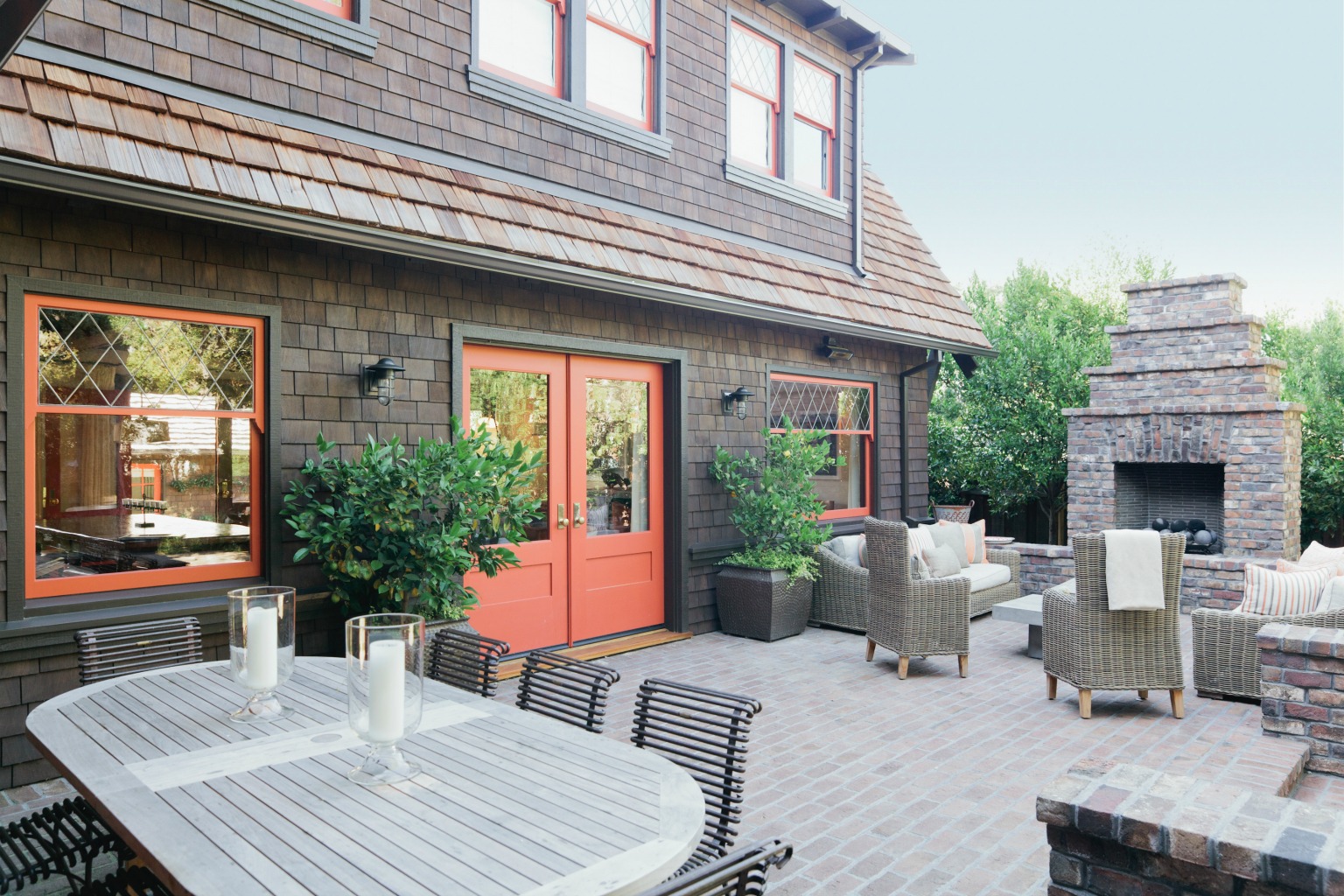 Sitting out on their back deck, with baby June down for a nap and Ivy playing nearby, the busy pair perceptibly relax, pausing to process the journey that has delivered them to exactly the right place. "Sarah and I both feel we should use outdoor space as much as possible, especially in this climate," Steve says. "The weather is pretty much perfect all year round."
"Our moments of recharge are times when we can be outdoors and catch that breath of fresh air," Sarah reflects. "I think our clients have a very similar response to the gardens we create; they recognize that many of life's best moments happen outside. I feel so lucky to get to do what we do—creating memorable spaces that make people happy."