Words by Johanna Harlow
Drew Dunlevie talks music like a car mechanic talks shop—with the fluid familiarity of someone who knows his area of expertise intimately. When asked about favorite concerts, he can rattle off a list of bands with the ease of a technician ticking off auto parts… Which is why it should come as no shock that Dunlevie's efforts to transform Menlo Park's old Guild Theatre (alongside project partners Pete Briger and Thomas Layton) have met with success.
The three board members of Peninsula Arts Guild (the nonprofit behind the renovation with Dunlevie serving as president) have executed a full transformation. Where a dated indie movie theatre once resided, a state-of-the-art live music and performance space has taken up residence. The newly reimagined Guild Theatre featured its first performer (four-time Grammy winner Robert Glasper) at the end of February—and it's been demonstrating out-of-the-starting-gate enthusiasm ever since, dishing out concerts at breakneck speed.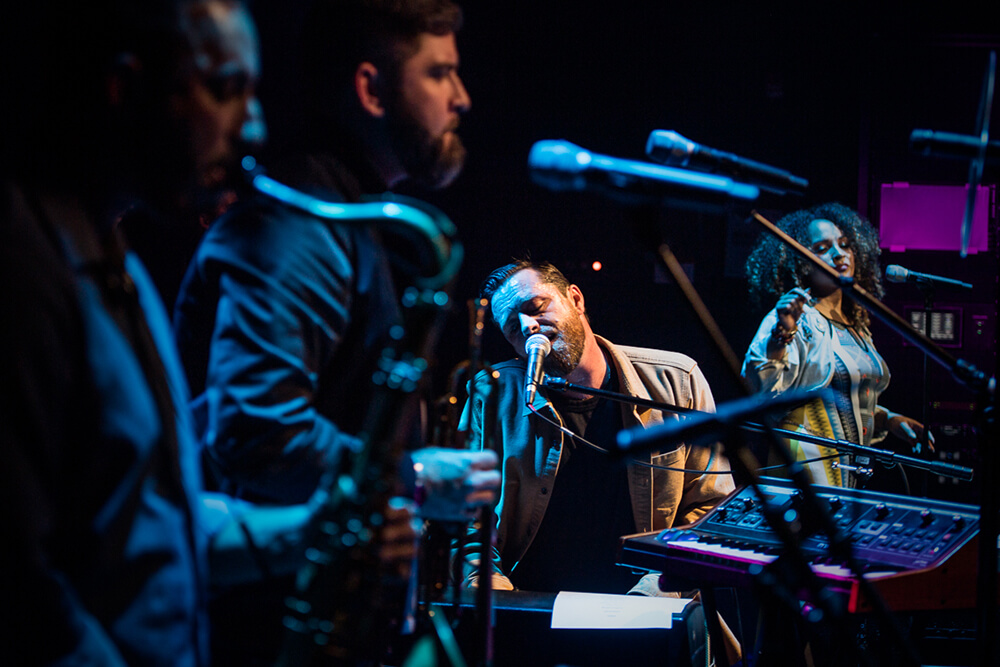 Image Courtesy of Paige K. Parsons
"We've had seven back-to-back shows," says Drew, his voice notably hoarse when we catch up with him during a quiet moment in the Guild's lobby. How will he spend his day off? Giving PUNCH a behind-the-scenes tour, of course.
As Drew moves from the lobby to the nearest staircase—passing a dozen or so vintage band poster illustrations and photographs of rockers—he shares his hopes that this new venue will advance the music scene south of San Francisco.
"I love the Fillmore. I love the Greek Theatre… But I don't want to have to go there every time to see a show," Drew remarks over his shoulder as he hikes the stairs. "I'd like to be able to just pop over to my local place and see a good show and be in bed at 11:15." Weeknight shows and long drives followed by early workday meetings can be a punishing combo, the veteran concertgoer notes.
Drew says The Guild's intent is to embrace a medley of genres. "We want to bring a wide variety of artists here, make a lot of people happy." Though he considers himself to be an alt-country/Americana kind of guy (and a dabbler in hip-hop and metal), The Guild's lineup features a range of bands, from Jazz Mafia to The Mother Hips (rock), from Midnight North (folk) to Marty Stuart and His Fabulous Superlatives (country/bluegrass).
"Being able to expose people to new things is kind of fun too," Drew smiles.
But despite its new incarnation, The Guild won't forget its movie palace past. In fact, just out the window behind Drew, a glimpse of neon letters from the old theatre's restored blade sign comes into view. "My first apartment was right down the street," he notes with nostalgia. "I've probably seen 35 movies here."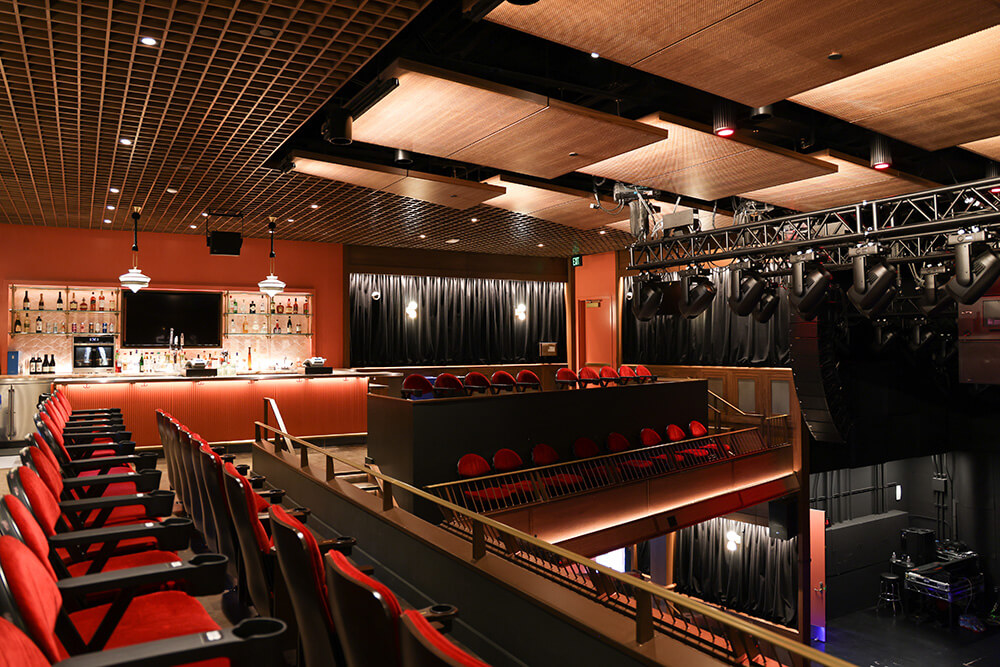 Reviving the Venue
Step into the theatre's regal balcony for another reminder of The Guild's storied past. With glamour befitting its 1920s origins, the area features rows of red velvet chairs and an upscale bar with marble countertops, above which hangs a pair of vintage pendant lights.
But retro must mingle with modern, and beyond the mezzanine's gilded railing hangs an armada of stage lights (each the size and shape of a cannon) and arching columns of loudspeakers. "People talk about jewel boxes," Drew says. "This theatre's full of jewels: the sound system, the lighting, the acoustics, the design—all of it is one of a kind."
As you might imagine, getting here hasn't been easy. When asked about renovations mid-project, Drew would dryly reply, "Well, I'm trying to build a $35 million state-of-the-art live performance venue on a landlocked parcel on a state highway in the middle of a pandemic with a supply chain disruption." Even now, they're still ironing out a few details, he admits—touches like adding signature cocktails and installing a seven-motor theatrical curtain (which was delayed)—but, "We're changing the oil in mid-flight!"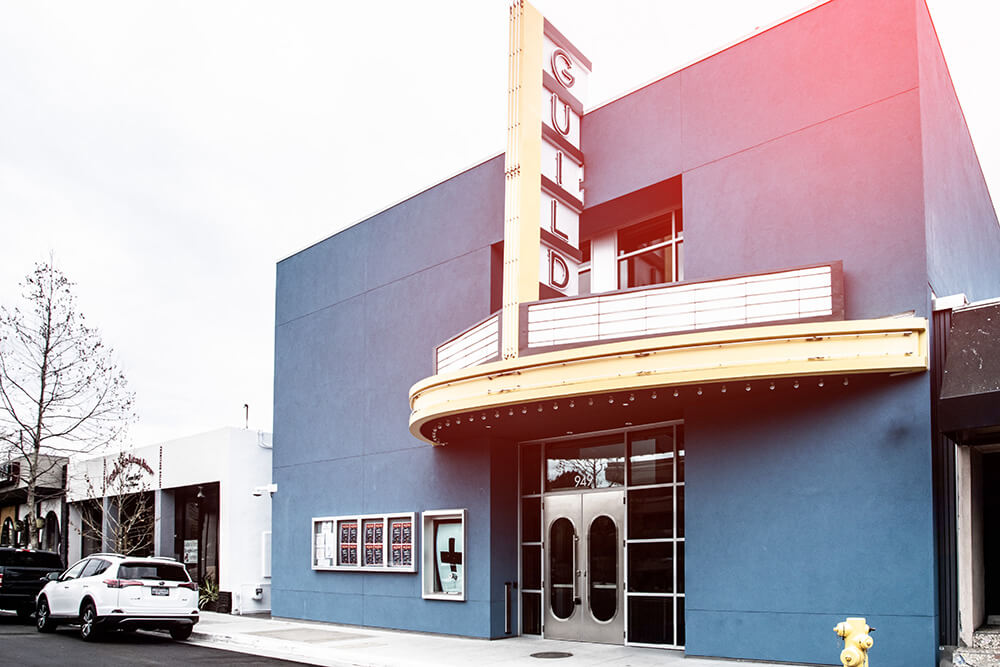 Fortunately, he's working with a strong team of players. In addition to commending his fellow visionaries Pete and Thomas, Drew credits general manager Tom Bailey with playing a crucial role in day-to-day operations. Chris Wasney of CAW Architects designed the building, and celebrity chef Michael Mina serves as executive chef. And, at the very core of the initiative, there's the 36 founding donors who contributed over $1 million apiece to realize The Guild's potential.
In a humble expression of gratitude, Drew draws on a sports metaphor. "Quarterbacks get way too much credit and too much blame," he says. "I'm the quarterback, but you don't win if you don't have an offensive line and a great running back and a good defense. These people are all incredibly talented and know far more about this than I do."
Dazzling Design
Then there's The Guild's rock star designer: Ken Fulk. Known for his exuberant interiors (think bold statement pieces like snakeskin-patterned bars, walls covered with large faux turtle shells and zebra-print stair runners), the renowned San Francisco-based designer and friend of Pete's generously took on the project for free.
Drew recounts the initial design consultation: "When we started, we said, 'Ken, on a scale of 1 to 10, you're a 15. And that's brilliant. You're a supernova. But we want your 8… give us slightly toned down." For the front of house, Ken reined himself in. Not so much in the rooms away from public view.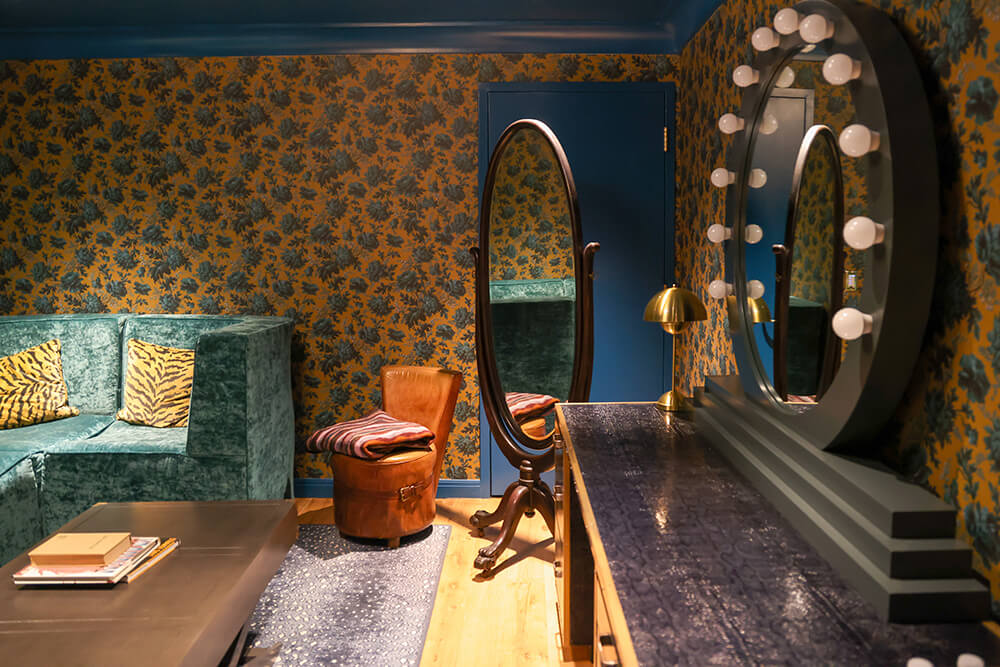 Ken's flamboyant touch catches the eye as soon as you enter the off-limits back stairwell. A light fixture presents itself like a marching band of trumpets, bent in all directions. The vintage flowers on the wall sconces match the old movie theatre's original decor. ("Ken Fulk's team cut out a huge swatch of the wallpaper and then used the pattern as the inspiration," Drew reveals.)
In the private space set aside for performers, Ken pulled out all the stops. As Drew flicks on the lights to the downstairs green room, he illuminates a lounge and kitchenette with deep peacock-green walls. There's a crushed velvet couch and a tiger print rug (with matching pillows). Snakes undulate along the wallpaper in one of the dressing rooms. Gold accents are everywhere—from the faucets to the electrical covers to the cabinet handles… even the fire extinguisher case is gilded.
Drew shares that their opening night singer couldn't get enough of the space. "He said, 'This place is crazy. I'm not going to my hotel. I'm going to stay here tonight!'"
Making Musical Moments
How does Drew make sure The Guild's concerts hit the mark? "I mean, it's a je ne sais quoi kind of thing. When you're at a great show with one of your favorite bands, everything works. It's easy to get a drink, you're in a good spot or a comfortable chair, or you're dancing on the floor in the front row—whatever it is, people have a different happy place at shows. We want everyone to find their happy place."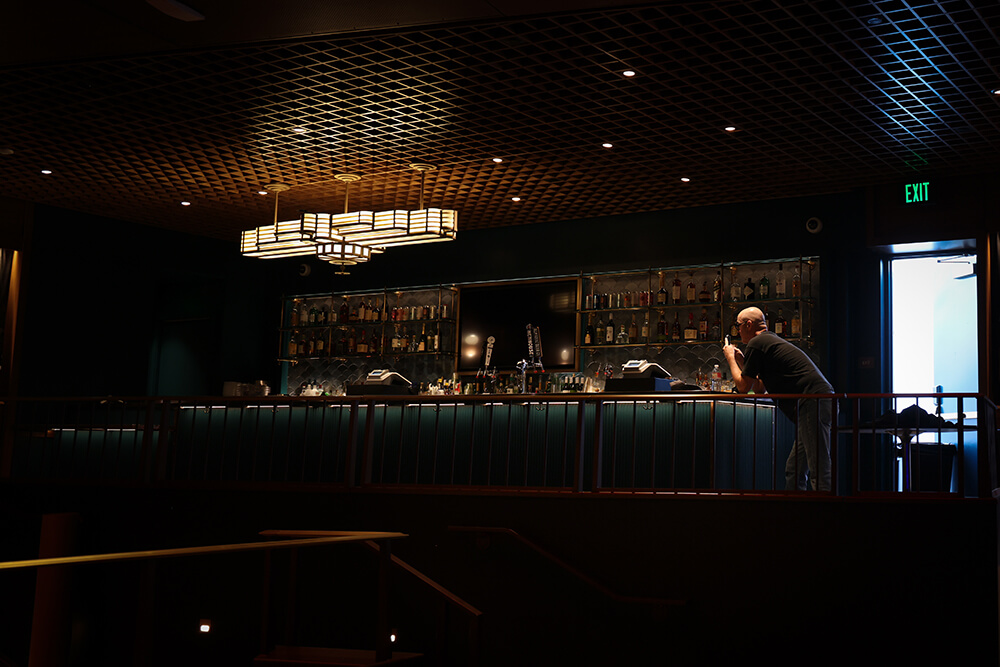 Drew's own happy place? "When you're in a room with everybody who is there for the band, not chit-chatting in the back or whatever. They need this, they need that night." This is a man who will always have bands on the brain (and not just because he's wearing a Newport Folk Festival cap).
The conversation segues into one of Drew's favorite music memories. It happened at Mezzanine SF when The Hold Steady started performing their song Constructive Summer. "It's a blistering guitar riff and everybody's singing along," Drew recalls. And as front man Craig Finn belted the closing lines—"Every hand went up, every beer went up, every cocktail went up in unison as everybody's singing that song. It's like church. It's a healing thing."
Drew pauses, then adds, "I thought to myself, I have no musical talent other than consumption, but that's how I could contribute one day. Maybe I could build a place and create moments like this."
And so he has.