Words by Sharon McDonnell 
Given that Half Moon Bay is less than an hour's drive from our Bayside communities, it's easy to take our backyard neighbor for granted. But this small coastal haven of 12,500 people is blessed with an outsized share of attractions. In addition to a charming downtown packed with dozens of artisan shops, beautiful sandy beaches (including the crescent-shaped arc that inspired its naming), clifftop ocean views from walking trails, fields of wildflowers in spring and towering redwood preserves, it's also home to Mavericks, the location of the world-famous big-wave surfing contest.
Looking to make a day of it—or several? Whether you're walking or biking beaches like Dunes, Venice, Francis, Poplar or Ross's Cove, buying fish straight off the boat at Pillar Point Harbor, kayaking, stand-up paddleboarding, playing golf at an Arnold Palmer-designed course, or reveling in Zen-like calm at Purisima Creek Redwoods Open Preserve, you'll find no shortage of enticements. Steeped in history, Half Moon Bay continues to evolve, so here's a sampling of new discoveries and beloved standbys to explore.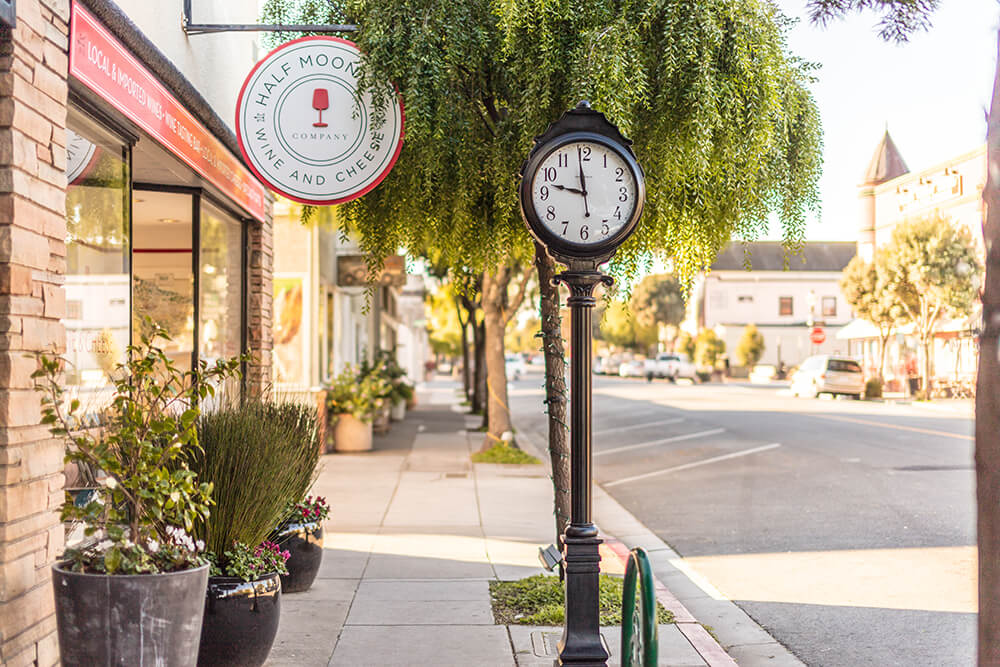 SHOPS AND STOPS
The new local artist collective, Ocean Blue Vault, showcases an eclectic mix of works including paintings, sculpture, glass, photography and textiles. Opened in 2022 by David Oliphant, founder of Ocean Blue Real Estate next door, the gallery's collection changes seasonally with a dozen or more artists featured at a time. Thanks to a recently added annex space, Ocean Blue Vault also presents rotating solo exhibits. Currently on display: captivating landscapes that appear to be photographs, but upon closer inspection are AI-augmented art created by Daniel Ambrosi.
Jupiter & Main is a men-centric gift shop whose tagline is "unique goods for extraordinary people" (think cocktail-related fixings and books, wool shirt jackets and flannels, outdoor-related items, body care products and cookware). Woven into Jupiter & Main, you'll also find the Kevin Henney Gallery. If you're on the lookout for fine art landscape photography, you'll appreciate the perspective of a sixth-generation coastsider. Jupiter & Main's sibling, Juno's Little Mercantile, a home décor shop which opened in June across the street, sells pillows, candles, interior design books and French gift items. A fantastic selection of African art, furniture and jewelry, from carved wooden Dogon doors from Mali to beaded masks from Ghana, can be found at Jungle Traders.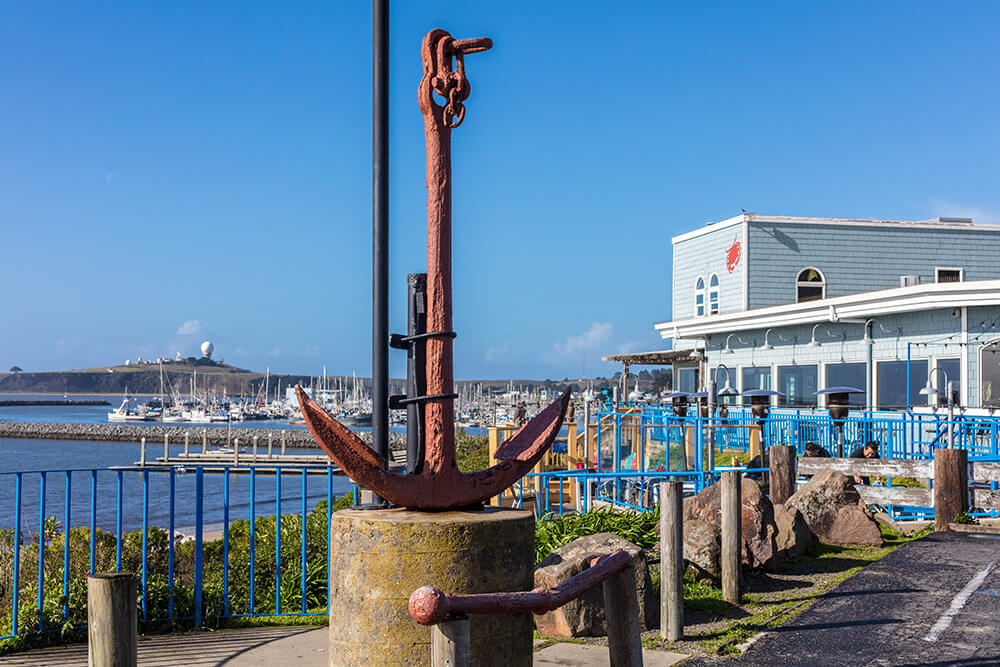 Alma & Bee is the most unusual nail salon you'll ever see: relax in plush armchairs (with a glass of wine) for all-natural manicures and pedicures or foot baths with herbs and oils from its on-site garden, then browse the vegan handbags with glossy surfaces and suede-like interiors, jewelry and accessories up front. Garden Apothecary offers skincare and wellness products and teas made from botanicals, plus free workshops for garden geeks and tea tastings.
The Harvard Neighborhood Market, a fair featuring local artisans, apparel, jewelry, skincare, spirits, treats, eats and live music, is held on second Saturdays on Harvard Street in Princeton-by-the-Sea, a small village five miles north of Half Moon Bay.
EATS AND TREATS
Since opening in 1997, It's Italia is acclaimed for its brick-oven pizzas, three styles of house-made gnocchi and Old World-style interior with rustic stone walls. Owners George and Betsy Del Fierro recently leased the longtime location of Main Street Grill (and Original Johnny's before that) on Main Street two blocks away, and plan to reopen it with an American diner breakfast and lunch menu (plus Italian specials) in April as Johnny's. The teal-colored booths (and floor mosaic of a chicken) are a nod to the town's maritime and farm heritage.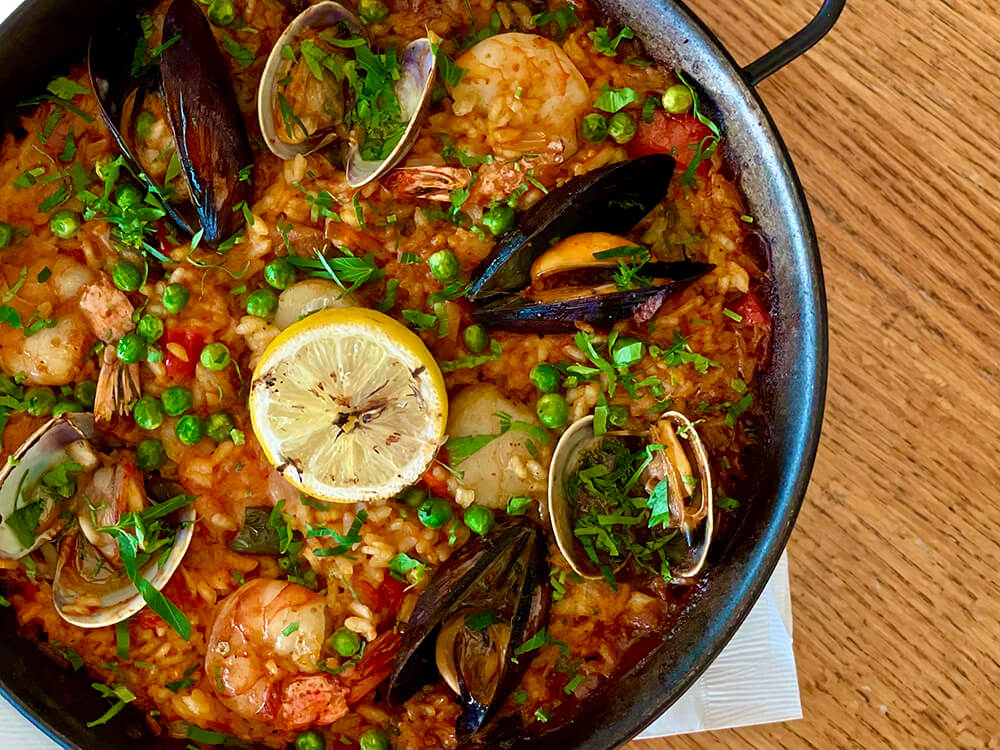 Founded in 1927, Half Moon Bay Bakery offers pastries and yummy artichoke pesto bread stuffed with big artichoke pieces, Parmesan and mozzarella. Café Society is a coffeehouse with live jazz on Friday nights. The decor includes photos of jazz greats and an extraordinary painting of a dolphin composed of hundreds of musical notes by local pianist, painter and poet Mauro Ffortissimo. Vinoteca, a cozy, moderately-priced wine bar with outdoor patio seating, serves an international wine list plus Mediterranean snacks, empanadas and cheese plates. For wine tastings from Northern and Central California's top vineyards, of mostly Italian grapes, visit the Barterra Winery tasting room.
Along the coast on Capistrano Road, La Costanera offers contemporary Peruvian cuisine in a show-stopping setting, a glass-walled, two-story 10,000-square-foot building overlooking Pillar Point Harbor. Specialties at the upscale restaurant include a selection of cebiches (marinated in lime juice, aji rocoto and cilantro), traditional Pervuvian skewers and Peruvian-style paella. On Highway 1 (Cabrillo Highway), Sam's Chowder House, a casual seafood eatery whose dog-friendly patio overlooks the ocean, is famous for its lobster rolls (called one of the five best sandwiches in America by the Today show) and clam chowder. Since 1993, Mezza Luna is a favorite for Italian fine dining with ocean views in Princeton-by-the-Sea. A new sushi spot, Hangetsu Sushi, combines Kaiseki cuisine with Omakase sashimi, sushi and other delicacies.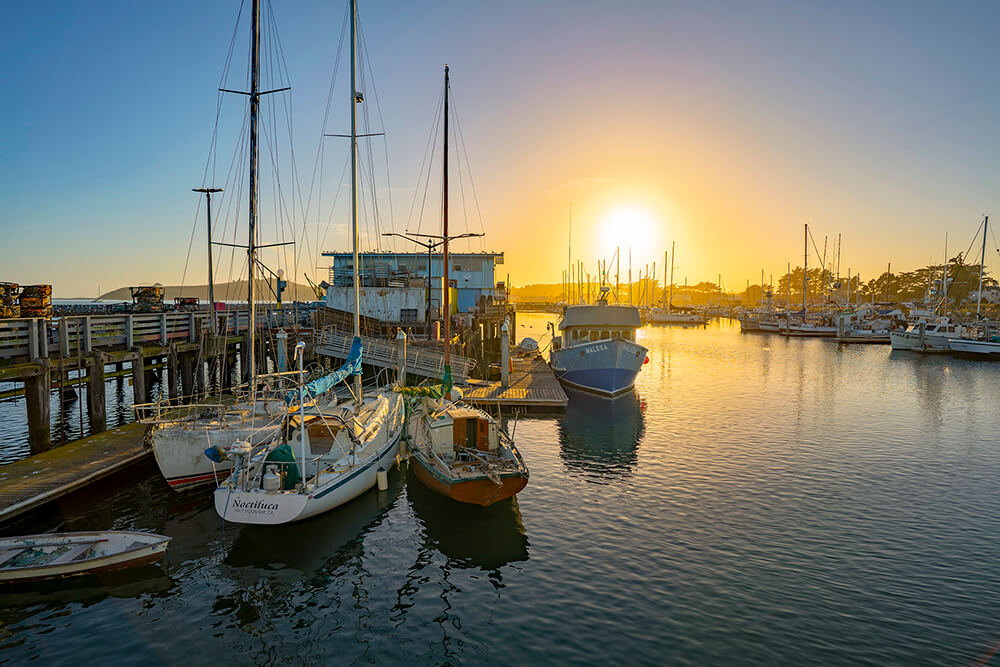 At Half Moon Bay Brewing Company, a beloved spot for craft beers and casual waterfront dining, dig into Portuguese fisherman's stew (recipe courtesy of co-founder Larry Mendonca's grandfather), fish tacos, fish and chips and burgers. It's also a place for wine sippers (a mostly California list) and thinkers (free lectures on the environment, social change and other topics). Hop Dogma Brewing serves up craft beers in its cozy taproom with a side of stand-up comedy (shows on the last Friday and second Thursday of each month), and since opening a year ago in Princeton-by-the Sea, Blue Ocean Brewing has won rave reviews for its tasty range of beer styles. Three locals—a fishing boat captain and two tech guys—own the small taproom, which also has harbor-view outdoor seating.
extend  your stay
+ The Ritz-Carlton Luxury blufftop spa resort overlooking the Pacific ritzcarlton.com/en/hotels/california/half-moon-bay
+ Oceano Hotel & Spa Casual coastal elegance with a waterfront setting
oceanohalfmoonbay.com
+ Half Moon Bay Inn Recently renovated historic property on Main Street halfmoonbayinn.com