Katie and Bob Hanson were at an impasse caused by the (out) growing pains of operating a flourishing business. Now the fate of their downtown Menlo Park shop rested on the outcome of a gyrating coin that had been flipped up into the air.
 This was around 2002 as their consignment shop, afterwards, was just beginning to add home furnishings and furniture into its stock after they had established themselves as purveyors of world-class labels in women's and men's designer clothing for the Peninsula since 1990.
 Their new inventory of plush couches and mid-century chairs required showroom space, which the Hansons sorely lacked in their prime downtown locale.
When the adjacent unit next to their store facing El Camino Real became available, they jumped to secure it—just as a neighboring business also expressed interest in acquiring the extra square footage. For the landlord, it was a conundrum.
"So, the five of us literally stood in the back parking lot and did a coin toss," Bob recounts as he strides through the vast, expanded showroom. 
Which side of the coin did the noted sports enthusiast claim before the fateful toss? "Heads," he says. "Always call heads."
 When Bob and Katie opened the doors of afterwards 30 years ago, the La Honda couple was playing a hunch for a growing market in designer consignment clothing. Their premonition proved astute; gone were the consumeristic 1980s, replaced by households overinvested in nice clothing and items now in need of an outlet for secondhand sales.
 They were selling posh styles well before Poshmark and they weathered complications including several recessions, the advent of an online market and a rocky 2020 by relying on the aptitude of Katie and Bob's salesmanship—and cemented by the rich relationships forged with their customers and consigners. 
"We're very involved and love helping people," Katie says. "They come in looking for a dress for their wedding or to wear at a Nobel Prize ceremony. Or maybe it's a treasure hunt for them and they love to come in for the experience of trying things on and touching them. It is retail therapy."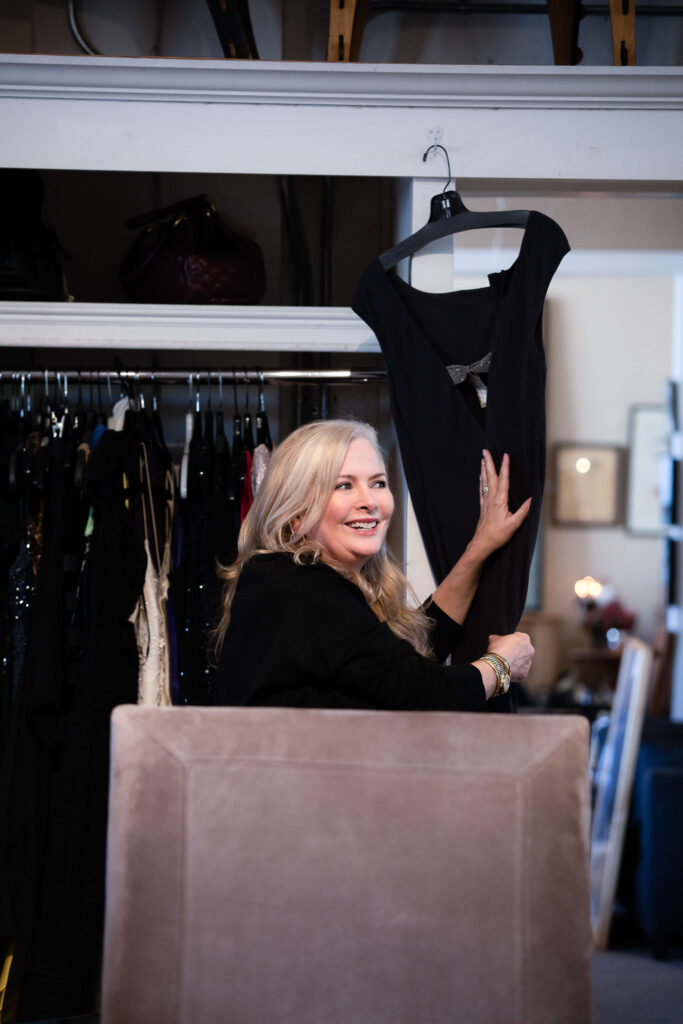 The couple learned their trade after working as longtime managers and buyers at Ralph Lauren stores in the Bay Area, including the Palo Alto location, before deciding to strike out on their own in September 1990.
 "We were struck by the entrepreneurial spirit," Bob remembers. "Gap started as a jean store and began small before growing the business. It wasn't like they had a PhD in retail; we felt that after the market crash of 1987, it made sense to try."
 The early 1990s was a fertile ground for consignment shopping, still a nascent concept for shoppers, especially in a well-to-do region such as the Peninsula. Speaking to the Almanac some years after opening afterwards' doors, Bob described the shift in attitude and approach to buying clothes previously worn.
"It wasn't acceptable to be seen in these kinds of shops, which were normally placed on back streets," he's quoted as saying. "We noticed our regular customers coming to sales. We began to see Mercedes and Rolls Royces at Costco and the Price Club."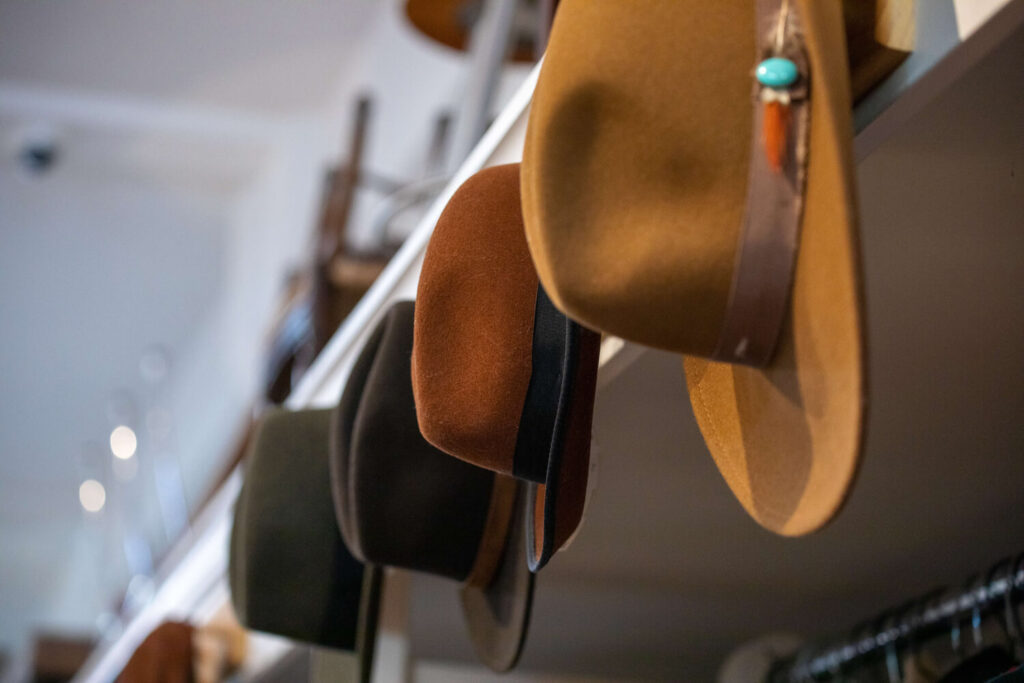 Speaking of their launch today, Katie remembers defending the usability of used clothing one customer at a time.
"There was no eBay, no internet; we didn't have any of that," she says. "The only thing you might buy used was maybe a car. I remember when a reporter came in one day early on and she was gruff and didn't sugarcoat her opinion about secondhand—but guess what she walked out with? A pre-owned Hermes scarf."
The Hansons have only enhanced their prowess with their expansion into furniture and home furnishings, attracting regional attention from interior designers and remodelers. 
 "I met a guy once whose specialty was marketing and he said that 'value equals benefit minus price,'" Bob explains. "We've sold sofas for $8,000-9,000 dollars when the MSRP (or sticker price) was $20,000. Based on that formula, there was enough of a benefit to buy it. There are people who could order that couch for $17,000 and not blink an eye but if they see it here with our price, it's a no-brainer of a purchase."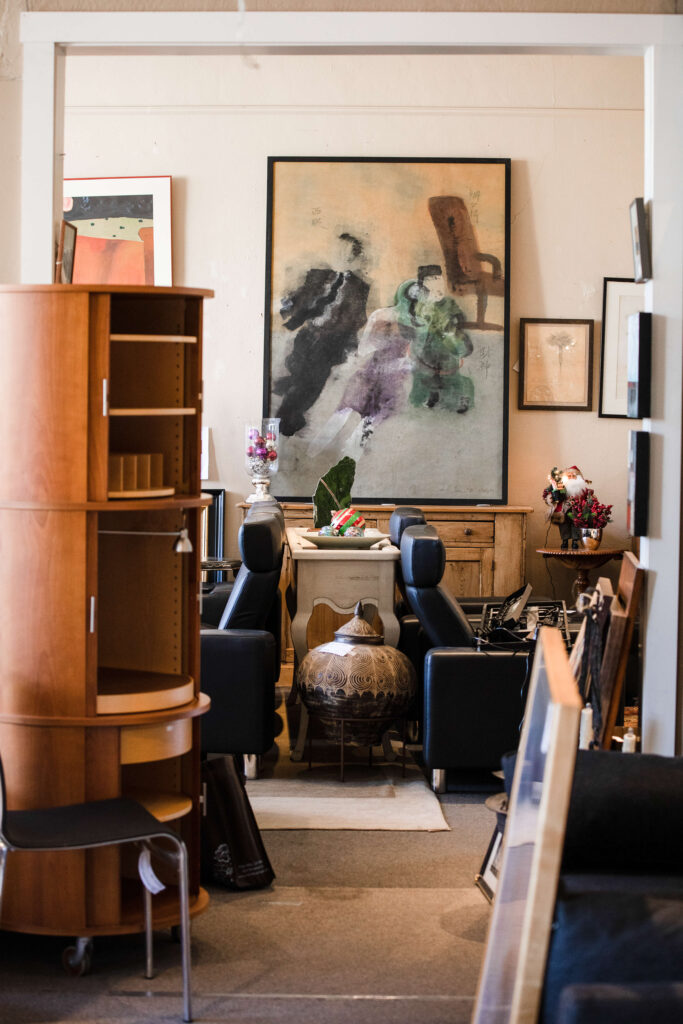 In the back of the store above the door leading out to the parking lot is a sentimental illustration of afterwards' employee number one: Roland, a Bernese Mountain Dog who never missed a day of work until his passing in 2002. Katie met the breeder by chance one afternoon outside Cafe Borrone and it had been their dream dog breed since spotting a picture of a Bernese Mountain Dog in a Ralph Lauren press kit.
 Roland's name is an homage to "The Song of Roland," an 11th-century epic poem based on the Battle of Roncevaux Pass in 778. It is the oldest surviving major work of French literature and a reflection of the Hansons' shared passion for the written word.
 Both Bob and Katie were English majors who met one afternoon in the spring of 1983 in Palo Alto. 
Katie grew up in Bakersfield and graduated from Cal Berkeley with a degree in English. She was taking night computer classes while working at Ralph Lauren Palo Alto when they first encountered each other. 
Bob saw her from across the store on his first day ever stepping foot onto the Peninsula. Born in Kansas and graduating as an English major from Kansas University, Bob worked for specialty clothing stores before Ralph Lauren offered him a job. His options for relocating also included Hawaii and Arizona, but after meeting Katie in the Palo Alto store in May of '83, he swiftly chose the Peninsula.
 The couple have much in common. "I used to kid that if you fell asleep in Kansas and woke up in Bakersfield, you wouldn't know the difference," Bob jests. "It reminds me so much of being home."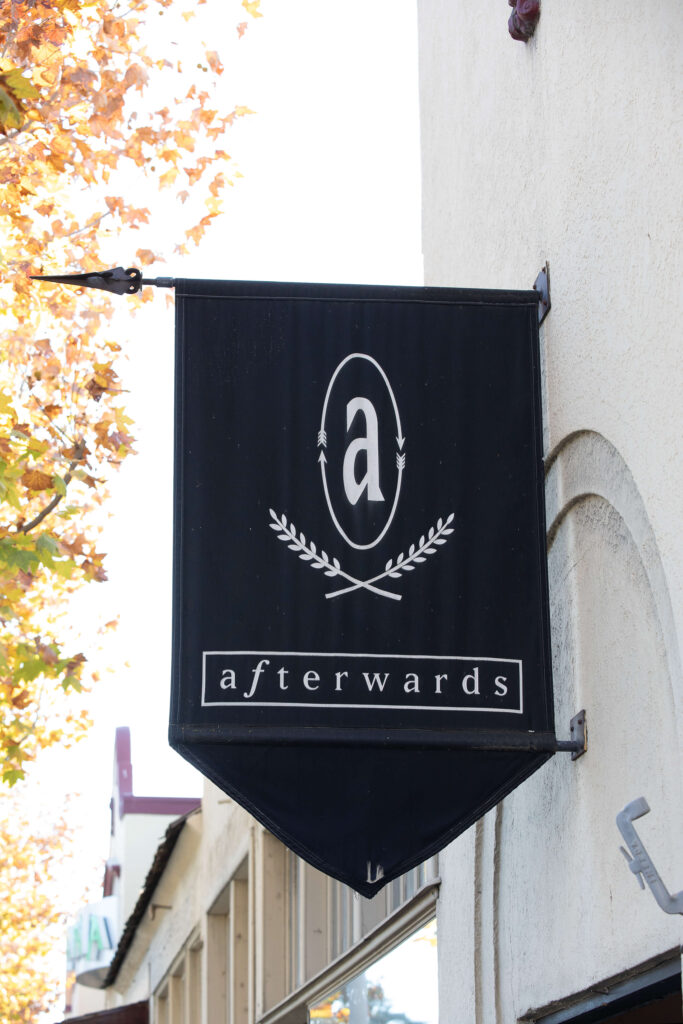 The Hansons live amongst the trees in La Honda where cats, rabbits, horses and dogs are part of the family. Their three children are now grown and live locally; their youngest son is 20 and plays baseball for Cañada College when he's not helping his parents at the shop.
 Following 30 years of connecting sellers with buyers, the Hansons remain an indelible resource for the community.
 "We put a store in a prime location and by putting it here, we were saying that this is okay. This makes sense," Bob points out. "Consignors bring in things that are no longer needed, we provide them to customers all while maintaining a business. It creates a win-win-win situation."
Louis Vuitton Part Deux

A friend to afterwards for many years, Sue Milani handcrafts furniture made of authentic Louis Vuitton and Gucci materials she stitches together to repurpose into couture furniture. Always one-of-a-kind, no piece is ever the same.

 "I noticed the consignment industry was growing and I thought, 'Let me see if I can find consignment that does furniture.' afterwards is one of the very few," Sue says. "We came together and it was the perfect marriage. I'm all about high-end and my craftsmanship has to be impeccable. When you are in this kind of work, people expect the best and I follow the guidelines of each particular brand. I know the expectation of Louis Vuitton—the dos and don'ts—so I make a great effort to be respectful to what is required from these companies."