"A lot of people who don't  know us think we're kind of like a Mexican restaurant," says Michael Ekwall about La Bodeguita del Medio, the Cuban-inspired eatery that he owns and operates with his wife Lara in Palo Alto. "The challenge for us has always been getting past the hurdle of people asking why we own a Cuban restaurant."
The "why" started with a trip that Michael took to Cuba in the mid-1990s. At the time, the Menlo Park resident was living in Palo Alto's College Terrace neighborhood, having completed his studies at UCLA (which involved commuting from Palo Alto every week for two years) and was working at Empire Tap Room.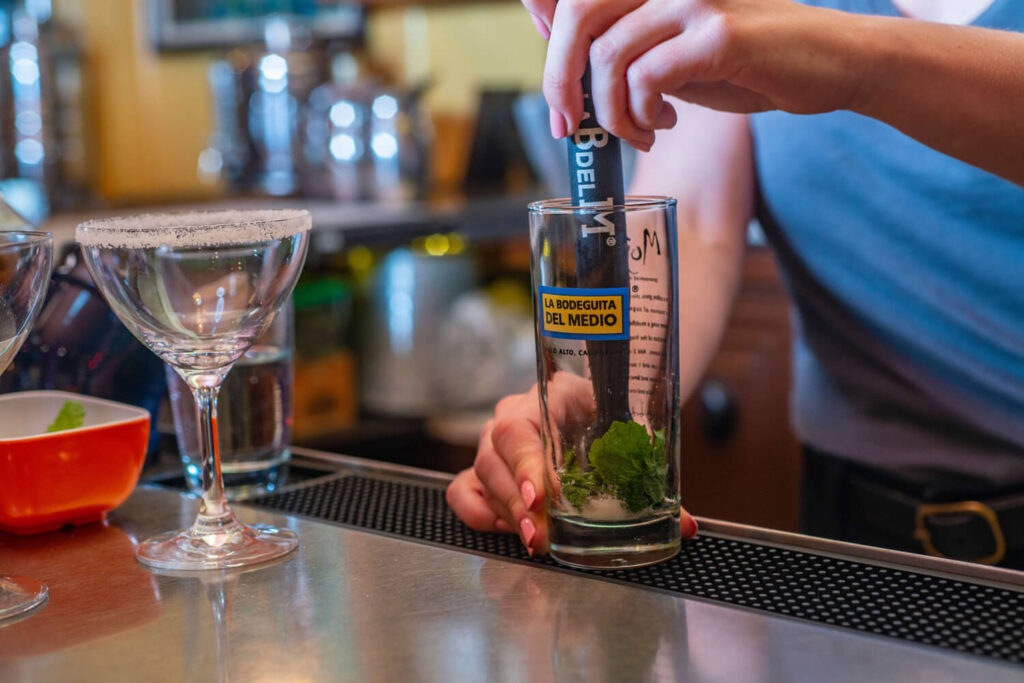 Michael applied to a program at Oxford University to continue his studies, but then reversed course.
"I was in a life transition," he says, which prompted the idea to travel. "And Cuba was always kind of a mysterious place." At the time, travel from the U.S. to Cuba was difficult and usually had to be routed through a third country. Michael opted for a tour out of Canada.
He didn't love the packaged tour but Cuba was worth it. "Great music, the vibrancy of the people—especially with what they were facing at the time. I loved that. I loved the artistic nature of it," he says.
During his trip, he visited the original La Bodeguita del Medio in Havana, famous for its mojitos and notable clientele. "I thought it was such a memorable, cool little place," recalls Michael. He returned home with the idea to trademark the name, thinking he might do something with it in the future—although he didn't have a plan in mind. (He has also trademarked LaBoToGo, which came in handy when the restaurant started doing takeout.)
In the spring of 1997, a business associate invited him to see a possible restaurant space that was then a small bar for sale on Palo Alto's California Avenue. Michael had never considered starting a restaurant but was open to the idea. "At the time, I looked at it as a bridge project," he says. "I'd do it for a couple of years and then pursue my other goals." He had no idea what he was in for.
"I knew nothing about opening a restaurant. If I did, I might not have done it," he says now with a laugh.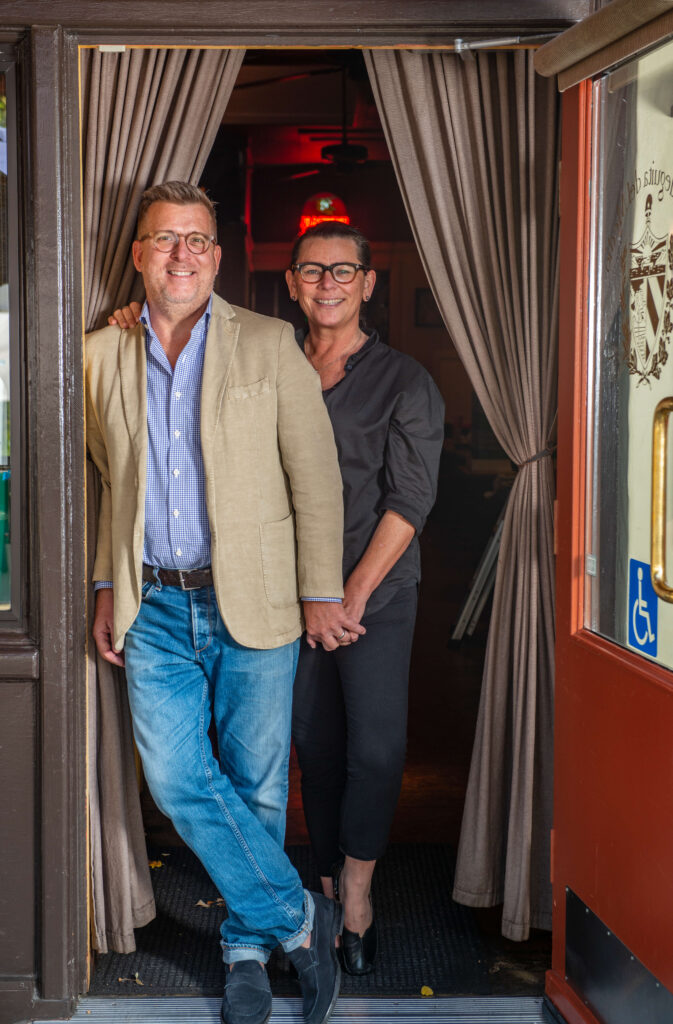 With the La Bodeguita del Medio trademark in his back pocket and the idea for a Cuban eatery in mind, the restaurant's concept came together. Michael and his partner took over the space on Memorial Day and spent the summer cleaning, making minor renovations and reconfiguring the kitchen. They opened in August 1997. "We didn't have a soft opening," he says. "We just opened one day and had a rough menu."
The lack of restaurant experience wasn't a total roadblock, but Michael admits that they had some huge challenges from day one. Fortunately, friends stepped in and offered financial support and business education during those early years, creating a foundation and community that helped the business thrive.
Lara joined Michael in working at the restaurant after the opening, although he says, "I don't even remember how I talked her into it." With a vivacious energy and warmth that can make guests feel at home, Lara sets the tone for the restaurant's front of house. Michael is no slouch in the hospitality department either, but he says, "Lara is more hands-on in that arena," while he focuses on the kitchen.
When it opened, La Bodeguita consisted only of what is now the bar side of the restaurant: a long, narrow space dominated by a large polished wood and stainless-topped bar that seats 10–12 people, a narrow walkway and two-top dining tables lining the wall across from the bar. Michael and company took a lease option on the other half of the building four months after opening. Today, the restaurant, which fills the entire 3,800-square-foot space, includes a spacious dining room (accessed through a large, curtained opening near the host stand), a walk-in humidor, cigar lounge and small back patio.
Warm yellow walls, polished concrete floors, dark wood and eclectic art in the bar and dining areas evoke the namesake restaurant's style without duplicating it. Unique details personalize the space, like the hand-carved host stand that was a Cuban cigar roller's table and came to the U.S. via the Bahamas. Creative, colorful paintings by Cuban artists dress up the walls of the dining room and vibrant painted photos of Cuba line the wall opposite the bar.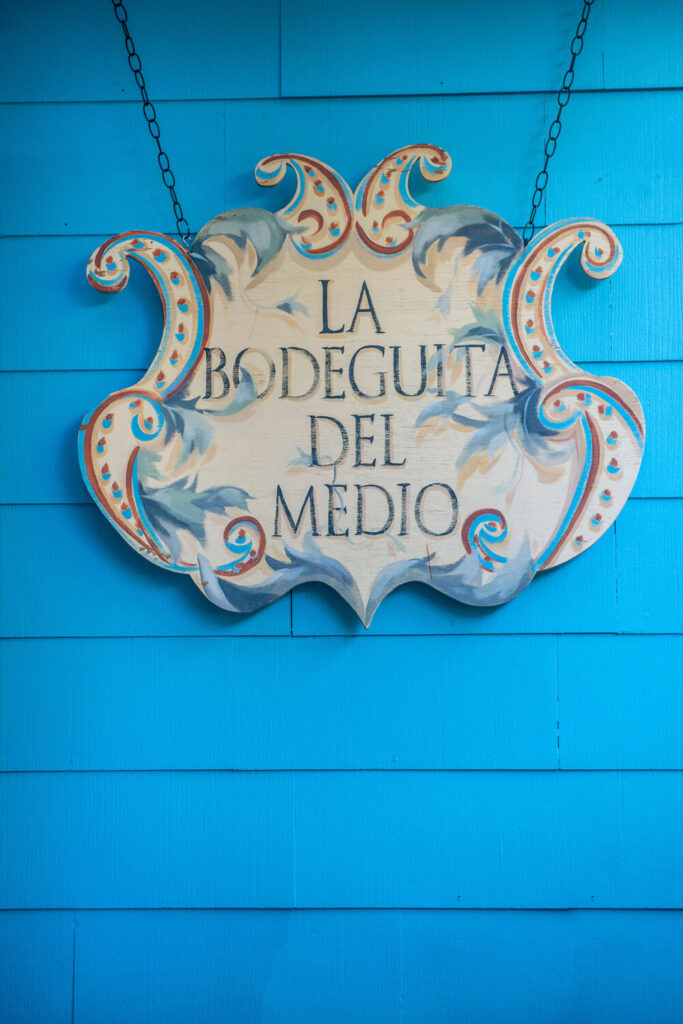 While La Bodeguita's interior is closed to the public, outdoor seating options include four high counters and three small tables with spatial distancing on the sidewalk in front of the restaurant, as well as picnic tables for groups of up to six right on California Avenue.
When it comes to the menu, Michael makes it clear: "We are not a traditional Cuban restaurant." The approach has been to pair Cuban-
inspired flavors with fresh California ingredients for an elevated result. Take, for example, menu mainstay Ropa Vieja, a Cuban classic of shredded beef and vegetables, served with rice and beans. "Ours is so different from any traditional version you'll get," he says.
Maintaining the core menu is the kitchen's primary focus, but there's also room for La Bo-style creativity. One of those ideas was the development of the restaurant's Cuban Table Oil, a spicy, versatile condiment for dipping bread, dressing salads or adding to pasta. Another was the creation of the vegetarian Impossible™ Savory Cubano Picadillo Hash, thanks to a long-time customer who provided a sample of the plant-based pork substitute. Other dishes have come about organically, such as the Seafood Ajiaco, which started out as the Saturday evening staff meal.
When it comes to cocktails, mojitos are de rigueur. In a good year, the restaurant sells about 50,000 of them. The cocktail menu, which has a core of classics like the Dark 'n Stormy and the Hemingway cocktail, continues to evolve as well. Recent specials include the Havana Sling, a rum-based riff on the Singapore Sling.
Beer drinkers can choose from a small, curated selection of European and West Coast brews. As for the eclectic wine list, Michael says, "Lara and I love wine. Our premise has been to offer great, affordable wines that people can drink by the glass." The resulting list consists of mostly small-batch California and Spanish wines that pair well with La Bo's food menu.
Now 23 years old, La Bodeguita del Medio has outlasted many other local establishments. Michael credits "loyal guests who appreciate what we do" for the restaurant's longevity.
"Our thing is great service—friendly service—great food and a place that's approachable. You might just come in for a beer and have a chat, or have a mojito and some empanadas, but you don't need to come in and spend a hundred bucks for a meal," he explains. "We have always considered ourselves 'neighborhood.' That has always been the secret to our success."
Although a really good mojito doesn't hurt either.