Are you eager to bid winter goodbye but want one last taste of the cool season with some windy —and possibly rainy—hikes? Then head to the coast. March brings the last measurable rain of the winter, and on days with no precipitation, you'll likely be treated to crystal-blue skies thanks to the average 10-plus-mile-an-hour winds. So bundle up and enjoy!
Pebble Beach to Bean Hollow Beach
No, we aren't suggesting that you hike from the Monterey Peninsula up the coast, although that's what our GPS suggested when we entered Pebble Beach to Bean Hollow Beach. This Pebble Beach is officially part of Bean Hollow State Park, as is the larger Bean Hollow Beach.
But we're getting ahead of ourselves. Consider adding to your adventure with the route you take to get there. Rather than going over either Highway 92 or 84, depending where you live on the Peninsula, we suggest taking the bit longer and extremely scenic Pescadero Creek Road that splits off from Highway 84, just past the tiny town of La Honda.
You'll weave through portions of Sam McDonald and Memorial County Parks and pass through the towns of Loma Mar and Pescadero. The latter is home to one of the coast side's oldest—and most famous restaurants—Duarte's Tavern, known for its pies and cream of artichoke soup. Locals in the know order "half and half" and get cream of green chile mixed with artichoke. The perfect remedy for a rainy, blustery day!
Pebble Beach is just two miles south of where Pescadero Creek Road meets Highway 1. The hike from there to Bean Hollow Beach is just a mile, but there's much to savor along the way. First off, there are the pebbles that give the beach its name. A sign reminds that they are to be touched but not taken. Leaving Pebble Beach, follow the bluff-top nature trail that sits 5 to 10 feet above the ocean. That makes it easy to scamper down in places to explore the tide pools. Along the way, you'll spot seals lounging in the water and birds perched on the aptly named Bird Rock.
Bean Hollow Beach, also known as Arroyo de los Frijoles, is a large cove-shaped beach. It's for walking, not swimming, due to dangerous rip tides. You return the way you came, but of course get a different view thanks to the different direction.
GOOD TO KNOW
+ Free parking at either Pebble or Bean Hollow beaches
+ Trail is dirt; narrow at times with ice plant and occasional sticky shrubs
+ Open to hikers and leashed dogs
+ Portable restrooms at both beaches
+ Find out more information at parks.ca.gov/?page_id=527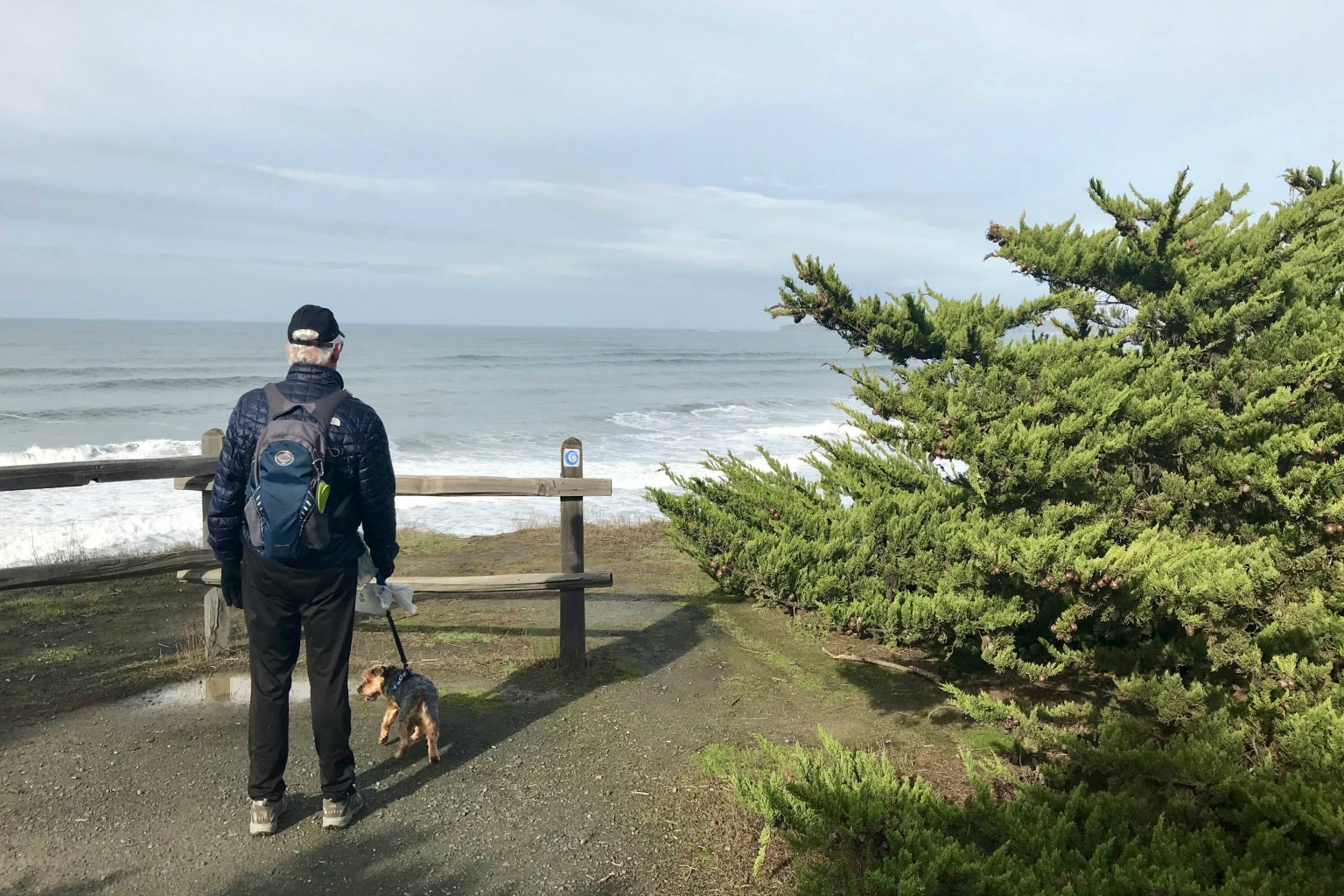 Wavecrest Open Space Reserve
Wavecrest is a Peninsula Open Space Trust protected area that is almost hiding in plain sight, given its location behind Smith Field Little League Park. The 206-acre property is well known as a wintering ground for raptors. And indeed, we spotted a couple of hawks on our most recent visit. Our preferred launching place is the parking lot at the end of Poplar Avenue off Highway 1 in Half Moon Bay, located just north of the Wavecrest boundary. Heading south, you'll cross Seymour Bridge through the first of two "tree tunnels," created by leaning Cypress. You're officially on a part of the California Coastal Trail, a portion of which is called The Bird Trail.
To prepare yourself, you may want to download a copy of POST's Guide to Bay Area Birds at openspacetrust.org/bird-guide/. Walking along the bluff top you can spot ocean birds such as brown pelicans and cormorants. Overhead are the raptors: northern harriers, red-tails, red-shouldered hawks and sharp-shinned hawks.
You can choose a three-mile out and back, or extend your hike as we did recently by coming back on an interior trail and checking out the second tree tunnel, which adds another mile.
Of Note: With March comes wildflowers. There is a Coastside Wildflower Workshop followed by a walk at Wavecrest on Saturday, March 16, from 1:00PM to 5:00PM. You can find the specifics at coastsidelandtrust.org/events
GOOD TO KNOW
+ Free parking at either Poplar Street lot or on Wavecrest Road
+ Trail is packed dirt
+ Open to hikers and leashed dogs
+ Portable restrooms at Poplar Street
+ Find out more information at openspacetrust.org/hike/
wavecrest-hike/
Half Moon Bay State Beach from Miramar Beach to Francis Beach
On a rainy day, there's no better trail than this segment of the Half Moon Bay Coastal Trail, given that it's all paved. It follows the former route of the Ocean Shore Railroad that operated from 1905 to 1920. The northern segment went from San Francisco to Tunitas Creek.
Park on one of the side streets near the Miramar Beach Restaurant & Bar, a former Prohibition-Era speakeasy. Medio Avenue is a good choice with the caveat that on Sunday afternoons the Bach Dancing and Dynamite Society has performances starting at 4:30PM, making parking more difficult.
Heading south, you'll pass a series of state beaches below the bluff-top trail, starting with Roosevelt, followed by Dunes Beach, Venice Beach and finally Francis Beach, our turnaround place for this out-and-back five-mile walk. On sunnier, less windy days, all of these beaches are a good place for a picnic but not for swimming given the cold water and rip tides. Don't be surprised to hear the sound of pounding hooves. There are two horse rental stables along Highway 1, and trail rides take place along an adjacent dirt trail.
For more bird watching, take a detour down to what is known as Elmar Beach, where Pilarcitos Creek enters the Pacific. You'll know you're close when you cross a long footbridge over the Creek. The resulting pools of water create natural birdbaths. Be on the lookout for the western snowy plover.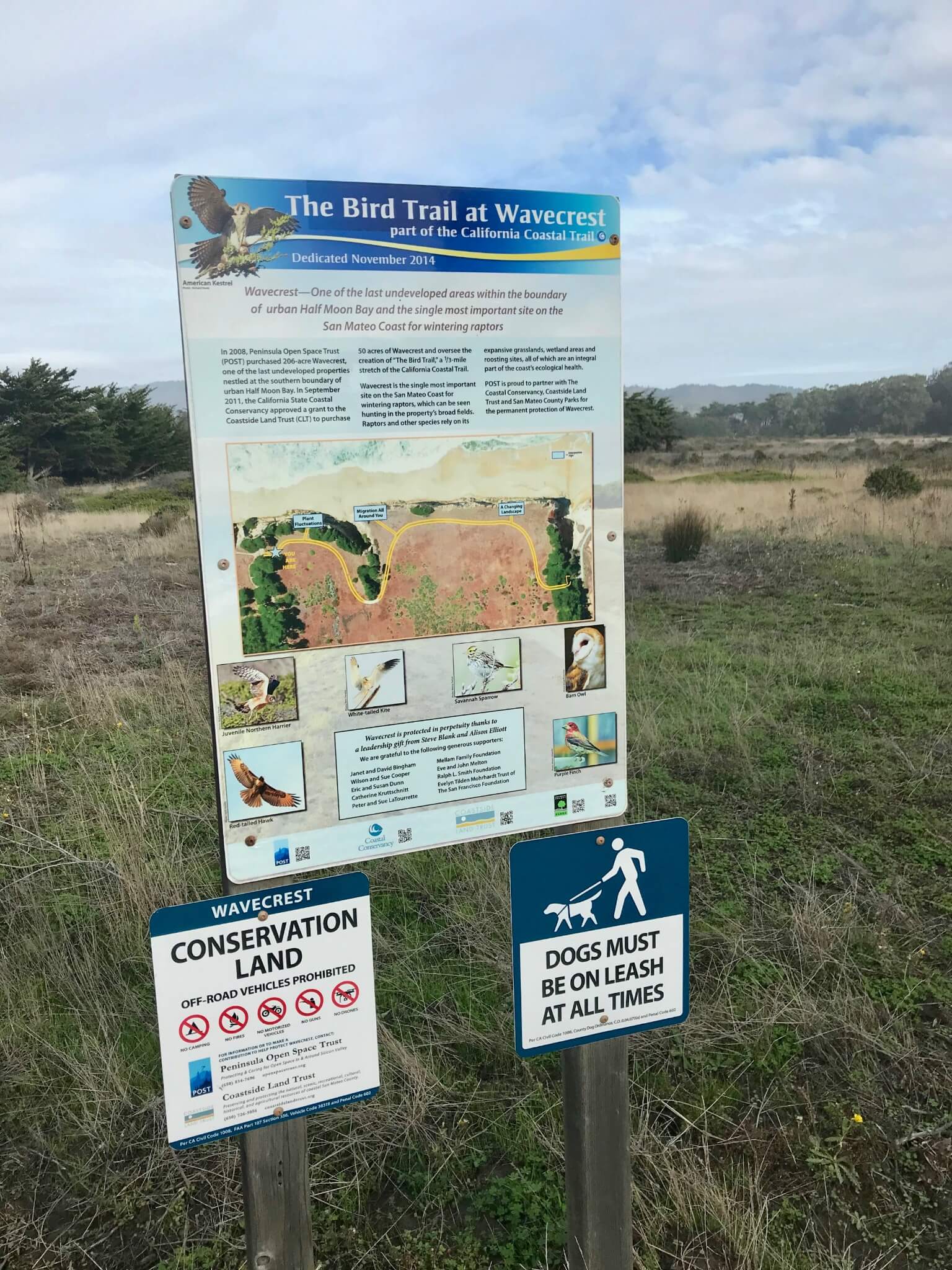 Bonus tip for those who work up an appetite:
Did you know that Half Moon Bay boasts one of the best burgers and among the best sandwiches to be found anywhere on the Peninsula?
The absolutely scrumptious hamburgers—on white bread with a fried egg, no less—are available at Dad's Luncheonette, the brainchild of Scott Clark (former chef de cuisine at Saison in San Francisco) and his partner, Alexis Liu. When the couple became parents and realized that being a full-time chef and parenting were not compatible, they opened a place on the coast in a caboose. Seating is minimal but they've got the timing down perfectly. Your order comes up, you eat it and you're out of there, yielding to the next happy customers. Open Thursday through Sunday; Highway 1 at Kelly Avenue.
For a great sandwich any day of the week from 10:00AM-5:00PM, stop at San Benito Deli on Main Street. Sandwiches are available half or whole, and they come on your choice of homemade bread: whole wheat, French or olive walnut. You'll also find outdoor patio seating that is dog-friendly.
GOOD TO KNOW
+ Free parking in the neighborhood near Miramar Beach
+ Trail is asphalt
+ Open to hikers and leashed dogs with adjacent equestrian trail; no dogs on the beaches
+ Restrooms at all beach locations
+ Find out more information at parks.ca.gov/?page_id=531