For 63 consecutive years, the Hillsborough Concours d'Elegance has built and maintained a proud tradition of honoring and celebrating excellence in automotive design and engineering. The dedication of the Concours leadership and volunteers, pride of its entrants and devotion of its attendees has earned Hillsborough the proud record as the longest continually running Concours in the world. PUNCH recognizes the important design mark made by automobiles and wanted to showcase some of the most intriguing models from the past year's Concours. These are automobiles that made a statement, that inspired, that captured the attention of awed viewers. These weren't just vehicles to go to work or to the store—these were inspired pieces of design that have stood the test of time to mark their place in history. The show features the vintage cars and motorcycles you'd expect, elegantly arranged on the Crystal Springs Golf course. Some cars also participate in the Tour d'Elegance on the day before the show, gathering in downtown Burlingame and then winding their way via scenic roads around the Crystal Springs Reservoir.                                                                   
In 2010, the Hillsborough Concours d'Elegance Foundation was established to significantly extend the philanthropic reach and impact of the Concours organization. In addition to the Hillsborough Schools Foundation, all net proceeds from the Concours and its associated activities benefit Autism Speaks, a national charity with the goal to change the future for all who struggle with autism spectrum disorders, and The Guardsmen, a San Francisco-based volunteer organization dedicated to helping at-risk children thrive.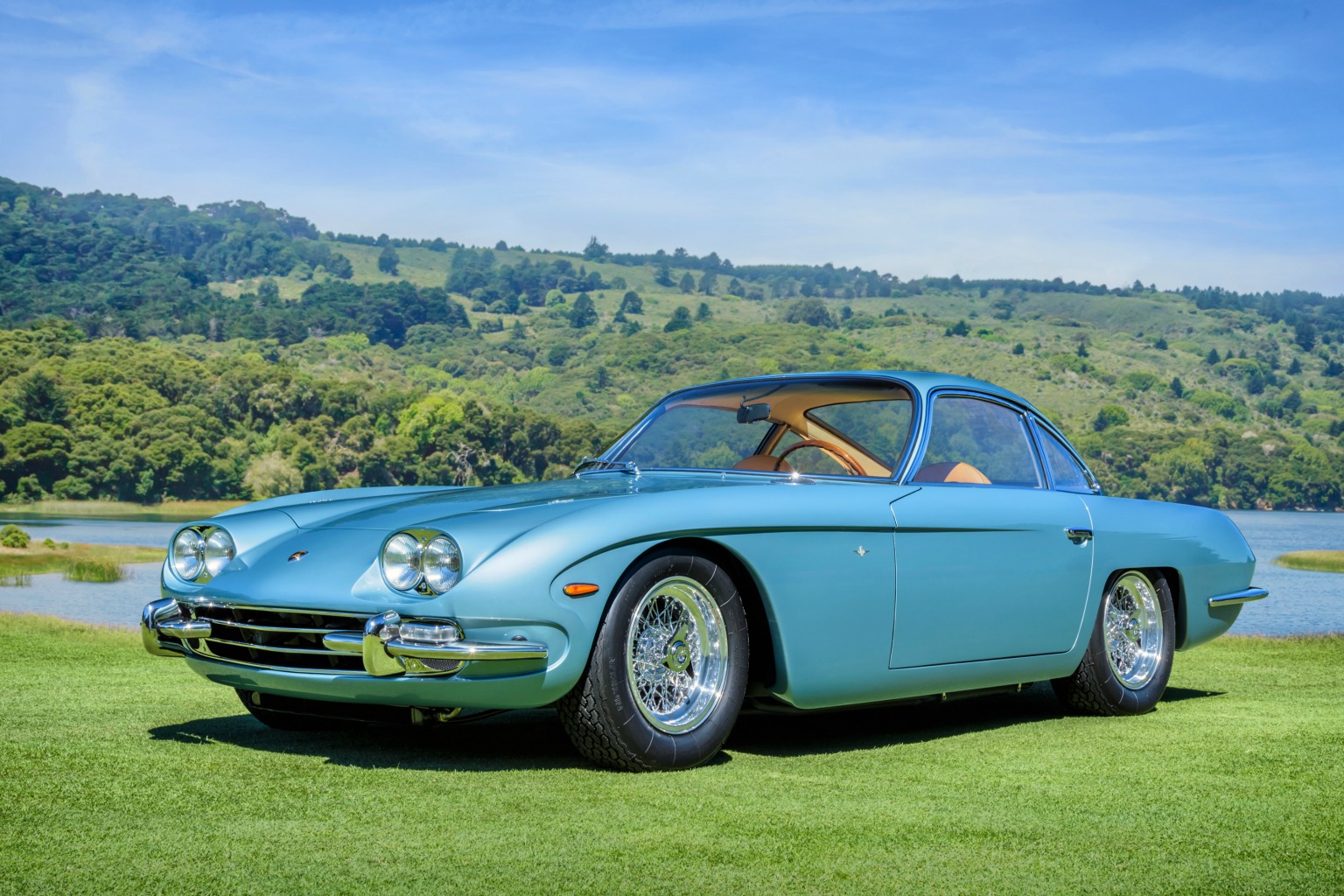 1966 Lamborghini 400 GT
robert ross
The 400 GT evolved from Lamborghini's first production car, the Touring-bodied 350GT. The model fuses the talents of engine designer Giotto Bizzarrini and Gianpaolo Dallara, who engineered the chassis. It is powered by a 315 hp, 3929 cc V12 engine with four camshafts and a 5-speed transmission. The model cemented Lamborghini's status as the marque to beat, upstaging the best Ferrari could offer at the time. New, it could do 0-60 in 5.4 seconds and had a top speed of 154 mph. Although not an official designation, this "Interim" is the most uncommon of the Lamborghini GT cars, featuring a two-seat body and 4.0-liter engine combined with a transmission and differential of Lamborghini manufacture. The current owner acquired it in 2002 and embarked on a full authentic restoration. It was then shown at the Concorso Italiano (2003) and The Quail (2004). It had not been exhibited since then until it was shown at Hillsborough this year.
1949 Alfa Romeo 6C 2500 SS Cabriolet
dave & susan buchanan
It took until 1947 for Alfa Romeo to dig out from Allied bombing of its Milan factory and be able to resume civilian car production with the Tipo 6C 2500. Its coachwork is by Pininfarina. This Super Sport chassis is especially engineered for touring and high-speed driving with a top speed of 103 mph. Its 110 hp, dual overhead camshaft 2443 cc inline 6-cylinder engine has triple Weber carburetors and is equipped with a 4-speed synchromesh gearbox, with the shift lever on the steering column. It rides on sporty 600 x 18 tires mounted on original wire wheels. Only 63 of this type were produced. This example was brought to Beverly Hills from Italy by its original owner in 1957. The current, third owner acquired the car in 2012. A four-plus-year restoration was completed in August 2017. Since then, it has won significant awards including 4 Best in Class, 3 Best of Show and 1 Honorary Judges awards.
1967 De Tomaso Vallelunga
Raffi Najjarian
Argentine-born Alejandro De Tomaso was passionate about building beautiful cars. This rare Vallelunga, designed by Carozzeria Fissore and with coachwork manufactured by Ghia, was named for the track where the Rome Grand Prix once raced. The 1,600-pound, mid-engined automobile is powered by a 104 hp, 1498 cc inline 4-cylinder Ford Kent engine equipped with 4-wheel drilled disc brakes and a pressed steel spine chassis. This example is one of just 32 remaining from a total of 53 production cars built between 1964-68. Its first owner, Nasif Estefano, lived in Modena and raced the Vallelunga extensively. The current, fifth owner acquired it in 2007.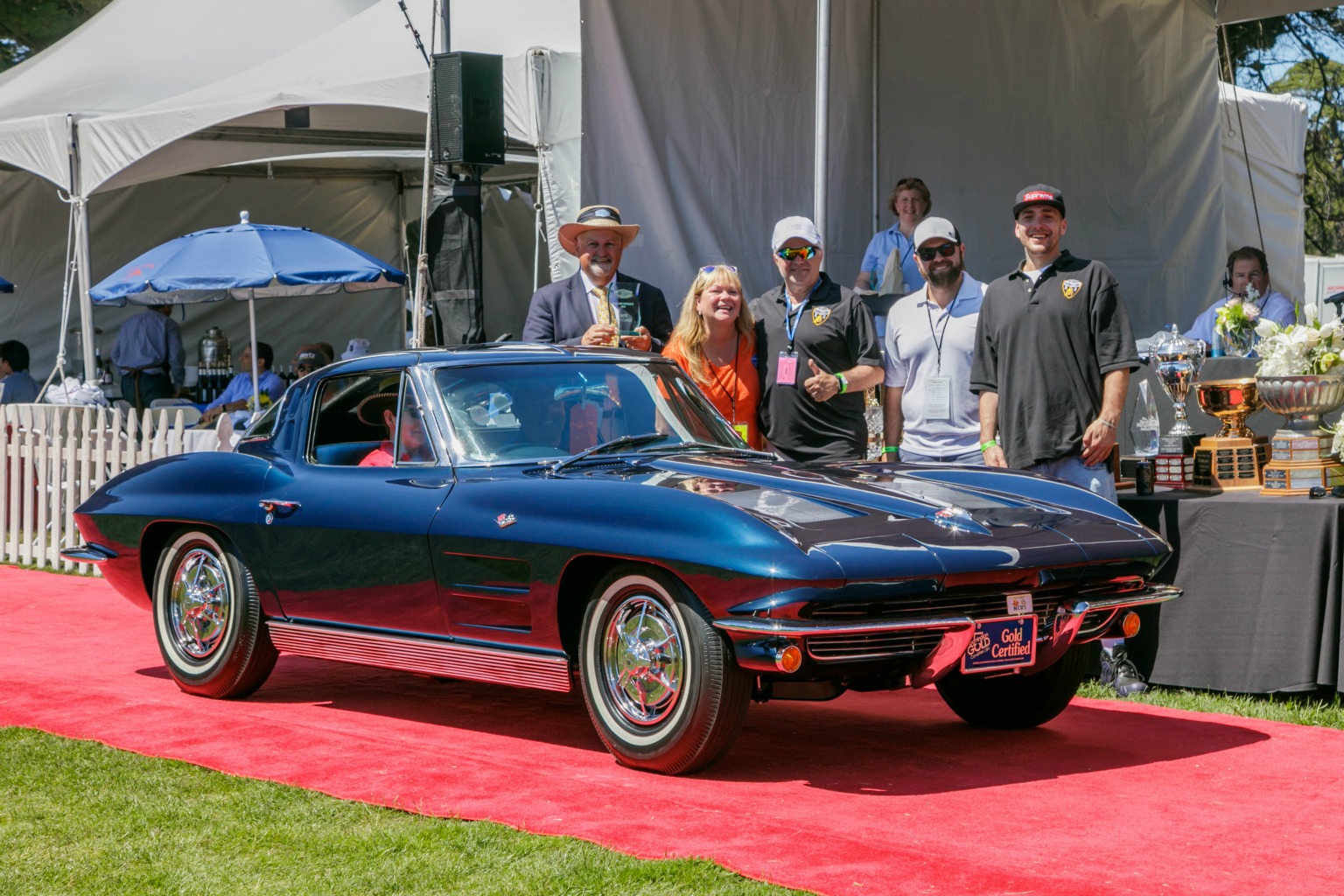 1963 Chevrolet Corvette
darwin & patricia ludi
The 1963 Corvette was the most significant in the history of the marque. The changes were revolutionary, both for the body (it was the first time Corvette offered a coupe) as well as the chassis. Its design incorporates a boat-tail taper reminiscent of sporting roadsters of the 1930s and (only in the 1963 model) a split rear window inspired by the Bugatti Atlantique and Bertone BAT. An independent rear suspension was also introduced that year, along with Hide-a-Way headlights. It is powered by a 340 hp, 327 ci small-block V8 engine equipped with a 4-speed transmission and Positraction. The current owners acquired this example in 2000 and began a restoration that was completed in 2015. It was awarded 1st in Class at La Jolla (2016) and Amelia Island (2017) as well as NCRS Top Flight (2010) and Bloomington Gold certification (2014).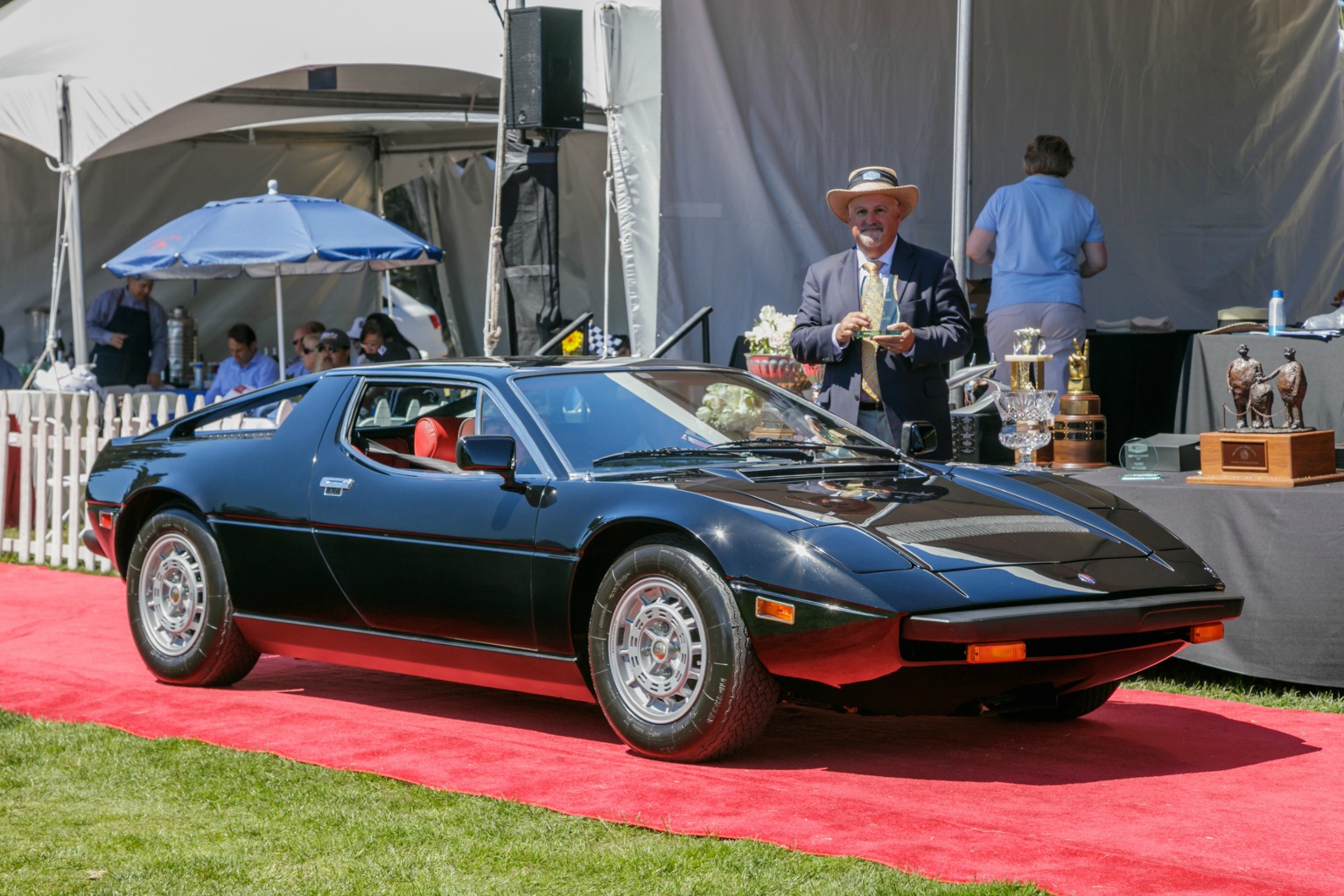 1980 Maserati Merak SS
bruce wagner
In 1975, the more powerful and lighter mid-engine Merak SS was introduced, using the Bora body shell but a Maserati-based engine and a 5-speed ZF transmission with a 4.37 final drive ratio. The 220 hp, 3-liter, 4-cam, V6 engine with triple Weber 44 DCNF carburetors has a top speed of over 150 mph. Only 652 Merak SSs were produced of which just over 200 were for import into the U.S. from 1976-80. This is a non-restored, original automobile. It has full papers of acceptance from the "Federation Internationale des Vehicules Anciens" (FIVA) and "Officine Alfieri Maserati" (factory) papers of "Manufacturer's Certificate of Origin." Also included are the Appointment Data Sheet and Shipping Documents. It has been invited to The Quail and won numerous class awards at Concours d'Elegance including the Concorso Italiano, Presidio of San Francisco, Palo Alto and Hillsborough Concours d'Elegance, where it was awarded 1st in Class and the Owners Choice Award.
1972 Ferrari Dino C
Coleman Fung
Dino was a brand used by Ferrari from 1968-76 for its mid-engine, rear-drive sports cars with fewer than 12 cylinders. The 308 GT4 2+2 was a groundbreaking model: the first production Ferrari with the mid-engined V8 layout that would become the marque's norm. It was the first to feature Bertone (rather than Pininfarina) bodywork. Named in honor of Enzo Ferrari's late son, its technical and stylistic features influenced many subsequent models. The design embodies the Ferrari's elegance, inner drive, speed and power. It is powered by a dual overhead camshaft 2927 cc 90o V8 engine with 4 Weber 40 DCNF carburetors. The claimed top speed is 155 mph. Ferrari built 2,826 308 GT4 coupes from 1973-80.