Words by Eva Barrows and Sheri Baer
Driving through Lower South Hillsborough, it's possible to catch a glimpse of the United States' most iconic residential structure. Okay, it's not the actual White House, but it does make you take a second look. What's peeking through the trees on El Cerrito Avenue is an all-white neoclassical 25,000-square-foot Georgian colonial mansion that looks so much like the real thing that it's called the Western White House.
This Hillsborough estate is legendary for being redesigned by one of California's most distinguished architects, Julia Morgan, for one of the country's most well-known families, the Hearsts.
But its rich history dates back even earlier. Originally constructed in 1878, the estate was purchased by the Crocker family, followed by Burlingame contractor Charles Lundgren, who deployed engineering wizardry in 1915 to physically move the mansion a half-mile to its current location. In 1930, George Hearst, the eldest son of newspaper baron William Randolph Hearst, tapped famed California architect Julia Morgan to redesign the property, after which the house passed through a series of owners, including the founder and developer of Foster City and a shoe tycoon family.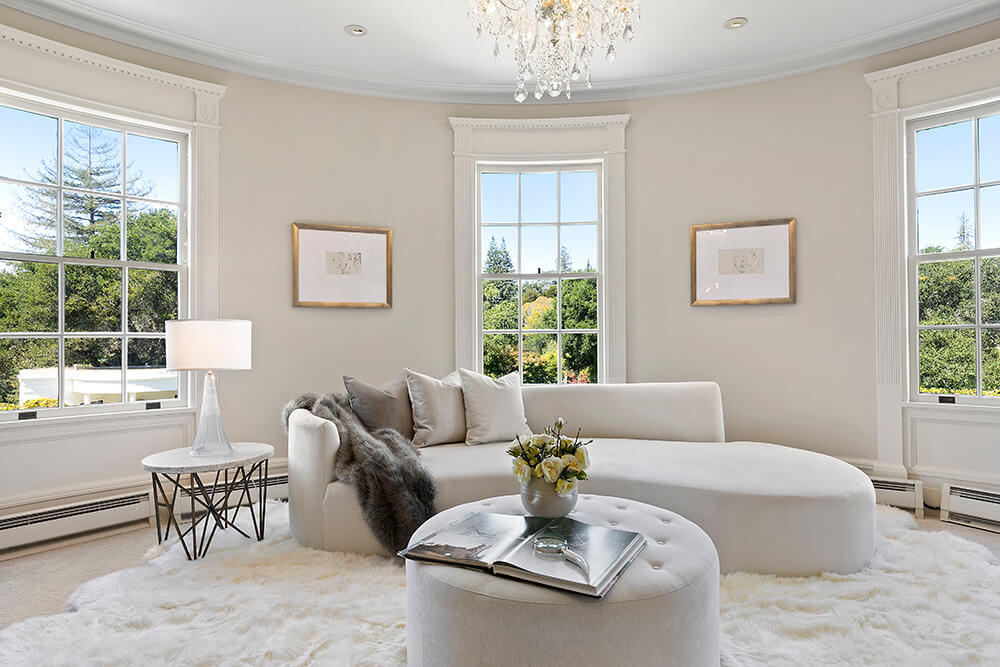 In 1997, financial services executive Shailesh Mehta and his wife Kalpa made the Western White House their home. When the property recently went back on the market, PUNCH seized the opportunity to learn more about its fascinating history and what it's like to live on one of the Peninsula's palatial—and most presidential—estates.
Constructed by prosperous families during the Gold Rush era, very few of Hillsborough's legacy estates remain. Along with the Carolands Chateau built for Pullman railcar heiress Harriet Pullman Carolan, the Western White House is a prized reminder of the region's Gilded Age architectural grandeur.
Not only did the Western White House start out in a different location, it started out with a different name. The original shingle-style mansion, Uplands I, was built in 1878 for one of the town's founding fathers, William Henry Howard. At that time, the roof was steeply pitched with soaring chimneys and domed turret rooftop windows adding Victorian character. After George Hearst bought the property, he commissioned architect Julia Morgan to bring presidential grandeur to the Peninsula while she was in the midst of constructing Hearst Castle, his father's San Simeon, California, estate.
Morgan was the first woman architect licensed to practice in California and the first woman to graduate from Paris' prestigious Ecole des Beaux-Arts architectural program. She transformed the formerly dark Victorian into a light and breezy classical home fit for a U.S. president—complete with a rose garden, cherry blossom trees and oval office.
Situated on 2.9 acres and about half the size of its inspirational East Coast counterpart, the mansion boasts 24 rooms, including 11 bedrooms, 10 full baths and 4 half baths.
After residing in the Western White House for nearly a quarter-century, Shailesh and Kalpa Mehta were ready to downsize and enjoy a more travel-oriented lifestyle. Now living in Atherton, they've had time to reflect on their chapter in the iconic Hillsborough mansion, and Shailesh sat down with PUNCH to share some insights and memories.
What drew you to buy the property back in 1997?
There were several factors that played a role. We had a growing family, a son and a daughter. We were absolutely impressed by the grounds and the beauty—three acres of flat land with two sides bordered by a creek. It's extremely private with fully manicured gardens and a big swimming pool, so the grounds were very impressive. The house was gorgeous, designed by Julia Morgan, the famous architect. It had very interesting previous owners, and security was terrific because the house is not visible from the street. Therefore, we felt that it would be a very safe and secure home.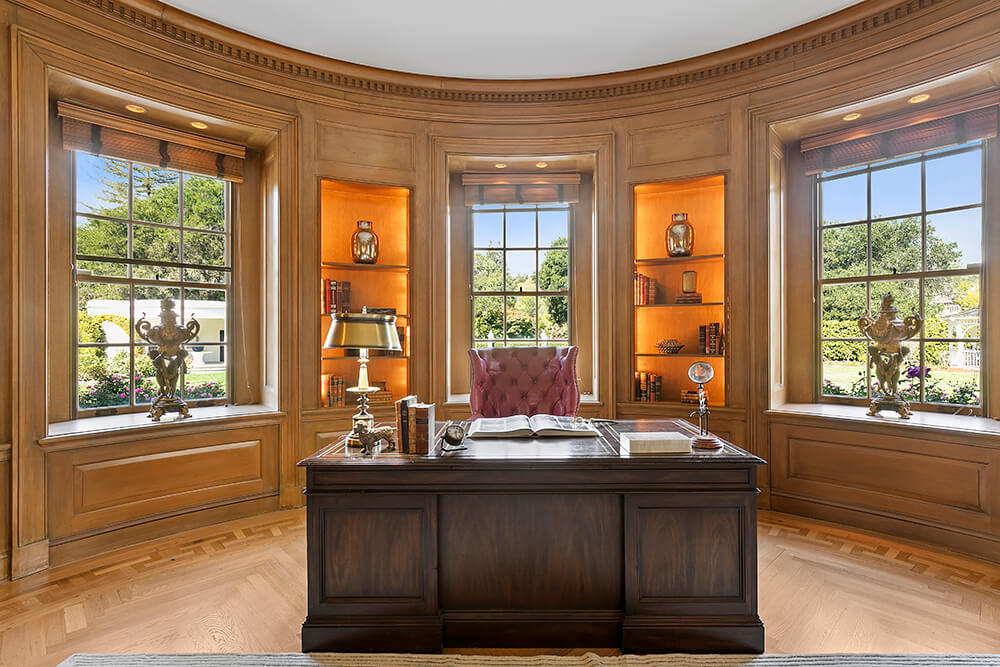 How did you feel about living in a home known as the Western White House?
Actually, I have mixed feelings about it. On one hand, some people get very impressed that this is the Western White House; on the other hand, I thought it was a little bit of a loud statement for myself and my family. We're not "White House-type" people. We didn't buy it because of that name. We didn't even realize until after we decided to buy it that this was how it was known. The story that I heard was that one of the Hearsts had an aspiration to be president of the United States and therefore the Georgian design that Julia Morgan chose was in line with the White House—the kind of remodeling she did to create the turret into an oval office, and the entry looks like the pillars, and it's one of the rare houses that has the front and side and back all ornate. So it's a really beautiful home, and it does look like the White House.
What did you enjoy most about living on the property?
I loved the layout. The house has a basement and three levels, and it has an elevator. There are four different floor plans: the basement, the first floor, the second floor and the third floor. We organized the house so that the first floor, the main floor, has the public rooms, so we had a living room, formal dining room, formal living room, a parlor, the oval office, and then a family room and a kitchen, and it was all public area, so when we had visitors or would host a social event, people could come and go. The second floor was all bedrooms, and we converted it to a private floor. The master suite is huge. It's almost like half a floor with his and her bathrooms, the bedroom and an office in it. The third floor we made into an entertainment floor, so we had a game room, a pool table and a movie theater, and you can sit outside on the terrace. The unusual height is grandfathered, so you can see all the grounds and the trees. And then we had one guest suite on that floor. And the basement has all the utilities and services rooms, and there's also a beautiful wine cellar and I built a big gym to work out. Even though it's a big home, it's a very practical and usable home. It doesn't feel like a huge mansion. It's warm, and you feel like you can live in it.
What struck you most about the historical nature and design of the home?
The experience was very unique in the sense that it's a beautifully laid out house. There is not much square footage wasted the way Julia Morgan designed it. It has a rich history but it's not an historical home, so we were able to make necessary changes, to bring things more in line with today's requirements and current lifestyle than from when it was built. We were able to make adjustments without losing the character of the home. When we did this, we realized how well built the home was. The way she structured it, it was so solid. We were surprised by the width of the beams and she added layers of bricks between some of the sidewall to give it further strength and that's why this house was never affected by any earthquakes. And the tiles! Julia Morgan loved using stonework or tiles from a quarry in Sacramento, I was told. Gorgeous, beautiful tiles. She had a very unique eye for stonework.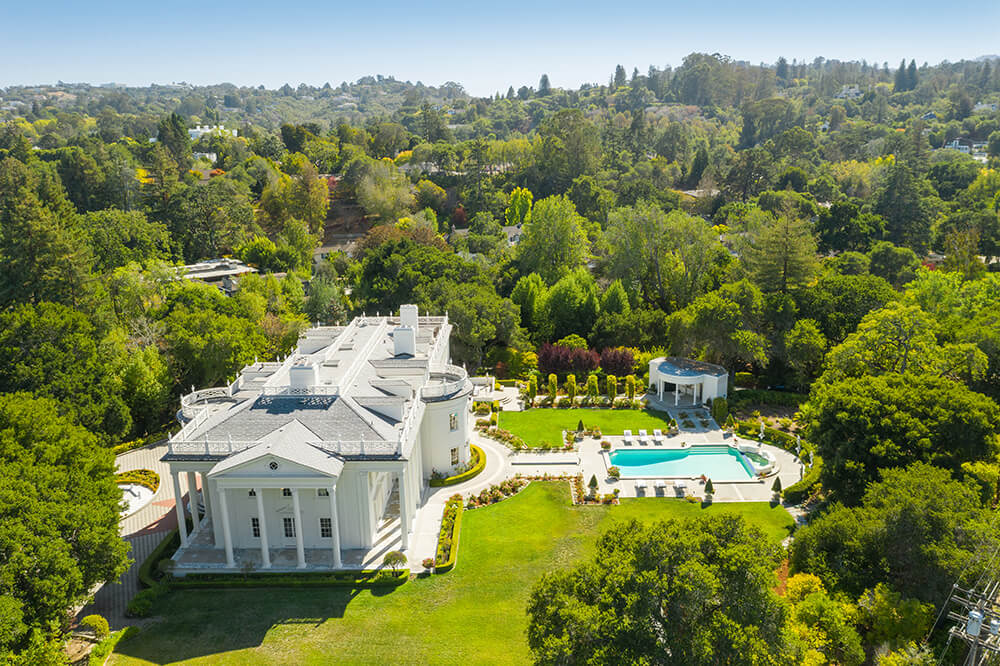 How did you experience the home as a family?
We have grown-up children and teenage grandchildren now, and they all loved it. We have four grandkids, and my grandkids were crying when we decided to move out. The house was always packed on weekends and holidays. We celebrated Thanksgiving, we celebrated Christmas, we celebrated Diwali, we celebrated so many festivals. My son lives in San Francisco with his family, so they would come and stay over the weekend. My daughter lives in Santa Barbara, and when they would come up, my son and his family would join, so the whole house was filled. The grandkids loved the pool and the movie theater. Not just for watching movies—they would make their own shows, magic shows and skits. The house has four different ways to go up and down, so they had a lot of fun playing hide and seek as they grew up. We have so many great memories. When they found out that we were going to list it, our two granddaughters hid notes under my pillow and my wife's pillow that said, "Don't sell! Don't sell!"
Who do you envision being the next owner?
In my mind, properties like this are unique properties, and so the buyers are also very unique. It's not your standard run-of-the-mill home on the market. There is a demand for houses, but for this kind of property, the demand is different and the buyer is different. I would say it's a CEO or celebrity-type home or a sports athlete or an international buyer who wants an iconic property. People who want security and safety but still want to do a lot of entertaining, whether it's political fundraisers or charity events. Some young couple might fall in love with this property, especially if they have three or four children. We always found it very lucky for us and our family. Some houses have good vibes when you are in them, and that's the sense we had when we moved there.