Taking a power shot into the back of the net. Driving to the basket. Spiking for the kill. Crossing the goal line for a touchdown. Heart-pounding adrenaline rushes. Teammates cheering. Camaraderie. For many adults, playing a team sport is just a nostalgic memory in the rear-view mirror of life, but here on the Peninsula, it doesn't have to be.
Located in the Fair Oaks neighborhood of Redwood City, SportsHouse delivers the equivalent of an indoor mall for sports enthusiasts. The former warehouse turned multi-sports complex hosts a range of indoor sports and athletic programs for all ages—along with camps and about 1,000 birthday parties every year. Three cushioned turf fields (surrounded by eight-foot-high glass boards so fans can view all the action) and a row of basketball courts and partitioned-off volleyball courts convert into spaces allowing for even more games like flag football, pickleball and lacrosse.
By day, youth sports rule, ranging from indoor soccer leagues and baseball clinics to basketball training and local high school P.E. programs. But after 6PM, the adults come out to play. If you think you've still got game, we talked with SportsHouse general manager Joe Fernando about what it takes to get back out there.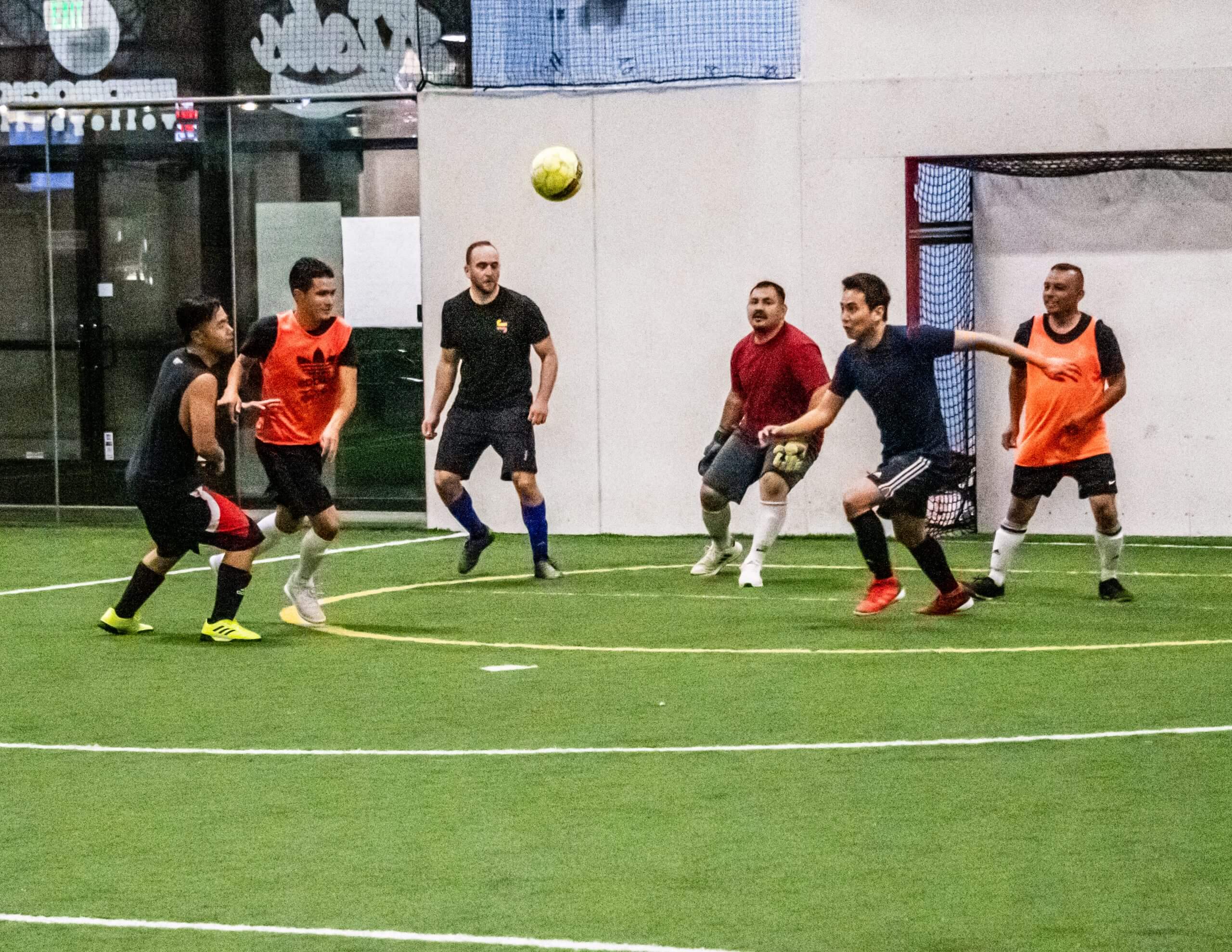 What's the story behind how SportsHouse came to be?
Starting in late 2010, we went through the permit process to turn this 60,000-square-foot former beer distribution warehouse into a recreation facility. In November of 2012, we officially opened and have been very successful. Coming out of the economic recession, people still needed recreation, and we realized that this could be a recession-proof business. With all the high-tech startup talk, a recreation business was kind of a secondary thought for a lot of people in this area. Fortunately, we saw the need for SportsHouse.
What need is SportsHouse filling on the Peninsula?
One question that was asked while we were in the planning stages was, why would you want to open an indoor sports complex where we have great weather year-round and the community can play for free outdoors? We learned there was a lack of field space up and down the Peninsula. Because SportsHouse is climate-controlled, our indoor temperature always stays right around 70 degrees and games won't ever be rained out.
What advice do you have for adults looking to get back into a sport they haven't played
for years?
First of all, don't start out too quickly, but if you do, we offer free ice packs. All joking aside, we tell some players, "You're not as young as you used to be." We host beginner to advanced leagues to suit your physical ability. So whether you're an amateur, former college or pro player, we offer soccer, flag football and basketball leagues for all different levels. Or if you just want to come in here to hone your own personal skills, we welcome you as a member.
How do adult sports teams operate at SportsHouse?
Our adult soccer programs, for example, are played by 120 individual teams a week. Up to 24 teams play per night, Monday through Friday, on our two fields starting at six o'clock and going to midnight. Each night, a different division plays. One night will be co-ed, another will be women's and some nights will have different men's divisions depending on the competitive level. There are six seasons throughout the year, and they sell out rather quickly. Over the years, we've been getting more popular, so we have a first-come, first-served system.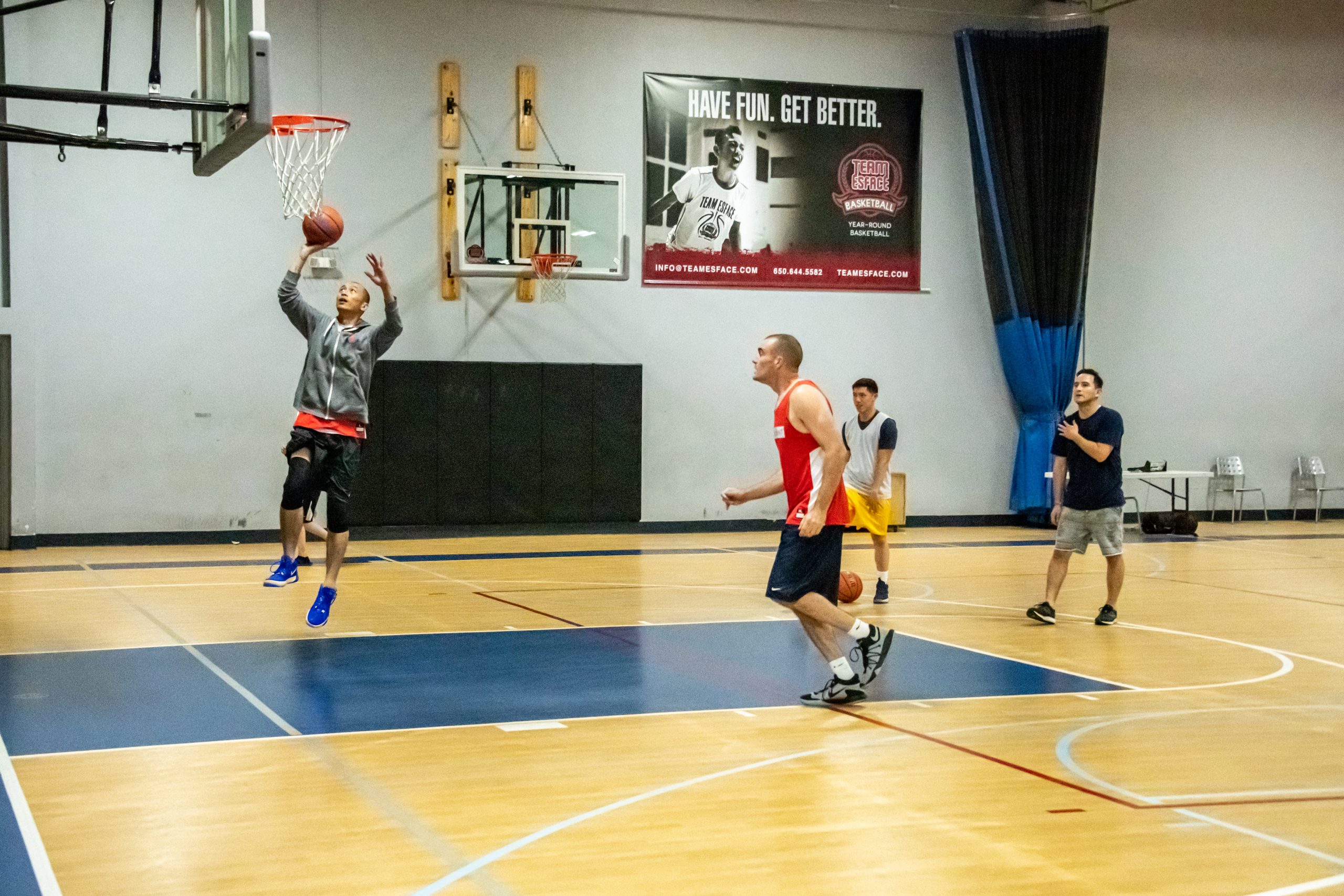 How are adult teams formed?
One example is our corporate division. It was designed to allow companies to sponsor employees through their wellness programs. We also have a free agent list that individuals can sign up for. When we find a team that matches their skill level, we can add them to that team. We created league divisions for the first-time soccer player to the collegiate player. If a team finishes in first place in a certain division, we'll elevate them to a higher division and conversely.
What's the difference between playing soccer inside rather than outside?
Inside, players have to get used to balls bouncing off of walls, so you have to be good at geometric physics to figure out how the ball is going to angle off a wall. The goals are smaller indoors and the only area that's out of bounds is if the ball hits the upper net, and that's when the play stops. The exciting part of the game is that it moves really quickly. One of our fields is 60 yards long, and the other is 50. A normal outdoor soccer field is more than double the length. If you ask soccer enthusiasts, indoor soccer is a different game than outdoor soccer. It's a fun, faster type of game.
Does SportsHouse have any individual sport options?
A participant can drop in for $10 or they can buy a membership for $100 a year, which grants access to all of our fields at any time, depending on availability.
What's an example of an unusual sport that's played at SportsHouse?
Seasonally, we will host a Segway Polo league. Players ride a Segway and use a stick to shoot the ball into the defender's goal. If you don't like running, it's a blast.