Words by Jennifer Jory
With experience in welding steel, sculpting, oil painting and drawing, designer Dawn Mitchell's creative bent came full circle when she married her Aragon High School sweetheart, builder and craftsman Will Mitchell. Together, they make up a one-stop design-build team in San Mateo. As the Peninsula's own home renovation couple, the Mitchells seem straight out of central casting; however, unlike trendy TV celebrity remodelers, they have been solving real problems for sophisticated local clients for decades.
When Dawn and Will sit down for dinner, the conversation often shifts into a brainstorming session about space planning or lighting ideas. They possess a tool kit of creative talents and ease of communication unique to married people in business. "She calls me several times a day," says Will, without a hint of exasperation. "She can always get a hold of me. The first 50 jobs, she proposed a color palette that I would question. Now I just listen. Her choice always works."
Born and raised in San Mateo, Will honed his carpentry skills while attending college. Meanwhile, Dawn pursued a fine arts degree at UCLA. As Will started to grow his business, WMM Construction, Inc. he began to lean on Dawn's expertise. Soon, she launched Dawn Leslie Interiors. "I had so much creative energy! I had to put it somewhere," Dawn recounts. "I was painting everything I could get my hands on and sewing draperies for clients."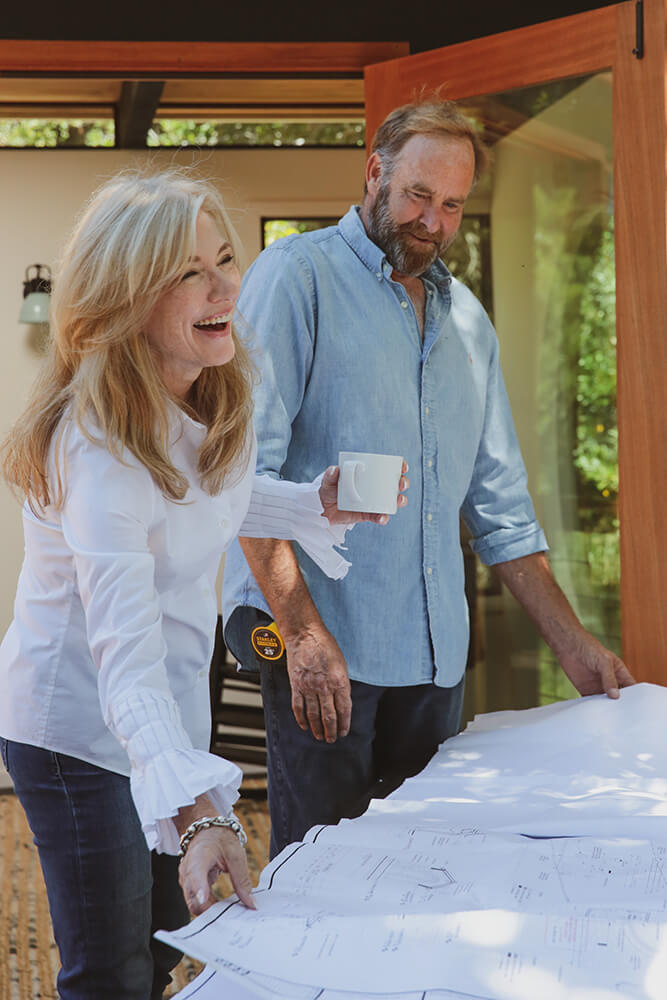 After their first of four daughters was born, Dawn began drawing plans for Will's projects. "When we started working together, she introduced woven metal cabinet doors," Will recalls. "The types of metal and applied mixed mediums she used in interior spaces were so unique."
As Will and Dawn partnered to transform homes on the Peninsula for their clients, their household of four young girls in San Mateo's Highlands neighborhood evolved quickly as well. Creative juices constantly flowed, and the kitchen table was full of sewing and crafts, in addition to school volunteer projects. "Everything was over the top,'' remarks Will. "We built floats for Highlands community parades with butterflies waving 14-foot moveable wings." They also constructed stage sets for San Mateo schools and 8' x 10' birdhouses draped with tenting for school fundraisers. All the while, Dawn sewed costumes for Borel Middle School and Aragon plays late into the night.
In their spare time, the Mitchells volunteer their professional skills, with Dawn designing rooms for the SolMateo Kitchen Tour and Will giving local churches a hand on mission trips. They recently enjoyed updating their own house, adding a deck and guest room that expanded and improved their use of space. "It was definitely a collaboration," stresses Will. "We needed to go under the canopy of the oak trees and drop the deck down the hillside." Even with a new granddaughter and another grandchild on the way, the busy pair enjoy talking shop over dinner. "We discuss projects at home and because we live together, there are no time constraints," shares Will. "I tell Dawn, 'Describe what you want and I will make it happen.'"
Hillsborough Team-Up
Dawn and Will recently completed a kitchen and master bath remodel for a Spanish Revival home in Hillsborough. In partnership with general contractor Loerke & Cresci, Dawn also designed the interior of the home's new modern pool house.
pool house
Dawn chose neutral color furniture and bronze window trim, which effectively highlight the pool and landscape view from the inside. Folding doors open seamlessly to enhance the indoor/outdoor flow. The guest house offers a master bedroom and bunk room for four with drawers that pull out in between the bunk ladder rungs to maximize storage.
pool house bathroom
Playing off an aqua color theme, Dawn selected a Victoria + Albert tub in a vibrant turquoise for the master bath accented by an Ellen Gunn painting. "I found beautiful tiles and thought it would be fun to create a striped beach towel look on the fireplace and shower walls," she says. "I combined marble limestone and turquoise glazed basalt."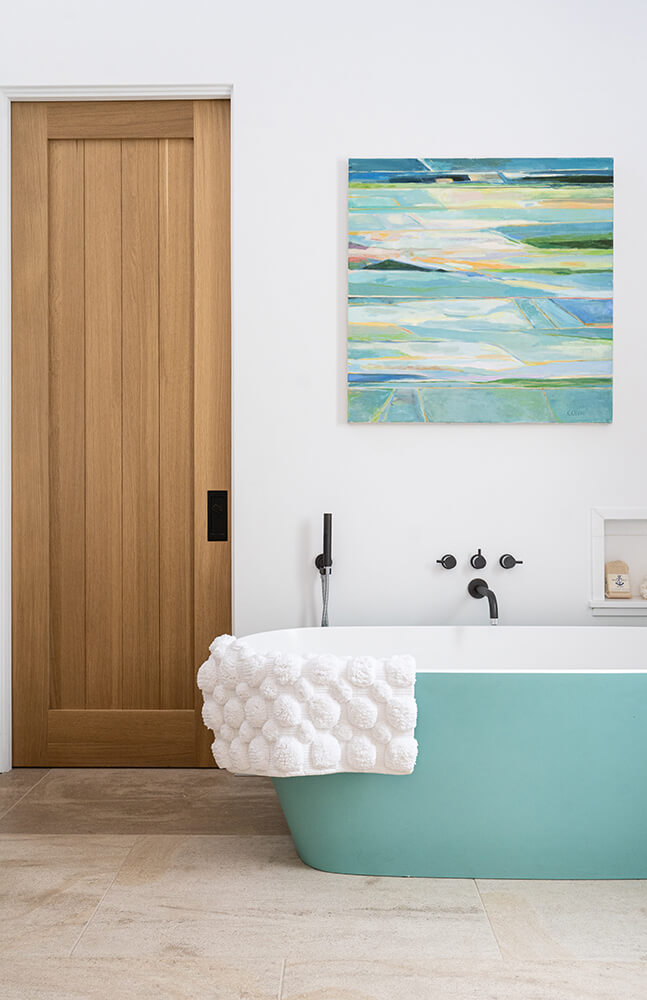 MAIN HOUSE
Will applied his carpentry expertise to combine an original kitchen, laundry and butler's pantry into an expanded butler's pantry and kitchen. To refresh the heart of the home, the custom cabinets by Village were painted in a high-gloss, off-white finish with walnut details and a laser-cut application. Will added an island, finished with the same Dolce Vita quartzite countertops used throughout the kitchen and accented by a long, traditional fixture with built-in task lighting overhead. The kitchen features walnut open shelves and herringbone tumbled smoke limestone flooring. Tabarka Studio supplied the terracotta tile with a textured Arabesque pattern behind the Crosswater London range. "It was a big transformation," notes Dawn. "I wanted it to have a modern Mediterranean feel."