words by Silas Valentino
The magic hour starts just after 5PM, as the sun begins to slide over the shoulder of the eucalyptus grove at the mouth of the property to cast a faint golden glow upon the south side of the Long Branch Saloon & Farms.
This is when the miniature Western town on the outskirts of Half Moon Bay appears to come alive. Situated on a 46-acre lot not far from where the Lobitos Creek feeds into the Pacific, Long Branch could be mistaken for the backdrop of a Western TV show—if it weren't for the palm trees and mechanical bull ride.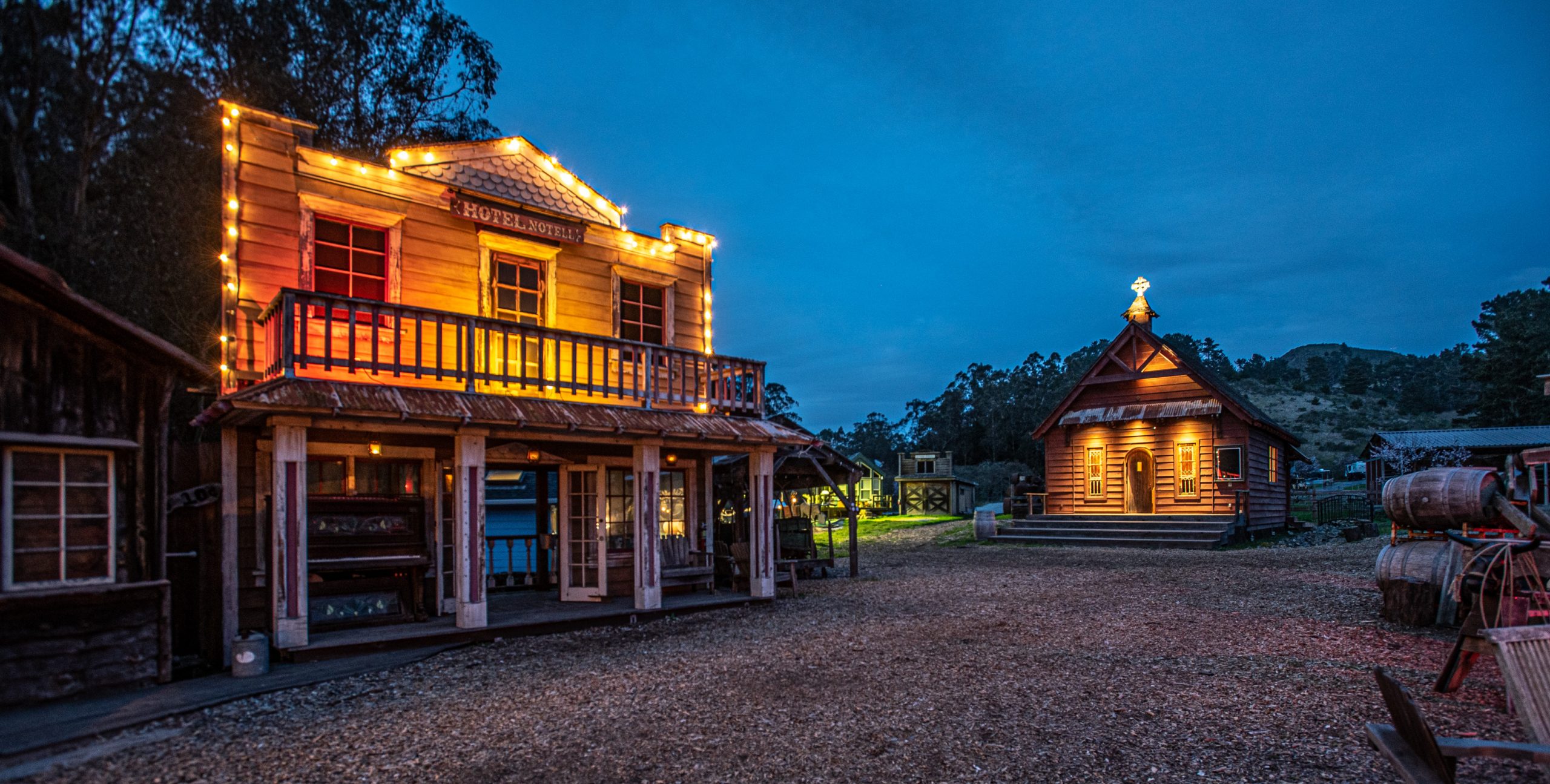 The main thoroughfare is lined by a dozen rustic structures including a two-story saloon, jail cell, hotel, dressmaker's shop and barbershop. Their façades suggest they were plucked out of the past because for most of them, they were; the ice cream parlor features a rusty and weathered sign for the bygone Half Moon Bay Feed & Fuel that was donated by the original owner.
When the phone line isn't ringing with folks looking to set up private events or wedding receptions, the Palmer family, who established and operate Long Branch, has become the recipient of Peninsula historical treasures. Their ranch is a living museum where rusted signs and 19th-century bar mirrors—even a single-story church—find a home for endless appreciation.
"People want their stuff to live in infamy," Kevin Palmer, the family's patriarch says. "So that's why it comes down here."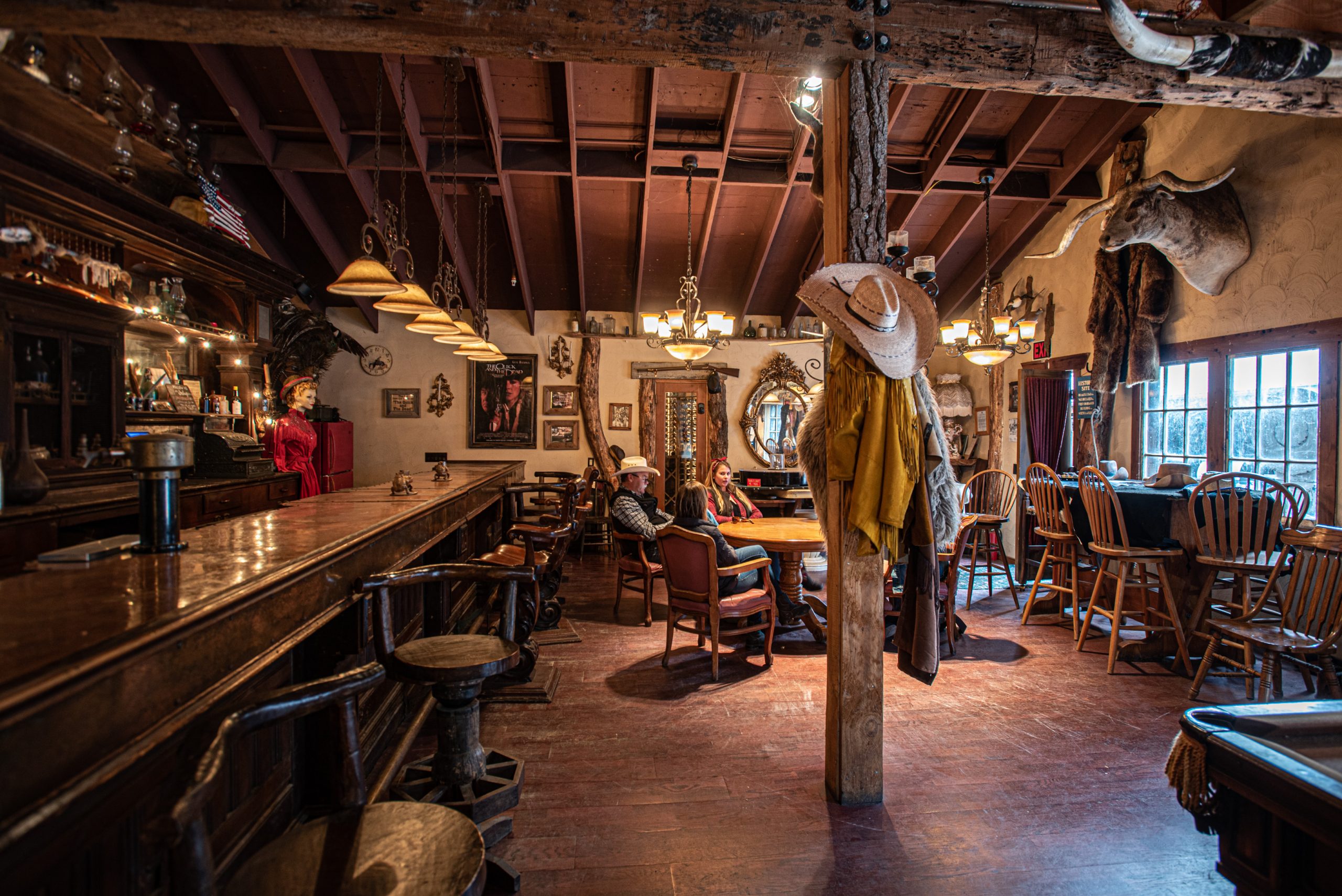 Wedding season for the Palmers auspiciously began on Leap Year Day, and February 29 marked just the first of many receptions they'll host in 2020. Kevin and his eldest daughter, Cassidy, manage Long Branch's operation while Jill, the family's matriarch, offers horse boarding on the premises. Kimmy, the middle child and owner of Granola's Coffee House in Half Moon Bay, takes care of cuisine including full Texas barbeque offerings. In their "spare" time, Cassidy and Kimmy are world-class competitors in equestrian vaulting. Also a world-class equestrian vaulter, Colton, the youngest, is finishing up his engineering degree at Arizona State University. The family is so tightly knit that they haven't had the need to set up a text message group chat.
With two weeks to go before the arrival of the bride and groom, the family was applying the final touches to their latest project: a complete remodel and upgrade to the barn. It can now host a reception for hundreds under the enchanting glow of numerous vintage chandeliers, which Kevin has acquired and stored under the house for years.
"We're thinking ten years from now," he says, of Long Branch Ranch's management plan. The chandeliers are just some of the antiquated gems Kevin has picked up over the years through his other businesses.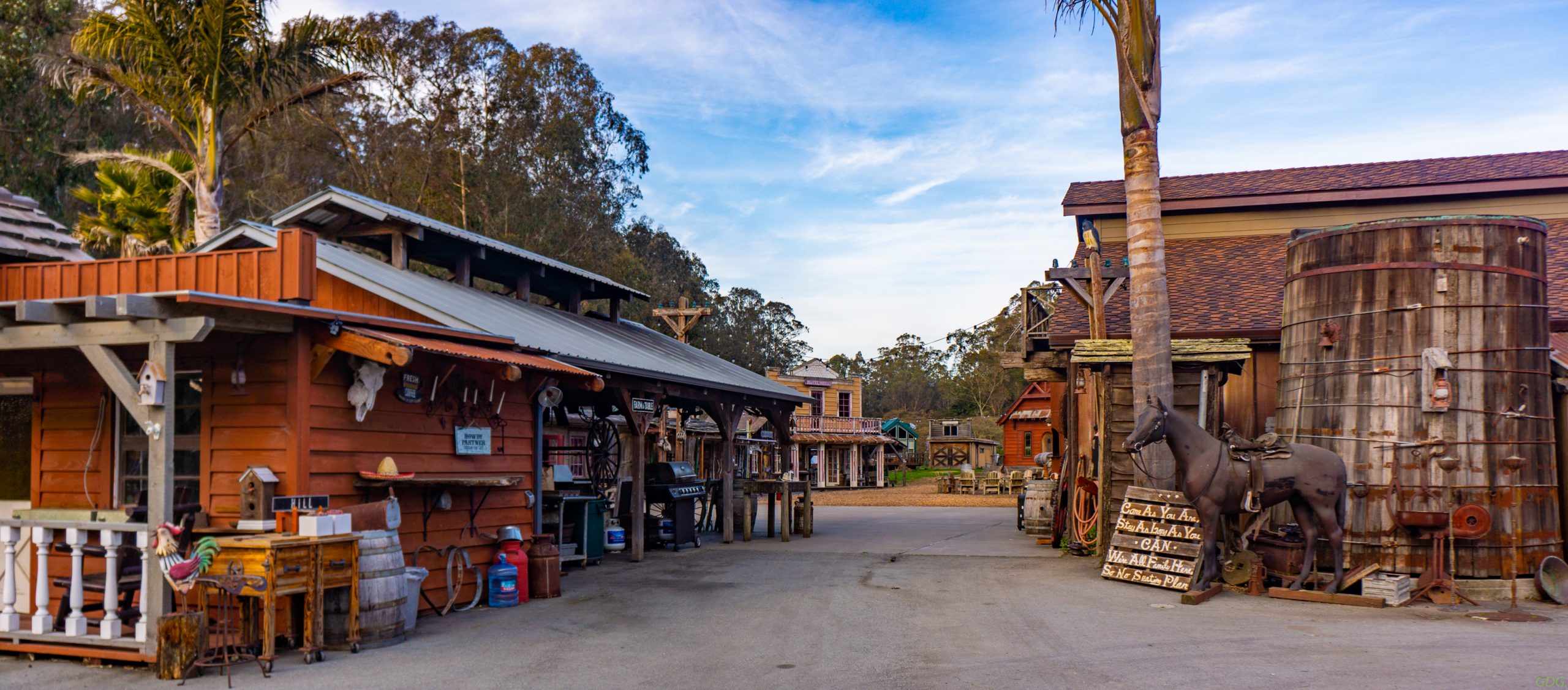 Kevin is also the head of Premier Construction, a construction firm in Half Moon Bay, and years ago, he expanded his enterprise by acquiring a termite removal operation. That led to owning a flooring company. With his hand in several stages of home repair and remodel, Kevin found himself on the receiving end of a windfall of resources.
"We hated throwing away the stuff we were tearing apart and taking it to the dump," he says, adding that much of the ranch has roots in homes from Hillsborough and San Mateo. "It was ridiculous, so I started storing it. I didn't know what to do with it, so I started a town."
When Kevin purchased the Long Branch property in 1998, it was a raggedy ranch that had been on the market for some time. Jill remembers boarding horses there with her family after they moved to Half Moon Bay when she was in grade school. She met Kevin at Half Moon Bay High School as he was passing out candy to everyone in their class. The high school sweethearts bonded over their passion for never-ending projects, so they started a family and bought a ranch.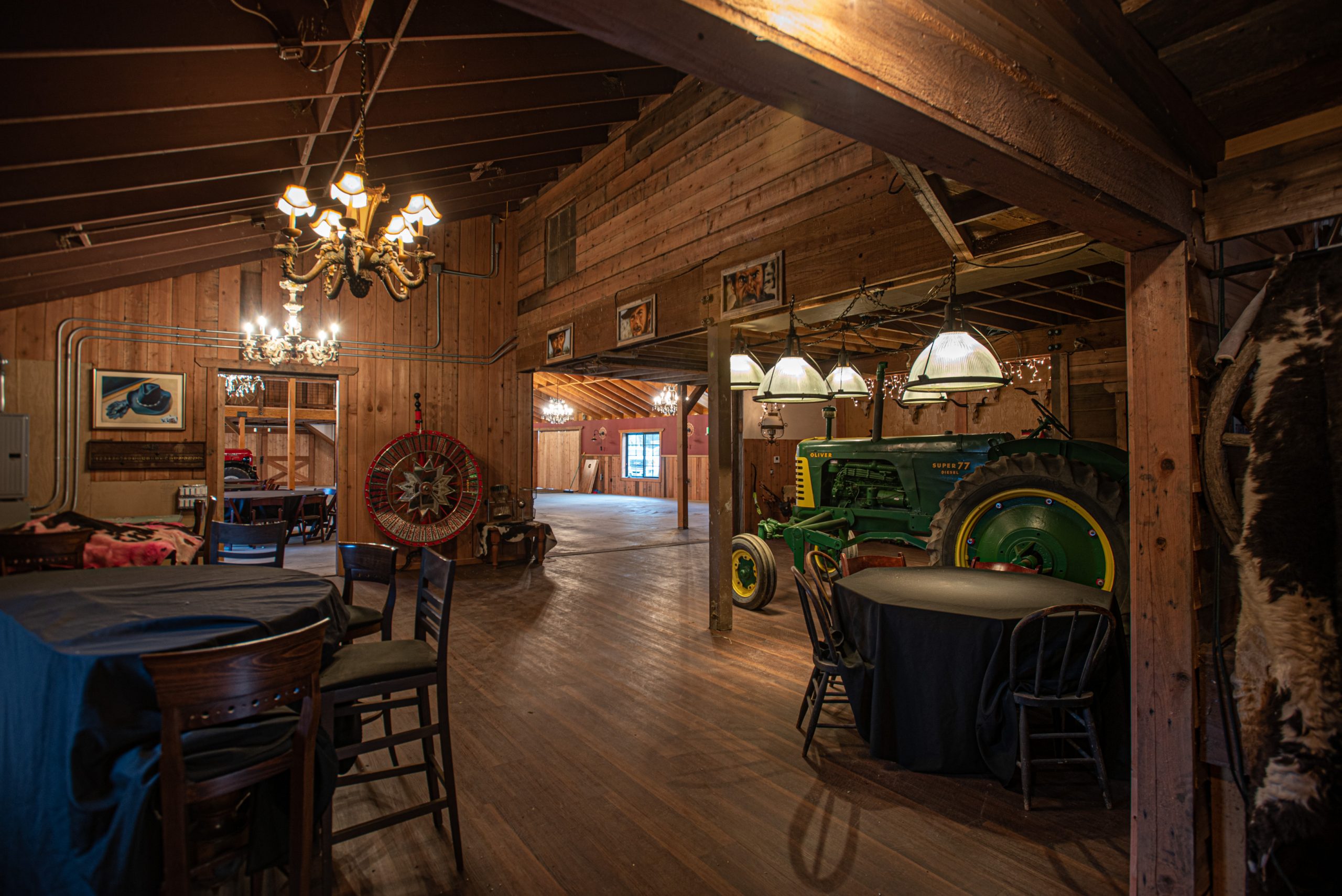 It was during a family vacation in the Bahamas, after Kevin spent a considerable amount of money on marked-up Coca Colas at the beach, that the idea of commerce struck him like a scorching-hot branding iron. He realized that people want fun, novel experiences and if you can provide it, they're willing to pay for it. The idea coincided with goals Kevin had as he began envisioning how to always take care of his family.
"I got cancer and was super sick. I needed to create a revenue stream that wasn't termite- and construction-related," he says. "I was really looking for a revenue stream just for these folks—"
"These 'folks'—you mean us, Dad?" Cassidy teases her father.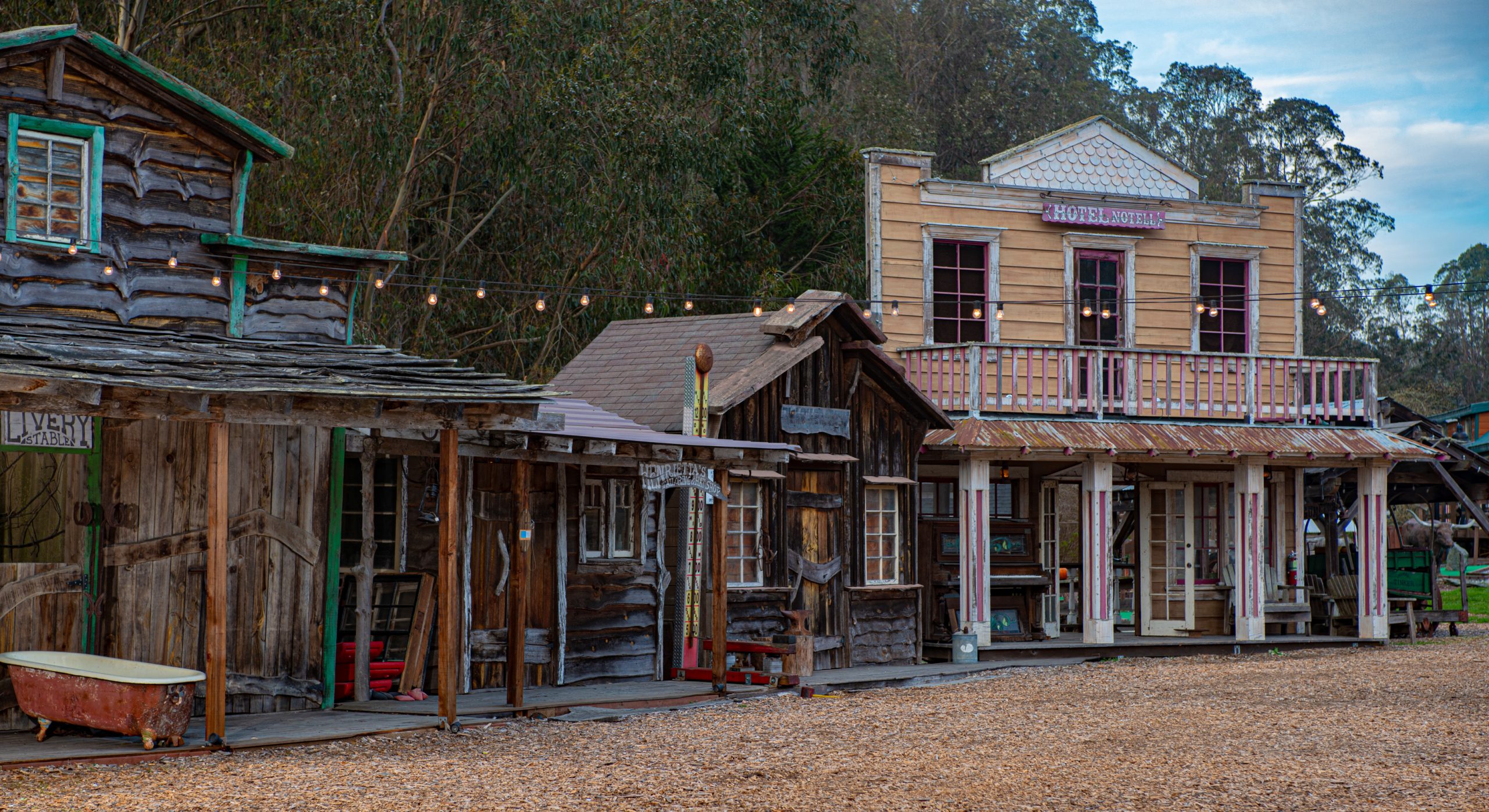 Cassidy was 10 years old when the ranch began to take form and remembers how her dad would gather his friends around in the morning for construction projects with country music playing and doughnuts at the ready. "He just started building and never said, 'This is what I'm doing,'" she says.
Kevin is fast on the draw to defend his methods. "I think I was afraid and I wasn't going to tell Jill what I was doing until I started rolling," he reasons.
Jill brushes off any presumed apprehension. "Do I ever poo-poo anything?" she smiles. "I never do."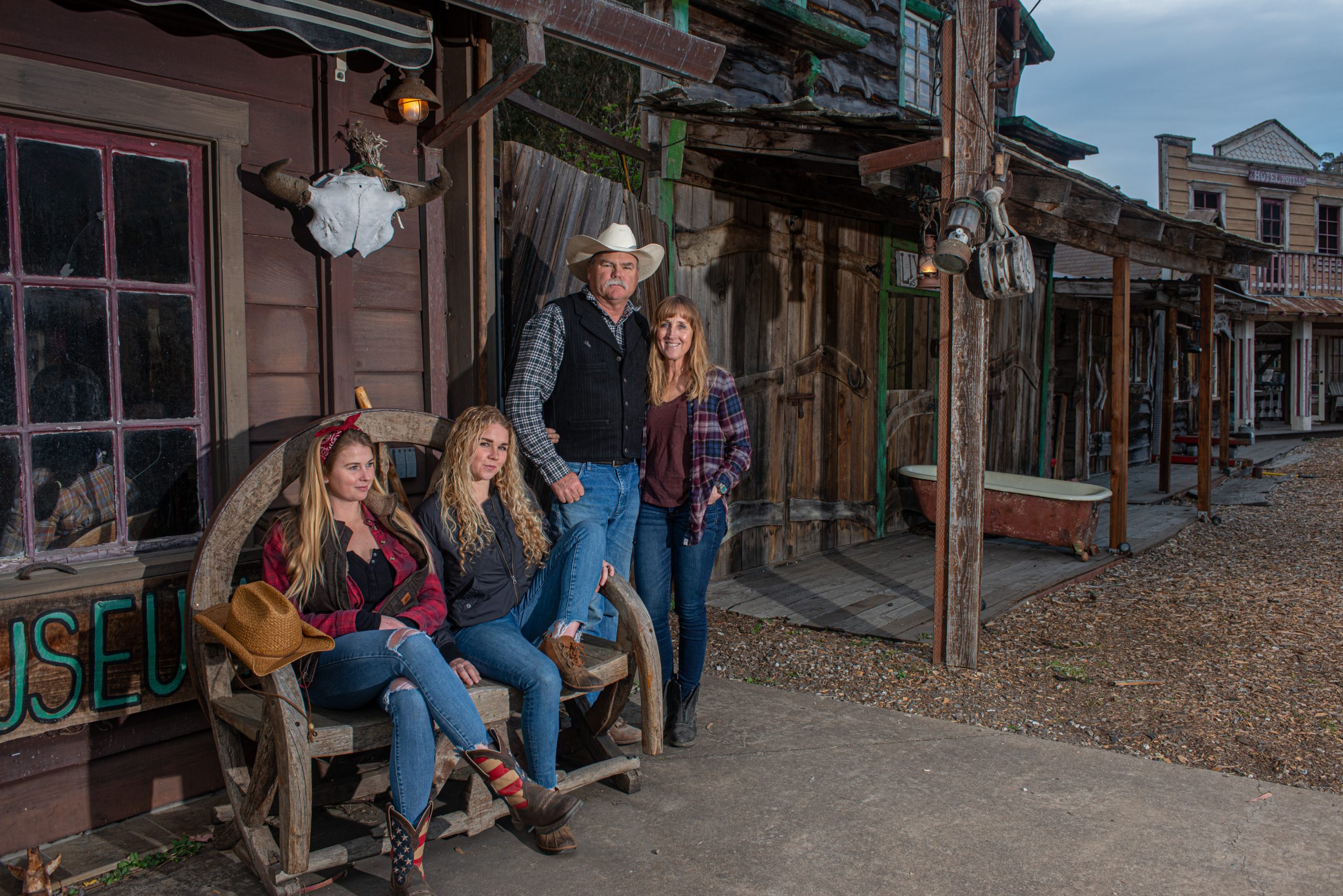 Long Branch has grown into a backdrop for weddings, the spot for half a dozen fundraisers throughout the year and an outlet for companies looking for distinctive team-building exercises. Kevin and Cassidy work with each client individually to map out the perfect afternoon. 
"We start by having a big chili cook-off. Or a guacamole cook-off, if vegetarians are coming," he says. "How do you pull together all that food and have fun for four hours? You have an ingredients scavenger hunt and then they have to help make their food."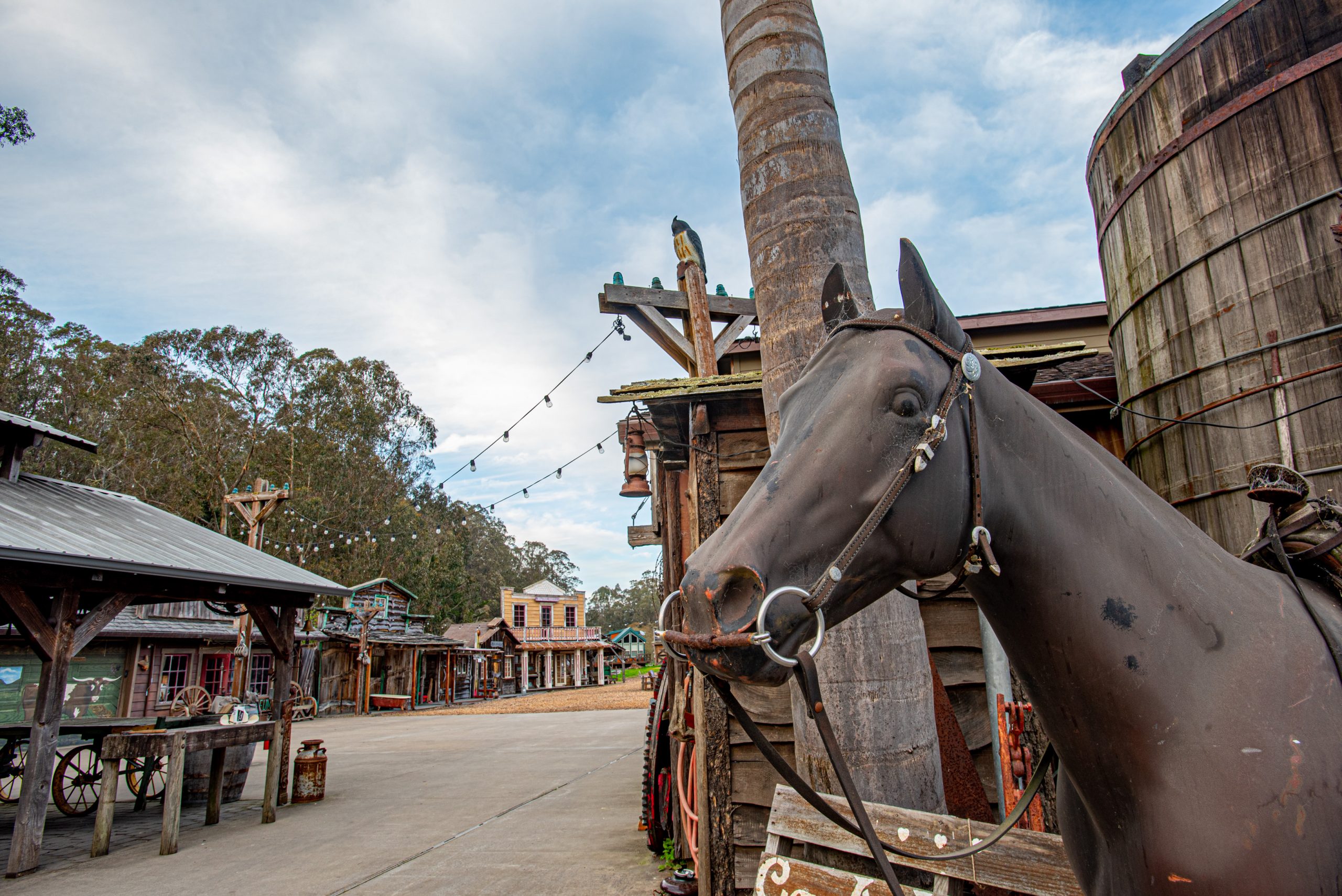 Following the feast is an array of side-activities and contests including a slingshot range, dodgeball court, casino roulette and a high striker. Guests can roam the premises to admire the countless trinkets and historical novelties—such as a display depicting actual hair strands attributed to President Abraham Lincoln.
The robust wooden bar inside the saloon is from the 1995 Western film The Quick and the Dead starring Sharon Stone and Leonardo DiCaprio and inside the dance hall is a 19th-century German-made bar that had previously been at San Francisco's Palace Hotel and reportedly arrived in San Francisco bearing the largest mirror this side of the Mississippi.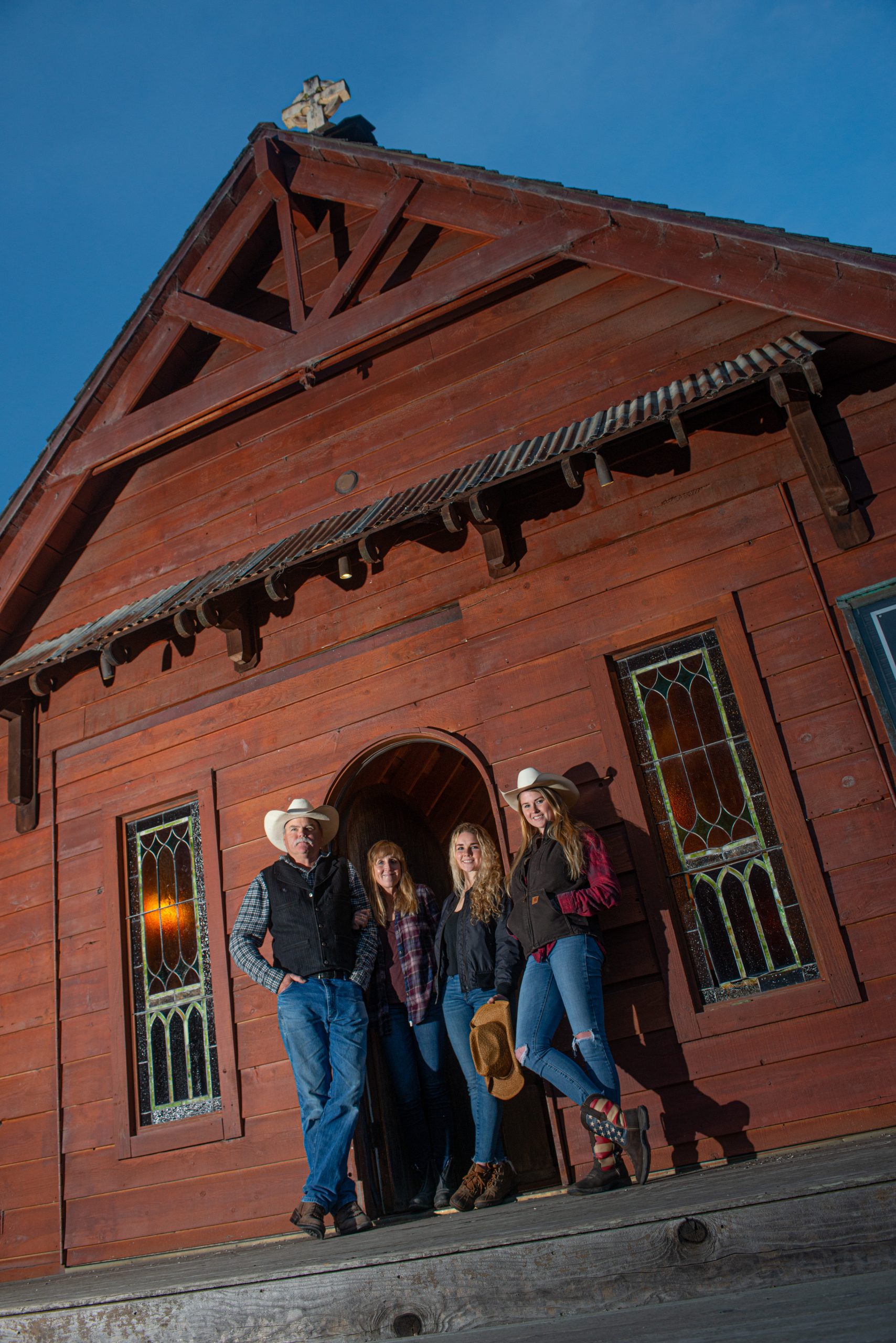 Out near the mini-golf course is a completely restored church originally situated on 42nd Avenue in San Francisco and erected in 1913. It was demolished in 2009 but Kevin was there to repossess and has opened up the church for one-of-a-kind Easter Sunday services.
Asked what he would do if devastation ever struck and burned down the ranch, Kevin dismisses everything except his family as replaceable. "Everything else is materialistic crap," he says. "It doesn't matter. Everything you can buy again and then start the treasure hunt all over again."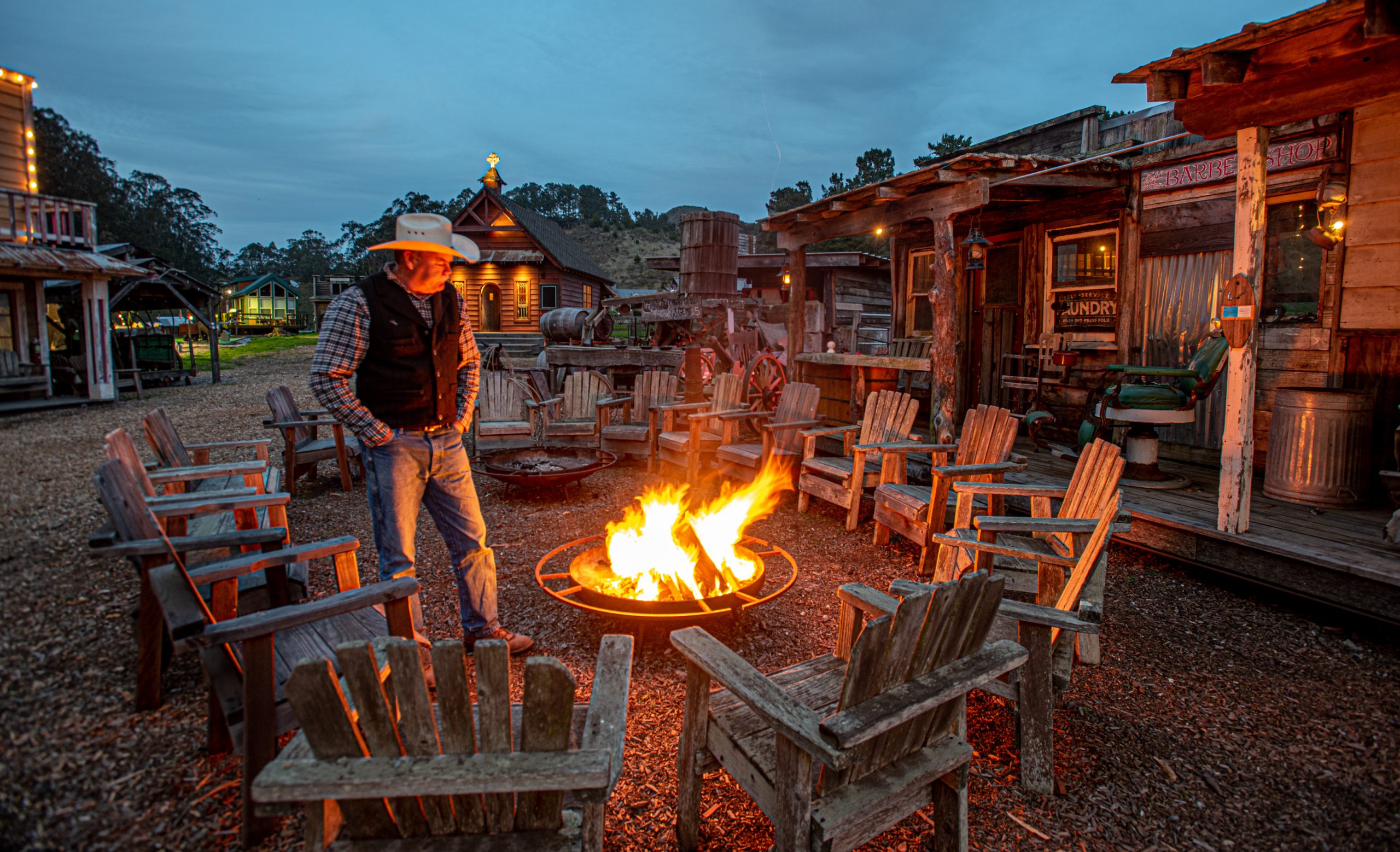 Long Branch is the Palmer family's private home and they are keen on maintaining their personal privacy; however, that doesn't mean they don't welcome friends over once a week for a poker night or are gleeful after hosting an event with a few hundred new friends. The ranch is a shrine and a celebration of the past presented by a family that encourages their guests to explore, play—and please, do touch the displays.
"What gets me is that people will go antique shopping just to stick it in the garage until they die—and then it goes back into the antique shop," Kevin says. "Here, people experience it. It brings back good memories and people will often say, 'My grandmother had one of these.' That's what we're hoping for, to have them think about the past."