It wasn't long after a third car swiped Lee Taylor as he was training for his annual charity bike ride between San Francisco and Los Angeles that the now-retired firefighter decided it was time he modify his mode of fundraising.
This was in 2005 and the Palo Alto firefighter was at a crossroads. For the last several years, Lee had used these bike rides to raise money for college scholarships for local high schoolers (an act of service his wife endearingly dubbed his "midlife crisis") but what good is doing good if it entails bodily harm?
He described his dilemma to coworkers one day at Palo Alto Fire Station 5 on Arastradero Road, perhaps over lunch while a bottle of homemade crimson-colored hot sauce sat on the table. Listening were two fellow firefighters, Mike Chiesa and David Shum, who approached Lee with an idea that grew in plain sight.
For years in the backyard of the firehouse, Lee had tended to a sprawling garden yielding gargantuan pumpkins alongside a row of peppers. In 1994, upon returning from vacation to his (neglected) pepper patch, Lee's peppers had turned red and ripe. Averse to waste, he went into the kitchen and after 20 minutes of experimentation, swiftly produced a simple recipe for homemade pepper sauce. Heavy on the hot.
He made a gallon's worth, gave ten coworkers a bottle to take home and by the end of the week each recipient begged for more. Lee had stumbled into hot sauce making and Mike and David saw the big picture for how it could make the lives of local high schoolers, and countless meals, a little bit better.
"The guys chuckled and pulled me aside," Lee remembers. "They said to sell the hot sauce. Unlike riding your bike, you won't die doing it."
Since releasing his 50-case test batch in December 2005, Lee's Palo Alto Firefighters Pepper Sauce has been a runaway hit. Every expectation in terms of sales and reception has been met and exceeded, but that pales in comparison to the amount of scholarships the sauce's success has generated. Lee's bicycle rides produced a few each year; in his 14 years of hot sauce business, Lee has awarded 157 scholarships to high school students in Palo Alto. Furthermore, an additional $50,000 has been donated to area charities.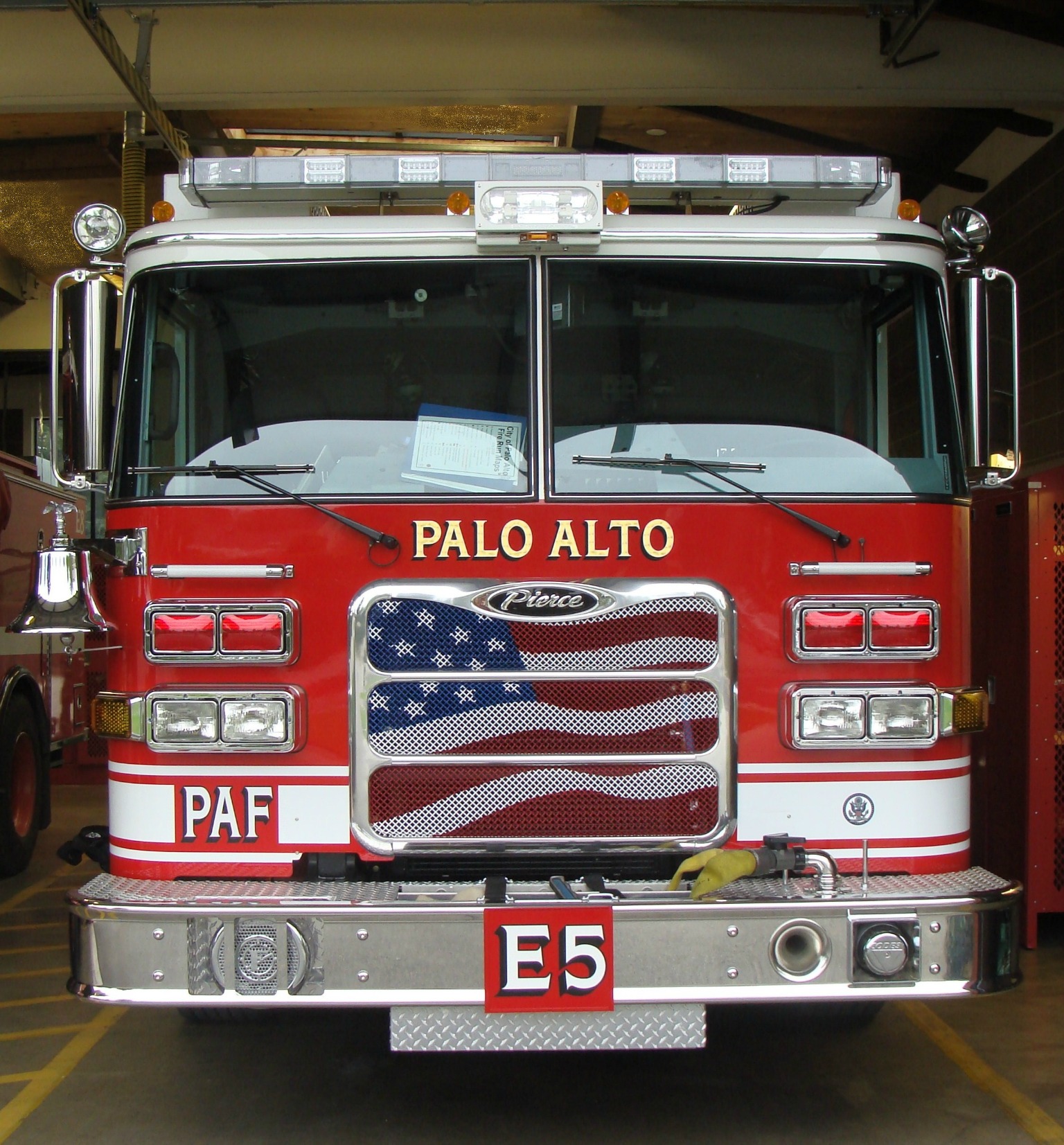 The sauces are available in three flavors using simple ingredients; the Regular sauce, for instance, only uses chili peppers, citric acid, distilled vinegar, sugar and spices to pack its punch. XX Habanero sauce and XXX Ghost Pepper sauce are also available for foodies with a masochistic bent.
Bottles are shipped to all 50 states and firefighters from around the world will sometimes send pictures of themselves enjoying their meal with a bottle in hand. The operation has grown an average of 15% a year, allowing for Lee to bring on his two children to help run the business. Erik, his son, is the operations manager who handles the production and distribution either online (where 2,000 orders are placed a year) or to the 60 accounts they have across the Bay Area. His daughter Stephanie is the accounts service person and handles the QuickBooks.
Unable to continue working out of the backyard of the firehouse, both due to food laws and expansion, they now work with a company in Healdsburg to produce the sauce. And for tax purposes, the operation is two-pronged: the Palo Alto Firefighters Pepper Sauce is the production arm while the Palo Alto Firefighters Charitable Fund takes care of the philanthropic output.
The hot sauce was awarded several top Scovie Awards, by the judges who recognize the world's best fiery foods and barbecue products, but the most rewarding aspect for Lee is seeing all of the framed pictures of the past scholarship recipients displayed at Fire Station #6.
The scholarship application asks each high school student to write an essay on what role the Palo Alto fire department has played in their life. Last year, Gunn High School senior Rachel Barkin detailed how the fire department has been there for her family since the day her brother was born on the front lawn of her family's home. "Growing up, I would tell that story to anyone who would listen," she writes. "Forget Superman or Batman… firefighters Catherine, Mark and Randy were the real superheroes!"
Now a freshman at Barnard College in New York City studying psychology, Rachel put her scholarship towards paying for textbooks. "I didn't know this but paying for college books is incredibly expensive," she says. "My two Spanish books were $200 alone!"
Lee was once a college student himself, attending American River College in Sacramento when he first heard of Palo Alto over three decades ago. He's a Sacramento native who self-funded his private education at Christian Brothers High School through part-time jobs. (A brick tower near the entrance of his alma mater carries a message in white lettering: "Enter to learn. Leave to serve.") He looked up to a pair of uncles who were firefighters and liked the physical nature of the job. Plus, the aspect of helping people cemented his interest in the career.
While studying at American River College, Palo Alto Fire Department set up a table in the junior college's auditorium for a hiring fair in the summer of 1982. Lee took notes on the department for a friend and they both decided to apply for one of the six positions against a grouping of 800 applicants. They were each accepted and began later that year.
Across his 30 years on the job, Lee became Apparatus Operator (the driver of the fire truck) and was the relief captain for 15 years. Geo Blackshire, the current interim fire chief for Palo Alto, was his early trainee. Lee lives with his wife Karren in Antioch and commuted into Palo Alto for the entirety of his career. The 73-mile drive proved beneficial when he would deliver sauces to local grocery stores along the way after work, but juggling a 50-hour-a-week side job on top of his full-time duty eventually led him to retire in 2012.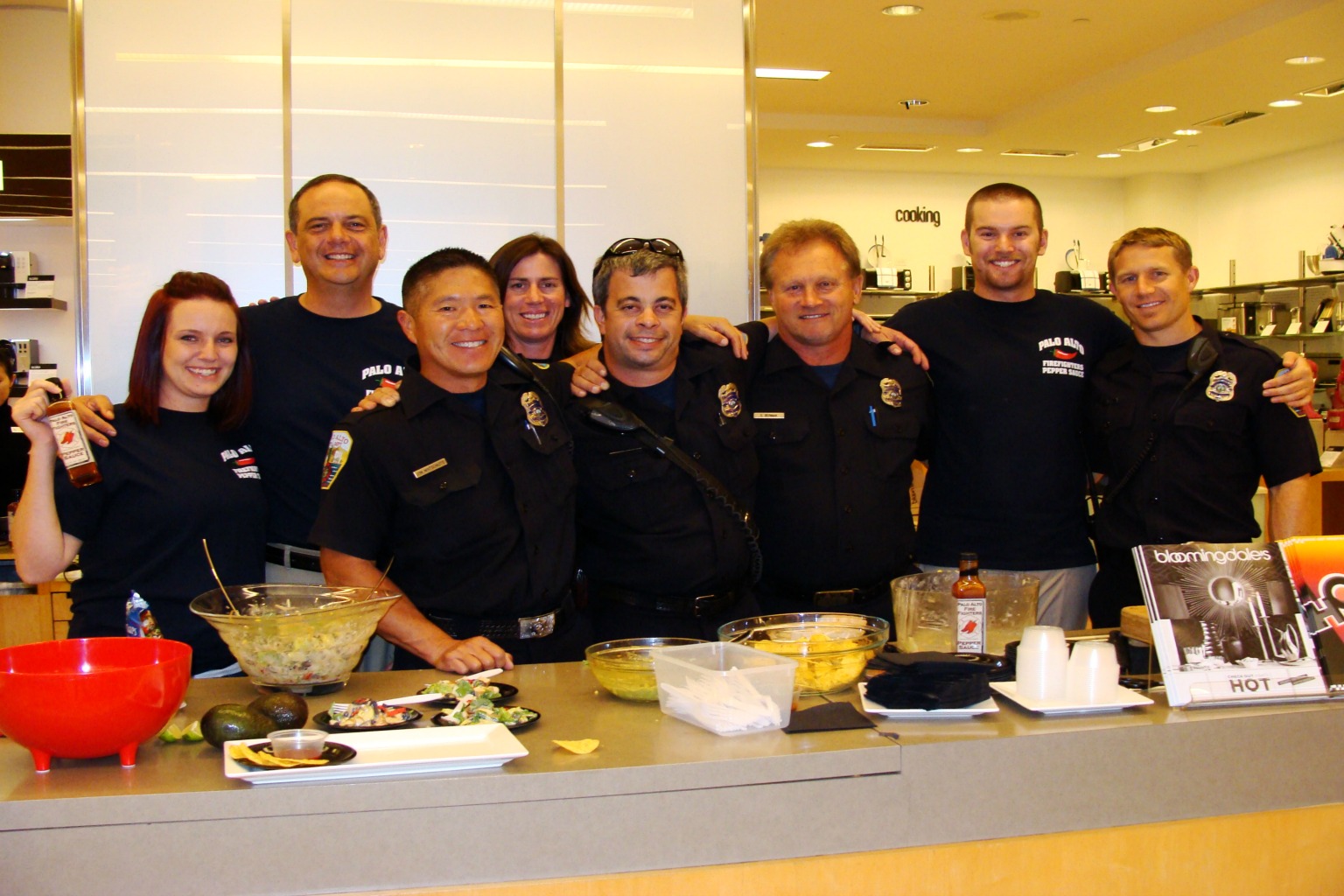 Lee now enjoys his pepper sauce in the company of his grandchildren, tends to his home garden and will do special projects for the Palo Alto Firefighters Pepper Sauce. The revenue from the sauce is capable of funding students as long as people keep buying, and this ringing success continues to bewilder its creator.
"I never really thought of it as being extraordinary or anything noteworthy, but I've been at some events and had people come up to me and ask to be mentored. I asked why and they said, 'Look at what you've done,'" Lee says and starts thinking aloud. "It's very flattering to know that what I created quickly became something for so many people."
fire it up
For a list of local stores carrying Palo Alto Firefighters Pepper Sauce, visit paloaltofirefighters.com