Words by Emily McNally
At Harley Farms Goat Dairy, which sits at the quiet edges of the coastal town of Pescadero, 17 miles south of Half Moon Bay, a mother goat hovers protectively over her two new arrivals. When I kneel down to greet them, a tiny, white kid approaches me, her tail wagging like a puppy as she starts to nibble my finger. The garden tumbles with flowers while rolling hills of tender green grass spread out around us in the filtered morning light.
Originally a cow dairy built in 1910, this idyllic property was left derelict until Dee Harley took it over in 1990. "The land was really overgrown, the buildings were broken down," Dee recalls, "but something about it spoke to me." With strong support from a tight-knit agricultural community, Dee grew her property from the original nine acres to more than double that and also created a thriving business.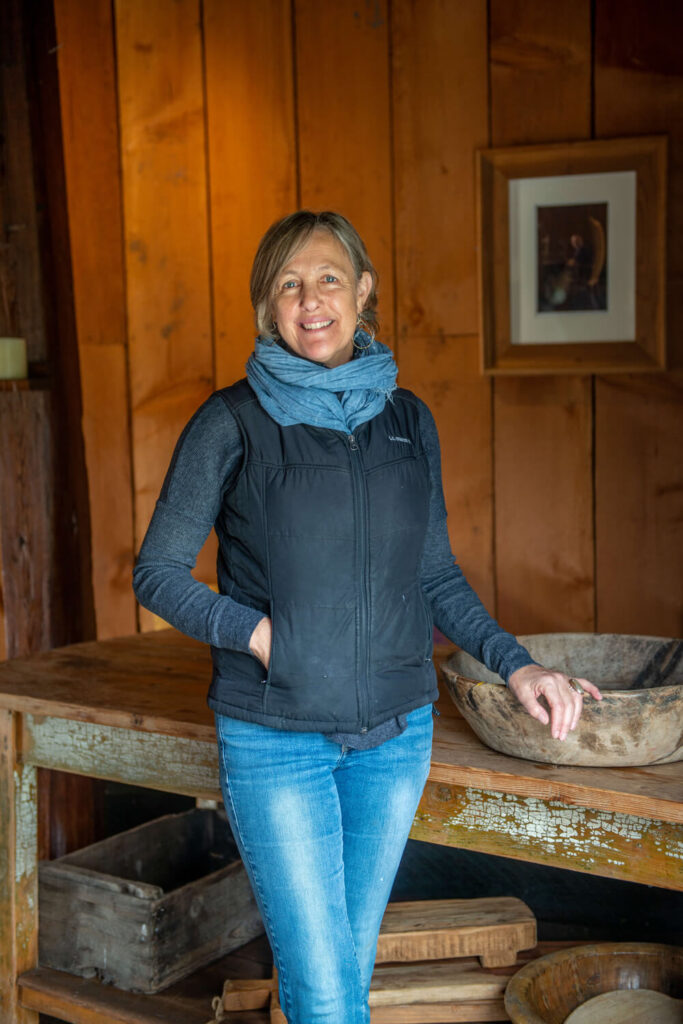 Today, Harley Farms is home to around 200 goats, an elderly donkey named Rosie and eight Anatolian Shepherd dogs that guard against mountain lions with an assist from two llamas. Award-winning, handcrafted goat cheese made at the refurbished dairy drove Harley's rapid growth, but visitors who knew nothing of the cheese were drawn by the charm of the property and the lure of fields full of adorable goats.
Dee realized she could harness that fascination and expanded offerings to include extensive tours, farm-to-table dinners and private events. She has hosted thousands of visitors by placing the natural beauty of the land and the refurbished buildings at the heart of Harley Farms' endeavors.
The door to the small shop where Harley Farms Goat Dairy sells its famous cheese creaks when I push it open. In a small but important way, the creaking door holds the secret to its magic. "My dear friend [local wood carver], 'Three-Fingered Bil,' who made this door, believed that when a door creaks it gives you the feeling you are entering another world," Dee Harley shares. "Everything here is real—the beams on the ceiling, the wooden planks of the floor, the goat milk paint that colors it, every product we sell—it's all completely authentic. I think people can feel that."
In her 32 years of running Harley Farms, Dee has used that gut sense for what feels right to craft her mission, operating with a combination of instinct and hard-won business acumen. Originally from Yorkshire, England, Dee was always drawn to farming, and she worked land from the UK to Honduras before finding herself captivated by the charm of a small parcel of abandoned acreage on the San Mateo County coast.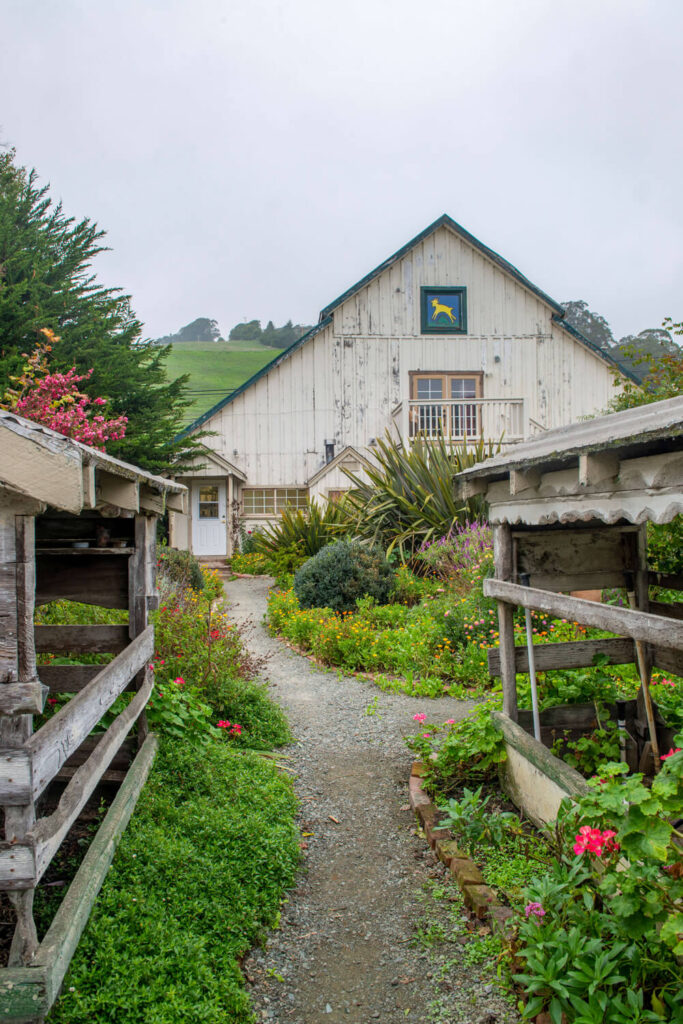 When Nancy Gaffney, an expert cheese-maker from Davenport, recommended that Dee get goats to help clear the fields and use the milk to make cheese, a path through the wilderness started to emerge. "I went from looking out of the window wondering what I could get going to having six goats that quickly turned into twelve," she reflects with a smile. "It just kept growing from there."
Success came quickly and Harley Farms won awards from the American Cheese Society before going on to take prizes in international competitions. Chevre, in a variety of flavors—spanning honey and lavender to dill to herbes de Provence—headlines the roster of star cheeses. But the delicate Fromage Blanc and an aged Feta also claim places in the hall of fame. "It's the salt air and the green grass that give the cheese its unique flavor. I mean, we even beat the French, which is really saying something," remarks Dee, the shock still evident in her tone all of these years later.
In the early days of running Harley Farms, the cheese business was all-consuming with about 300 goats fueling distribution channels around the country. Dee got the old dairy up and running and connected the milking machines to the certified kitchen via an elegant pipeline system, but keeping up with demand became grueling. In 2008, Dee had another one of the epiphanies that have always guided her decision-making. "I literally woke up and realized we had to change," she recounts. "I pulled out of all the distributing contracts and brought the whole business closer to home. I sold off half of the herd in the following days."
In tandem, she took full stock of the property's assets. "People were showing up all the time—curious about the goats, wanting to buy cheese or just to enjoy the gardens and pond," recalls Dee. She discerned that she could create new revenue streams by charging for tours and hosting events on the property.
Dee launched into renovations, starting with the rustic loft above the shop, which now features a long table—the focal point of farm-to-table dinners—crafted by Three Fingered Bil from a tree trunk uprooted in a flood and made without a single nail. Turning her attention to the pond and secret garden, Dee cultivated settings perfect for weddings and corporate events. To round out the venture's entrepreneurial options, Dee upgraded the farm shop, expanding Harley's goat milk product line to include soaps, lotions and balms, as well as kitchen creations like jams and goat milk pot de creme.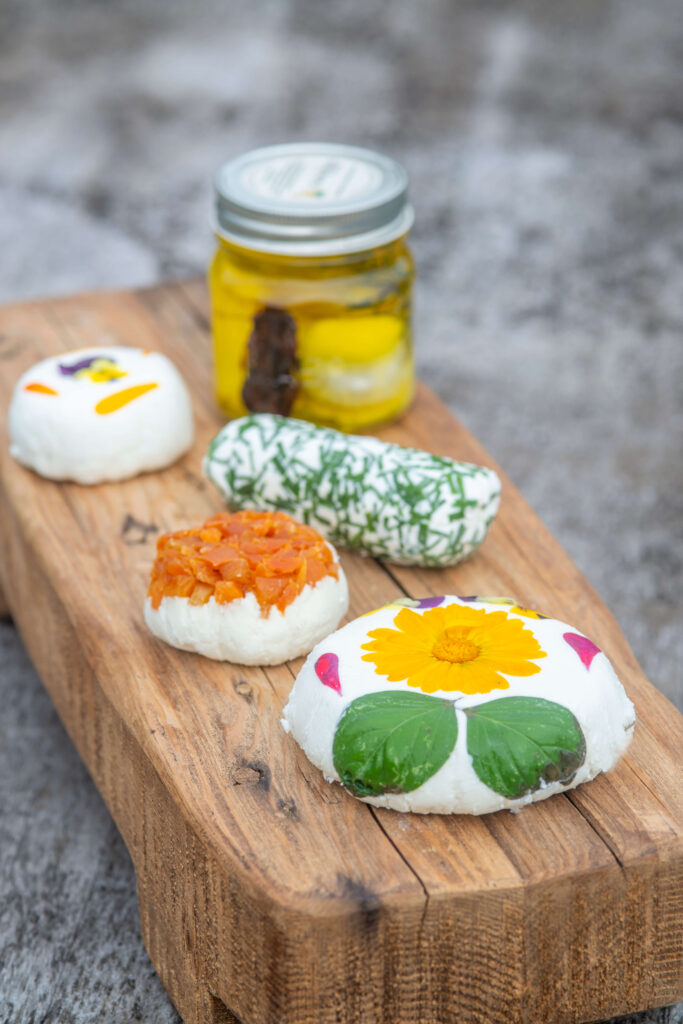 Dee looks back at this time as one of the critical junctures in how she managed the farm. "I still to this day use the health of the goats to determine our direction," she explains. "If their hooves aren't trimmed, it means we're diluted somewhere and it's time to get back to basics."
At Harley Farms, the rhythm of life is dictated by the natural demands of animal behavior. In the spring, between February and April, around 250 baby goats are born. "This farm goes from being a very lovely, peaceful place to absolute chaos," Dee says good-naturedly, adding that the kids are bottle-fed by people rather than suckled by their mothers. "We do this so that they'll bond to us because we will be their primary caregivers," she explains, "and it also allows us to control the flow of milk."
Most of the young herd are sold off in summer, but around 50 goats are retained to be mated with a few visiting males the following September. "We always keep some of the baby goats and cycle out elderly female goats who are ready for retirement," Dee continues. Because Harley only needs female goats, the males are given to San Francisco Grazing where they're tasked with chomping down excess brush around San Francisco International Airport and the Presidio.
Many of the people who work with Dee have been with her for the long haul. Roberto Zavala Castillo and Salud Corona Telles joined Harley Farms in the early days before she could guarantee their paychecks. Roberto maintains a strong presence and helps Dee mend fences, repair buildings and care for the goats. Salud learned the art of making cheese by hand from Nancy Gaffney and in turn, trained her daughter, Rebecca, who has now been making cheese for 18 years. During high season, they make around 100 pounds of cheese a day.
Thinking about these long relationships and the shifting nature of life at Harley Farms, Dee becomes reflective. "Looking back, I made use of people's interests. We've been able to build this around the people and the skills they have," she says. But she also credits the location with making it all possible. "We are a part of a tight-knit rural community. I think you can feel that when you come here."
As Harley Farms looks to the future, the spotlight is shifting to the next generation. Dee's son, Ben, graduated with a degree in Organic Food Systems from Washington State University and has returned to help his mother run the farm. "It's a business, and you've got to be reliable and you've got to be sustainable, but it's also a lifestyle," Dee points out. "He's got that in his soul. He understands the movement of the farm, the rhythm of the seasons."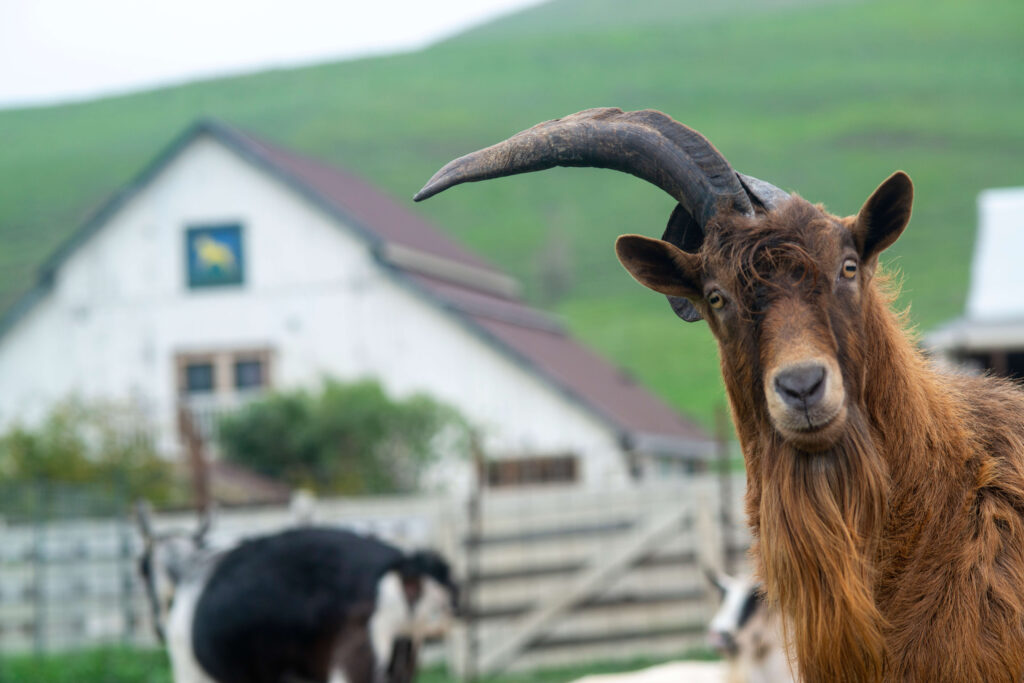 Ben is introducing new ideas, like a goats-for-hire program, that would allow for small landowners to clear fire-hazardous brush from their properties. He's also driving a project that includes the purchase of six cows, British Whites, that will be harvested for their meat, which will be added to Harley's goods in the shop.
In the meantime, new longer tours take small groups farther into the farm, with springtime viewing of the newborn babies a favorite highlight. Tours frequently sell out, but the farm also welcomes visitors to drop by any day between 11AM to 4PM to greet the goats and donkeys over the fence.
Dee clearly relishes her life at Harley Farms, but she also looks forward to pulling back and enjoying what she's built. "Maybe I'd learn to drive a tractor if I had a bit of free time," she smiles. "I would like to have a bit more privacy, but I still want to be able to look out my window and watch goats nibbling a bit of grass."