Words by Sophia Markoulakis 
With over a thousand projects completed in the last 20 years, Natalie Hyland knows a thing or two about the various home styles that populate the Peninsula. "Ranchers, Spanish revivals, Craftsman—I've worked with all of them to either fully alter or update," says the Redwood City native. And, though Natalie and her team at San Carlos' Hyland Design Group are well-versed in designing new custom homes, it's the challenge of helping homeowners find the beauty and function in their spaces that really gets her excited.
"Our focus is on architectural plans that make a space feel right," Natalie says. "And, that starts with building trust with a client." Natalie's initial consultation is all about listening to the client's needs and wants. It's also listening to all of their pain points. "I really just let people ramble and say what they hate and love about their homes," she explains. "My goal is to find solutions to what they see as problems in their homes and then make sure that the new design is balanced and beautiful."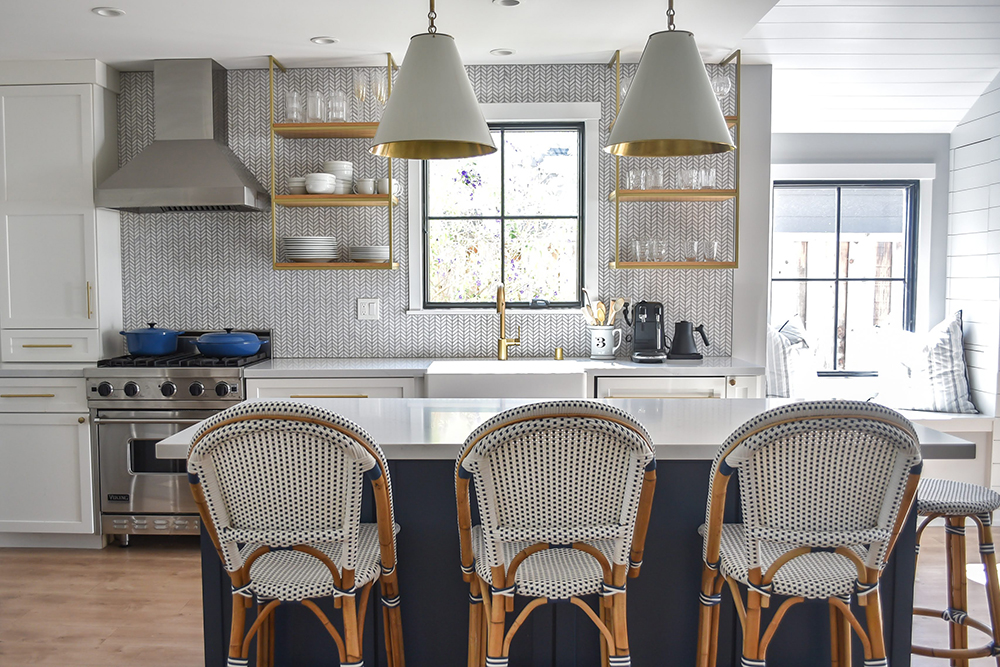 In Redwood City's Maddux Park neighborhood, Hyland Design Group combined symmetry and function using floating shelves and a side-by-side sink and stove, creating ample space at the island for seating and food prep.
Because every home's layout is unique, and a budget or footprint might not allow altering a home's square footage to resolve pain points, Natalie utilizes her architectural skills to move walls, add windows and alter ceilings to give the illusion of more space. "I am the layout lady," she jokes.
Recently, a client came to her asking for help with their family room, which was approximately 12 feet wide. Because of the home's setbacks, there was nowhere in the footprint to add square footage, so Natalie got creative. She raised the ceiling, but instead of the more typical vaulted (peaked) style, she opted for a shed (one-sided vaulted) ceiling. "The shed vault provided twice as much volume. We popped out bay windows and started the roofline there so that the ceiling span was wider than the floor. We also added nine-foot French doors and flushed the fireplace. When it was done, I couldn't even believe it. It felt more like a 16- by 18-foot room," she marvels.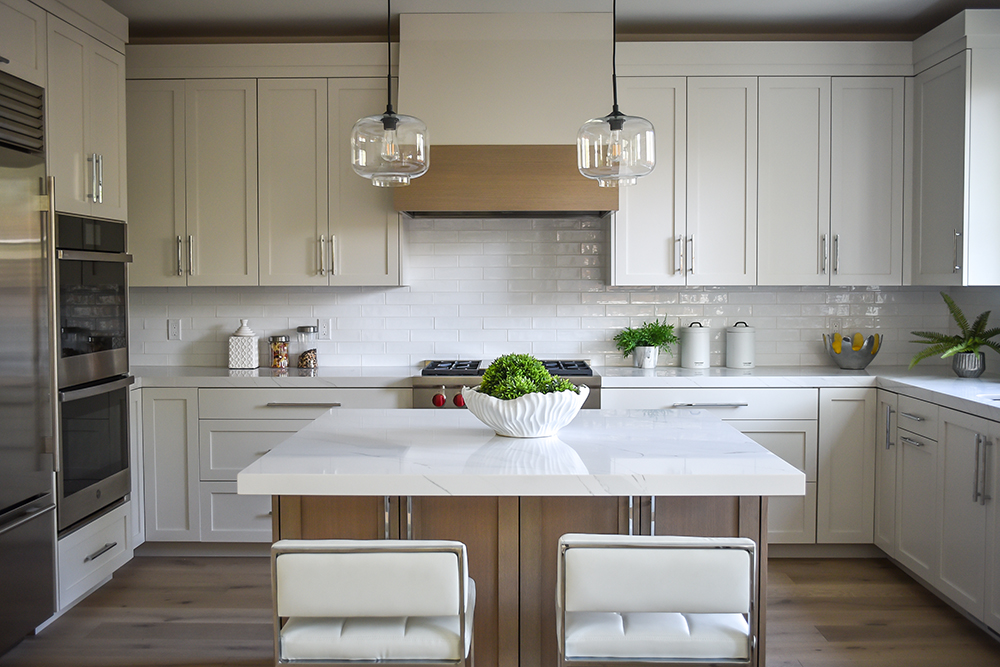 And, as much fun as Natalie's had over the years with design challenges, she's also learned to be frank and practical with her clients. When budget cuts are in order, she'll often recommend keeping one impactful element over several smaller ones. "I had a client who really wanted a Spanish revival–style home. My initial design had a tile roof and recessed windows, but after she returned from a meeting with her contractor, she told me we had to cut the budget. As a result, we focused on designing around the arched and recessed living room window, which was already there and had a Spanish feel. It ended up being my favorite part of the remodel," she recounts.
After Natalie graduated from San Francisco State University, she decided to attend cooking school in New York. Equipped with two degrees, she returned to Redwood City and apprenticed for her uncle, Phil Hyland, who is Natalie's lead designer. A year later, in 2002, she opened Hyland Design Group. Her culinary degree comes in handy, not just with kitchen layouts but also with organizational practices. "Most people know what mise en place is and understanding how to plan for something is a skill I trace back to my culinary days," she says. She's known to host upwards of 20 people in her Redwood City home, and further explains, "I mean, when you host a large party, the menu planning starts months before. Besides designing, most of my work involves preparing my staff for the steps that are necessary to complete a successful project."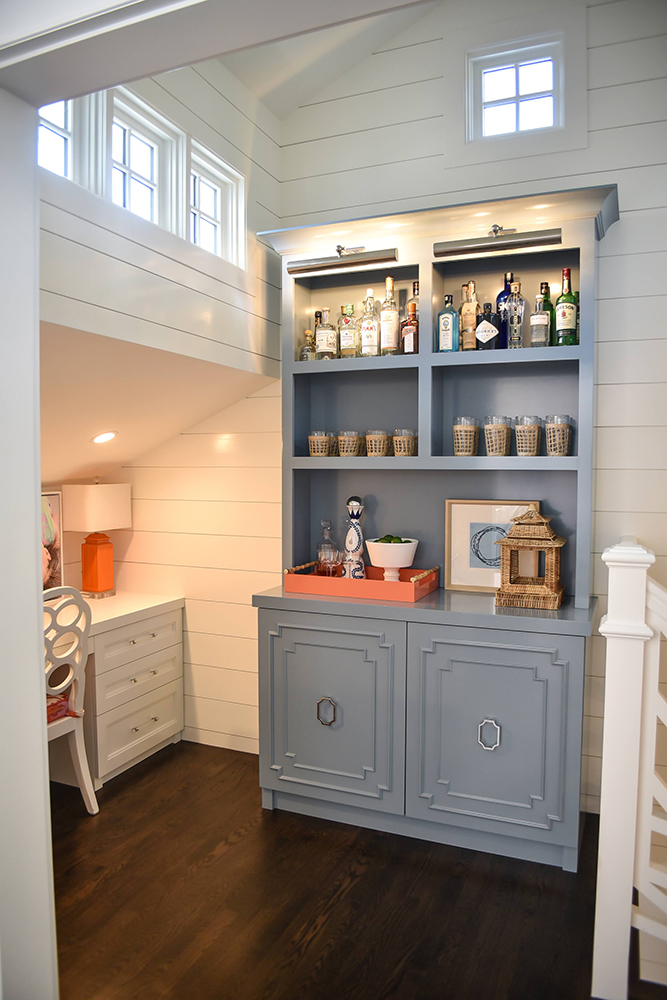 In this San Mateo Park house, Hyland Design Group utilized the landing at the top of a staircase for kitchen overflow and popped up a cupola for light and height.
Even though Natalie works with clients all over the Peninsula, many of her projects are between Burlingame and Redwood City. Her affinity for the northern part of the Peninsula has a lot to do with her upbringing in Redwood City and tagging along with her father and uncle at construction job sites.
Natalie's ties to San Carlos also run deep. "I had a great uncle who had to purchase land in the unincorporated part of San Carlos, because, at the time, it was illegal for a Chinese person to own land in the city of San Carlos. He ended up purchasing seven parcels. Besides operating a wholesale flower farm on the land, he also built a house for himself and my grandmother who became a widow at a young age. She was my babysitter, and I have fond memories of spending time there," she reflects. "Recently, when his daughters decided to sell off some of the parcels, the developer who bought the property came to me and asked me to design the homes."
Hyland Design Group turned this Woodside guest house into an open, airy, light-filled retreat with a vaulted ceiling, dormers and clerestory window that enhances the room's dramatic effect.
Natalie doesn't dwell on the irony of this and prefers to see the optimism in each generation's ability to adjust to discrimination. She's proud to call herself a member of the San Carlos business community for the last 20 years.
Her new office on San Carlos Avenue now provides a storefront for clients. "It's always been my dream to have a little brick-and-mortar in downtown San Carlos," she says. "I'm turning the front space into a stationery store with offices in the back, and I look forward to people popping their heads in to say, 'Hi.'"