Summer's here! For months now, ice cream makers have been gearing up for their biggest season. At Tin Pot Creamery, the warm-weather menu will be fruit-forward, with mango madness at its heart.
I arrive at the Tin Pot production facility in San Carlos as the firm's co-founder Becky Sunseri does a final taste test of a new flavor combo: mango ice cream topped with sticky rice sauce and hazelnuts.  Without ceremony, I grab a spoonful. It's beyond delicious—fruity, mellow, not too sweet, completely addictive. Where did this great taste spring from? When can I have more?
"This will be on our summer menu," Becky assures me.
This particular recipe has been evolving for some time as part of Tin Pot's painstaking development process. "We were inspired by some of the great Asian food in San Francisco—we must have eaten almost every sticky rice dish in the area before we started playing around with our own tastes and textures," explains Becky. "It's a long process. It's easy to make a good recipe but to make a really great one takes a lot of hard work."
Becky crackles with energy, never more so than when she's talking about creating new tastes. Her palate has been honed by many influences: her mother's excellent home cooking, her degree in food science at Cornell University and varied experience in the food business including several years as a pastry chef for Facebook.
From childhood, Becky has always loved experimenting with food. It's this passion for exploring the unexpected, combined with a commitment to small-batch production and highest quality ingredients, that lies behind Tin Pot's success. There's also her focus on creating new confections. "When I'm developing new recipes, my vision is an inseparable mash-up of pastry cookery and ice cream making. My big thing is composed desserts," Becky notes.
Fans agree with Becky's approach. After opening in Palo Alto's Town & Country Village in 2013, Tin Pot continued to expand. Along with its manufacturing facility in San Carlos, it now boasts three scoop shops on the Peninsula, and another in Campbell.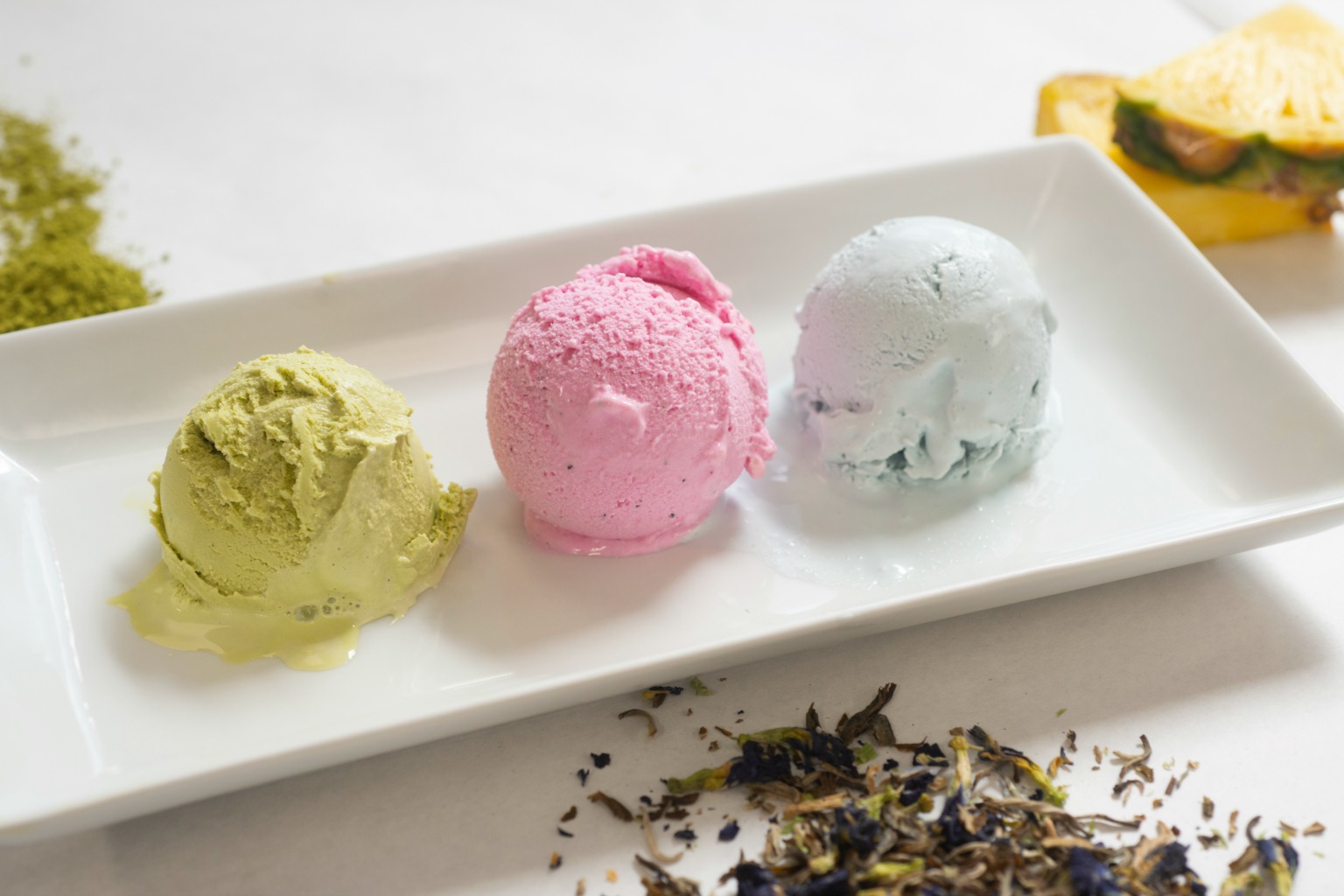 Tin Pot Creamery pulls off a rare feat: appealing to children as much as to adults. While parents reach for Salted Butterscotch or Blue Jasmine ice cream, children can have a moment of silliness personalizing their Cookie Monster or Birthday Cake scoops with Tin Pot's signature candy eyes and smiles.
Finding joy through creativity—a philosophy nurtured by her musician parents—has become a driving force for Becky. After moving with her now-husband to the West Coast, all it took was a short stint in a conventional marketing job to make her realize the importance of finding her own creative outlet.
"I found no joy in spreadsheets—they're wonderful things, but they don't inspire me," Becky says. But San Francisco offered year-round abundance of great produce, a vibrant restaurant culture and a never-ending access to new flavors. "The idea of making a living in food is really prevalent here in the Bay Area. I began to think that that's where I should be seeking joy in my life."
Working in San Francisco's Ferry Building restaurants brought her tantalizingly close, but not quite on target for her dream. "I was deveining shrimp and chopping onions one day and it hit me: this is not my thing!"
A colleague suggested the pastry course at the (now-closed) Tante Marie cooking school in San Francisco. Becky fit the course in alongside a grueling schedule of part-time work, plus countless pastry experiments in her apartment kitchen.
"I even set up my own company, making and delivering everything myself. It was really hard. Once, on the train, a woman sat on a box of tarts that I'd spent hours working on! After about a year, I realized I needed to reset and go back to learn more."
Becky's husband, who at the time worked for Facebook, helped Becky find a position there. The work was intensive, but still allowed Becky time to continue her experiments with ice cream recipes at night. "I was spurred by my conviction that homemade always tastes so much better," says Becky. Having perfected a unique ice cream base mixture based on organic, locally sourced ingredients, French recipes and Italian churning techniques, she began to dream of starting an ice cream-of-the-month club.
Becky turned her dream into reality in 2012. It was fun but it wasn't easy. "I made everything at home in a domestic Cuisinart machine, picking up dry ice from a local supermarket, spending ages planning deliveries. I had 75 customers and freezer chests everywhere," Becky recalls. For a year, she hand-delivered her offerings to a growing band of devotees from San Francisco to San Jose.
In 2013, a corner storefront in Palo Alto's popular Town & Country shopping center became available. Becky and her business partner (a businesswoman who prefers to remain behind-the-scenes) jumped on the opportunity.
Today, Tin Pot Creamery handmakes ice creams, toppings, sauces, mix-ins and baked goods every day. All ingredients are carefully sourced, organic and local wherever possible. "One Christmas, our supplier of natural candy cane couldn't fulfill our order," recalls Becky. "That turned into a real scramble."
Becky is now looking beyond the warm-weather months for new ice cream inspiration. "Summer is our prime time and that's when we employ the most people. However, we're looking at ideas for cooler seasons as well." One avenue of investigation is a pie and ice cream concept; other new lines include online ordering, gifting and catering.
With the expanding number of locations and employees (ranging between about 65 and 80 depending on the season), Becky found herself spending more time than she wanted on administration. Last year, she and her co-founder appointed Evelyn Scalora as CEO to help manage the growing operation. This has freed Becky up to go back full-time to her real love: developing ice cream desserts.
Becky's routine now includes several days a week in her own kitchen, experimenting with new flavors using her trusty domestic ice cream maker. Becky shows me an adorable video of her two-year-old son and chief tester, Leo, thoughtfully licking a spatula. "Matcha," says the young connoisseur.
With another baby on the way, Becky's energy and passion for Tin Pot shows no sign of flagging. "Life is not always happy," she observes. "But with ice cream you can make happy moments. People appreciate that. When I can put together something new that's fun and really works, I sometimes feel like a magician."
get the scoop!
3081 South Delaware Street, Suite B • San Mateo
Town & Country Village • 855 El Camino Real #121 • Palo Alto
201 First Street • Los Altos