Rainy days are certainly not the norm on the Peninsula (consider it reason #256 why living here is subpar to none) but sometimes a few soggy afternoons find their way into our cooler seasons. During such damp days, it's natural to want to hunker down at home. However, it's even more fun to stay in—while technically going out.
For example, consider the Hillsdale Shopping Center in San Mateo—with its newfound bounty of indoor activities. No longer just a one-stop shop for shopping, Hillsdale also offers bocce ball, bowling, escape rooms and cinema.
Hillsdale Shopping Center has become emblematic for how commerce centers can regenerate interest. Following a $155 million open-air renovation, the food court is reimagined (long gone are the neon lights, now replaced by a breathable, sunlit atrium) and the entire north block building was restored to house major attractions like Pinstripes and Cinépolis.
There's nothing wrong with wanting to remain home on a stormy day but for those who seek adventure regardless of having an umbrella in tow, here are indoor outlets ready to add some rhythm to the pitter-patter of rain.
Cinépolis
The ways in which Cinépolis rethinks the movie-going experience hit you before you even land in your seats, which, by the way, are plush recliners robotically equipped to maximize comfort. Ascending from the staircase onto the second-floor lobby in the San Mateo location, you quickly notice that a box office is nowhere to be found, instead replaced by a full bar, lounge area and electronic kiosks for purchasing tickets.
Patrons are encouraged to purchase movie tickets online, with prices starting at $10 for a matinee, and arrive 20 minutes ahead of showtime to allow for the Mexico-based cinema chain to lavish you with its additional features like in-seat concierge dining and drink options. Servers appear with a push of a button and they're privy to the film's plot so as not to disturb during key moments.
The menu offers a variety of snacks, from edamame to gourmet truffle fries with a beer, wine and cocktail list sporting favorites such as the blackberry mule or the spicy strawberry margarita made with Tanteo jalapeño tequila. Veggie melt sandwiches, Mexican street tacos and Nathan's hot dogs are among the entrees and what good would a movie theater be without a full offering of chocolate candies and multiple flavors of popcorn.
Cinépolis opened in November, the worldwide chain's first Bay Area complex, and brought with it some of the most unique screens available on the Peninsula. San Mateo's location is the first theater in the country to present Screen X, where a full 270-degree panoramic view is sometimes projected during the movie using dual screens on the left and right of the main display. Your retinas are engulfed in action.
"With the proximity to Silicon Valley, we wanted to see what people would think about it," says Annelise Holyoak, the national director of marketing & communications for Cinépolis. "It's quite affordable compared to other luxury experiences; you can see a movie on the weekends for $15. Things like Netflix and Hulu are out there but we want to create a memorable experience."
8 Hillsdale Mall, San Mateo
cinepolisusa.com
650.581.8901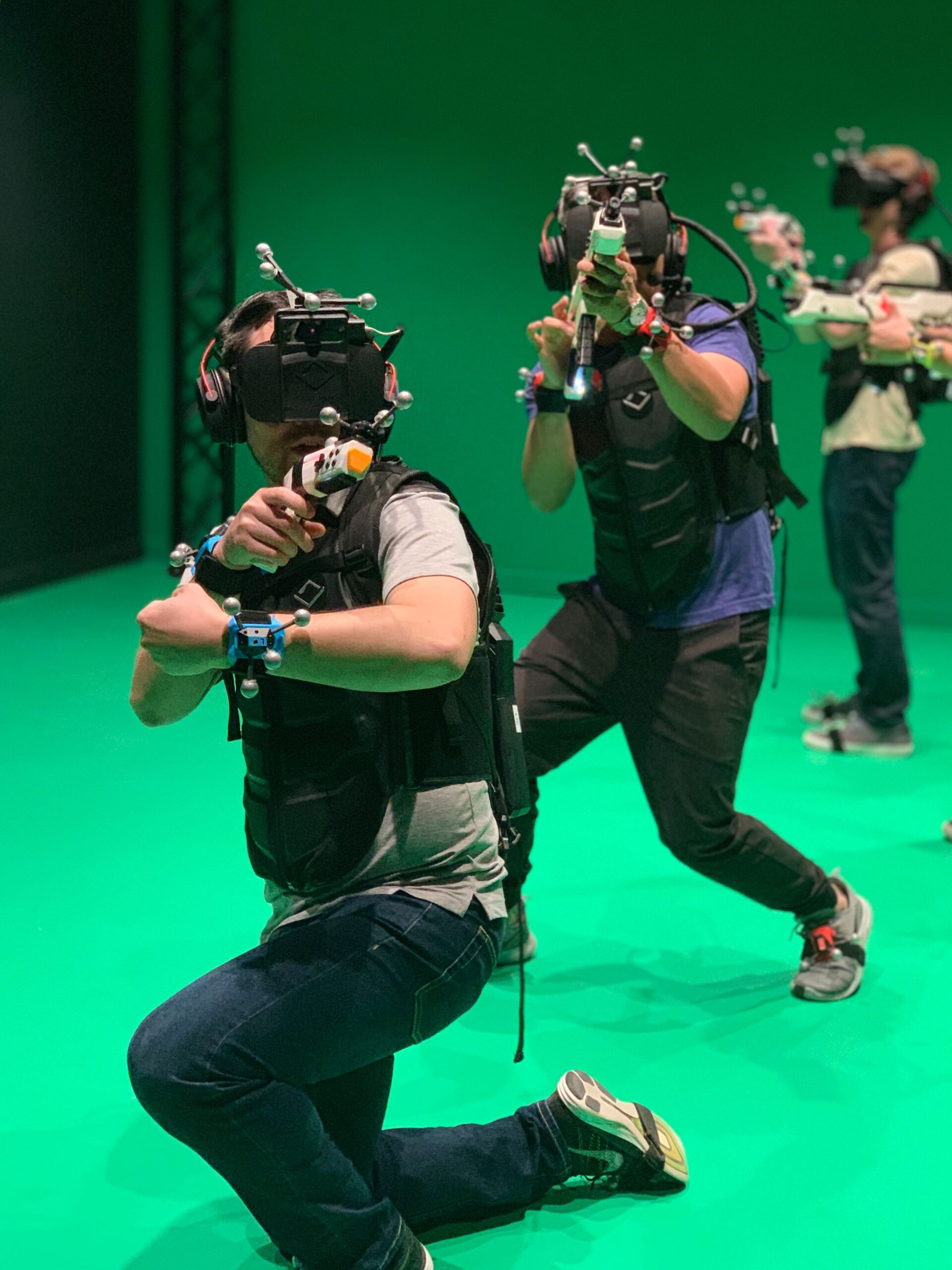 Sandbox VR
The future of video games thrives in San Mateo. After opening to much success in June 2018, Sandbox Virtual Reality relocated last October to a larger facility on the second floor of the shopping center to allow the virtual reality arcade to expand into four greenrooms for a digital escape room experience unlike anything you've played before.
Sandbox VR has done to laser tag what the iPhone did for mobile phone calling: Live-action battle gameplays are no longer limited to a television screen, rather, they exist in your hands and beneath your feet. (But don't worry, you're not going to bump into each other or trip onto the floor; the system is designed for function as well as dazzle.)
A greenroom covered with cameras is what it takes to transport gamers from the Peninsula into otherworldly frontiers. Gamers wear five trackers (two on the arms and legs with one on the head), which monitor and react to all their movements. There are currently five options for experiences, called titles, including the Star Trek Away Mission, which is a story-based experience using familiar characters and the famous holodeck that immediately whisks gamers into a number of thrilling situations.
Eric Anjain, the San Mateo store manager, explains that weekdays are packed with corporate bookings whereas weekends are when individuals come in to compete. From 5PM to 9PM on Mondays through Thursdays, a virtual fight club is available for gamers to defend their skills. The community scoreboard showcasing the top players is Sandbox VR's first step into the expanding e-sports arena.
"VR is not as mysterious as it used to be. When people hear about what sorts of things I get to do, they get excited and immediately want to play," Eric says. "If you say that you have VR at home, it's not as exciting as going to a communal space."
60 E 31st Ave #2044, San Mateo
sandboxvr.com
650.458.5484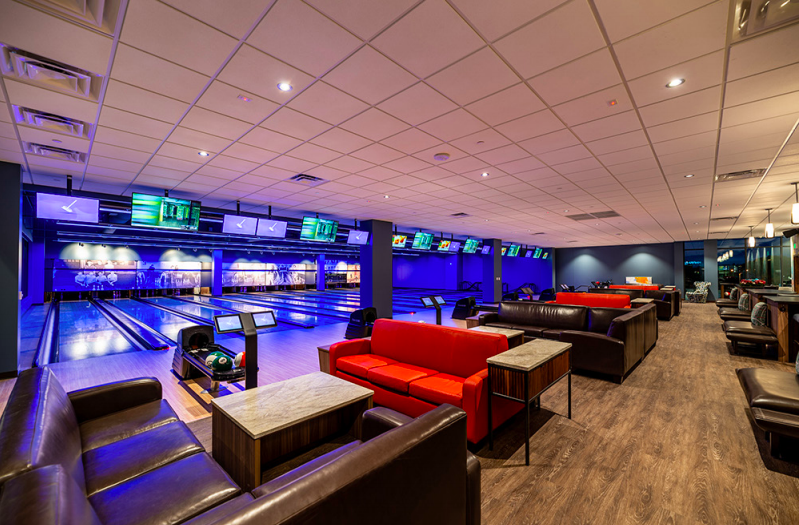 Pinstripes
Senses overload in the best possible way when stepping into Pinstripes. The crashing of bowling pins against the back rack are met with cheers whereas elsewhere, a well-placed pallino earns praise during a tight back and forth on the bocce court. A server squeezes by with a plate of chicken saltimbocca while the name on the reservation is called to pull you in.
A trinity of Bs defines Pinstripes: bocce, bowling and bistro. Born in a suburb outside of Chicago during the mid-2000s, Pinstripes blurs the lanes between a gourmet menu of homemade Italian-American cuisine and competitive active games for all ages and abilities.
The Pinstripes in San Mateo took over what used to be Sears and is the company's first outpost on the West Coast. The complex sprawls across 33,000 square feet on two floors with 12 bowling lanes, four indoor and outdoor bocce courts and a full-service restaurant and bar. Prices are fair and welcoming; bowling, per person and per hour, tends to be $15 most days but $20 on weekend nights while the bocce court remains a flat $10 per hour.
The kitchen prepares wood-fired pizzas, seasonal gelato and each and every Italian-American dish is made in-house. Pinstripes' flexible ballroom seats up to 200 people with private reception rooms and outdoor fire pit areas. This might be one of the few places on the Peninsula where a tech company on a team-bonding retreat meshes with a 12-year-old's birthday party.
36 Hillsdale Mall, San Mateo
pinstripes.com
650.781.4720