A collage is defined as a piece of art created by sticking various different materials or images, such as photographs, onto a backing. This technically applies to        Patricia McClung's work but doesn't come close to doing it justice. Working in her Portola Valley studio, using digital photography and online photo editing tools, Patricia weaves and layers images and fragments together to "recreate a place, experience or feeling that cannot be captured in a single photograph."
Before embarking on what she calls her "encore" career, Patricia worked as an academic librarian, building and preserving large research collections. In that capacity she was a bibliographer, a writer, an editor and a project manager. Always drawn to layering things—clothes, quilts, silkscreen prints and pictures—Patricia's entry into fine art photography dates to a 2004 digital photography class at Foothill College. For one of her night class assignments, she created her first digital collage of a street scene that included a pedestrian, a cyclist and yellow taxi cabs, layered together in repeating colors, patterns and images. Her teacher's response was a clear validation that she might be onto something: "Can you make more of those?" he asked.
In 2006, Patricia won first place in the "Manipulated Images" category of the Palo Alto Weekly Annual Photo Contest; the next year her work was featured in a Stanford art show. She has created collages of both iconic and everyday places, such as the Brooklyn Bridge and the Eiffel Tower, always offering a fresh take or unconventional view. For example, in her Stanford piece titled Stanford Arches 2, Hoover Tower takes a lower-than-usual profile while Stanford's Memorial Church, lush oval green lawn and repeating architectural arches are prominently featured. Like many of Patricia's works, this image can be found hanging in the lobbies of Bay Area companies and VC firms, providing a welcome distraction for waiting visitors.
One such visitor, Aditya, became captivated by Patricia's work on display at a local private equity firm. With some effort, he tracked down her email address and sent her what she calls "the equivalent of a love note." He and his then fiancée, Irene, had just built a home in San Jose and he wondered if she could create something for them. Patricia was initially hesitant—commissioned work can be good news and bad news—it's nice to have a sale commitment, but there's always a risk that the buyer won't be completely satisfied, given the subjective nature of art. In the end, she was swayed by his entreaty to try and capture "a story about creativity and evolution, of hope and rebirth—of Irene and I coming together."
Patricia took photos of their house, the garden and the surrounding downtown of San Jose. She captured photography over the course of a year, in all seasons, at all times of day and in every kind of weather. For every art piece she works on, she tries to find a way to make it coalesce or hang together. With this project, the breakthrough came with her decision to use one of the architectural drawings as the underpinning image. Her ultimate creation, Ode to the Odd Shaped Lot, is a singular tribute to Aditya and Irene's shared history, now hanging prominently on one of the few walls in their modern glass and steel home.
Patricia also creates series of striking diptychs—two partial images juxtaposed on one panel, much like a simple collage. In one series of six diptych panels, meant to be displayed together, Patricia compiled images of Venice Beach. There are bright turquoise colors and a floating clown, contrasted with classic boardwalk shots and "I Heart Venice" writing—split apart and then recombined, creating a sense of dramatic color and movement in an otherwise static piece. The beauty is in the way she splits and weaves images together, an approach she has applied to several cities, including Seattle and New York.
Most of her early collages and diptychs have clear lines between the images. In some of her recent work, such as a Lisbon creation titled Since Yesterday the City Has Changed, many of the lines seem to blur and fade. It's a technique resulting from preference, skill and sheer numbers—this piece was created from hundreds of fragments sourced from 60 different photos. Since Lisbon was literally built up from rubble after a devastating earthquake in 1755, there is rubble in much of the photo, but it barely catches your eye since it is overshadowed by the brighter Mediterranean blues and reds, and the black and white tiles. At first glance, it looks like it is just a photo of Lisbon, but then the repetition of people and cars make it clear that this is a complex collage.
It takes Patricia a long time to make these pieces, and they go through countless iterations. In some cases, the work stops and starts over a number of years. With Seattle Views, she started by making a digital collage with photos taken from the Space Needle; then she made another one using pictures from all over the city and a ferry ride to Bainbridge Island. She combined those two into one, but something was still missing. This draft Seattle work sat in a flat file drawer for two years. It wasn't until she was lucky enough to be flying low over the city in a seaplane and could take some clear aerial photos of Mount Rainier that she knew she had what she needed to complete the work.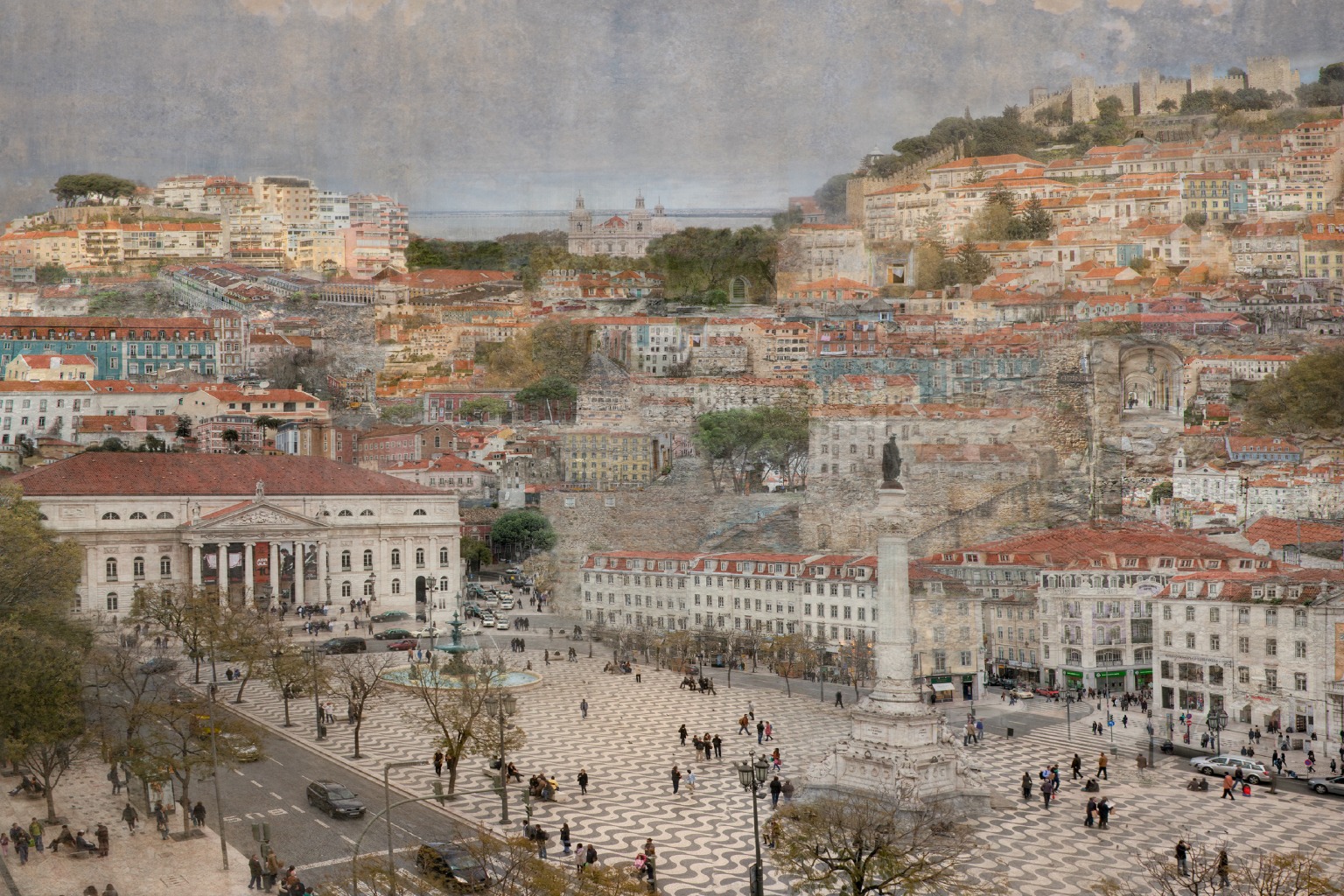 Patricia's creativity is not limited to her own solo work. She and eight colleagues have a website that is an online "artistic conversation among nine friends." Patricia posts one of her photos every nine days, in response to the previous eight posts by her friends. Sometimes she is responding to what someone has just "said" in their photo, or, just like a real conversation, sometimes she shifts the topic to something else.
What's next for Patricia? Akin to her "new" style of work, perhaps it will be a San Francisco piece. She already has too many images to count—iconic photos including Coit Tower and Market Street—as well as everyday images, like ones seen in Waiting for the Train (San Francisco). She has yet to find the right "thread to pull" to create a San Francisco series, but it's definitely on her list. In the meantime, Patricia's work and ongoing photo "conversation" can be viewed at patriciamcclung.com and F8dontwait.com