Words by Johanna Harlow
A Godzilla-sized monarch has come to roost on a Tenderloin apartment building. Hyde Street's largest resident flexes its multi-story, sunshine-colored wings, an unapologetic contrast to the gritty neutral tones of the urban landscape. After all, this is its home too.
"When we made cities, we made them with the intention to not have nature in them and to block it out, but nature has come back in. It's unavoidable!" notes Jane Kim, the muralist behind Ink Dwell, a Half Moon Bay-based art studio. "So how are we going to live with it? … I'm hoping our work can provide a reconnection to a different perspective of how we can engage with nature."
Le Papillon is part of Jane's Migrating Mural campaign series, which spotlights the threatened monarch along the migration corridors these butterflies share with humans. It's one of many monumental projects. Jane and her paintbrush have sent seagulls and terns pinwheeling around the Jones Beach Energy and Nature Center in New York and jellyfish pulsing along the walls of National Aquarium in Maryland. Countless more of her painted creatures (furry, feathered and finned) inhabit buildings and walls across the country.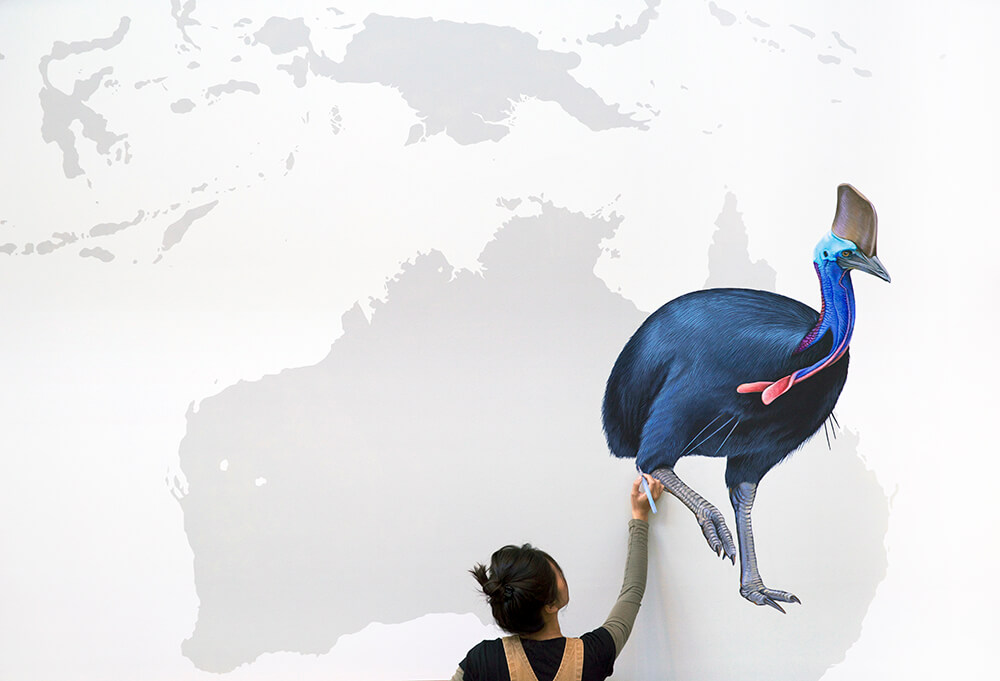 Combining fine art with scientific illustration, Jane's birds and butterflies are never just a pretty pair of wings. "It's certainly not typical … There's a fidelity to accuracy while still a real deep embrace of creativity and inspiration," describes Thayer Walker, Jane's husband. When Thayer isn't putting fingers to keyboard as an author and correspondent on the topics of exploration and the natural world, he oversees operations at Ink Dwell.
Together, this dedicated duo brings contemplative beauty to the conservation conversation.
Step into the Studio
Ink Dwell's headquarters reinforces Jane's blending of styles, serving as an homage to natural history as much as a studio for art. Cans of paint, color wheels and buckets of brushes are interspersed among shelves of abalone and conch shells, animal skulls and jaw bones, feathers, beetles, pinecones and tree stumps. Bookshelf titles range from Rivers Run Through Us and Under a Wild Sky to Into the Nest and Aliens of the Deep.
"Ink Dwell is a play on the words 'inked well,' and then art about the places I like to dwell," Jane explains as she passes by Cliff, a taxidermied black bear who surveys project mockups from his centrally-located rock.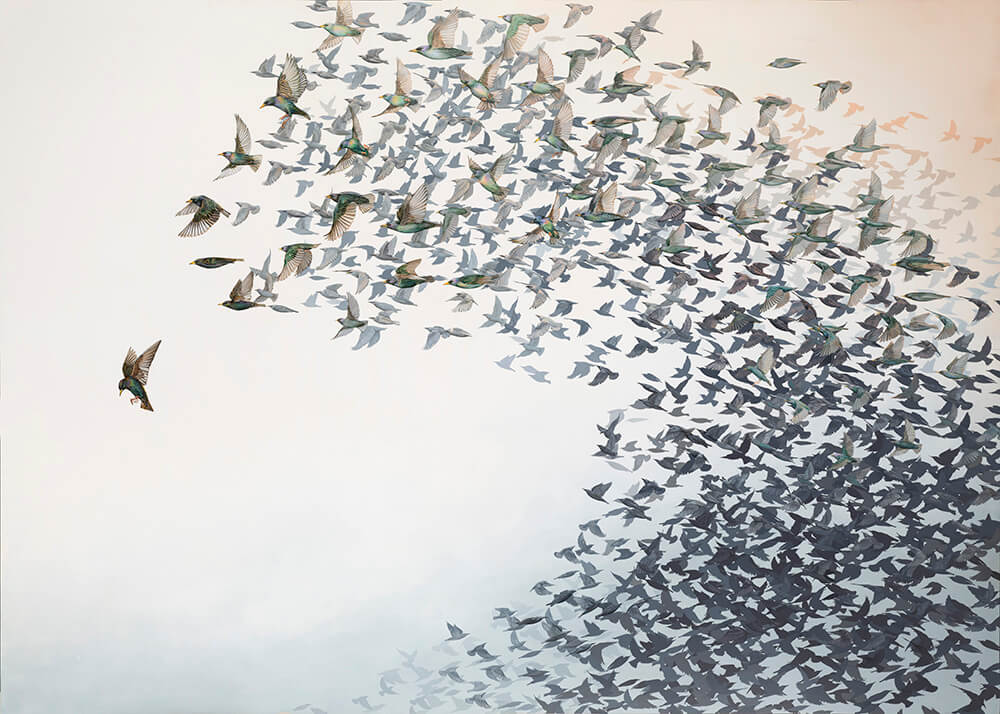 Even Ink Dwell's egg logo suits the studio's symbiosis of nature and art. "It represents a natural object that is truly a work of art," Jane explains. "The spots and the colors and the amazing patterns that you see on bird eggs are literally painted on the egg! All eggs start white, and then, as they pass through the cloaca and into the canal, pigment is added onto the eggs."
As to the intent of an Ink Dwell mural? Its mission is multifaceted, Thayer explains. "To educate and beautify, to create a real compelling sense of place—but that's actually the most narrow purpose for these things. It's really meant to be a platform for so many other things—for broader storytelling, for conversation, for activation and activism."
…Even for product. Pulling up a pant leg, Thayer reveals his kicks. His shoes are embroidered with the blue-footed booby—a marine bird from one of Jane's past murals that artisan shoe seller Le Mondeur translated into wearable art. At their heart, Ink Dwell murals are "meant to catalyze a love and engagement of the natural world," Thayer sums up. Jane nods in agreement, "We're a part of it!"

Photo Courtesy of Le Mondeur
Nature Nurture
Jane's reverence for the outdoors started young. "I wanted to know and understand this world that isn't human-made," she shares. Recalling the chopping down of a favorite tree in her childhood backyard—one she'd shimmied up often to nestle in a favorite nook—Jane gets misty-eyed. "It really sits with me in a visceral way, the loss of this massive, epic willow tree."
Speaking of humans and their inseparability from the wild world… "We have these beautiful nature encounters on almost every single one of our outdoor projects," Jane laughs. She launches into a story about a winged visitor during the Le Papillon project. "We had a juvenile red-tailed hawk who would just come and land on our swing stage and sit with us while we painted." On another memorable occasion, "a Cooper's Hawk dropped a pigeon carcass—like PLOP—it just landed right next to us!"
Thayer too feels the pull of nature, particularly through the majestic power of the ocean. As a surfer, he describes "getting out into that frontier, where it's energy and it's chaos, but it's also… it's ordered chaos." It was a major deciding factor in attending UC Santa Cruz. "The wildness of it is what attracts me. I kind of have an anti-authoritarian streak," Thayer admits, adding that he has always pressed back against "rigid structures and contrivances of humans."
Nature seems to love Thayer right back. He once dug up the ninth largest diamond discovered at Arkansas' Crater of Diamonds State Park. (Mostly, Thayer says, people don't find anything when they pay to dig, "and if they do, they find some little thing the size of a grain of rice with the clarity of a foggy San Francisco August day.")

Photo Courtesy of Chris Michel
Writer meets Painter
Befitting Jane's butterfly murals, the painter's own metamorphosis is quite the remarkable one. "It took me a little while to find my voice and to figure out what I wanted to do with this career called art," Jane reflects. After graduating from Rhode Island School of Design with a BFA in printmaking, Jane moved to San Francisco. She met Thayer in 2008 while participating in a group show.
"I would very much consider myself an emerging artist when we met," Jane says, adding that it was before she studied science illustration. As Thayer revisits the memory, he reflects, "Her art was very different from what you see today—but still it had a lot of foundation. It had a lot of energy to it. I saw someone with unlimited potential."
Though Thayer might be a wordsmith, his already thriving career fueled Jane's own. "Meeting somebody like Thayer was so inspiring in terms of an individual who had cut a path for himself from the inspiration that he found in adventure, sports and nature," Jane says. "He was pitching his ideas to magazines!"
The couple reflect on a particularly wild assignment Thayer wrote for Outside around the time they started dating. It involved his volunteer experience walking a 260-pound jaguar on a leash at a Bolivian animal-rehab center. "Rupi was a magnificent creature with incredible cinder block jaws and a telephone pole upper body," Thayer describes. "He wiped me across the jungle for two weeks." Day one on the job was particularly memorable: "He literally wrapped my head in his jaws!"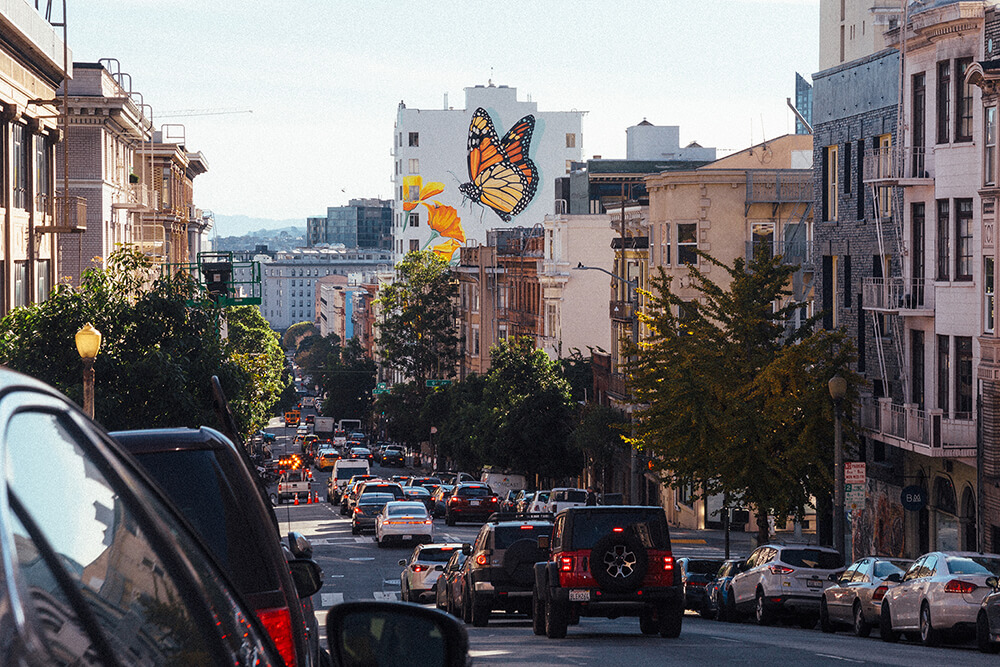 "Thayer's whole mentality of, 'Here's the ideas I have—who's going to come and be equally excited about these ideas and bring them to the world?' was a whole different way of thinking that I, at the time, absolutely did not know how to do, and frankly, didn't even think was possible," Jane rejoins. Later, she would crowdfund her first Migrating Mural project through Kickstarter, painting a series of six murals devoted to the Sierra Nevada bighorn sheep along the Eastern Sierra and Highway 395.
The project's success landed her another job, this time painting 243 life-sized birds over a 70 by 40 foot wall at Cornell Lab of Ornithology. Taking nearly a year and a half to paint, it remains among Jane's proudest work, even inspiring an artful coffee table book that Thayer wrote. "The Wall of Birds was Thayer's and my first real collaboration as something we put into the world together," Jane says. "I love that both our names are on it."
Murals weren't the initial plan, Jane says, but they equipped her to reach a heartfelt goal: dialoguing with the public as opposed to solely the fine art community. "Murals became a canvas for storytelling," she describes. Thayer adds, "We've found these static objects have the ability to create really dynamic movements and engagement that ripple through the world."
As Jane's artwork received rightful recognition and she saw a surge of new projects, she brought Thayer aboard to oversee operations full-time at Ink Dwell. "It's not a paintbrush affair," he insists of his role. "None of that. And that's in everyone's interest."
Natural Habitat
"I don't know if we have what people might say are necessary boundaries between work and personal life," Jane observes with a laugh.
"It's all kind of fluid," Thayer agrees. "This is just a manifestation of Jane. There's no divide. It's just her. If she could be making art for 16 hours a day, she would—and frankly she is. It's like a bird in flight or a fish in the water. It's just what they do." At this point, he excuses himself to take a call with a real estate company. Jane is looking to paint a life-sized redwood tree on
a skyscraper.
"It wasn't like we were ever setting out to do this," Jane smiles as she watches Thayer head off. "I think that's often the case in my work. I have an idea, and yes, I set out to do it, but there are so many times where things kind of happen because the circumstance and the time and place all make sense and everything is in alignment."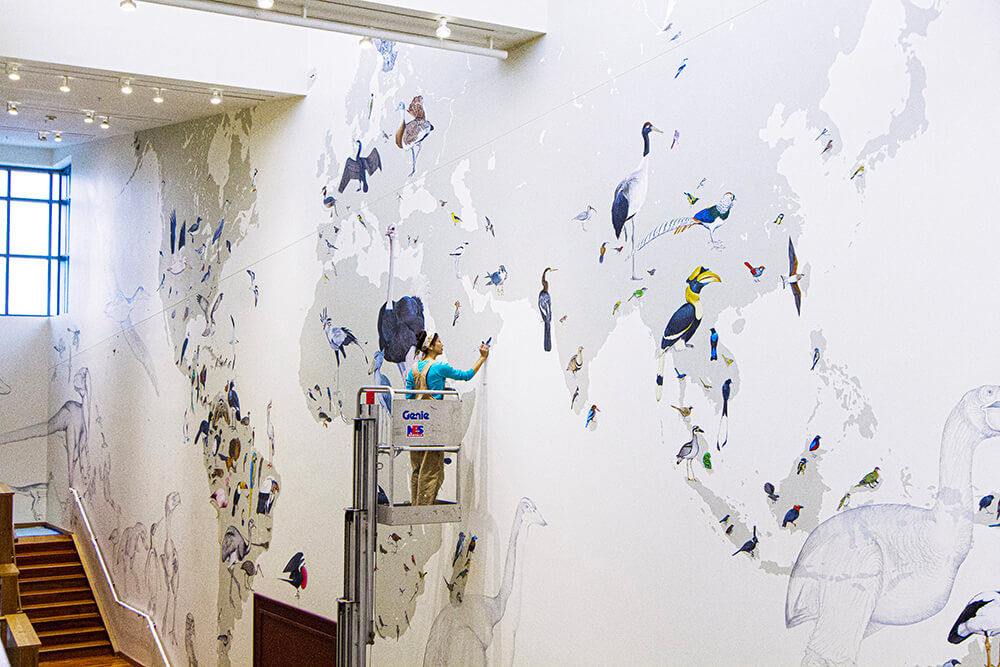 Photo Courtesy of Shailee Shah
Because art is an instinct for Jane, she understands the organic impact a mural can have on its audience. "It sort of seeps into public consciousness in a way that I think is really interesting," she reflects. "All of a sudden, those who are living and seeing it every day are connected to it—almost in a subliminal way." Watching Jane flow around her ecosystem of a studio, it seems the most natural response in the world.
Hunt for Ink Dwell

Redwood City
+ Arthur Murray Dance 
Studio at 2065 Broadway 
+ Cafe La Tartine at 830 Middlefield Road 
+ Polam Federal Credit Union at 770 Marshall Street
+ Marshall Street Parking 
Garage at 750 Marshall Street
+ Behind the theater at 870 Jefferson Avenue
+ City Hall bench

San Carlos
+ Salt + Brine

Half Moon Bay
+ Mac Dutro Plaza