She drapes her left arm behind the back of her chair. The audience seated in rows facing a small stage at the rear of Kepler's Books in Menlo Park takes note and settles in. With unwavering focus, Angie Coiro connects with her subject, which for tonight's installment of the This Is Now interview series is author Tamim Ansary. He's touring on behalf of a scholarly tome that recounts the last 50,000 years of human history, and Angie has just one hour to distill it down for her listeners, both in the room and soon on the airwaves through her syndicated radio show. Local affiliates are KALW San Francisco and KZSU Stanford.
Absorbing every word Tamim gives her, Angie sometimes rests her chin atop her two fingers in a pose of contemplation. Her eyes crease in a fixed gaze with facial expressions reacting to the twists and turns of her subject's train of thought. When it's time to ask a question, Angie often speaks with her hands, weaving conversational threads with a mid-air grace while the numerous rings on her fingers flash in the bookstore spotlights. Refraining from ever speaking over her guest, Angie is the antithesis to, say, KQED's Michael Krasny, who has a tendency for such conversational divots.
But Angie would never make that comparison. Not because she worked at KQED for years during the '90s and would sometimes fill in on Krasny's popular Forum show, but because she's just not one to throw shade. She may disagree vehemently with someone's opinion, but instead of rattling off rhetoric, she'd prefer to have them as a guest on her show for an open interview, or, as she prefers to call it, a conversation.
Part of Angie's magic is how she positions all the focus onto her subjects—even though Angie herself is brilliantly vivid, an astute lover of the colors blue and purple that add hues to her enchanting aura.
"There's a shift in journalism now; it's a lot more self-revelatory. Twitter has something to do with it. The neutral voice lies in the question," she says, over a cup of black coffee in downtown Menlo Park.
"I never fully separate myself from my voice. I'll disclose my bias while treating everyone with full respect, whether I agree with them or not. My most constant compliment is that I realize it's not about me. People don't show up to Kepler's for me, they come for the guest. I know how to present them to the audience. I'm sitting in the chair for the audience."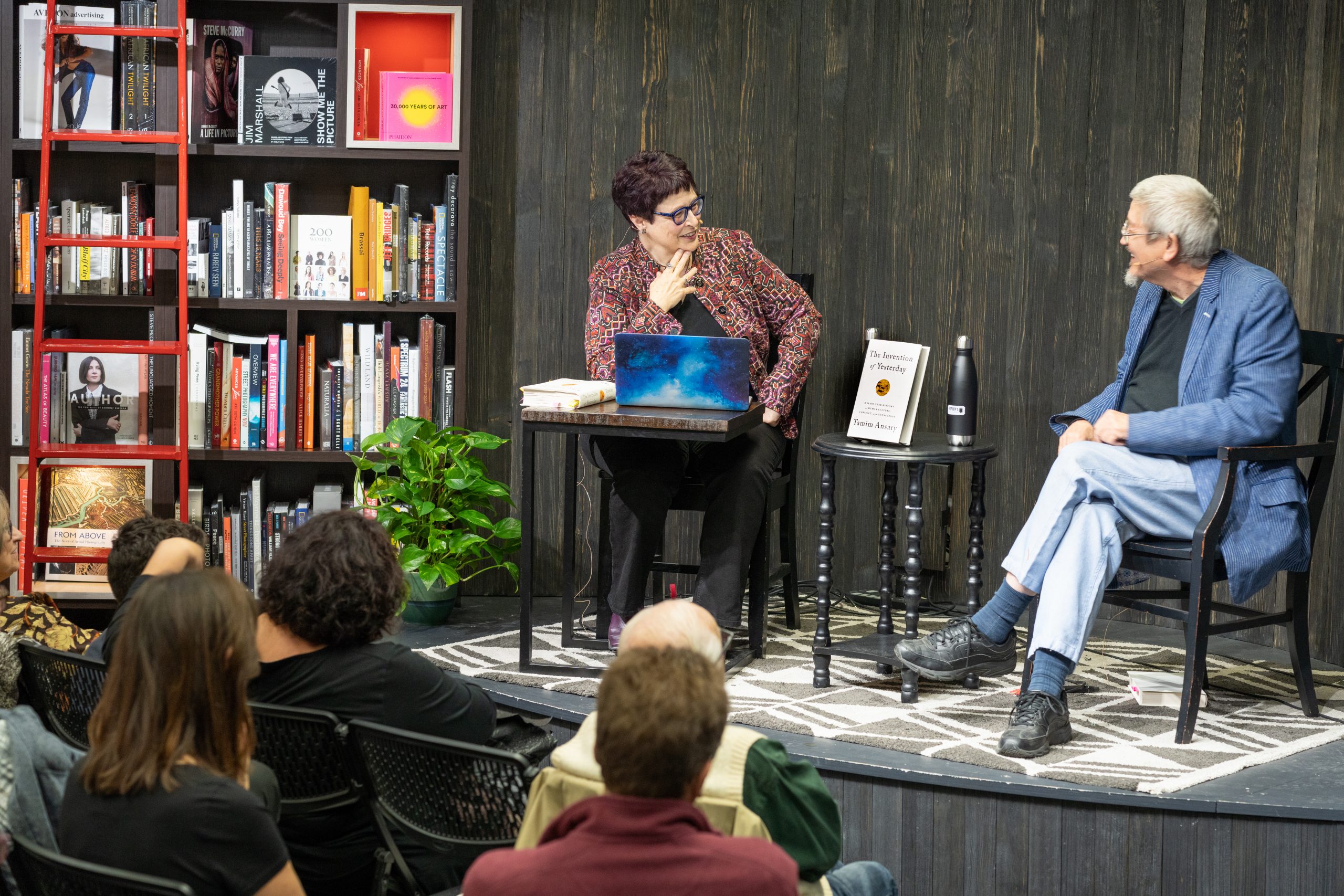 Angie is a surrogate for the lot of us, as she has been for over 30 years on the radio in Hawaii and the Bay Area. Angie moved to the Peninsula in 1986 and her resume reflects a career in the annals of popular local radio: ten years at KQED-FM and KQED-TV, the show Spotlight on KCSM-TV and a host for Mother Jones Radio on Green 960.
Angie now helms This Is Now, an interview series with headliner guests she began as an independent production in 2007 and then partnered with Kepler's Literary Foundation in 2016 for frequent live interviews throughout the month.
Her guests vary with the subjects discussed, differing in content as much as the wardrobe worn on stage. Some guests don suits while others appear in jeans. (For her part, Angie always has a splash of purple either in her clothing or streaked in her hair.) She's sat across from a slew of prominent guests on stage—Al Gore, Roxane Gay, Dan Savage, Congresswoman Jackie Speier, Dana Carvey and Mary Robinson, the former President of Ireland—however, big names don't mean so much when you're Angie and your goal is to nurture a live conversation.
"I was thrilled to interview Al Gore—yay!—but it's an interview. I don't think there's anyone I'm so awed by that I'd be put off by it," she reveals. "What makes me nervous about an interview is if I had trouble getting my mind around a book or topic. Tamim was an intimidating interview. It was a book that was very dense and I had to walk a fine line between discussing that fabulous minutia and showing people what his main concerns were."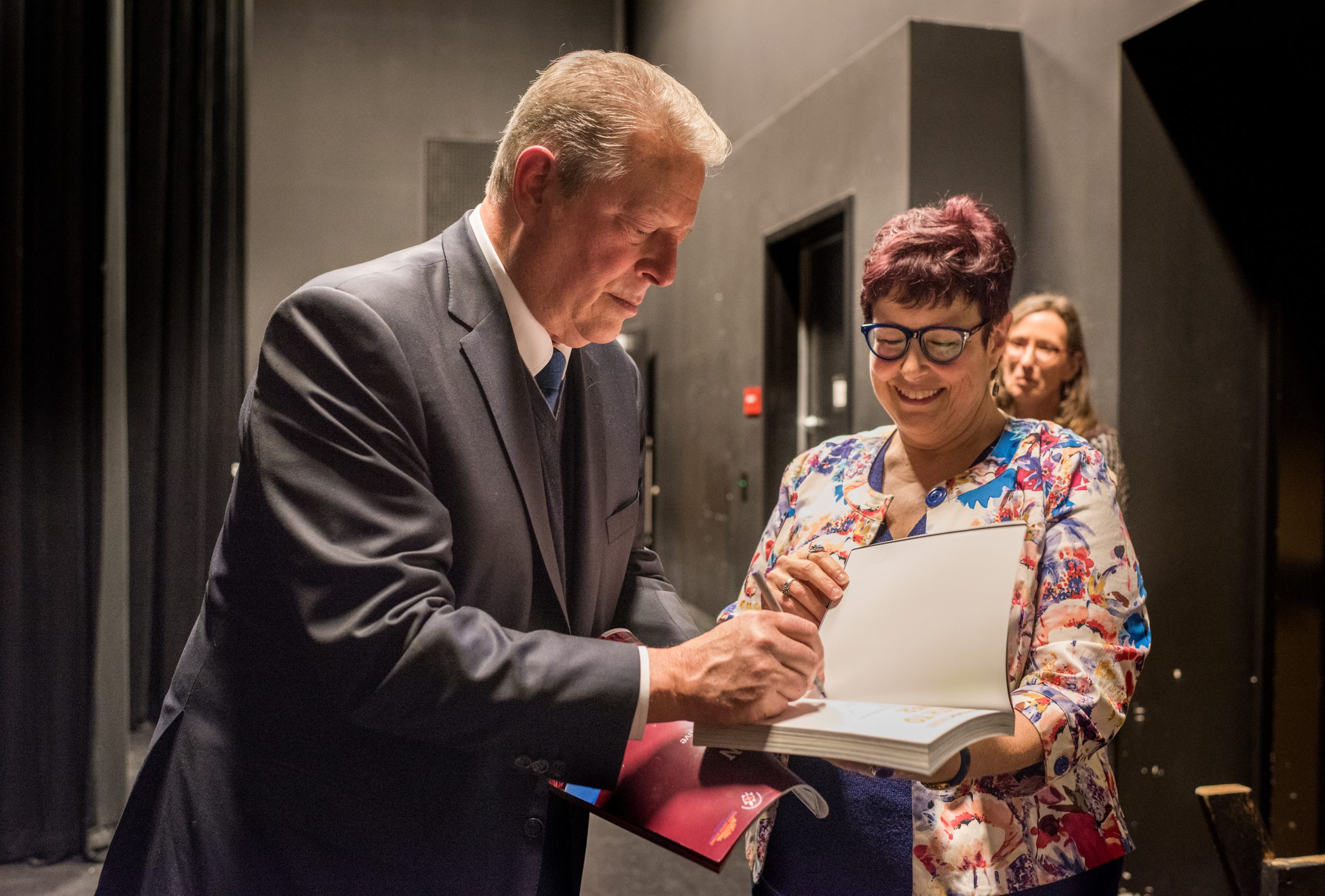 In preparing for her interviews, Angie digests the book through a close reading and by listening to the audio version. She'll amass an internal database of the author and subject but the notecards she totes on stage typically have no more than three questions. It's a method she carried over from her early years training to become an actor: learn everything you can about the character's motivation and then throw it all away when you get under the lights.
Acting was Angie's initial life motivation, a passion she inherited from her mother while growing up in South Bend, Indiana. The two would watch old movies on Channel 9 Chicago and her mom would test Angie's knowledge of the silver screen stars. "We had a game," she says. "My mom would tell me the real name of the star: Who was Lucille LeSueur? And I had to guess 'Joan Crawford.'
Although she still carries a hint of a Midwestern accent, Angie always knew she'd leave her home state behind. After studying acting at Indiana University, she moved to Hawaii, where she began her first stint on the radio. She was considering taking a job offer in Boston when she visited San Francisco. One night during her stay, she was alone when it started to rain.
"I parked my car in the rain and I had no idea where I was. I parked under a bridge—the Bay Bridge. Is that the famous one? No, that one is orange…" she says, laughing at her neophyte self. "I walked by a doorman who yelled out if I remembered Gene Kelly. He then did a full Singing in the Rain dance. San Francisco has a more pervasive spirit. Everything is possible."
Angie first lived in San Mateo, then spent 20 years in Redwood City before moving to San Carlos four years ago. She owns three cats including Miss Violet Devine. ("My companion for 19 years," she says. "She's been through everything with me.") Angie took a blind date off OK Cupid ten years ago with a man named Bruce. Their first date lasted five hours, extending from a wine bar to a restaurant to a long stroll before ending up at Heidi's Pie for a midnight snack. She and Bruce will marry this summer, and she recounts how she liked him immediately, partly because he had no knowledge of her prior to their meeting.
"It's an awkward expectation when people have this whole impression of me," she says. "In a very subtle way, I'm an introvert and that brings it out."
A couple of nights after Angie's conversation with Tamim she was set for an interview with a journalist who wrote a full expose on Uber. She works on her interviews up to the moment she hops up onstage and while her process may include blasting the radio on the drive over to Kepler's, she has a favorite spot for curling up during one of her deep dives.
"I'm superb at making my space, my space. I went on Craigslist and found this immensely beautiful floral chair. You can sprawl on it; you can take a nap. I went to the Acme Stage Company when it was closing down in South San Francisco and found a throw blanket that matched it. On the blanket, someone had initialed "AC" on the tag. I threw my hands in the air!" she says with an exuberant grin. "Everyone sits at their desk at work, but I get to sprawl."