In an unmarked warehouse space in Half Moon Bay, you'll find an industrial studio buzzing with activity. "A full-blown operation of killer women" is the colorful moniker given to the workforce inside. Leading this creative strike team are Kris and Kim Nations, the two sisters behind a sizzling hot brand sold online and carried in over 500 stores, ranging from small boutiques to Bloomingdale's and Nordstrom.
This is Kris Nations Jewelry.
"Part Bohemian, part modernism, part in-your-face statement. Kind of like Alexander Calder meets Dolly Parton." That's how Kris and Kim describe their distinctive design style, which has caught the attention of fashion magazines like InStyle, Harper's Bazaar and Lucky, along with celebrity fans including Hillary Duff and Kourtney Kardashian. "We try not to just blend in with all the jewelry in our space," says Kris, the jewelry-making sister who jumped in first. "We try to have our personalities come through a little bit and when we do that, that's when we have success."
A sampling of the power words they capture in rings, charms, necklaces, bracelets and earrings gives an introduction of sorts—reflecting who they are and the journey that has brought them here: Thick as Thieves. Roll with the Punches. Killing it. Slay Everyday. Mama.
Originally from El Paso, Texas, Kris and Kim (who are 21 months apart) grew up with entrepreneurial parents. Their mother, an artist and teacher, indulged her creative side in the summer, selling acrylic paintings—often desert scenes, on everything from canvas to wooden bowls and mailboxes—at art festivals throughout the Southwest. Kris and Kim tagged along, loading up the truck, helping set up the booth and watching the interaction with customers. "We learned at a young age the concept of making something and selling it," Kim recalls. "We shared her excitement when she would sell something."
And while the sisters grew up playing with beads, rocks and metals, they took the more traditional college route, before ending up at advertising agencies in San Francisco. Already making jewelry as a hobby, Kris enrolled in a metalsmithing class at an industrial arts school—accumulating so many pieces that she needed to sell them. Feeling a bit creatively stifled herself, Kim learned HTML and started photographing her sister's creations, building an e-commerce KrisNations.com website before crafty enterprises like Etsy existed. It turned out to be a winning combination.
In 2002, an editor bought a Kris Nations piece at a small show in Los Angeles and featured the jewelry line in Daily Candy, a popular national newsletter. The mention spurred a flurry of website orders—which allowed Kris to quit her day job and pursue Kris Nations Jewelry full-time.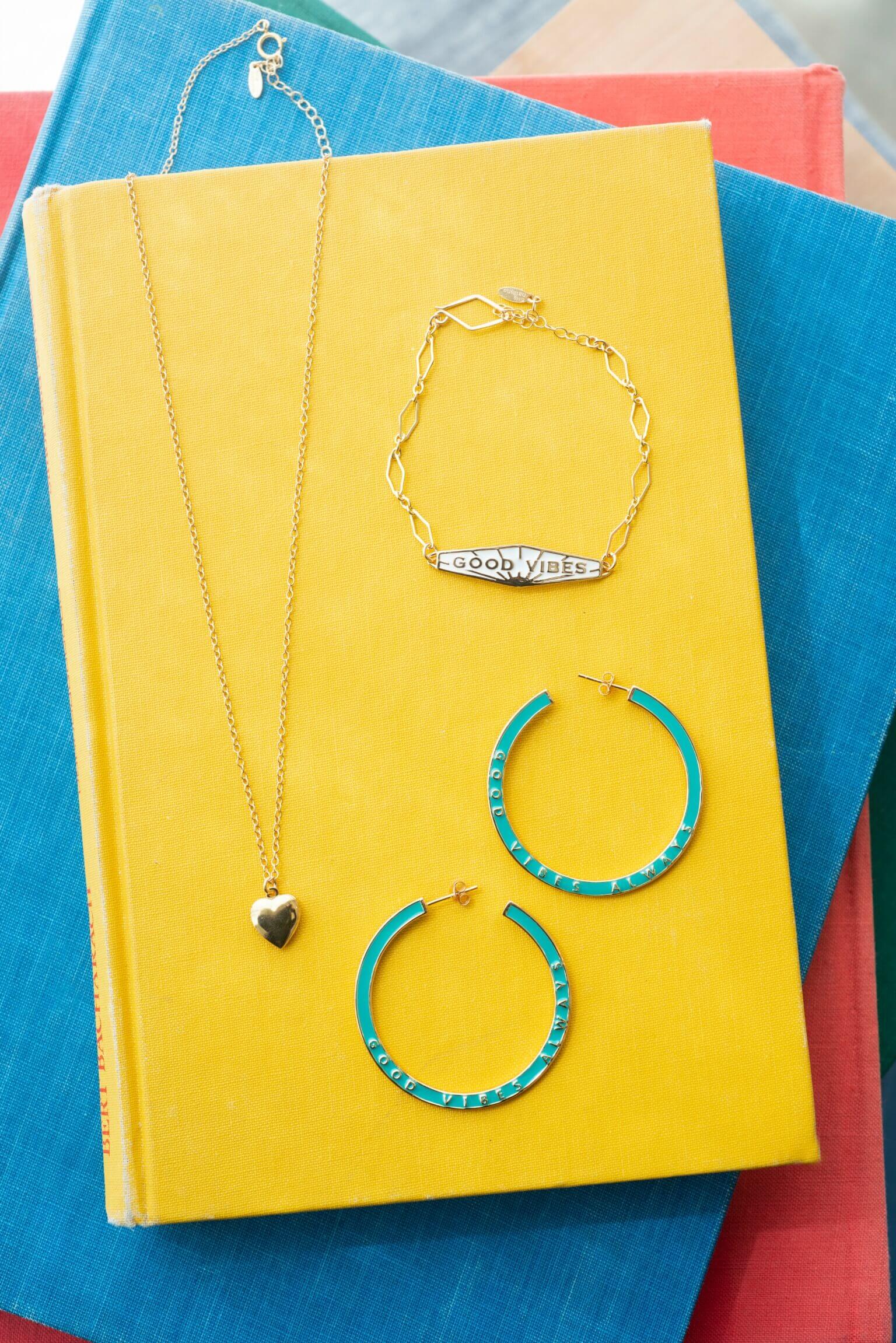 "We started making some sales and we've grown very slow and steady, very organically ever since," Kris says. When the operation outgrew Kris' garage, she knew it was time to make a move.
Half Moon Bay beckoned. "My husband is a surfer, so we would go to Half Moon Bay on weekends just for fun—not really thinking people lived here," Kris says. Exploring the idea, she found the perfect studio space and happily moved Kris Nations Jewelry (and her family) to the coast. Kim, who had been helping out all along, quit her day job in 2006, driving from San Mateo to join her sister in the business. "I have the best commute. No one goes to Half Moon Bay on a Monday at 9AM," she observes.
Over the years, the roles the two sisters play have evolved into a collaborative creative process. For every new season of designs, they start by outlining basic ideas on old-fashioned pencil and paper. Then they decide how to execute the ideas by drawing out rough sketches. If it's a casted piece, it goes to Kim, who handles computer aided design (CAD) with Kris specializing in the hands-on artisan techniques. "It's unusual but we've always been able to jive together as business partners," Kris says. "Founders of companies always say, 'I wish I could clone myself,' and Kim and I always say it's as close to being able to clone yourself as possible."
The two sisters agree that what keeps them in sync is sharing the same professional and personal goals. Even as they're growing Kris Nations Jewelry, they're also raising families—Kim has an 11-year-old son and a 4-year-old daughter and Kris has a 10-year-old daughter and 7-year-old son. "We have the same end goal. We want to be able to spend time with our families. We want to have flexibility. So we help each other have all those things," Kim says. They also extend that philosophy to other moms in the Half Moon Bay community, with 15 "killer women" now contributing to the company's success.
Whether it's assembling pieces or packaging up finished designs in Kris Nations' signature glass bottles, there's a shared pride in what's being crafted. The company uses only sterling silver or 18K gold vermeil, which is gold-plated over sterling—materials guaranteed to hold their color. "It's not pure karat gold so it's at an attainable price point, which is important because a lot of our jewelry is so fun," Kris says. "For example, it's fun to be able to buy a 'chill pill' necklace for $68, but maybe I wouldn't want to buy a full carat gold $600 'chill pill' necklace."
With hundreds of pieces in the Kris Nations jewelry line, classic hammered-hoop earrings, charm bracelets and birthstone necklaces are always big sellers but the category they refer to as "Words + Mantras" is surging in demand. "Some of our more popular items are 'badass' and 'I'm a ray of f**king sunshine,' Kris says. As Kim explains, "We bring our personalities into it, but it completely resonates with other people and their own stories. I think we make jewelry that helps people tell their stories."
The sisters say they are continually touched by the stories they hear—whether it's a 'badass' necklace given to a friend going through chemotherapy or a new mother wearing a 'mama' necklace every day. Inspired by customer feedback, they are focusing on an engraved collection, only offered through their website. "We're having a lot of fun with making one piece at a time for people because it's just so personal and meaningful to everyone who buys it," Kris says. "It's becoming something very unique to us," Kim adds.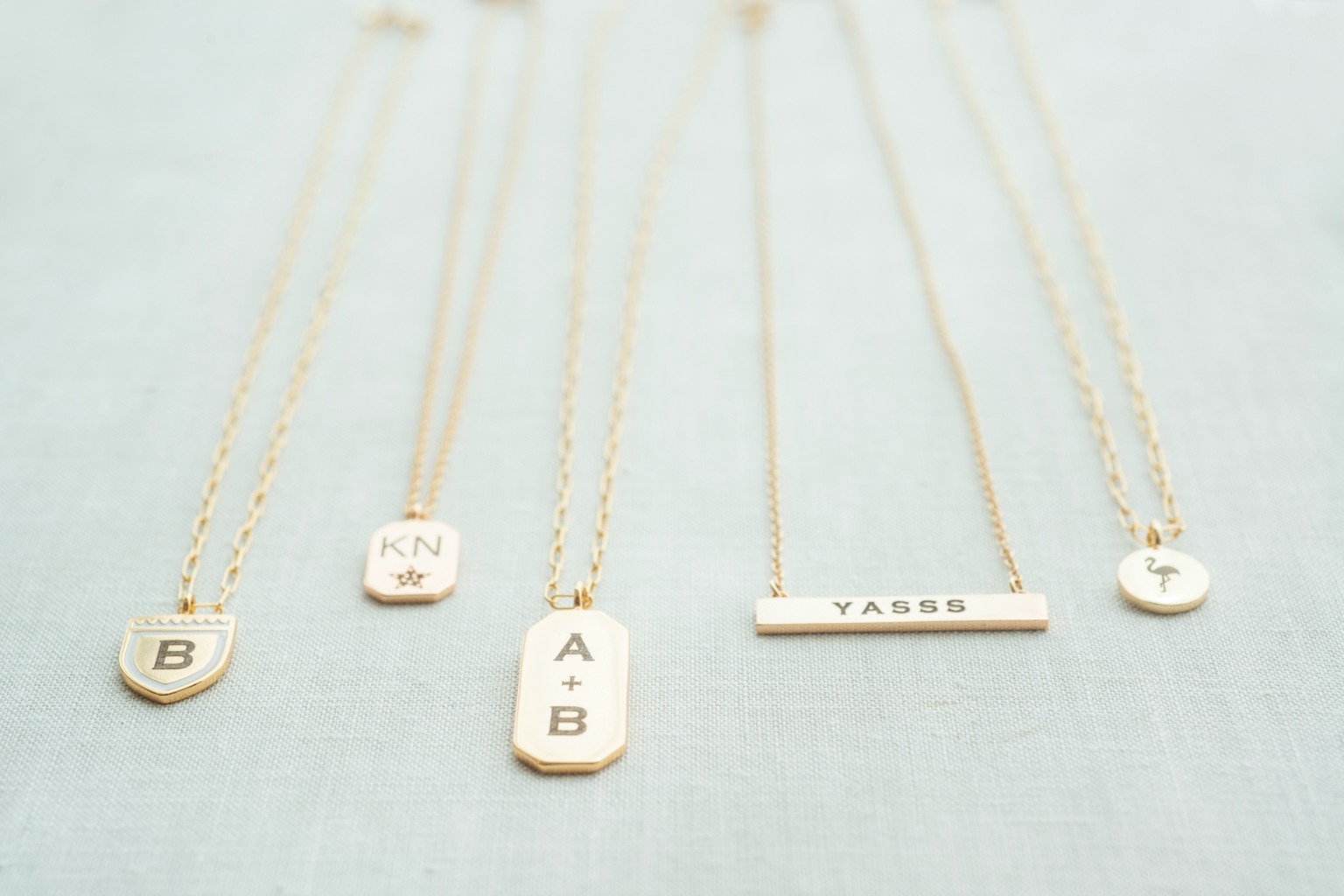 Seventeen years in, it's not hard to see where the 'killing it' and 'slay everyday' mantras come from—with Kris Nations carried in hundreds of boutiques, along with major department stores. "The boutiques are really our bread and butter. We also sell to museum gift stores," Kris says. "Oh yeah," Kim jumps in. "We're in the Rock n' Roll Hall of Fame. I never thought I'd make it there!"
When asked to look back on what it's taken to arrive at this place, the two muse over the question. "I don't think Kim and I really self-reflect enough, but we're totally self-made," Kim shares. "We're doing it. We built something out of completely nothing."
As for their own jewelry staples, they both love hammered-hoop earrings, inspired by a design their mother wore—along with a rotating collection of their personal favorites. On this particular day, Kim is wearing coral red enamel 'roll with the punches' hoop earrings because "I'm in love with that message," she says. "And of course I'm wearing my rings with my kids names engraved on them." Among other pieces, Kris is layering three necklaces—the first is a gemstone-beaded style, the second holds an engraved shield with the names of her husband and children and the word 'love.' And the third? Kris gestures to the final charm, which is also a work-life balance reminder: "I'm wearing my chill pill."
wear your story