Words by Elaine Wu
Take one look at Namiko "Nami" Hirwasawa-Chen's blog Just One Cookbook (justonecookbook.com) and you'll realize there's so much more to Japanese cuisine than teriyaki and tempura. Her authentic recipes and enticing photos, all shot by her husband Shen Chen, are meant to inspire even the most inexperienced home cooks to give it a try.
Originally from Yokohama, Japan, a pre-teen Nami began working in the kitchen at her grandfather's local restaurant alongside her mother. She developed sharp cooking skills, an extensive knowledge of authentic Japanese dishes and the ability to churn out good meals, quickly. Later, in high school, she came to the Bay Area as a foreign exchange student. That was 20 years ago. "It was culture shock at first, but I was really in love with the nature and geography of California," the Belmont resident recounts. "I wanted to come back for college and major in environmental studies."
While attending college, Nami got a job at a former digital mapping company in Silicon Valley (her knowledge of geography got her the gig), which is where she met Shen. Even back then, the pair shared a mutual love of food. "At work, we would all go out for lunch as a group or find a place to go get sushi," says Shen. "Food is what brought us together."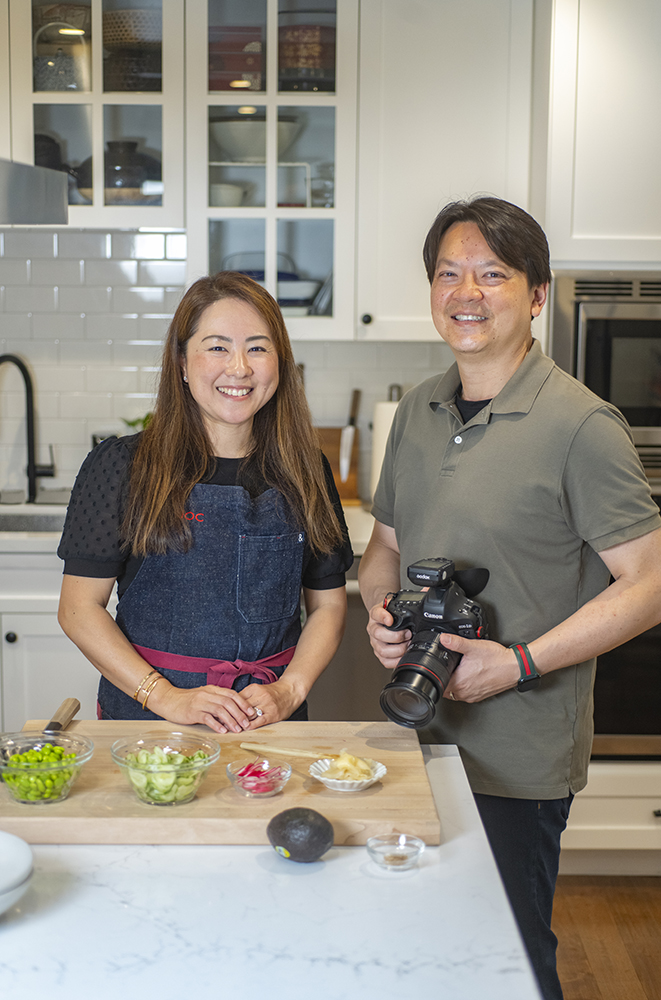 It wasn't until Nami's student visa was about to expire that Shen got the motivation to ask her out. "I had always liked her, but then I realized she was leaving!" Shen recalls. Six months later, they were engaged and six months after that, they were married, making the Peninsula Nami's new permanent home. After 18 years of marriage, they wouldn't have it any other way. Shen says, "I refuse to live anywhere else. I grew up on the Peninsula and went to Mills High. You can drive along Highway 280 and it's gorgeous. I love the comfort and convenience of being here."
After having the first of their two children, Nami began offering her recipes to friends who were short on time and at a loss for what to make for dinner every night. "I started sharing recipes on Facebook, but it became hard to search," she explains. "Then, one of my friends suggested I start a blog." On January 1, 2011, Just One Cookbook (JOC) was born: "I eventually settled on that name because I wanted it to become one single recipe resource to pass along to our kids."
When Shen started helping out, he focused on improving the blog's photos by researching everything he could about food styling and food photography. His previous work experience with search engine optimization also became a vital asset to help grow the website into what is now a full-time job for both of them. When Shen finally decided to leave his tech job in 2018 to exclusively work on the JOC blog with Nami, he was hesitant. "It was scary at first," he remembers. "I had my benefits and a steady income. But when I told my boss, he said, 'What have you got to lose? If it doesn't work out, come back to tech.'" Shen, who now refers to himself as "Mr. JOC," hasn't looked back since.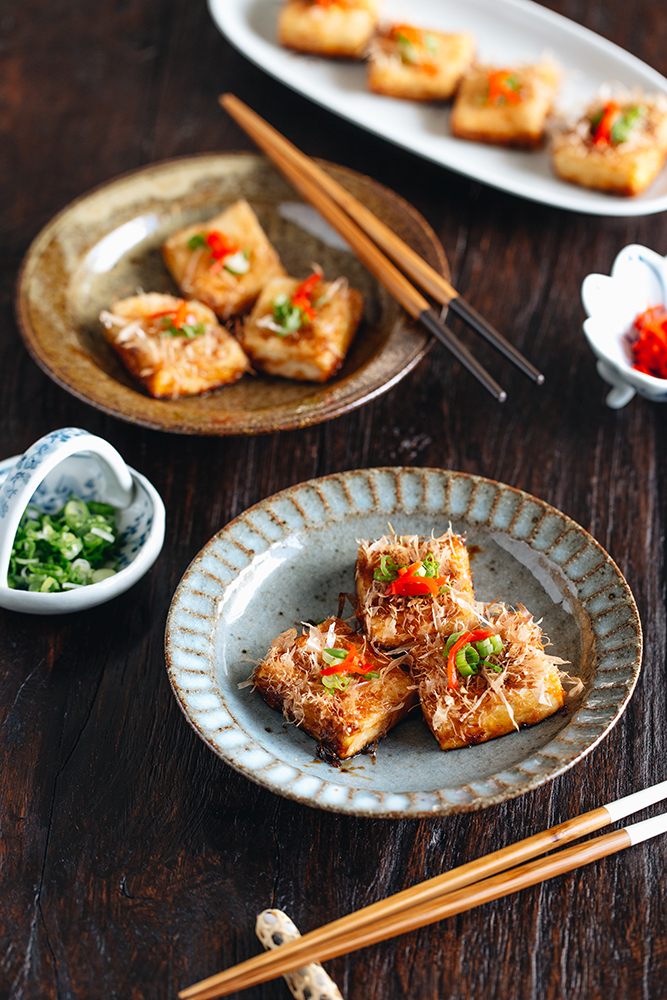 What began as a hobby for Nami has now become one of the most popular and extensive sources of English-language Japanese recipes anywhere on the internet, with a monthly audience of five million readers. Her 1,000+ recipes range from shoyu ramen to yaki udon, tonkatsu to teriyaki tofu. She even details an umami-rich dashi (Japanese soup stock fundamental to the country's cuisine).
"The blog has really evolved. The goal at first was just to transfer all my written Japanese recipes to English and have them online," relays Nami. "It was a hobby, but I was dedicated to it. I wasn't thinking about an audience."
Nami's easy-to-understand, step-by-step instructions give readers the confidence to try Japanese cooking at home. With no signs of slowing down, the one thing Nami won't change is her dedication to authenticity. "I have had a lot of pressure to change and dilute some of my recipes or cook other kinds of Asian foods, but I don't want to," Nami states emphatically. "I'm from Japan and I know what is authentic, so I should be the one to share what I know."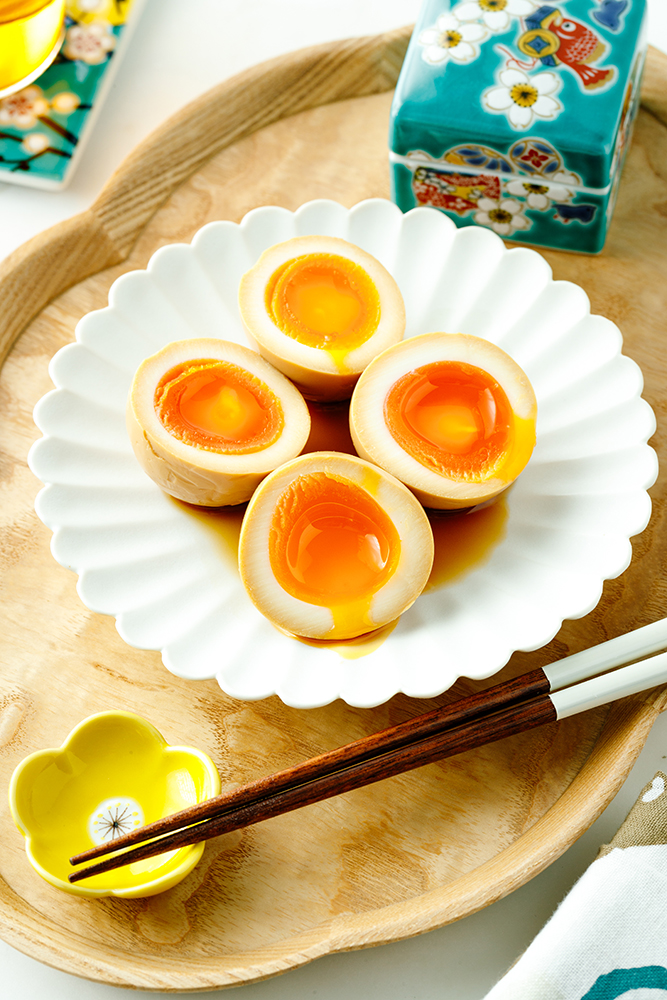 Marinade for Ramen Eggs (Ajitsuke Tamago)
This is an abbreviated version of Nami's marinade recipe for the flavorful soft-boiled eggs you'll find at a ramen restaurant. For the full version of this recipe, visit justonecookbook.com.

4 large soft-boiled eggs, fully 
cooled and peeled
¼ cup soy sauce
¼ cup mirin
¼ cup sake (or water)
1 tsp. sugar

INSTRUCTIONS
In a small saucepan, combine all the ingredients, except for the eggs. Bring it to a boil and whisk it a few times to let the sugar dissolve completely. Once boiling, lower the heat and simmer for one minute. Turn off the heat. Set aside to cool completely.

Place your soft-boiled eggs in a plastic bag and then add the fully cooled marinade to the bag. Squeeze the air from the bag and use a clip or rubber band to seal the bag right above the eggs. This way, the eggs are completely submerged in the marinade. Refrigerate for 8 hours or overnight.

To serve, remove the eggs from the marinade and cut them in half lengthwise. Use a piece of string, fishing line or a cheese cutter to cut the eggs in half cleanly. Enjoy them in a bento box, as a ramen topping, or as a snack, sliced in half and sprinkled with furikake (Japanese rice seasoning).