Words by Sophia Markoulakis
When we consider art in relation to a home, we think of wall art and objets d'art that fill the surfaces of our private spaces—and speak to who we are and what we want others to see in us. For the homeowners of a recent Burlingame Colonial remodel, collecting art wasn't on their radar. Their life story together had recently begun, so interior designer Kristen Peña chose to use the design itself as "art" for the home. "Though the home wasn't a gut remodel, we had the opportunity to touch on all of the surfaces," she says.
Above: A custom expandable dining table paired with Hans Wagner chairs and an Apparatus Cloud chandelier are elevated by the dramatic, sultry walls painted by Caroline Lizarraga. We added an arch to the kitchen doorway and new white oak flooring to this dining room.
Accentuated by original millwork, wainscotting and other transitional details, the home transformed into a more contemporary living space with Kristen telling a new story through its design, with sparsely placed pieces of art serving as supporting elements. Kristen and her team modernized and softened interior archways, something that isn't always a top-of-mind consideration. "That archway was speaking to me like it's the '80s," she quips lightheartedly, "and adapting interior passageways is one of the ways we approach changes."
Kristen stripped the home of its heaviness (inlays, moldings and trims), morphing rooms into fresh canvases that could receive layers of color, shapes and textures that better aligned with the homeowners' aesthetic. "Getting in and working on a home as early in the process as possible really eliminates the risk of having to undo things," she notes. "You're able to tackle the hierarchy of the design logically."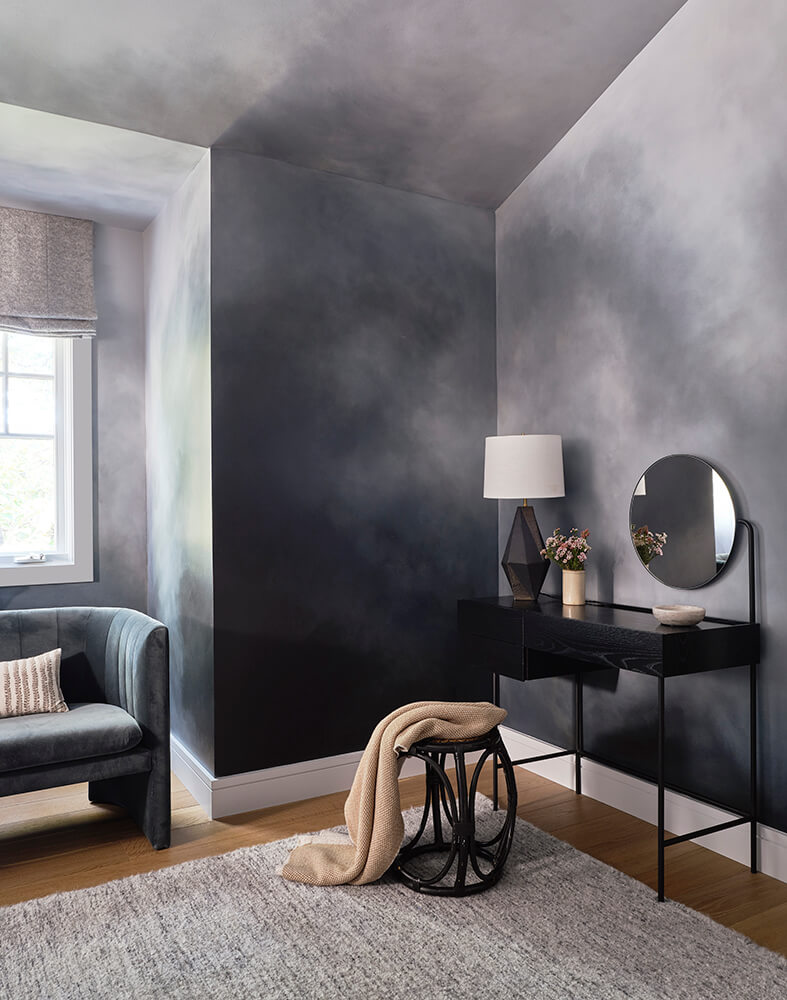 This corner of the primary bedroom features a velvet &Tradition settee in the window alcove and a sleek vanity for makeup touchups. The walls are painted by Caroline Lizarraga.
These design layers make their presence known via surfaces like interior walls in the dining room that received custom texturing and veining by local decorative artist Caroline Lizarraga. The dramatic gold drips reflecting off the room's deep blue walls add depth without having to source for art. One anticipates an impending convergence between a circular mirror and a similarly shaped Apparatus Studio chandelier, which effectively conjures a Warhol- or Pollock-inspired moment.
These transformations also speak to the designer's ability to create rooms with distinctive qualities while still retaining a cohesive thread and holistic living experience for the homeowners. Expanding on that, Kristen says, "It's about creating a foundation of space that has interesting things that your eye is drawn to. It could be shapes, colors or texture. We want the house, before we even put any furniture or textiles inside, to have its own personality." That, in essence, is how design functions as art before anything is placed or hung.
Kristen's knack for creating individual vignettes that draw the eye evokes a sensation that is equally exciting and restful. The vignettes convey stories through lines and the repetition of shapes in materials, fixtures and furniture. "I like to think of these moments as conversations that are happening within the design at any moment in time," Kristen says.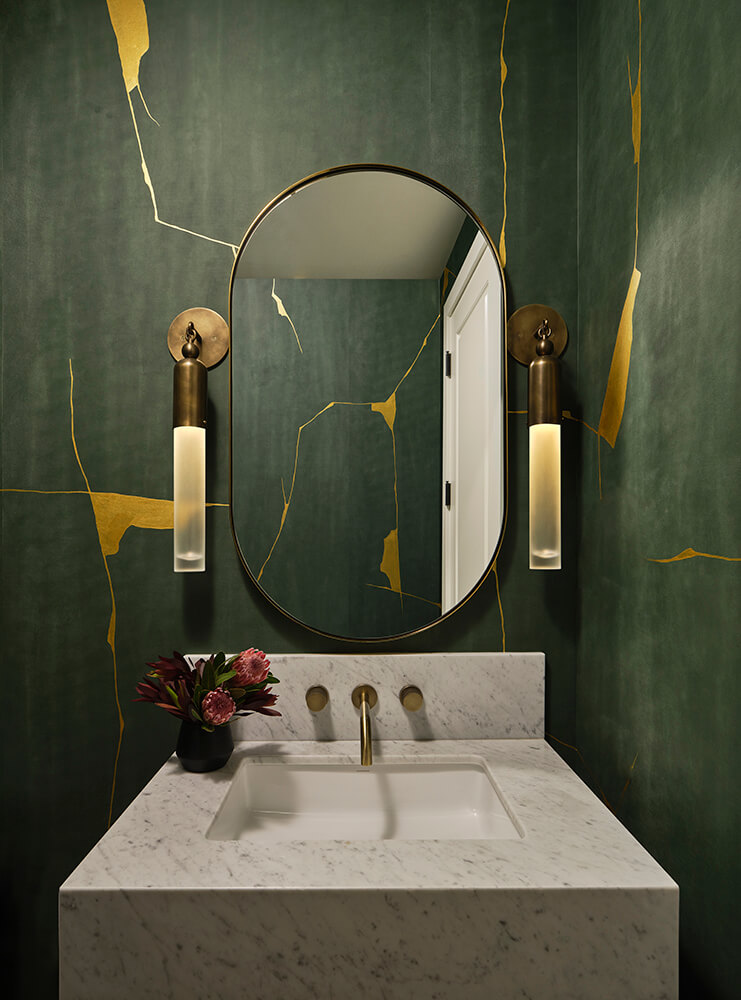 This powder room features a forest green and gold Porter Teleo kintsugi wallpaper. A custom marble vanity and Apparatus sconces further enhance the jewel box space.
As you move through the house, the shift from light-filled to darker, more contemplative rooms wasn't intentional, but more about how the homeowners wanted to feel in each space. The primary suite, for example, needed to serve as a respite. "They wanted a space that was cozy and nurturing," Kristen relays. The use of color and design via texture on the walls to mimic the feeling of an impending storm by artist Caroline Lizarraga is an emotional and artful contrast to the kitchen's counter-to-ceiling marble slab with dramatic lilac veining. The decision to let the marble slab—one of nature's most evocative creations—to speak for the space was driven by the homeowners, who really wanted the kitchen to express its own color story.
Although K Interiors is based in San Francisco, Kristen spends a lot of time with Peninsula clients, who are drawn to her signature use of color and form. She appreciates the opportunity to work on projects that often have more outdoor space and square footage for a new vision. In the case of the Burlingame Colonial, the goal was to create a space that encompassed both personality and art. "We wanted to deliver an artful space that could stand on its own but could then be layered with more things on top of it," she summarizes. "We allowed for an art curation to develop over time as opposed to just filling the space with art."
distinct spaces