Words by Loureen Murphy
Designer Kate Handel sits in an airy room at home, afternoon sun filtering through the sheers. In Half Moon Bay—embraced by a sparkling coastline, agricultural fields, grazing cows and towering coast redwoods—Kate says she never imagined this life.
Growing up on a Wisconsin cattle farm, Kate shrugged off the bovine-scented air—letting her brothers work outdoors while she kept to household chores. When together, they played computer games like Oregon Trail and Lemonade Stand. Despite perils of dysentery in one and bankruptcy in the other, Kate's gaming whet her appetite for technology. The seeds of self-reinvention took root, sprouting by her teens.
No barns and boots for Kate. "I wanted the corporate world and a fancy office," she asserts.
Degree in hand, she eyed big city opportunities. But when her first career job left her craving a more creative outlet, she moved to Chicago, working in multimedia for seven-plus years. Then, when friends found jobs in California in 1998, they beckoned her to "just try it." She made the leap.
A few years later, marriage and motherhood begged another transition. "I needed more flexibility over when and where I worked," the designer says. "I didn't want to ask permission to take time off … I wanted to be my own boss."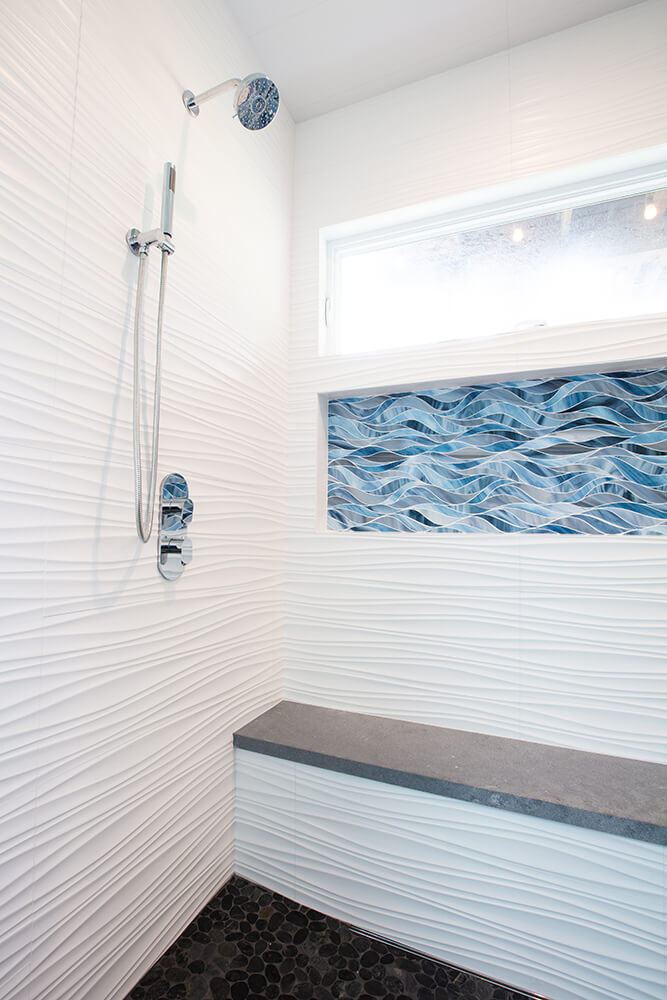 In making the shift from full-time employee to company owner, Kate zeroed in on her joy in making her own home "more beautiful and more functional." Confident that "the skills you learn you can leverage down the road," she crafted her business plan.
Kate had already reworked her kitchen and decks. "I tried to design it myself but without the tools," she recalls. Ultimately hiring a designer, "We removed a wall, which allowed us to significantly reconfigure the kitchen, let in more natural light and see the ocean view." Clear panels replaced sight-obstructing deck rails, and a solid panel now blocked an unwanted view. Reflecting on the process, Kate nailed down the missing piece: "I wanted the whole 3D experience beforehand." So she invested in software and trained on it.
Kate Handel Design launched in 2015. "I found myself doing things every day that I had not done before," explains Kate. "I asked lots of questions." The entrepreneur also utilized her tech-world skills, such as project management, problem-solving and creative thinking.
Numerous clients later, Kate still peers into her clients' kaleidoscope of emotions, expectations and wishes for their homes. "Tell me what you'd like your space to be when we're done … Give me the words," she invites. Coastside transplants may answer, "an escape" or "a peaceful space." The gathering-minded, "the place everybody wants to visit." Then Kate helps clients "crystalize" these dreams into the digital 3D Design Vision that lets them "walk through" their renovations before sledgehammer ever hits drywall.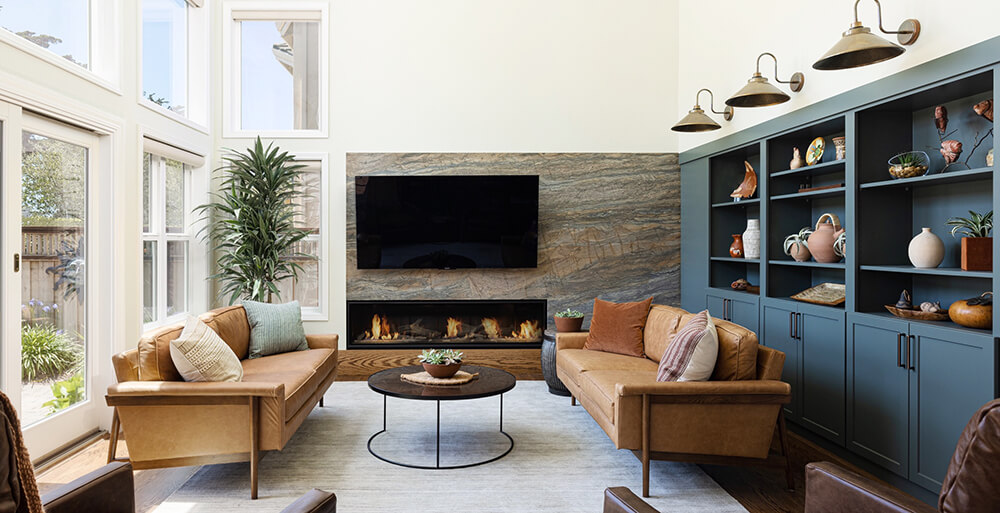 No lightweight, Kate is "used to pitching in and being part of a team," having learned it growing up. "You have to be nimble," says Kate, of more than just crossing a building site while checking progress. Issues pop up requiring quick thinking and cooperation among teammates.
Also key players in client satisfaction, Kate's trusted vendors keep her and homeowners posted on fresh finds. For example, amidst her stunning, extensive redesign of a Half Moon Bay residence, a vendor alerted Kate to a large stone slab whose teal and copper tones echoed those throughout the renovated home. Cut into three pieces, the slab, aptly named "Maestro," now forms a commanding triptych above the owner's grand piano.
A house renovation may parallel changes in the owners' lives. Another Half Moon Bay client who recently lost a grown daughter needed to re-envision her new phase of life. Kate's remodel made those dreams tangible.
Capitalizing on the older home's assets—hand-cut beams, arched doorways and a comfy fireside area—Kate opened up hospitality possibilities by removing a wall and a beam or two, allowing free movement and light into different spaces around the kitchen.
To retain the home's "old castle feeling," Kate applied a stone veneer around the fireplace, kept the exposed beams, and even added a wood-covered steel beam, as well as more arched doorways. A bedroom became a bathroom, while an attic space morphed into a cozy bedroom—all to the owner's delight. "I feel really proud of it," concludes Kate.
By working exclusively in the Half Moon Bay area, Kate also offers clients specialized touches tied to coastal living. Though not every home in Half Moon Bay has ocean view potential, most have ways to step-up natural light. Increasing window size, adding skylights and interior transom windows can elevate a room's mood on fog-blanketed days. For one client, Kate opened up ocean views by simply relocating windows. Calm-evoking hillside vistas can emerge the same way.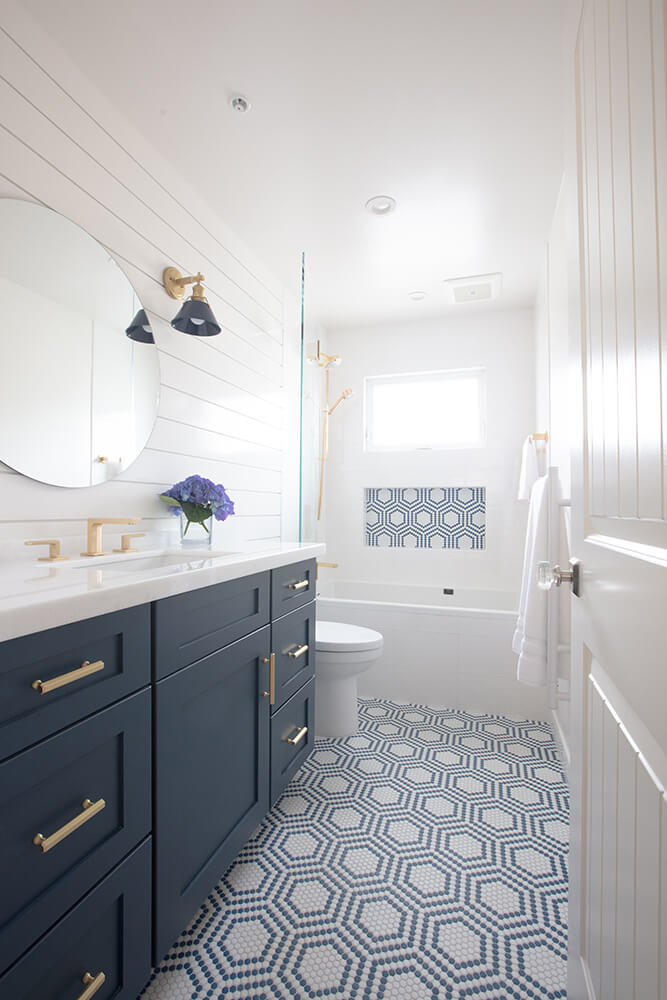 Smaller-scale enhancements abound too, such as heated floors and towel bars. In a home designed as a modern beach retreat, Kate captured the seaside vibe by installing shimmering Capiz shell glass in a pocket door, an abalone shell border around a medicine cabinet and dimensional tile to create the image of sand dunes in a shower wall.
Change in living space "often starts with a dissatisfaction," observes Kate. Her own journey emulates her work—a continuing movement toward beauty and fulfillment. "You have to be willing to take risks and imagine new possibilities," she affirms. "It's not just about the house."