Keeping track of Kasem Saengsawang's restaurant projects is enough to make your head spin. The chef-restaurateur—along with his wife Kumuth Chatterjee and business partners Arty Larpnampha and Jantima Ongpichatmatha—has opened seven restaurants since May 2015. Their latest venture is next-level: simultaneously opening award-winning Thai concept Farmhouse Kitchen and breakfast spot Son and Garden under one roof in downtown Menlo Park.  
Growing up in Loei, a northern Thai province bordering Laos, Kasem never imagined having a slew of restaurants, although he did start cooking early on. As a child, Kasem was tasked with helping his grandparents shop for food and prepare meals for the extended-family household of 15 people. "I learned how to select the right products from the market and to make things from scratch—like curry paste," he says. It was an education he didn't appreciate at the time. "Who loves that? No one!" he says of the chores. "I wanted to be something else. I wanted to be a tech guy—I wanted to be Bill Gates!"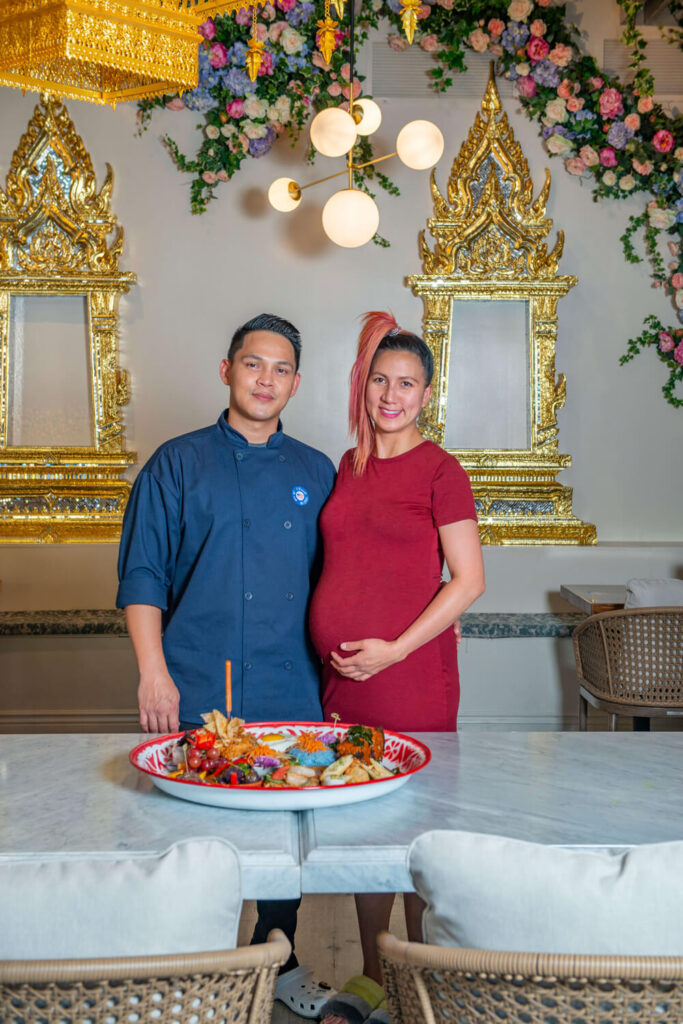 Recognizing Kasem's goals and drive, his parents arranged for him to attend private school in Bangkok. After graduating from university with a degree in computer science in 2006, Kasem knew he wanted to come to the U.S. He studied English in Colorado for six months before moving to the Bay Area to take classes at City College in San Francisco. To support himself, Kasem found work as a dishwasher and prep cook; it was the genesis of a six-year hands-on education in the restaurant business. More skills meant better pay, so Kasem learned every job in the kitchen and front of the house. 
Taking a management position at restaurateur Hoyul Steven Choi's popular San Francisco breakfast restaurant, Sweet Maple, in 2012 was a pivotal decision. Kasem and Choi clicked, and Choi became his mentor. The next year, he offered Kasem an ownership stake in his new eatery, Kitchen Story. Kasem seized the opportunity.  
 While running Kitchen Story's day-to-day operations, Kasem enrolled at Le Cordon Bleu to round out his culinary skills. The experience ignited his desire to get back into the kitchen, so he and Kumuth made plans to open their own restaurant. "We agreed that doing something we love was the most important thing," he recalls. They landed on the idea for Farmhouse Kitchen, the name inspired by Kasem's childhood in the Thai countryside. Opening their first location in San Francisco in 2015 was a revelation for Kasem. "Once I jumped into a Thai restaurant, I felt like, 'This is me,'" he says. "'This is who I am.'"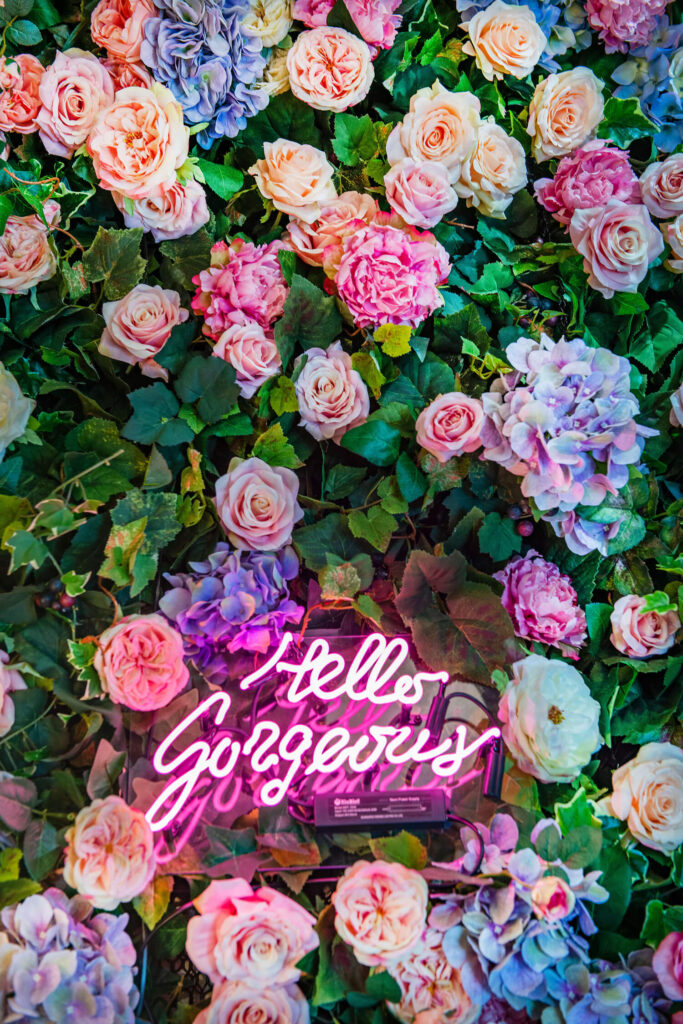 Four restaurants followed in quick succession: Daughter Thai in Oakland, Farmhouse Kitchen Portland, Farmhouse Kitchen Oakland and Son and Garden San Francisco, which opened earlier this year in March. "I jumped to open different places because I wanted to challenge myself," he acknowledges. "I wanted to see how far I could go." 
Kasem says that Daughter Thai in Oakland was named in hopes that he and Kumuth would have a baby girl. He laughingly adds, however, that Son and Garden did not manifest a son; the couple are expecting a second daughter in December. A good school system and "the right place to raise your child" became priorities, he says, which led them to the Peninsula to find a home for their family and next restaurant. In Menlo Park, they found both.
 Choosing the restaurants' Merrill Street location across from Menlo Park's CalTrain station was a no-brainer. "I love the tall ceiling, all the windows and the nice veranda. And I love the weather here!" Kasem says enthusiastically. But there was a glitch. "The day after we signed the lease: shelter-in-place," he recounts. Renovations and team training were put on hold, delaying the opening until October. Fortunately, this wasn't the team's first rodeo. "Once you pass three restaurants, you have systems set up," says Kasem. 
Also set up: an investment in social media that emphasizes eye-popping plates of food and colorful interior design. With hashtags and likes in mind, potential for social media buzz was a factor in creating the restaurant's look and feel. Keeping design in-house, Kasem provided the vision and direction. His approach has a Wizard of Oz effect: that Technicolor moment when you step into a world that is different from your everyday life.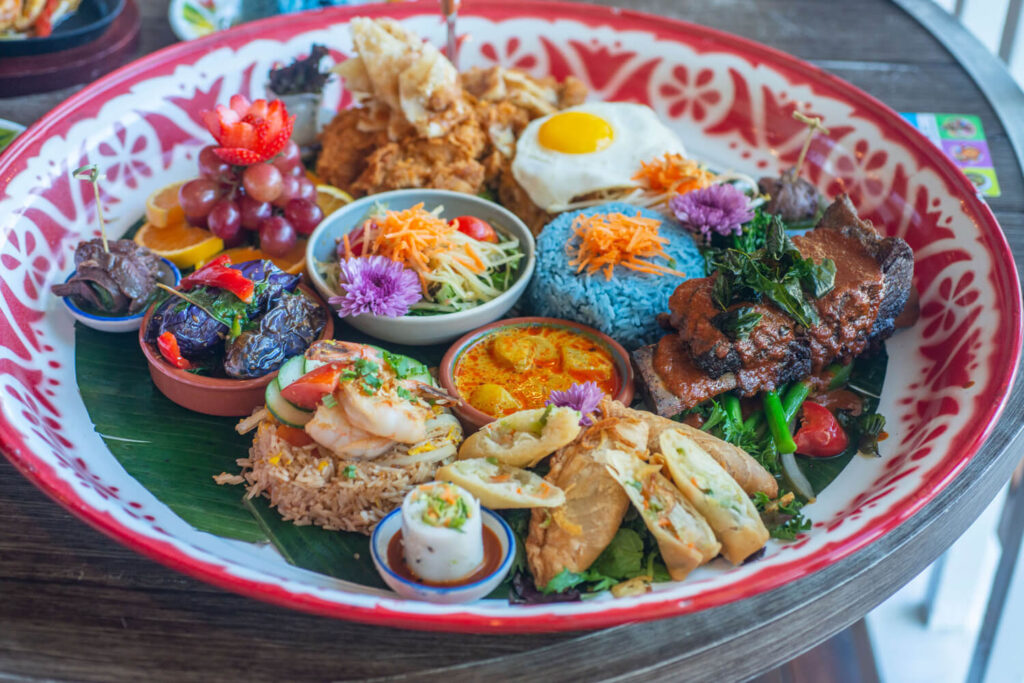 The wide veranda evokes an elegant country-home porch, providing outdoor dining with spatially-distanced tables and comfortable seating. The real show, however, is indoors. Walking into the flower-tunnel entrance of Son and Garden, guests are greeted by a pink neon "Hello Gorgeous" sign and a giant white giraffe statue with a chandelier in its mouth. A ring light stands by for selfie-takers. (Can you say "Insta-ready"?) Son and Garden serves breakfast and brunch, with a something-for-everyone menu that sticks to the standards: assorted egg dishes, griddle items, salads and sandwiches.
 Farmhouse Kitchen, at 4,200 square feet, is the full expression of Kasem's vision. "This restaurant is all about light and color," he says. The main dining room has a contemporary beachy look, with washed-oak floors, marble-topped tables and cane-backed chairs with plump neutral-colored cushions. Chic and inviting, the space provides a backdrop for Instagrammable luxe: wall-mounted gold shrines and custom-made tiered light fixtures from Chiang Mai—also in gold—hanging over the central family table, assemblages of pastel-colored faux flowers across the walls and an eye-catching, jewel-toned bar wall.
Farmhouse Kitchen's cuisine is a shift to something new from what Kasem refers to as "mom-and-pop restaurants that make food in the old way." His take: "I want to deconstruct it, to make sure that people will accept it in a nice, modern way." The approach preserves traditional Thai flavors and emphasizes organic and local ingredients while modernizing the presentation.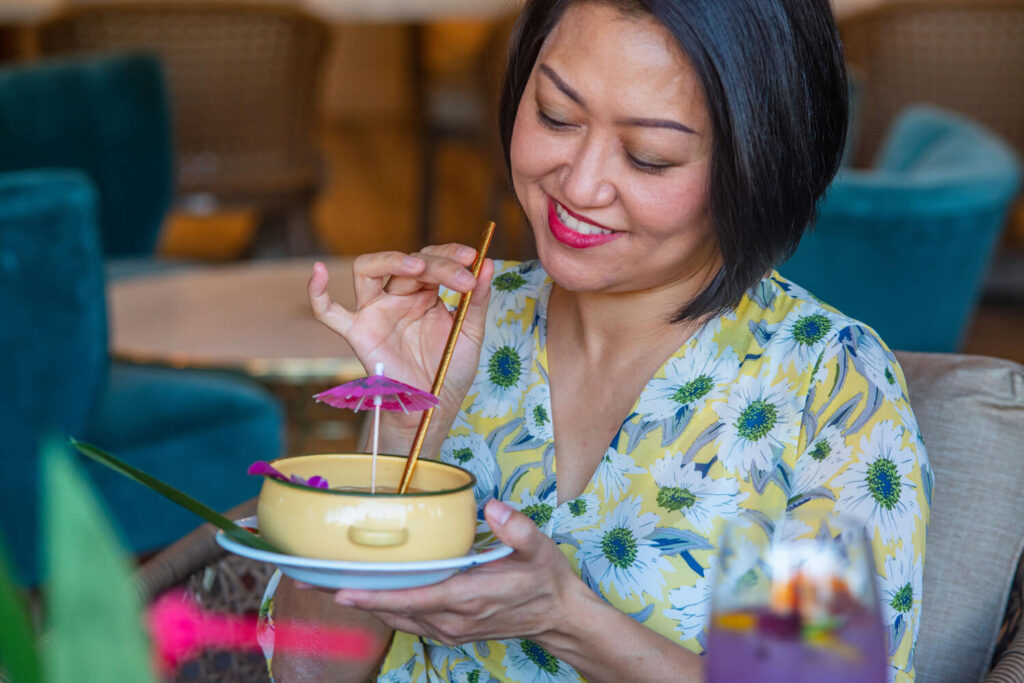 His riff on the classic beef curry, Panang Nuea, is a substantial slow-braised, bone-in short rib smothered in Panang curry sauce, served with butterfly-pea-flower blue rice and grilled vegetables. Live Lobster Pad Thai elevates the traditional menu staple, adding a half Maine lobster, crispy wontons and two sauces that complement the dish, balancing sweetness, vinegar, spice and herbs. Street food—curries, fried rice and noodle dishes—doesn't get short shrift either; Kasem considers them essential to the menu. "Thai people grow up on street food," he says. "This is the way I eat. This is the way I would teach my young daughter to cook."
 Kumuth, who is a sommelier, manages the bar program, creating the cocktails and curating wine and beer lists that complement Thai flavors. The wine list includes European and California wines with tasting profiles that focus on herbal and fruit notes. Beers tend to be on the lighter side, and yes, you can get Singha. 
The cocktail list gives the Farmhouse touch to classic drinks, jazzing them up with herbs, spices or flower essences. Madam Butterfly is an aromatic gin cocktail with a violet hue and flower garnish—perfectly photogenic. The Kickass Negroni, a customer favorite, is a get-the-party-started, mezcal-based take on the classic. Alcohol-free options include Thai iced tea and fresh coconut water.
 While most people would take a beat, Kasem and company are on to what's next: getting fast-casual concept Farmhouse Thai Express up and running and opening restaurants in Berkeley and Portland before year's end. Farmhouse Kitchen Los Angeles is on the docket for 2021. 
 In the meantime, Kasem has settled into Menlo Park and is looking forward to being part of the community, both as a business owner and as a resident. "This is the place I want to be, and I can see myself here a lot," he says. "My life is here."