words by Eva Barrows
Paintings Courtesy of Kerwin Galleries
Artworks in gold frames hang floor to ceiling in harmony. Painted canvases fill the seats of repurposed church pews and stacks 20 pieces deep line the walkways. At Kerwin Galleries on California Drive in Burlingame, coastal California landscapes are on display next to non-objective abstract art, exploring shapes, angles and colors. Glass cases reveal jewelry, antique books and a Whistler etching, The Little Rag Gatherers, which depicts two youths in a rustic workshop.
This massive collection of early California (1880-1950) art and 19th- and 20th-century American and European art is the life's work of husband and wife art dealers Richard and Mercedes Kerwin. The couple has been buying, selling and custom-framing art for 61 years. Richard first opened Kerwin Galleries in 1961 on Taraval Street in San Francisco, with Mercedes joining him soon after. The couple moved to Millbrae, relocating the gallery to Burlingame near Mills-Peninsula Medical Center in the mid-1960s, before settling into the current location in 1982. Just a block away from the foot traffic of Broadway, the blue two-story building with red awnings grabs the attention of passing drivers.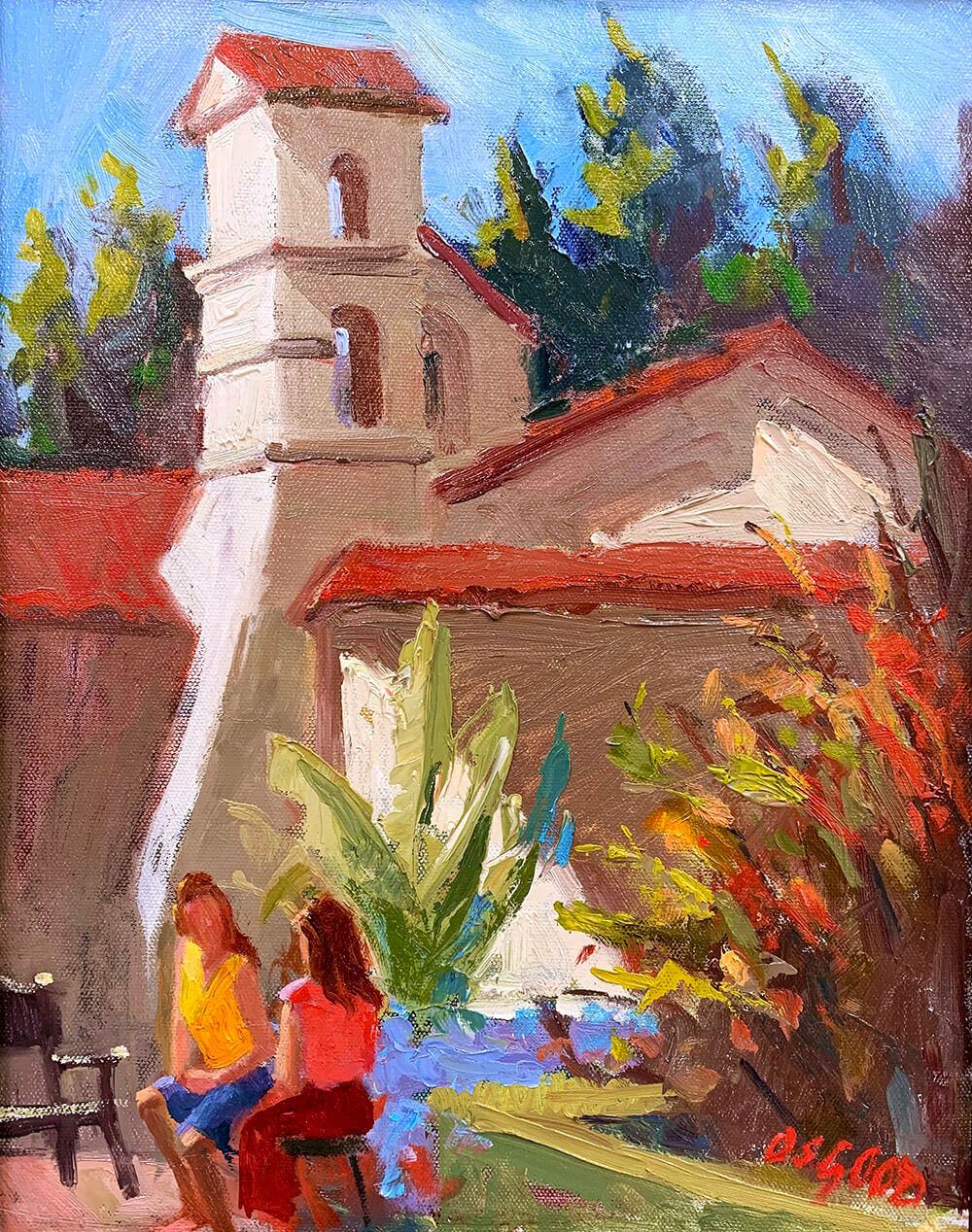 Originally from New Mexico, Richard came out to California as a young man and took San Jose State University business courses. While going to school, he worked at art galleries in San Jose and San Francisco, picking up art dealing and framing skills in the late 1950s and early '60s. He decided to open a gallery so he could be his own boss. "It was not easy getting started," Richard recalls, "but I had enough experience from the place in San Jose to start on my own with a little bit of money and hard work."
Meanwhile, Mercedes worked at a San Francisco insurance company using the secretarial skills she learned in her home country, Nicaragua. While hanging out at what's now Sabella & La Torre restaurant at Fisherman's Wharf with friends, Mercedes was approached by two handsome men, Richard and his visiting brother. They asked to join her table. Richard and Mercedes discovered that they both lived in the Sunset district, and she accompanied the brothers for a sightseeing tour of the city.
The chance meeting marked the beginning of an art-filled life's journey together. Mercedes left her typing job to help Richard run the gallery. They trained their eye for art, developing a sense for quality by frequenting the Oakland Museum of California and de Young Museum and visiting art galleries. "Weekends were spent looking at other galleries and shows in the parks and different places," remembers Richard. "Anywhere I could see another show, I would go, not necessarily to accomplish anything, but to learn."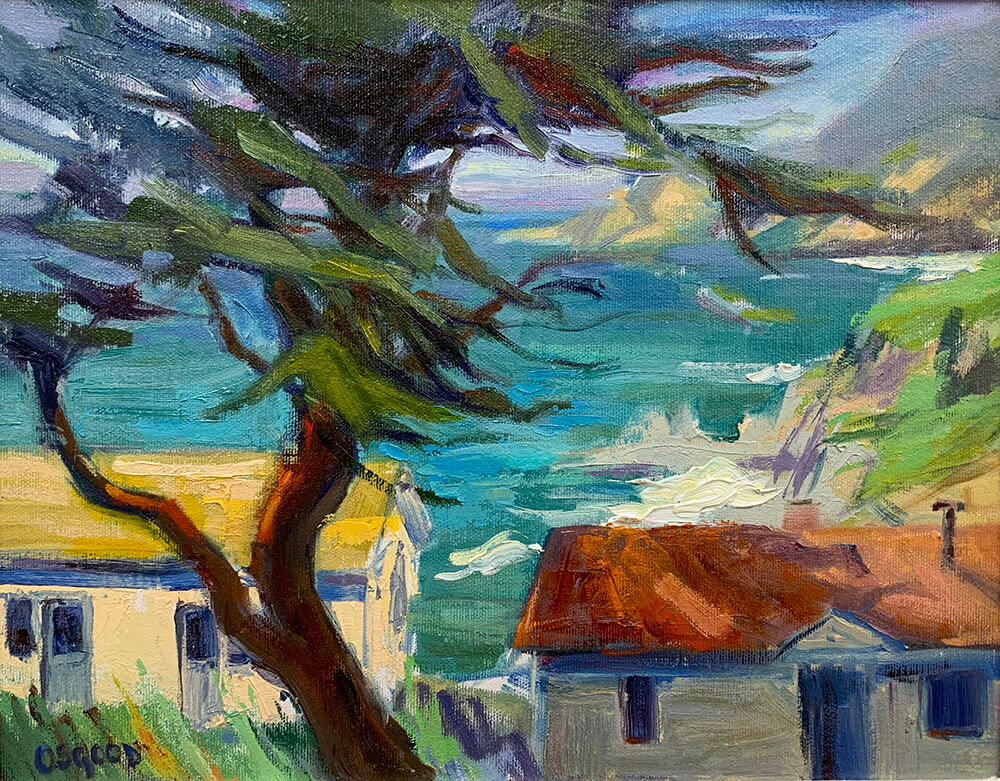 Over time, the Kerwins amassed an impressive collection of traditional artwork evoking familiar locales and emotions, along with a select group of contemporary pieces. Richard ventured out on art buying sprees in the Midwest and Southwest. The couple handled the sale of artists' estates, bought from other dealers and partnered directly with artists themselves. "When I got my shop started, there were a lot of artists in my area who walked in and said, 'Can I leave my paintings here on consignment?'" recounts Richard. "Artists are really eager to show their work."
Mercedes clarifies that they didn't accept all of the artwork that walked in the door. "I have to see good quality, and I ask where they have studied, where they have shown their work and different questions to get a little more background," she explains. Mercedes advises that it's helpful for an artist to have a brochure or website detailing where they have previously sold or shown paintings when seeking representation in an art gallery.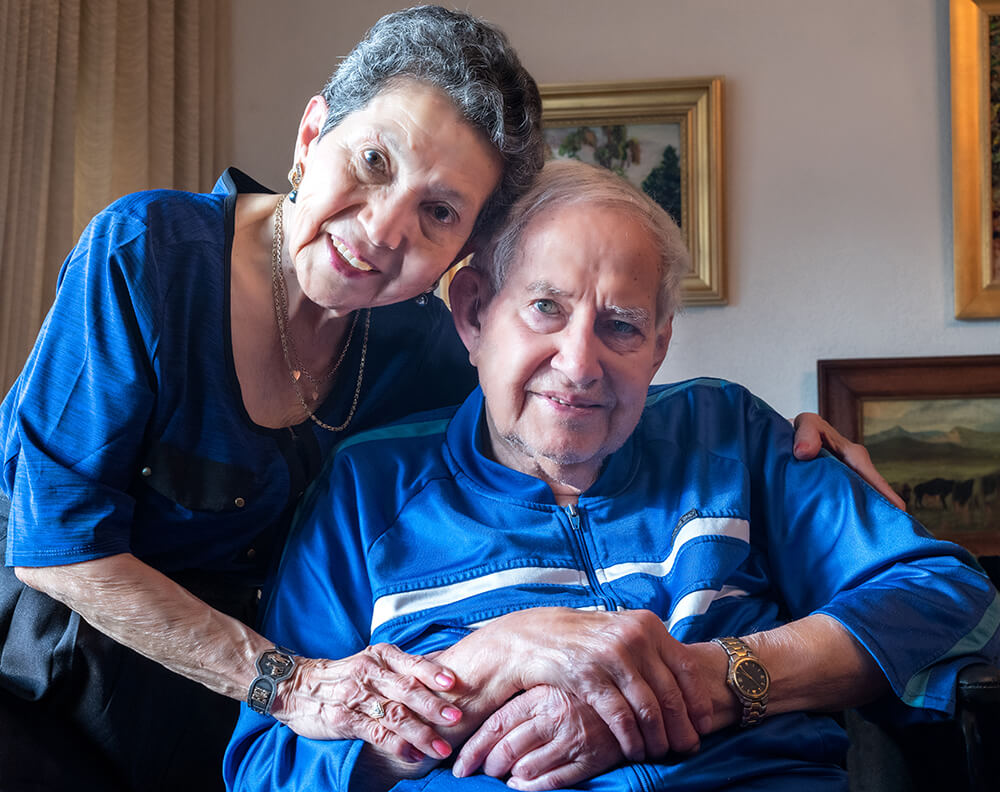 Not artists themselves, the Kerwins have a deep appreciation for what artists do. Mercedes took a few art classes but quickly grew frustrated when comparing her art to the paintings in the gallery. "You say, 'Why can't I do this the way the artist does this?' This is because the artist has so many years of experience," she observes, "and you want to do it just like they do. It is impossible." She decided to stop trying to paint and focus on showcasing beautiful works of art instead.
Major holdings include paintings by Frank Myers, Nancy Martin and John A. Dominique as well as etchings by Joseph Eidenberger and the Kasimir family of Austria. As their collection grew, the Kerwins became friends with some of the artists they represented. One was John A. Dominique. Known for his landscapes of the West Coast, Dominique was a plein air painter who captured the beauty of California with loose brushstrokes.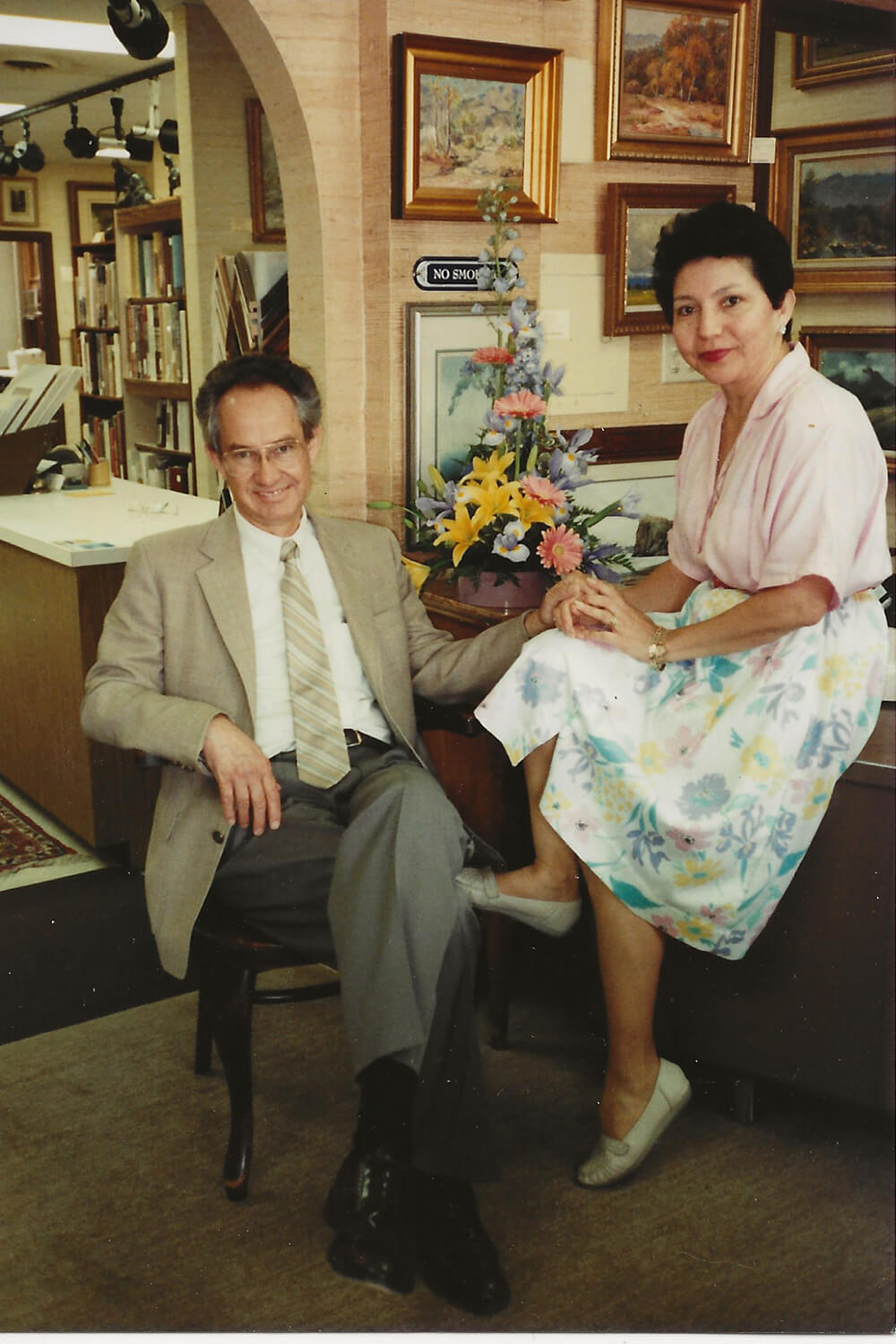 The Kerwins admired Dominique's artwork so much that they bought everything he would sell them. After talking with him about his art and watching him work, their appreciation for Dominique's versatility as a painter inspired them to commission a book on his art, John A. Dominique, Poet of Landscape. Former managing editor of Antiques & Fine Art magazine Charlotte Berney wrote the book, and the Kerwins supplied the photos. Dominique lived to be 100 years old, his painting style evolving throughout his long career.
Walking into the gallery for the first time, customers might feel overwhelmed by the enormity of choices before them in price points ranging from a few hundred dollars to many thousands. Mary Matsunaga, Kerwin Galleries operations manager of 36 years, loves to help people discover the perfect piece to bring home. "We're pretty relaxed here, so we like to chat while looking at the paintings," she says. "When I get a sense of the person's taste and start to see similarities in the pieces they are drawn to, I will show them work I think may be to their liking." Working with customers is also one of Mercedes's favorite things about being a gallery owner.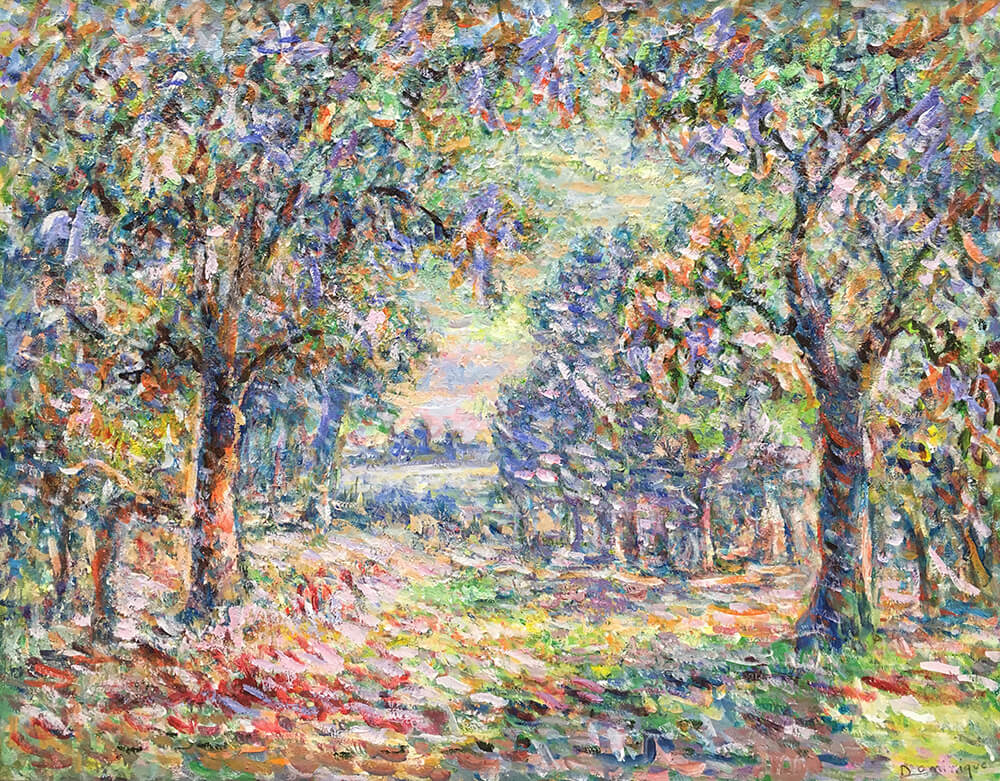 Six decades into the endeavor, the Kerwins relish being around the artwork they've collected. "There's not another gallery in the whole Peninsula with the selection we have here," reflects Mercedes. "It's amazing the quality of work that we have." And while Richard isn't able to frequent the gallery as often, the couple has plenty of art at home for him to contemplate and enjoy. "There is happiness in owning art that I like to sell," he affirms. "It's a lot of pleasure to be around art."