Words by Jennifer Jory 
Every Sunday while growing up in Sicily, Chef Angelo Cucco churned out homemade fettuccine noodles alongside his mother. "Food is the culture in Italy," he notes. The meal began in the afternoon and Angelo's extended family would linger at the table for hours, savoring appetizers, eight different dishes and dessert. "The culture of the whole family was to stay together and eat," he reminisces.
At La Stanza Cucina Italiana in Menlo Park, Angelo offers up the fresh bread, pasta and sauces from his childhood. "I learned how to cook from my mother and now I use her recipes at the restaurant," he shares. Partnered with co-owner and chef Miguel Prado, Angelo strives to recreate a neighborhood Sicilian trattoria experience with fresh ingredients and seasonal specialties nightly. "When people say the food is good, it's a fantastic feeling," Angelo says. "Everything is from scratch including homemade ravioli and meatballs."
After initially studying agriculture in Italy, Angelo found his true calling in the kitchen at 20 years old, beginning as a dishwasher and working his way up to cook at a hotel in Northern Italy. "I worked for a very strict chef and it was so much pressure," he remembers. "It was like the military and I could not make a mistake."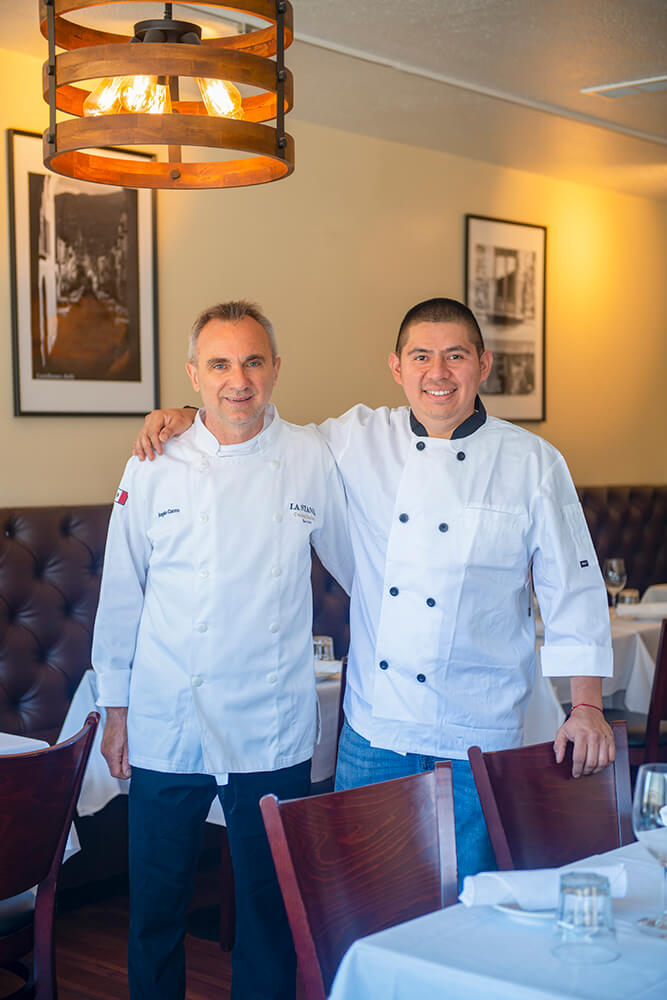 Angelo's big break came when he immigrated from Sicily to work at San Francisco's Vacco restaurant in Noe Valley alongside his brother who served as executive chef in the mid-1990s. Angelo honed his gastronomic skills and went on to open Sapore Italiano in Burlingame, where he met a hard-working dishwasher named Miguel, who showed culinary promise. After being promoted to cook, Miguel excelled in his new role creating appetizers, salads and pastries. "I arrived in this country with nothing in my hands," Miguel marvels. "This is my dream. I wanted to be a partner in a restaurant." His aspirations came true when the two men who began as dishwashers became business partners and blended their expertise to open La Stanza. "I spend more time with Miguel than my wife," laughs Angelo. "He takes his job very seriously and is talented and we make decisions together."
Angelo and Miguel overcame significant challenges when they opened the restaurant in early 2020, right as businesses were shutting down. The Menlo Park community rallied around them and the restaurateurs brainstormed ideas to keep the business going. "The whole neighborhood came together to support us," recalls Angelo. "People were passing out menus and getting the word out about our restaurant." They describe how even their landlord showed support by frequently buying gift certificates and never using them. The partners created an outdoor dining experience with white tablecloths, heat lamps and string lights and began offering take-out meals, which they continue today.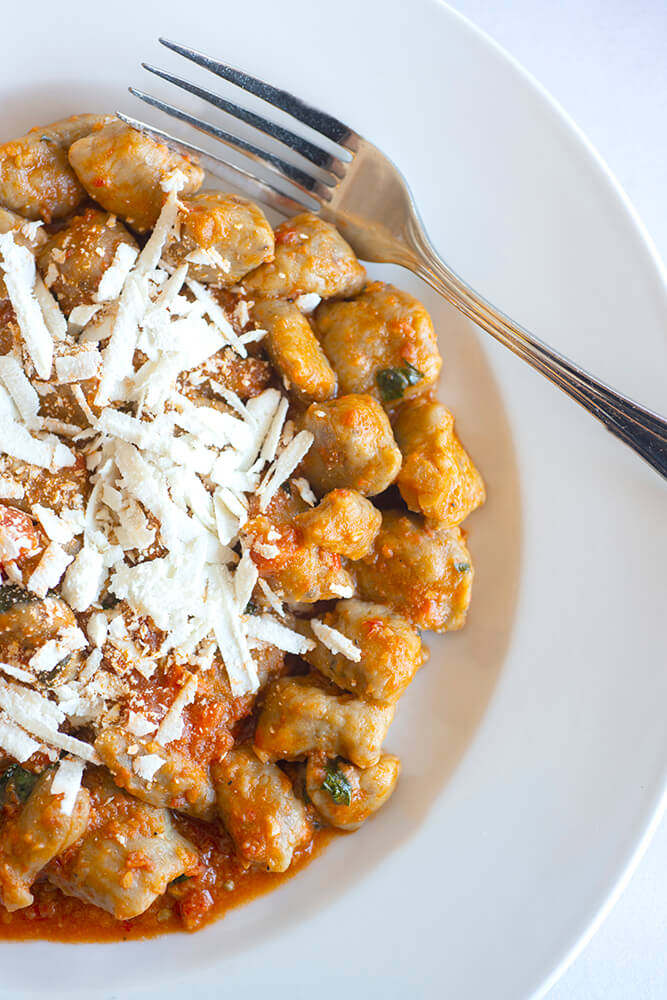 La Stanza, meaning "room" in Italian, started out true to its name with just one room. "We want our guests to feel like they are in their own dining room," says Angelo. Over the past two years, Angelo and Miguel expanded the restaurant to include two adjacent private dining rooms as well as the outdoor dining option. Reflecting Angelo's childhood roots, the intimate, comfortable space evokes memories of family gatherings. And the restaurant is a true family business: Angelo uses "like a son" to describe restaurant manager Danny Browning; Miguel's wife, Nayeli Prado, waits tables; and Angelo's wife, Andrea, manages marketing, along with wrangling the couple's eight-year-old twins.
Back in Angelo's hometown of Castlebuono, traditional meals reflect the bounty of the region including fish, olive oil, basil and oregano. "The season is very important in the kitchen, right down to the tomatoes," explains Angelo, who draws upon his mother's recipes for staples like Penne Alla Bolognese and Polpette Della Mamma (veal, pork and beef house-made meatballs). With a menu designed to capture "a touch of Sicily," La Stanza's specialities range from homemade flat pasta ribbons with tomato lamb stew to fresh eggplant gnocchi with 'nduja sausage in a tomato and white wine sauce. In addition to homemade pastas, La Stanza also offers antipasti options, salads, specials and main dishes including wild salmon, chicken, wild tiger prawns, pork tenderloin and filet mignon.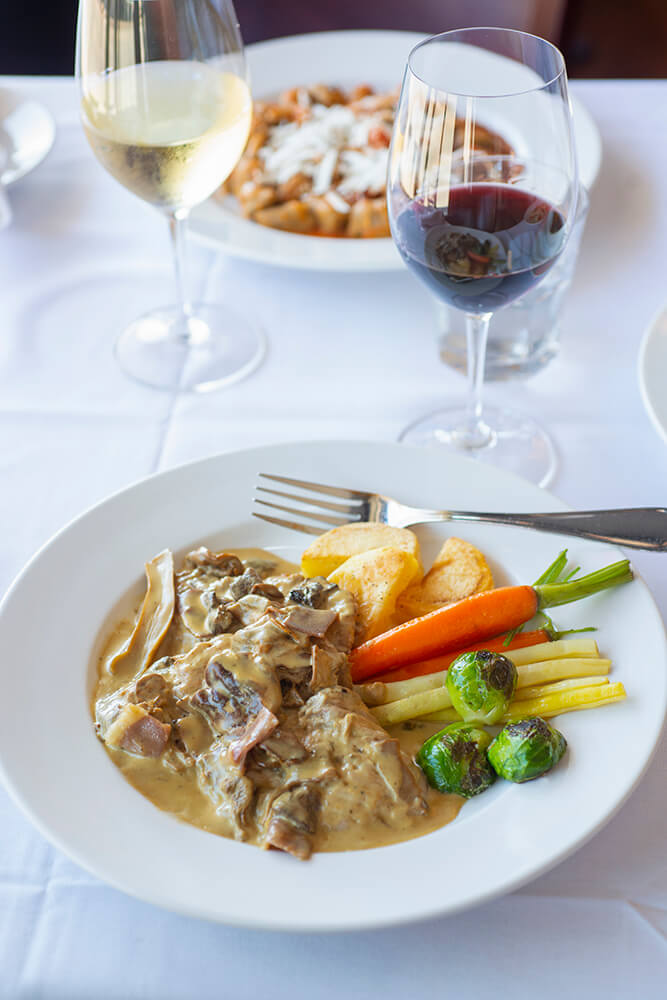 And, in a nod to local preferences, guests will find an extensive list of vegetarian, vegan and gluten-free noodle options not seen in many Italian restaurants. "We responded to customers who requested alternatives to traditional Italian," says Angelo. "There are no additives. Everything is made fresh."
Aligned in their vision—a trattoria offering fresh ingredients with Old World charm—Angelo and Miguel are grateful for the Peninsula's support through difficult times. "I have spent my whole life in the kitchen," Angelo reflects before breaking into a triumphant grin. "This is my passion and we survived."