Words by Silas Valentino
To live in Ladera is to be one with La Mesa Drive, the main arterial road that binds the neighborhood together and connects the woodland community to Alpine Road and Portola Valley. It's a steep ascent, ideal for daredevil longboarding and, for anyone raised in Ladera, tackling the hellacious hill day in and day out leaves a lifelong impression.
 Brian Tetrud was shaped by La Mesa. As a teenager, he gradually worked up his moxie to longboard the hill and would bike up it after playing tennis at the Ladera Oaks Club nearby. He embraced the slope and attributes the lessons of perseverance for helping him when he started his homegrown, healthy eating and lifestyle company, Ladera.
Formerly called Ladera Granola, Brian recently dropped its flagship product from the brand name as he broadens the company's scope. Ladera continues to sell its crunchy, low-sugar snack (including the classic Almond Pecan Granola), but the company is branching out into a fresh line of cubed protein bites made of buckwheat and chia seeds. Brian is even venturing into apparel, producing kits for cycling outfits, exemplifying how he is elevating the Ladera brand to new heights.
"It's an indication that we want to do more," Brian shares, speaking from his new apartment in Palo Alto. "By being 'Ladera,' it enables us to do more than just granola. We want to be sure that our brand doesn't limit us."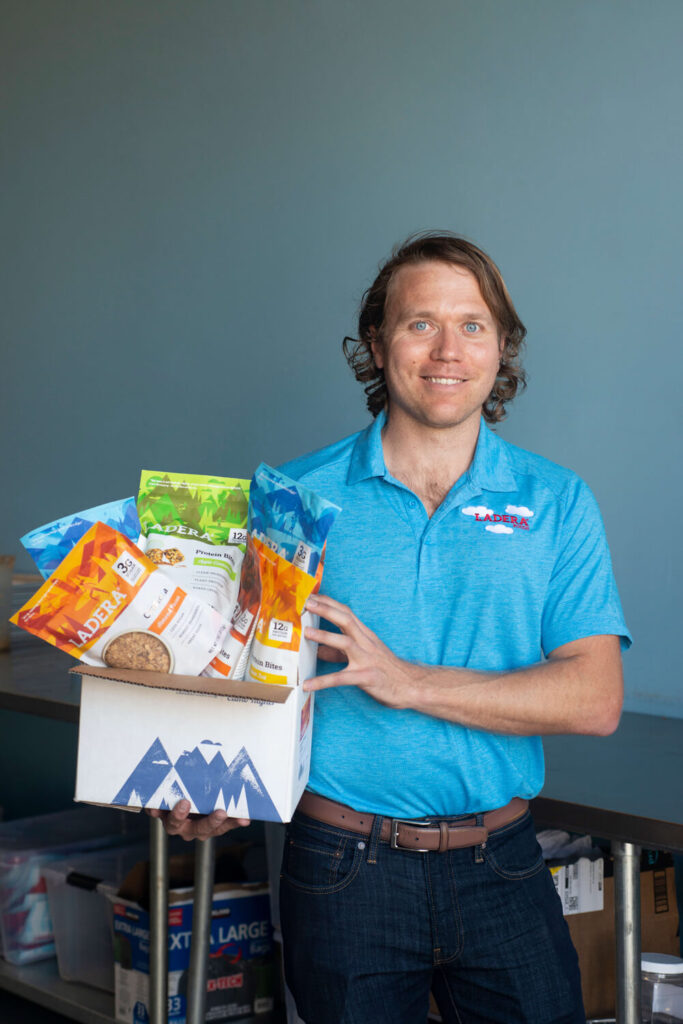 Another change for Ladera is the adoption of its new slogan: Climb Higher, a rebrand that hits squarely home for its founder.
 "When I started this company a decade ago, I had no experience and made a lot of mistakes," Brian admits. "But I learned about myself and it allowed me to persevere as an underdog. The new slogan resonates with me—I did have to work harder—I had to climb up that hill all the time!"
 Brian now lives off Sand Hill Road near Stanford at an apartment he chose for strategic reasons: he's nestled between Ladera's warehouse in Redwood City and his day job as the global director of the Food Innovation program at Plug and Play Tech Center in Sunnyvale.
 Moreover, he's within close proximity to several tennis courts, which was a major factor he considered when looking for his new home.
 Brian's LinkedIn profile includes a short bio: "<3 startups, granola and tennis. Not so big on boats." (The latter is a reference to a maritime mishap out on the Bay a few years ago that ended with a broken boom.) Brian's job with Plug and Play is to work with ingredient startups to help them scale and connect with food manufacturers, a process he's acutely aware of from scaling Ladera out of his mom's kitchen and onto the shelves of grocery stores and beyond.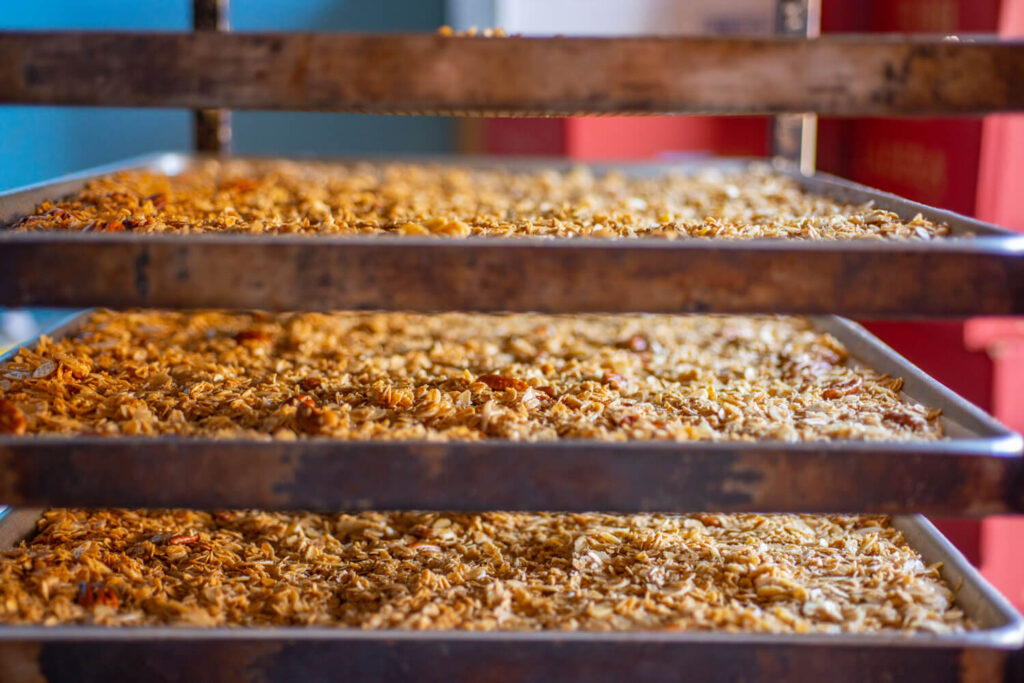 Brian is one of three children and the son of two doctors. His mother, Dr. Karen Butterfield, is an internist working in Palo Alto. When the price for her favorite granola went up, Karen decided to create her own recipe. The family started passing granola out to friends as gifts and demand began to grow.
 Brian attended Ithaca College after graduating from Menlo-Atherton High School and while interning at the National Association of Manufacturers in Washington D.C., the idea was hatched to share his mom's recipe with new households.
"My mom visited me in D.C. and mentioned offhandedly that wouldn't it be great to make a company out of this," recounts Brian. "I always wanted to start a company and to create something. I like the quote: 'The essence of life is creation.' I get a lot of satisfaction out of building something."
 Brian decided that the simpler the recipe, the better, and started comparing his family granola to big players such as Kellogg's and General Mills. He decided to distinguish himself by using straightforward, healthier ingredients that kept sugar low without losing appeal.
"Sugar has benefits," Brian clarifies, "because it textualizes food. Otherwise, it could become mushy. And the sweetness enhances the natural flavors. It's all in the balance, once sugar plays a leading role it starts to dominate the other flavors. For us, we have other things to promote rather than sweetness."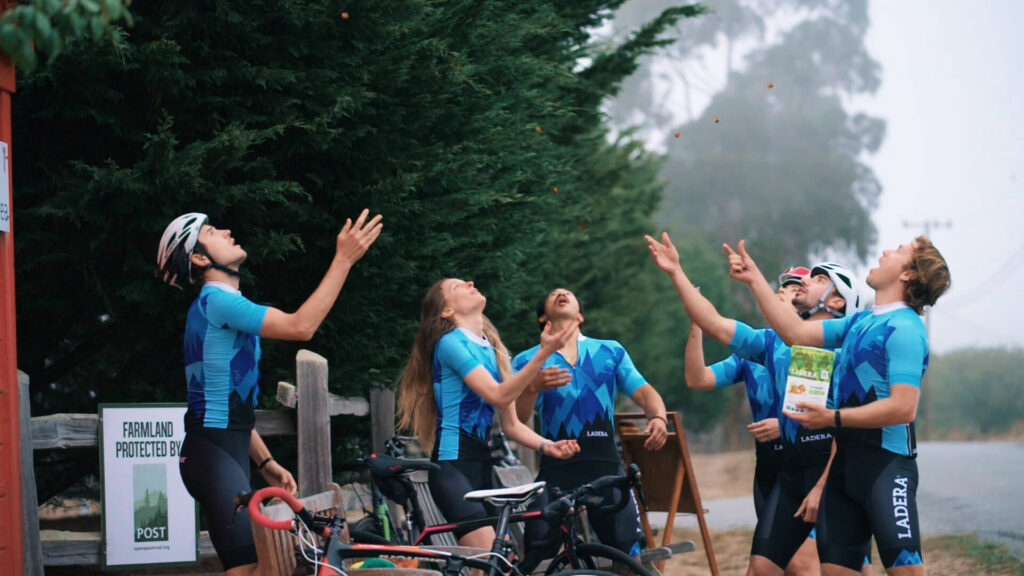 After graduating college, Brian moved back to Ladera where he continued growing his granola brand. He spoke with Kevin Bianchini who owned the local neighborhood market for advice on how to best package his product. "We had a mock-up of a package and Kevin gave me feedback, like where's the date code, and all the basics we needed in order to sell at a store," Brian says. "Our opening day was at his market, in July 2011, and we sold everything out."
Ladera Granola became Brian's passion project while he tried to launch a career. He was living at his folks' place following college, applying to whatever job he could find but was beginning to lose steam. To keep motivated, he'd jog up Windy Hill, seldom ever making it to the top before having to stop to walk.
During a run, he was about to reach the point of exhaustion and notch down his pace when he heard a voice.
"There was this guy right behind me saying, 'Come on—you're my only hope!' We ran up the hill together and started talking at the top," Brian recalls. "It turned out that he had a sister at SolarCity whom he introduced me to, which led to a job there."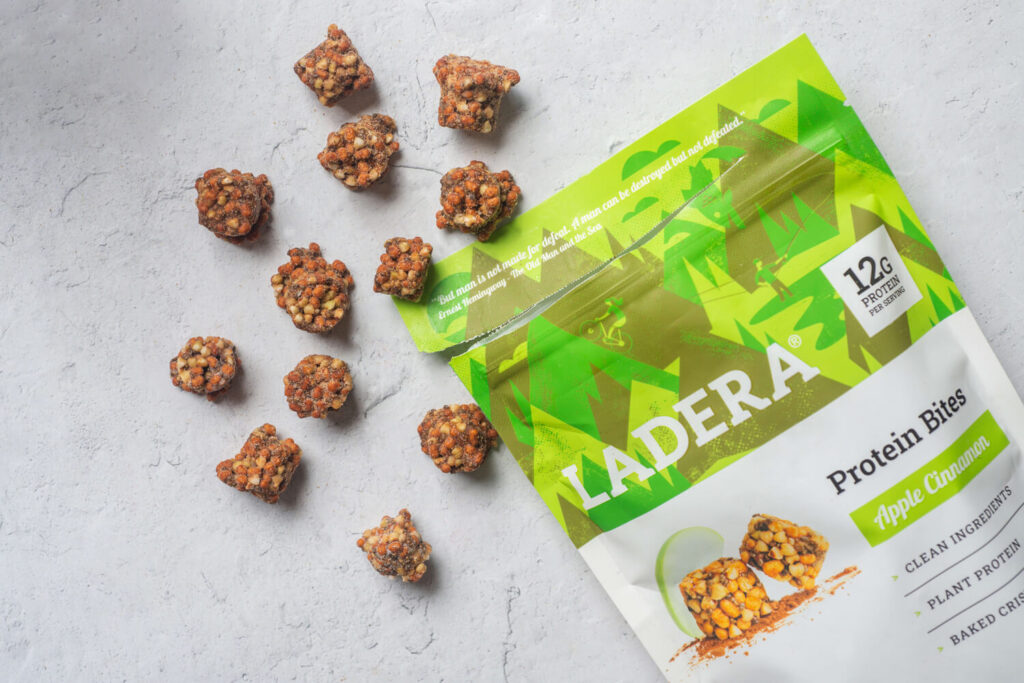 Looking back at the fortuitous connection made up on Windy Hill, Brian surmises that life-changing moments are sometimes just casual occurrences.
"When you're looking for something, it's on your mind and it comes out in conversation," he says. "It coincides with your needs. At that time, my parents were kicking my butt to get a job and I needed to get something going."
Brian began working for SolarCity while developing his granola into a functioning business. He worked with KitchenTown in San Mateo before establishing a warehouse in Redwood City off of Seaport Boulevard. 
After years of producing granola, Brian started expanding into new snack territory with protein bites. Flavors include salty maple, apple cinnamon and lemon zest, and the goal is to create simple carbs comparable to chips or pretzels that remain good for your health.
The snacks are growing in popularity, joining his granola on shelves in markets across the country; however, there's one customer Brian has yet to earn.
"My mom still makes her own granola," Brian grins, "and she never buys mine."