Words by Sophia Markoulakis
An idyllic family-friendly oasis, San Mateo's Baywood neighborhood presents a distinctive composition of Spanish revival, Tudor and colonial-style homes. Front yards are meticulously maintained, and sidewalks are wide enough to push a stroller or tag behind a toddler's first attempt at training wheels. With meandering roads that gently bend to the area's topography, this coveted series of several blocks are filled with children playing outdoors and neighbors congregating with a glass of wine on a warm evening. It's exactly that kind of hard-to-find character that Lauren Rilliet and her family were seeking 12 years ago when they decided to leave San Francisco. When a Baywood property came on the market, they jumped on it.
Pregnant with her second of three children, Lauren knew the move would signify a new phase in life. Not long after, she left her career at the brand, Gap Inc., where she had worked for 16 years. When she began remodeling her Spanish revival home, she often referred back to her experiences at Banana Republic where she was a fashion director and built out stores.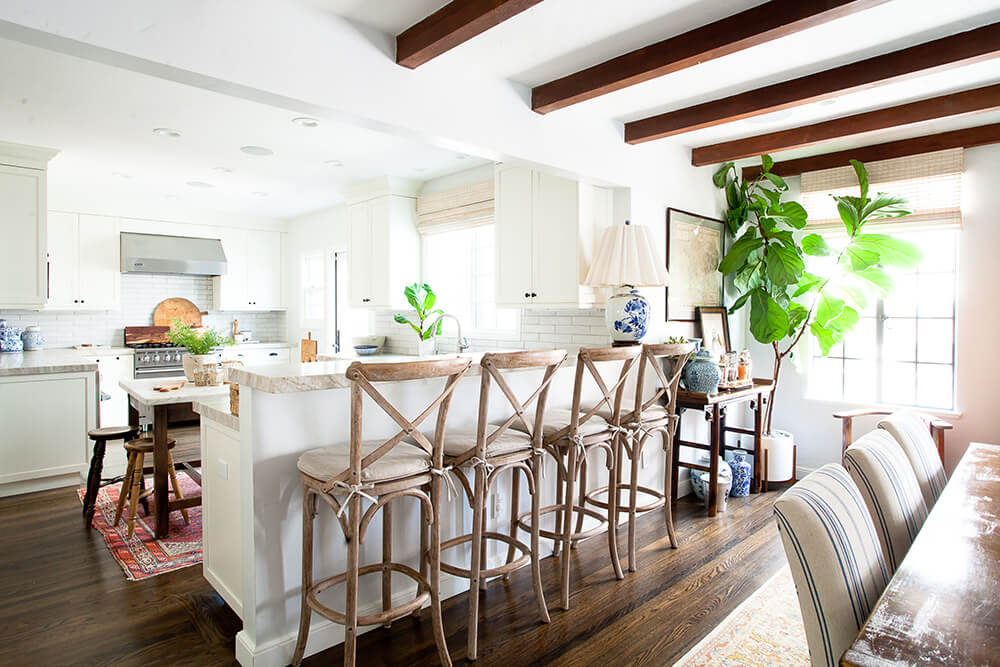 Knowing how to create retail spaces and style a collection of clothing came in handy. Today, she implements that knowledge as an interior designer for her firm Lauren Rilliet Design. "Putting together a home is not that much different than putting together a fully-styled outfit," she observes. "It seemed like a logical progression to go from fashion to interiors."
Lauren's home, with its classic Spanish Mediterranean charm, needed a new kitchen and bathrooms. Right around the time she was wrapping up her last bathroom remodel, a neighbor asked if she could assist with hers. Six years later, Lauren has helped facilitate dozens of small and large home makeovers including more than 10 in the Baywood neighborhood.
For a recent project, a stately Parrott Drive colonial, Lauren teamed with Jeanne Davis of Davis Architecture to transition the interior's Hollywood regency glam into a more authentic, laid-back space. One of the main tasks was to open up the home to more light and infuse a sense of comfy intimacy. "We lightened up the wood floors, added white oak for warmth and changed out fixtures," she says. "We actually lowered the ceiling in the main living space to accommodate lighting and create a cozier feel. The wood beams were added to achieve that as well."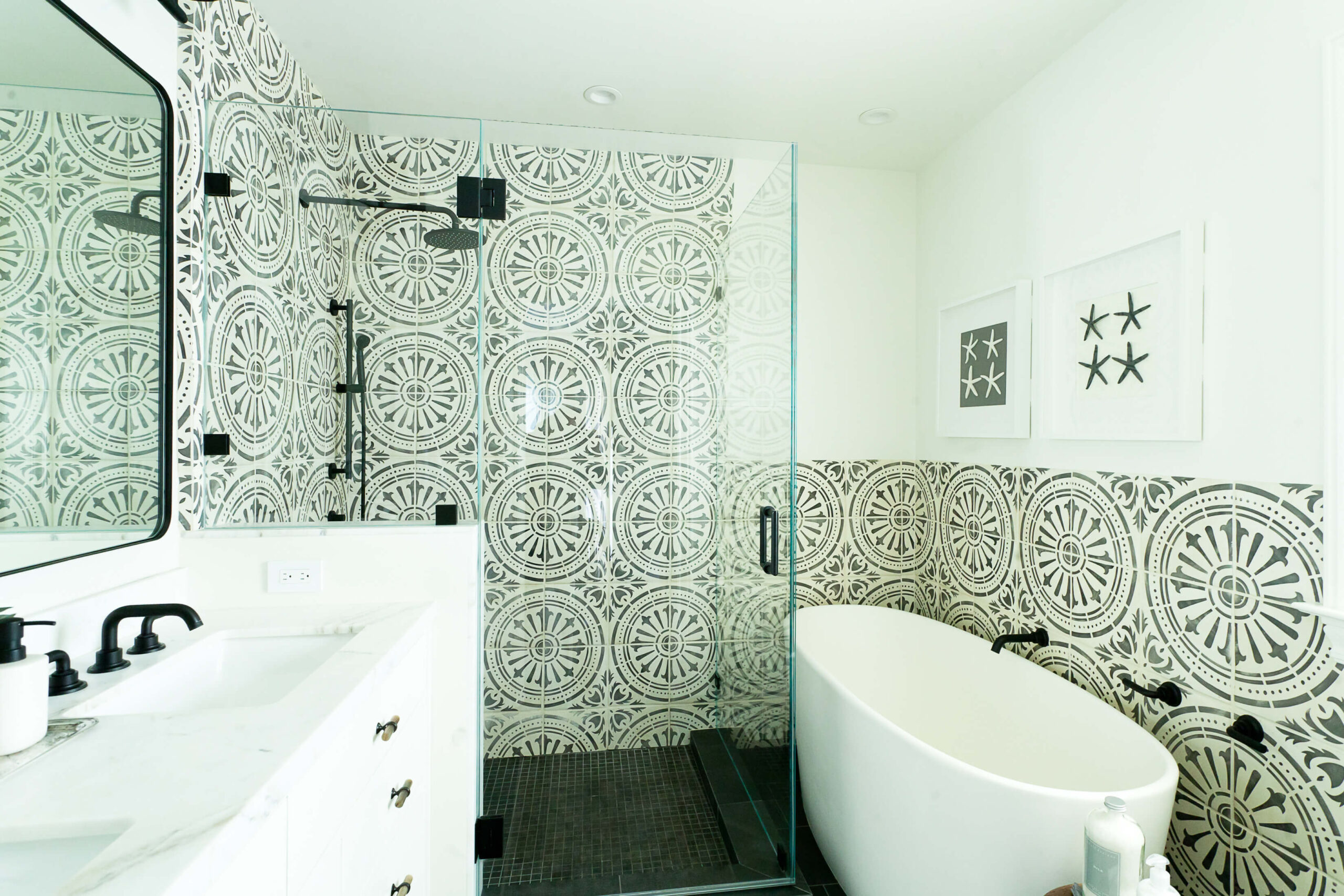 By adding a wall, Davis Architecture also achieved a more welcoming entryway and improved the flow to the rest of the house. Lauren opted for a modern light fixture to juxtapose the antique rug. "We mixed in antiques with cleaner lines," she notes.
The home's boho-styled powder room speaks to Lauren's preferred design aesthetic. "We were looking for a 'wow' moment there," she further elaborates. "The family travels frequently, and we wanted to reference that with the wallpaper's rich color palette." The bamboo Chippendale mirror and mix of finishes on fixtures amplify the desired look.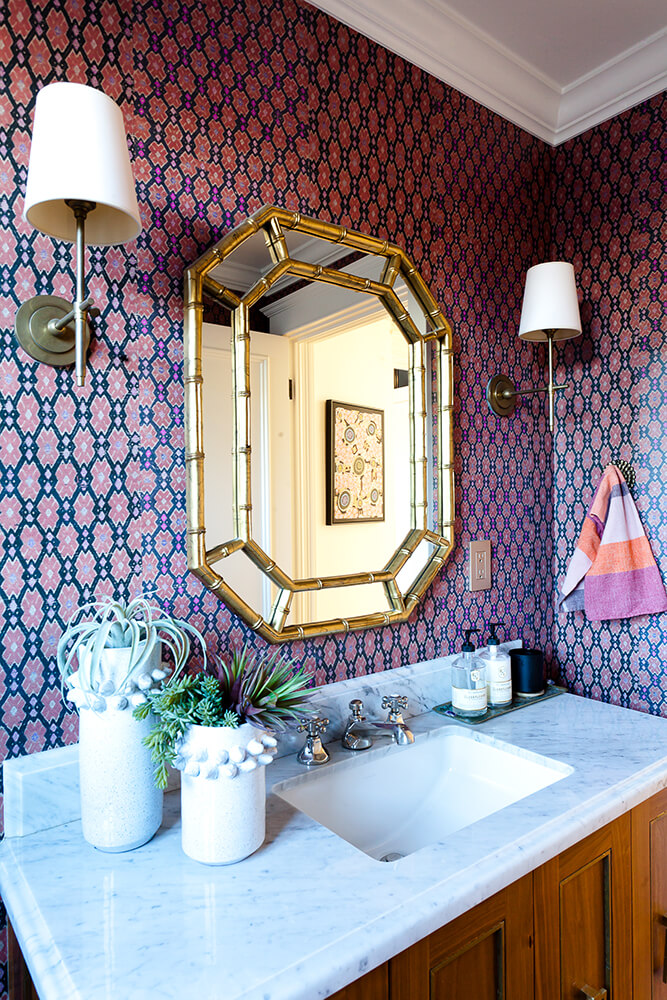 Given Lauren's personal connection to Baywood, her design projects focus on keeping close tabs on the architectural integrity of the homes she updates. "My style aligns with these homes, especially the Spanish revivals with their hand-painted terra cotta tiles. My clients are respectful of their home's architecture and the original intent of the house," she explains.
In Lauren's own home, the arched leaded glass windows and wood beams speak to the home's Spanish revival provenance. Unlike her client's colonial on Parrott Drive, she darkened the wood floors so that they would better ground the family's heirlooms and antique rugs. Many of the heirlooms—like the antique Chinese pottery and antique clock—come from her husband's family. It's an eclectic style that aligns perfectly with her home and the Baywood neighborhood—a charming community striving to remain close to its original design and intention.
Additional Design Credits

Architect: Jeanne Davis / Davis Architecture

Builder: Victor Perez / VP Construction

Landscape: Jim Redman / Elements Landscape
Historic Flavor