A Quilter Translates Beauty into Art
A quilt with a single red rose on a royal blue background brightens the white space above quilt maker Sandi daRoza's couch in her Hillsborough living room. A few quilts featuring lovely young women line her hallway. The orange one at the far end depicts a girl with big blue eyes, upswept hair and a halter top revealing bare shoulders. Her determined facial expression says, I got this, as a flowering cactus and quilted diamond pattern over the undulating orange background convey radiating desert heat. Upon close inspection, tight, intricate stitches texturize the girl's skin. In contrast, the light stitching of her blouse allows the fabric there to breathe, creating a sense of fluidity.
Sandi's quilts don't feature traditional patchwork squares, and they're never tucked away inside a linen closet. "I'm a firm believer that quilts should be seen as any other form of art," she says. "They deserve to be displayed on a mantel or beautiful wall space." 
Growing up in Vacaville, Sandi remembers her mother always working with her hands, whether she was cooking, sewing or doing needlework. She credits her mom for passing her love for arts and crafts on to her. "I always wanted to be an artist but was afraid for so many years," says Sandi. Wary of the financial uncertainty of an artistic pursuit, she pursued a career in the medical field of respiratory therapy. But she never lost her creative side.
When her two daughters were young, Sandi was able to stay home with them and found time to rekindle and explore her interests. She made jewelry, clothing and other crafts. Looking back, she's grateful that she was able to experiment with different techniques and forms. "I think it really trained my eye to be able to do what I do now," she reflects. 
About four years ago, Sandi was diagnosed with breast cancer, which caused her to reassess and take stock of her life. "It propelled me to my next level," she acknowledges. "I thought, 'Okay, I could die tomorrow. What am I afraid of?'" After her treatment and recovery, Sandi made a dramatic shift in her career: "I decided that all I'm going to do for the rest of my life is be an artist and create."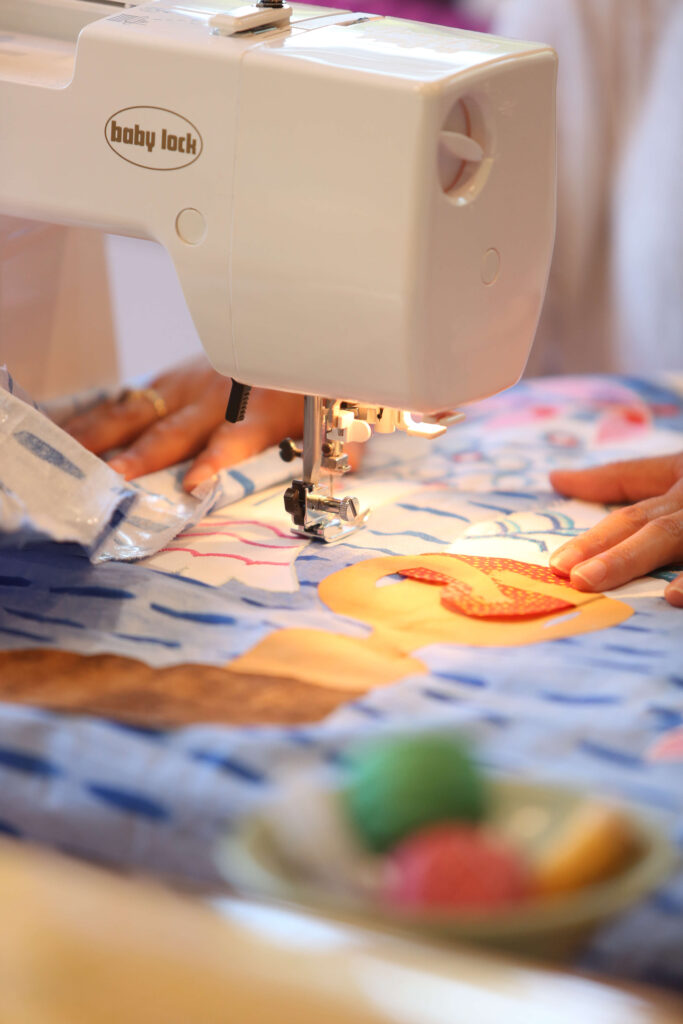 To achieve that goal, Sandi opened her home studio, Rogers Lane Studio, named after the street she grew up on. She immersed herself in different art forms like painting and doll making, but she always came back to sewing. Although Sandi doesn't enjoy making traditional quilts, she became hooked on the portrait techniques of Freddy Moran, her favorite art quilter. Sandi took a few classes with Moran and developed her own portrait style using realistic flesh tones and facial features. She also incorporates her love of bright and bold colors into her pieces. "I always like to add a lot of whimsy to my quilts because I like my quilts to be very happy," says Sandi. "I hope when people see one of my quilts that it brings a smile to them." 
Setting the right mood within her studio helps Sandi communicate that whimsical feeling through her work. Island vibes permeate the creative space. Contemporary Hawaiian and reggae music fills the room, as do stacks of multi-hued and patterned fabrics, spellbinding portraits of women and clusters of colorful flowers. Sandi also plays classic films like vintage Elvis and other feel-good movies from the '50s and '60s to help her infuse a sense of nostalgia and good times into her quilts.
When Sandi explored a painting stage, she'd go people-watching in San Francisco with her husband, Tony. She'd take photos of random people, enlarge them, then sketch the faces and paint them. But once she learned the portrait quilt technique, she began interpreting those faces into quilts. "I'm really inspired by the beauty of a woman," she explains, "and I just really wanted to bring that to life."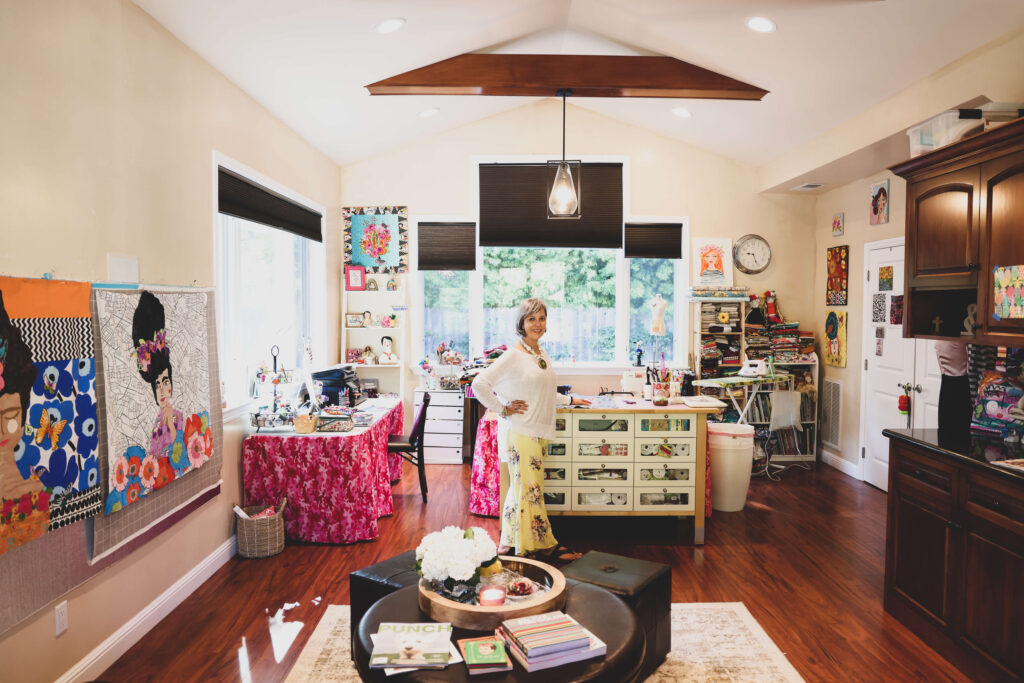 Next to one of her Frida Kahlo portrait quilts, Sandi has pinned up two new quilts she's working on. One is of a woman at the crossroads of a quilting project. "She's pondering what to do next in her quilting world," she shares, "so I threw all sorts of notions into her hair." The other is of a woman blissfully meditating in nature; flowers adorn her hair and dress and butterflies flit around her. Both women have dreamy beehive hairdos.
"All my life, I had really curly hair, and I hated it," Sandi confides. "All my other sisters had straight hair. I was the one with the curly hair, and I really never knew how to style it." However, her sensibilities completely changed with cancer treatment. "After I had my chemo, I lost all my hair," she recounts. "And I thought, 'Oh my God, give me back that hair!'" Through her quilts, Sandi channels those conflicted emotions and explores the definition of feminine beauty.
Sandi finds inspiration in many places, from the fabric itself to nature and her friends and family. Sandi's personal experiences informed the four-quilt series, Save the Tatas, that she designed for Fashion Fights Cancer's recent fundraising auction. The last quilt up for auction featured a pair of breasts painted onto a teal square bordered by a white quilted floral background. "I want to remind young girls to older women that all women should be getting 3D mammography and doing self-checks," she says. It wasn't until Sandi requested a 3D mammogram that her cancer was detected, although she'd had regular mammograms done every year.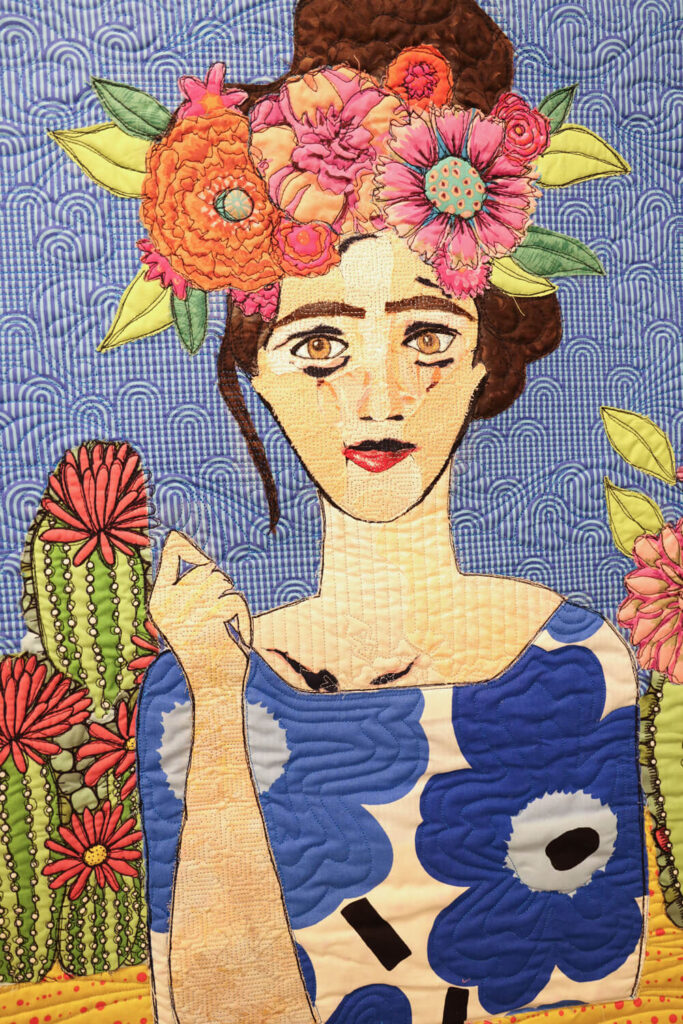 Sandi is preparing to share her quilts on a larger stage. "I'm excited about creating more," she says, "and I'm excited to show more people my art." She's "over the moon" to have the chance to do just that as an Artist-in-Residence at the 2022 Empty Spools Seminars held at the Asilomar Conference Grounds. She'll have the chance to meet renowned fiber arts instructors and share her art quilts with them and other attendees. Looking ahead to the future, Sandi aspires to one day teach at the conference.
In the meantime, she is already making the effort to impart her knowledge to others. Currently, Sandi holds workshops at her studio and teaches at local quilt shops covering raw-edge applique techniques, Frida Kahlo portrait quilts and how to color and stitch Sandi's very own embroidery patterns. "I like to show people what they can do with their embroidery," she says. "A lot of times, you embroider something, and you think, 'What am I going to do with this?' You could make them into anything but I've sampled them as pillows."
As Sandi references on her Rogers Lane website, "If you listen to the fabric, it will tell you what it wants to be." Looking at her finished works, it's clear that she has a well-tuned ear and knows exactly when a creation is complete. "I love putting together the whole image," she says. "I love the final stage when I finally can say, 'Okay, this is done.'"