To this day, interior designer Julie Cavanaugh can draft the floorplans of her childhood homes in her head. She remembers how the spaces of her youth floated from one room to the next. "I have always had an innate ability to see things geometrically," Julie shares. "I have a photographic memory and can 3D encapsulate in my mind how something should come together."
Growing up, Julie experienced sweeping, nature-filled Midwest landscapes and busy East Coast urban environments before moving to California in 1983. "When I think back on my childhood and the places I've lived," says Julie, "everything had to do with how I would see the spaces of where I lived in those communities." Since the building styles varied from place to place, Julie's interest lay in how she could play with proportions. "There isn't one set style or one set theory of design I practice by," she explains. "I love it all, and I love designing within every style."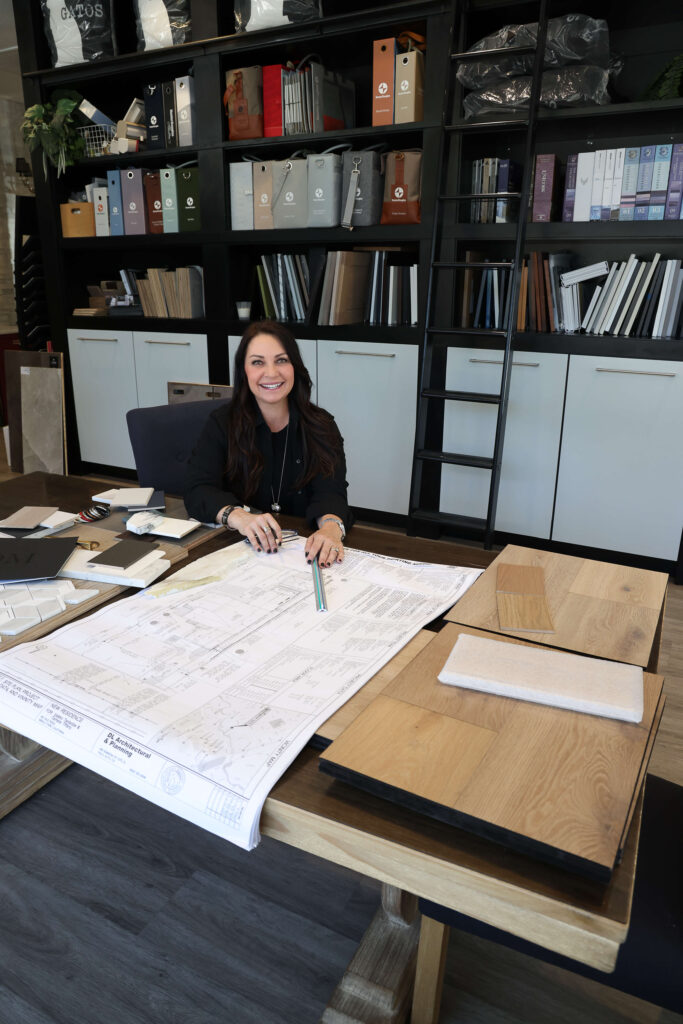 When deciding whether to study architecture or interior design in college, Julie remembers how her excitement for how buildings come together swayed her choice. "I was more interested in how interior spaces worked and how they work for the people who live in them than the building envelope," she recalls. "I was looking at spaces and how to design them from the inside out, and not the outside in." In 1998, Julie graduated with a degree in interior design and went on to obtain her licensure as a certified interior designer in 2002.
As the founder and principal interior designer at Design Matters, Julie specializes in "livable luxury." Along with its flagship showroom in Los Gatos, the design firm also put down stakes in Redwood City, Morgan Hill and most recently, Jackson Hole, Wyoming. "Having design work that matters in all different kinds of communities is what helped me to branch out and boutique our flagship location," observes Julie.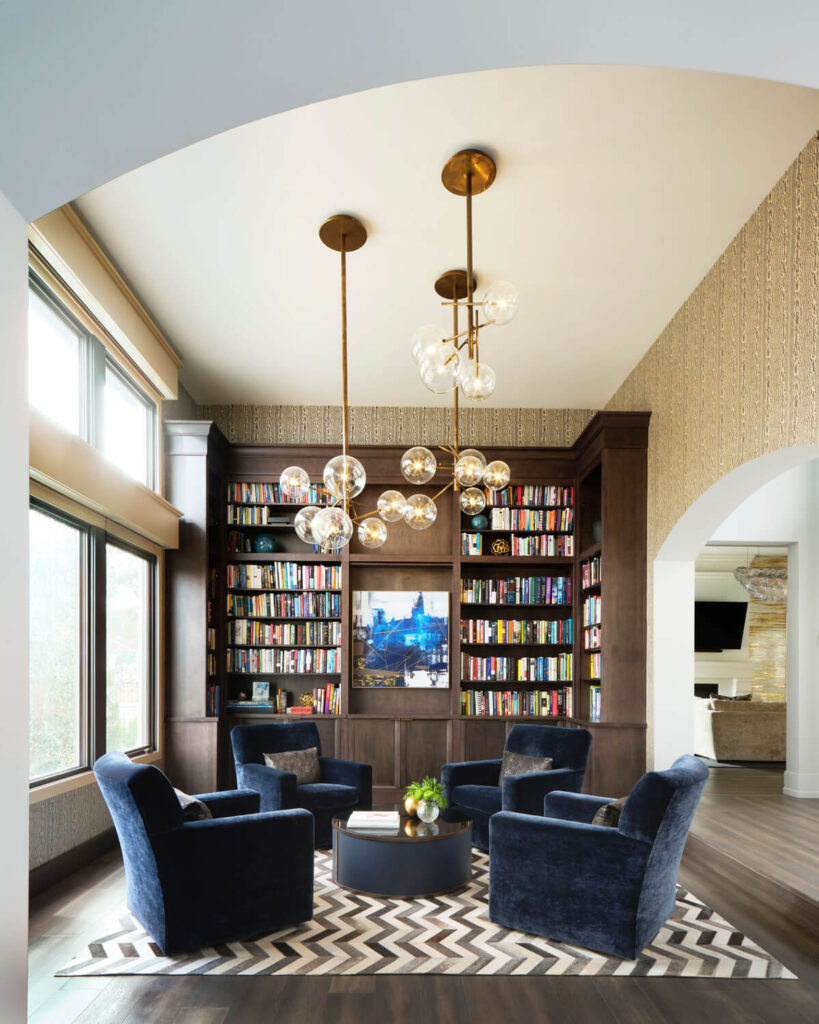 Recently, Julie and the Design Matters team completed a massive interior design project that brought luxury into every inch of a newly built 15,000-square-foot Los Altos Hills estate. Although constructed as a classic Mediterranean villa, by using a lighter exterior range of colors, Julie created the flexibility to transition into a very different interior experience. Ultimately, the design incorporates high-end finishes and high-tech amenities that capture the essence of the family that lives there. "It is a masterpiece inside on another level that has nothing Mediterranean in it whatsoever," Julie points out. "We were able to give it tons of youthful style, color pops and vibe, while still respecting the architectural value that needed to be present."
The homeowner, a Peninsula executive, tasked Julie with creating a family-friendly home that also lends itself to business gatherings. Given the emphasis on enjoying a balanced lifestyle and spending more time with family, Julie transformed spaces to include areas for entertainment options like a wine tasting room, movie theater and an expansive covered pool deck patio for intimate private events. "I had carte blanche to really look at each space and look at the composition of the house and its entirety, allowing me to create something that is one-of-a-kind, special and orchestrated for that client and family," notes Julie.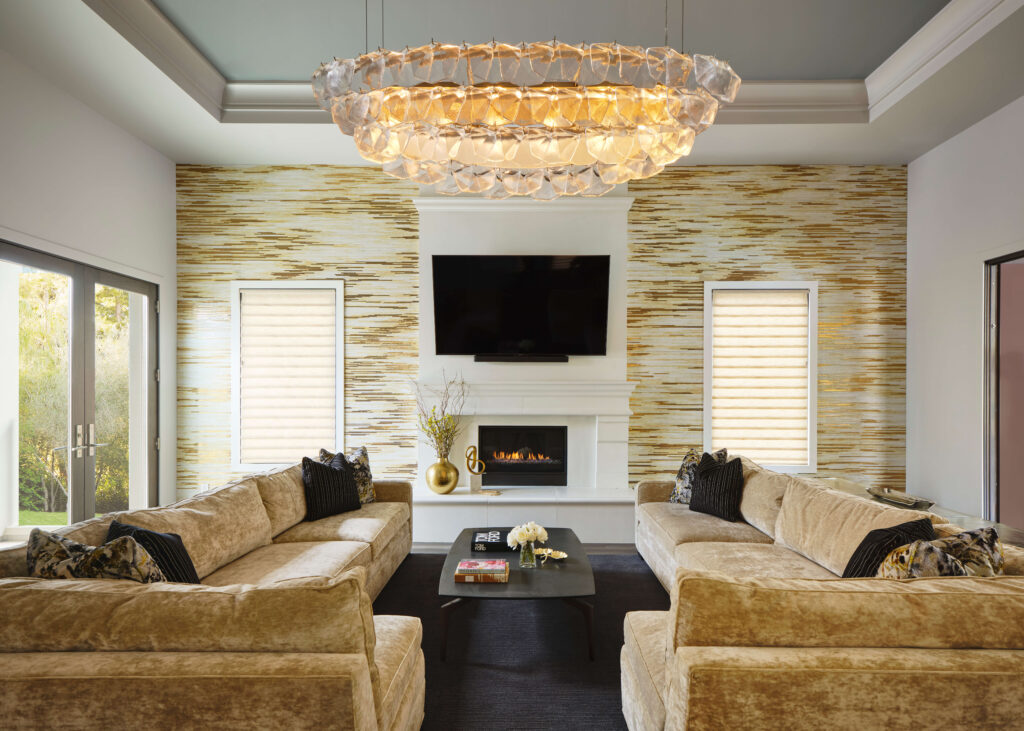 In her design for the villa, rooms organically connect and build upon each other as they are experienced. Julie thinks about her design process this way: "There may be a tiny thread of continuity as far as something that you see in the entry and you don't know how it's going to come forward into the rest of the house until you go through the kitchen, the great room spaces and to the outdoors. There are all kinds of things in the house that are tied together in very subtle ways to make that relationship happen."
From the gathering room's gold-threaded tile to the resort-style cabinetry and show-stopping chandeliers throughout the home, Julie counts the villa project as one of the most stunning houses she's ever worked on. She used color, texture and proportion to tie the home's design together. She also explored the volume of spaces. "I was able to put more punch into the smaller library space," she cites as an example, "than I did in the gathering room that's a bit more wide-open and a little quieter in materials."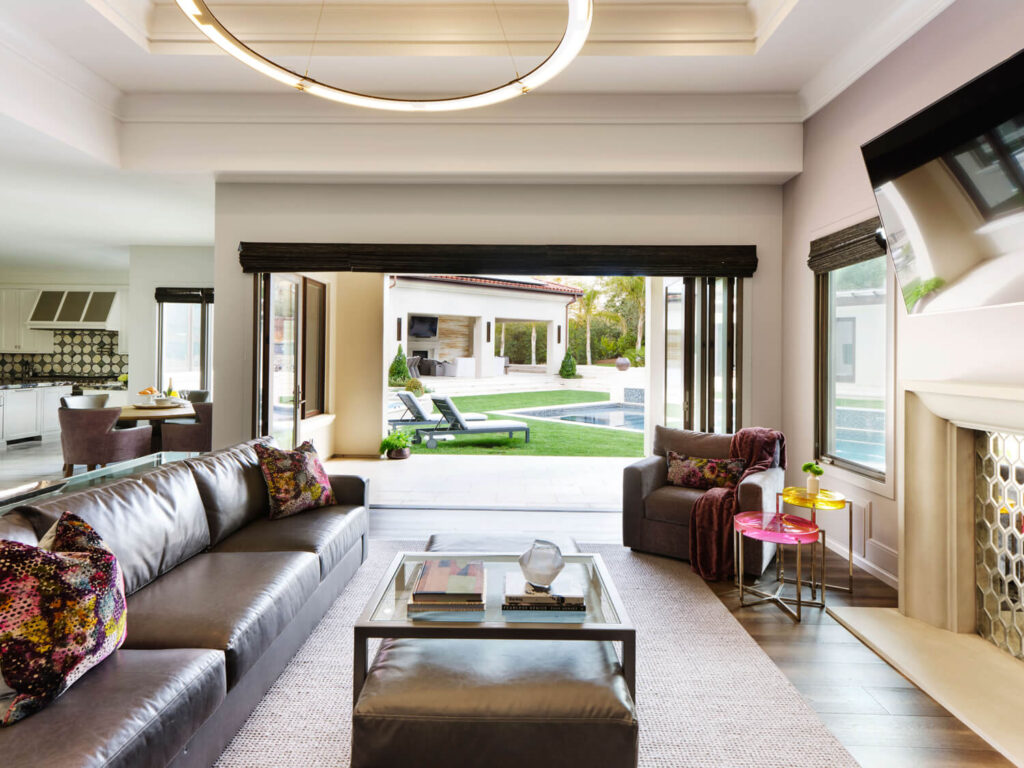 From the homeowner's perspective, Julie's final design struck exactly the intended balance—providing all the necessary space for family life with the ability to easily accommodate business engagements. And, Julie's selection of materials fully captured their desire for color, textures and bold choices. 
When asked, it's difficult for Julie to choose her favorite room in the house. "Every space is spectacular in its own right," she says, although she does hold a special affinity for the library. "It's a combination of what that function is, a contemplative place to lounge and a less energetic area of the house, which we designed in a way that is full of vibe and interest." Julie especially loves the oversized lounge chairs, dramatic lighting, built-in bookshelves and custom stain color she developed with her team.
As an interior designer, Julie weaves together interior living spaces for her clients and is also entrusted with creating the story of the home for her clients. "We take so much pride and so much happiness in working closely on our clients' projects with them," she reflects. "It's really quite a creative force that happens and it's why I get up every day to do my job.