Every Friday and Saturday night there's a whole lotta shakin' goin' on up on the second floor of The Swingin' Door, a British-loyal restaurant pub in San Mateo. No need to go to New York or Las Vegas to catch a dueling piano show. Grab a cold draft at the bar, pull up a chair and take in a scene that's been happening here since 2007.
On this particular night, John Crampton and Nick Hymes are pounding the keys, sorting through the slips of papers scrawled with audience requests, tucking away tips and belting out favorites from the last several decades. "Piano Man," of course. Considering the context, that's always a gimme. For four straight hours, the hits just keep coming: "Don't Stop Believing," "Sweet Caroline," "Billy Jean,"  "Brown Eyed Girl," "Crocodile Rock."
As the infectious chorus to Elton John's classic approaches, John leaps up from his bench to engage the audience in a battle royale. He gestures to the crowd seated to his left and they sing out in response: "La lalalalala…!" "Try this side, John!" yells Nick, continuing to bang out the piano chords. John points to the right, and a cacophony of voices chime in with a "La lalalalala…" room-blasting counter attack.
Up and down the Peninsula is a stage almost every night of the week that offers live music for anyone in search of it. Scores of local bands and traveling acts have several opportunities to perform, be it at an English pub, a trendsetting brewery or an iconic watering hole just off 280.
At The Swingin' Door, owner Warren Chapman had two goals in mind when he retired from his career in tech a little over a decade ago: Spend more time with his daughters and run a business that reflected the communal hubs he admired as a kid in Manchester, England. When he bought the San Mateo pub in 2006, he accomplished both; his four daughters and the family dog drop by for lunch and there's music or comedy every night of the week.
The Swingin' Door originally opened in 1955 and has an illustrious history for a local joint. The Kingston Trio performed one of their first concerts here and the likes of Bing Crosby, Betty Grable and the Rat Pack also passed through. With the dueling pianos playing, and a variety of British, Canadian and Belgium imported beers to choose from, The Swingin' Door still delivers a memorable "night on the Peninsula town" music experience.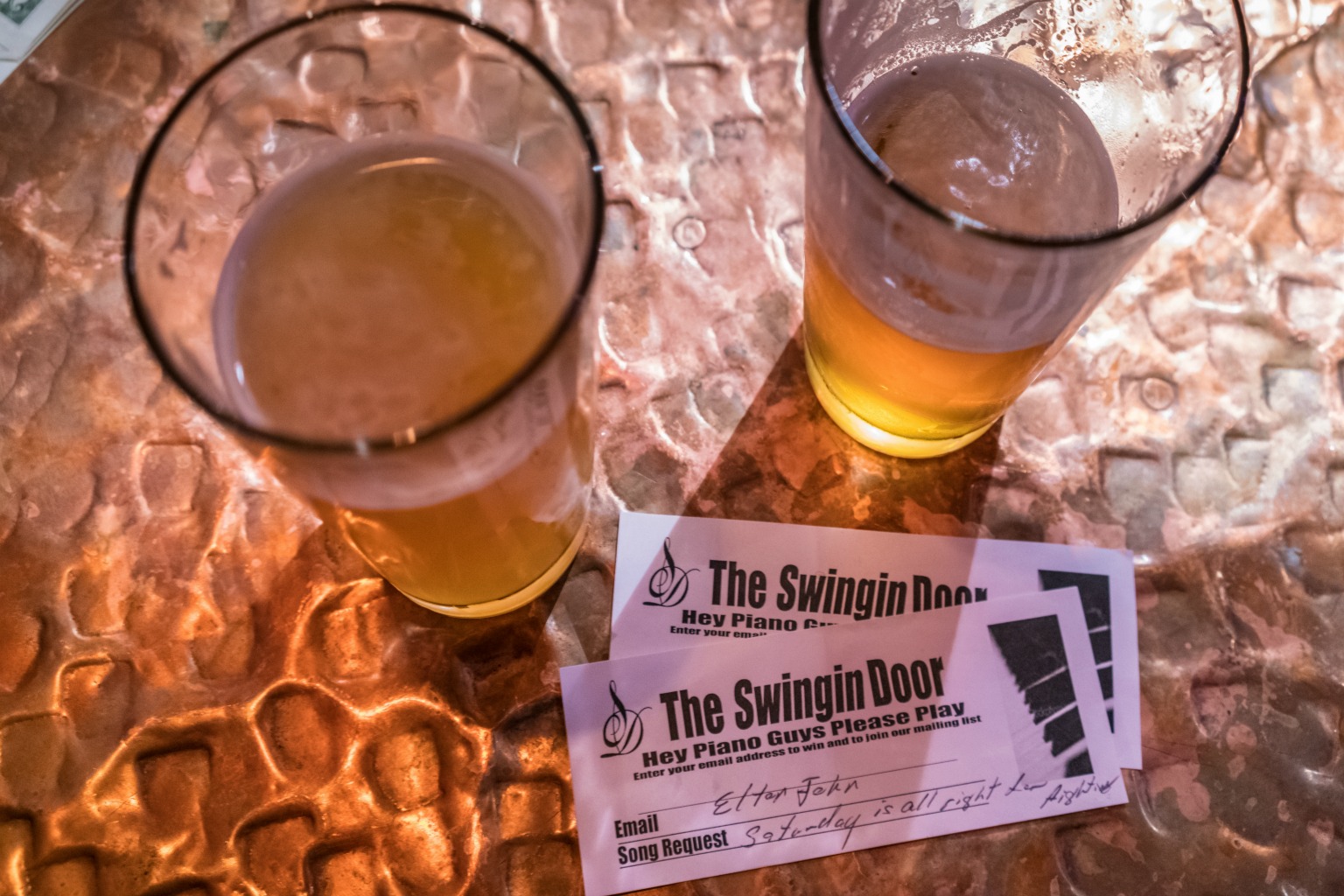 "It's interactive. People like engaging," says Warren. "People go to a concert and it's more one-way. It's really big for special events like birthday parties, bachelorette parties, anytime you want to get a big group of people together. People say they didn't know it was here—that it's the best-kept secret on the Peninsula."
Travel south down 101 and you'll find Freewheel Brewing Company and Devil's Canyon Brewing Company, two breweries that bond beers with robust music programming. "We are very serious about the beer—but also about what happens inside here," says Devin Roberts, general manager of Freewheel.
Along with a regular Monday night pub quiz and stand-up comedy shows, a typical month at Freewheel includes an eclectic live music selection—ranging from rock and bluegrass to folk bands and blues and even an open mic night. You'll see occasional out-of-town talent, but the focus here is mostly on Peninsula bands (complete with their own local groupies), whether it's Willy and the Four Boys, a cover band comprised of five Palo Alto High School teachers, or The Members, a group of Menlo Park dads who always pack the house.
Freewheel established itself as a brewery that produces cask ales—an historically British style of beer that's naturally carbonated and served at cellar temperature—but expanded its offerings to include familiar West Coast-style keg beers, along with bottles and cans. The brewery also draws directly from another British tradition, by fostering a sense of community. "We opened with the idea of being in the style of the English pub. Not in the sense that you see Union Jacks on the wall but that it's your local spot," Devin says. "We're that place you can meet over a proper pint and a bite to eat. Just come hang out with friends and know you're going to be entertained."
Five miles away in an industrial section of San Carlos is Devil's Canyon Brewing Company, which perpetuates the logic of "less is more." As opposed to opening up their production facility to the public every day of the week, Devil's Canyon is only open on Friday evenings. But it's an end-of-the-week treat that's open to all ages, a rare find in the beer industry—with families, including young children, hanging out in the annexed barrel room. As the brewery sums it up, "Every Friday we throw a party and everyone's invited."
Billed as "Beer Friday" whenever it's the last Friday of the month (or "Beer Garden Friday" for all other Fridays), Devil's Canyon opens up its full-scale production facility (over 7,000 square feet of convertible space) for food, live music and, of course, fresh craft brews. Beer Garden Fridays typically feature more mellow, acoustic sets whereas the end-of-the-month Beer Friday invites rock, reggae or pop acts to the stage. "The owners wanted to make something they could share with people that was tangible," explains Rebekah Atwell, the brewery's creative director, of the Friday tradition. "It's a nice way for us to say 'this is why we do this.'"
A rotating cast of "Off the Grid" local food trucks—including Hula Truck, Whisk on Wheels and Capelo's BBQ—pull up outside to complement the brewery's creative selection of rye IPAs and scotch ales. And you can feel good with each purchase due to their Cheers for Charity program, which donates a portion of every Beer Friday's revenue to local organizations like Samaritan House San Mateo and the Museum of San Carlos History.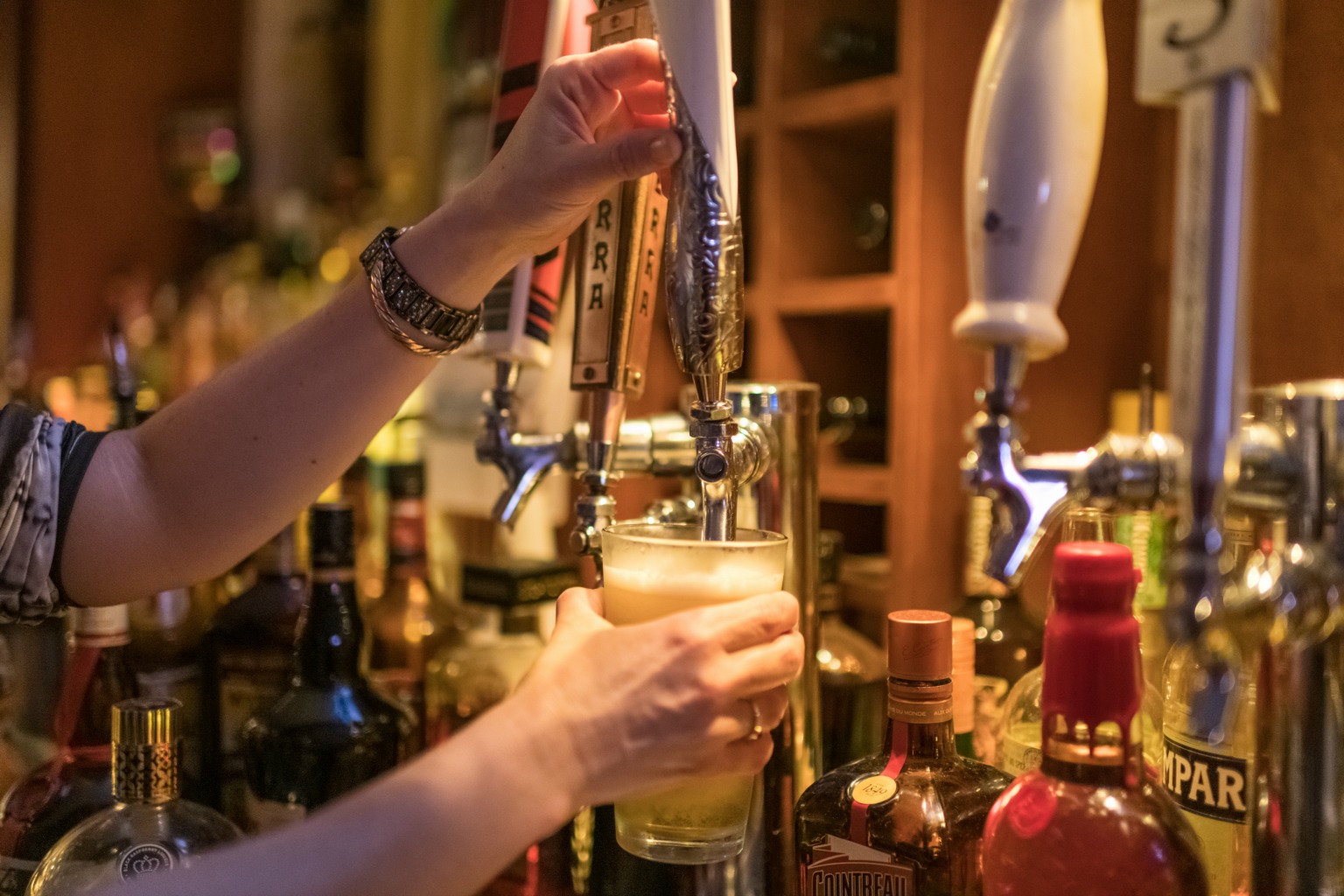 On the other side of 280 is a destination bar at the bottom of Whiskey Hill in Woodside that dates back to 1860. The Pioneer Saloon (or "Pio" as it's referred to by locals) maintains a simple tradition of offering live music throughout the week and keeping beer, wine and spirits in high supply. Local favorites Dutch Uncle come around monthly to perform a setlist of classic 1970s rock covers, and Woodside resident Joan Baez recently popped by for a set.
Jennifer Gilbert, whose family purchased The Pioneer Saloon in 1995, says it's not just the music that draws the crowds. "There are a lot of dancers out there and I think it's hard to find a dance floor on the Peninsula," she says. The Saloon's cozy, laid-back atmosphere is also a big appeal. In a community once home to Steve Jobs, patrons at the bar range from tech entrepreneurs to brick layers sitting elbow to elbow. "It just seems like that kind of comfortable, local place," summarizes Jennifer.
Expect to pay a $5 cover charge at The Pioneer Saloon; entertainment is free at the others. Different venues, different vibes—but it's all live music Peninsula style.