Tucked off Highway 1, just south of Half Moon Bay, rest the lush fields, elegant heirloom gardens and wide pastures of Sweet Farm. As you walk up the garden path lined with towering sunflowers and leafy greens, the crow of a rooster may greet you, followed by the bellow of a cow wondering when her lunch is coming. A flock of wild geese fly down to the hilltop they've claimed as their haven. Sweet Farm is a sanctuary, so the animals that live here are not compelled to have any interactions with humans, but as you walk through the enclosures, you'll likely meet a trio of handsome goats—Hoover, Brownie and Butterscotch—who'll fall into step with you and happily accept scratches between the ears. Emboldened by the curiosity of the goats, a few tentative sheep and a pair of fuzzy Vietnamese pigs may edge just a little closer to take your measure.
This feeling of encountering animals on their terms is one of the many things that sets Sweet Farm apart from a traditional ranch. Here, animals focus only on their own existence. "We are a sanctuary, not a petting zoo—it's a very important distinction," co-founder Nate Salpeter explains. "The animals are allowed to come and go as they please; a sanctuary is a safe place where they can live out their lives."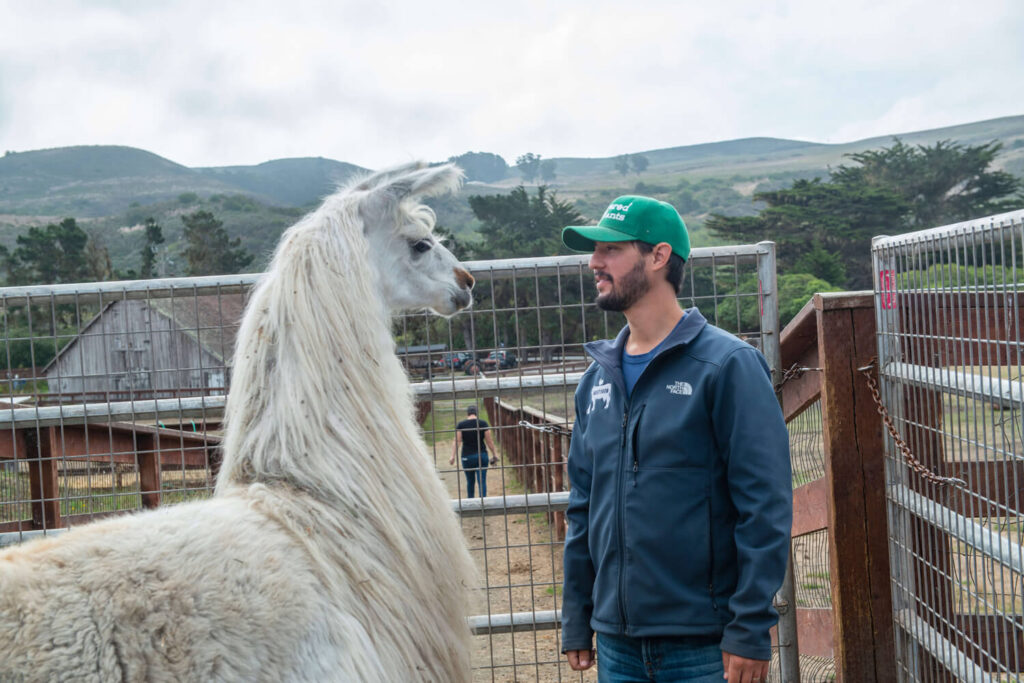 dolly + chica

These two lovely llama sisters are recent arrivals from Southern California. "They were on a very small property," Nate shares. "Their diets weren't great and they had a severe thiamine deficiency that led to Dolly becoming blind. Luckily, as soon as that happened, we got contacted about bringing them here. A vet came out to see them and put them on thiamine treatment so Dolly got her eyesight back."
Still, Sweet Farm's animals play an important role here. In this setting of simple, picturesque beauty, there's a far more complex mission underway. Behind the scenes, Sweet Farm is actively redefining what it means to be a sanctuary—through farm-animal rescue, education programs, veganic agriculture and cutting-edge food and agricultural technology—and the animals are Sweet Farm's ambassadors.
As co-founders of Sweet Farm, Nate Salpeter and Anna Sweet (the farm takes its name from hers,) work tirelessly to increase awareness around the impact of factory farming on animals and the planet. With over 140 farm animal rescues, each with a story, Sweet Farm seeks to inspire a message of compassion, respect and sustainability. From Gizmo, a young steer and 4-H project who was destined for auction, to Nibblets, a goat rescued from a live market by a local family, they're brought here to find healing. "If there's quail who needs tiny stitches, a turkey that needs a CT scan or a cow that needs an ultrasound because of a belly ache, we make sure every animal gets what they need," says Nate.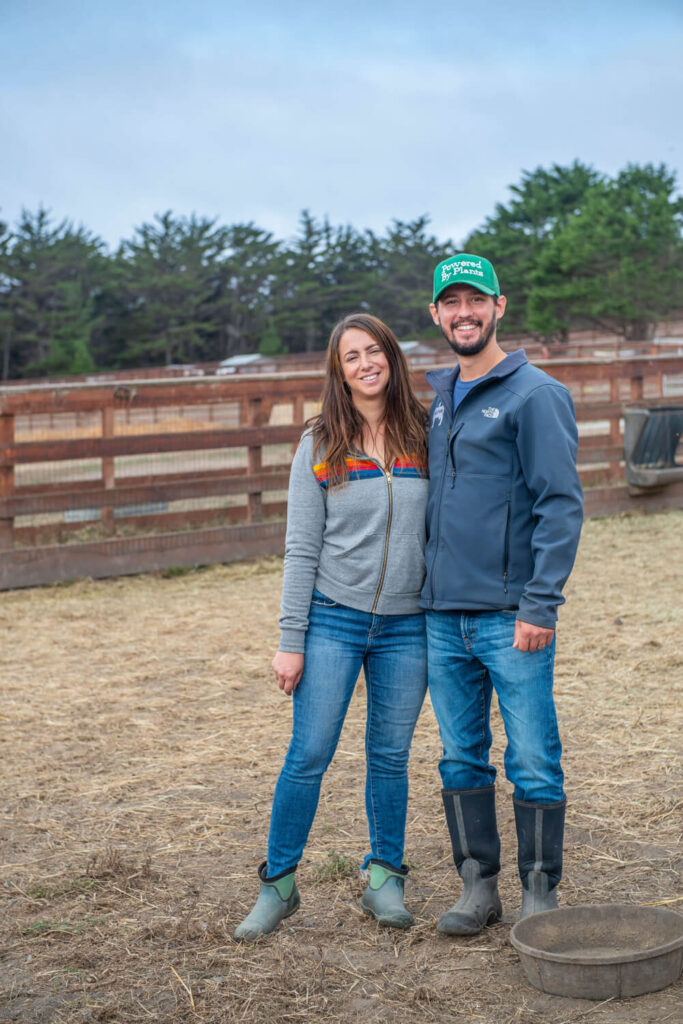 Some animals, like one of Sweet Farm's first rescues, Stella, just need space and freedom. Nate discovered the sheep standing off by herself at a petting zoo when he went to buy a truck from a farmer. Stella had grown too big to work at the zoo but too small for meat or wool, so the farmer was going to put her down. Remembering the encounter, Nate smiles fondly at Stella, who is keeping her own company at the far edge of the paddock. "I said, 'Well, if you want this check for the truck, she's coming with me,'" he recalls, adding, "Now, she wants nothing to do with people." Luckily for Stella, at Sweet Farm, that's not a problem.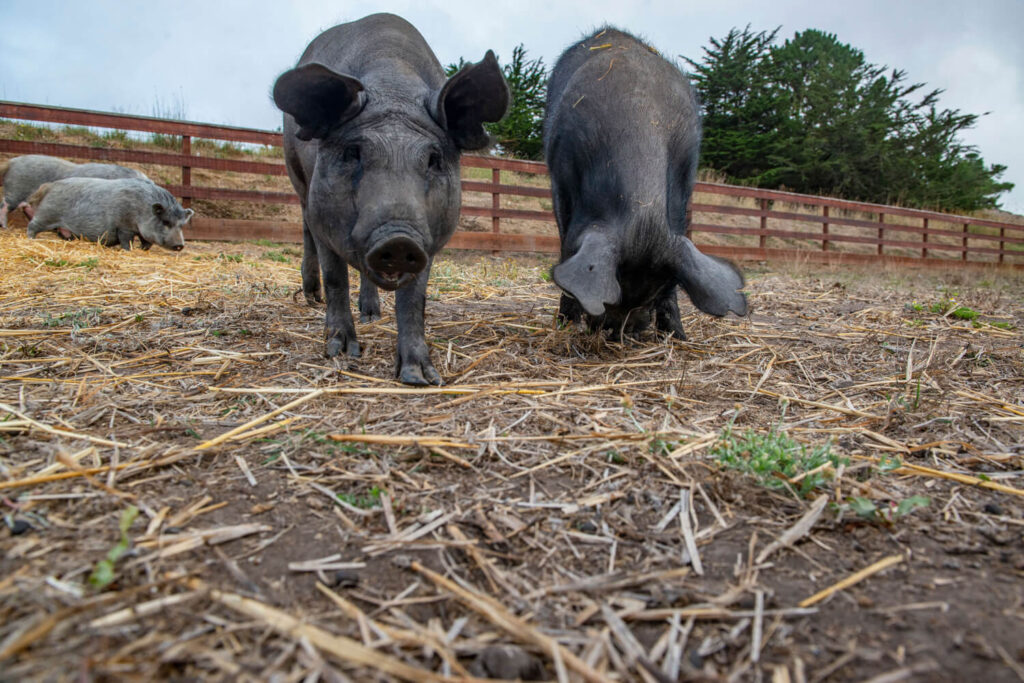 Sam + Frodo

"Because they'd lived their whole lives in cages, when they were first let outside they couldn't even really run," Anna says, of Sam and Frodo. "They didn't even know how to be pigs." Named after characters in The Hobbit in tribute to the long, challenging journey that brought them from a dermatology lab to Sweet Farm, the pair enjoy playing in their pasture and napping in piles of hay with their sheep friends.
Introduced through corporate retreats, school field trips and monthly open houses, Sweet Farm's animal ambassadors are at the heart of Nate and Anna's mission to show how small changes can make a big impact. By telling the individual stories of how animals are rescued, the larger view comes into focus. To bring their unique spirits to light, Nate and Anna give every animal a name that reflects how they came to be at Sweet Farm or a personality trait. Sweet Farm stresses progress over perfection and visitors learn how they can be part of the solution. "When we teach people about the animals, we interject little things people can do to make small changes, like oat milk in your coffee instead of cream," says Nate. "Things that are beneficial for animals, the environment and one's own health—we can all make changes that have an impact."
The origins of Nate and Anna's "farm with a mission" dream date back to when they were living in downtown Seattle, nurturing a rooftop garden and working with dog and cat rescue shelters. Nate remembers the effort that went into that first garden project with a laugh. "We hauled 4,500 pounds of soil up to our roof," he says. "We were growing sunflowers and cucumbers; we had apple trees up on the roof. We were very much into this realm of sustainable living and growing food for ourselves and our community." Anna leans forward to expand on Nate's point: "We've both always been animal lovers. We wanted to find a way to make a bigger impact and farm animals are the least talked about."   
Stella

Stella was one of Nate and Anna's first rescues from a petting zoo. "You might think because she comes from a petting zoo that she's social and used to people," Nate says, "but actually the opposite is true. She'd been forced to live in a confined space where she was tugged around, and when she came in here she was like, 'I'm going to spend my days about a hundred feet away from any human.'"
When Anna was recruited to work in Silicon Valley in 2015, the pair decided it was time to start implementing the larger dream that had been percolating for years. As Anna puts it, "Starting a farm seems like something you could always want but never do, so when we found this property we just jumped in and started working." Shortly after buying the land, they were married on their new Sweet Farm property.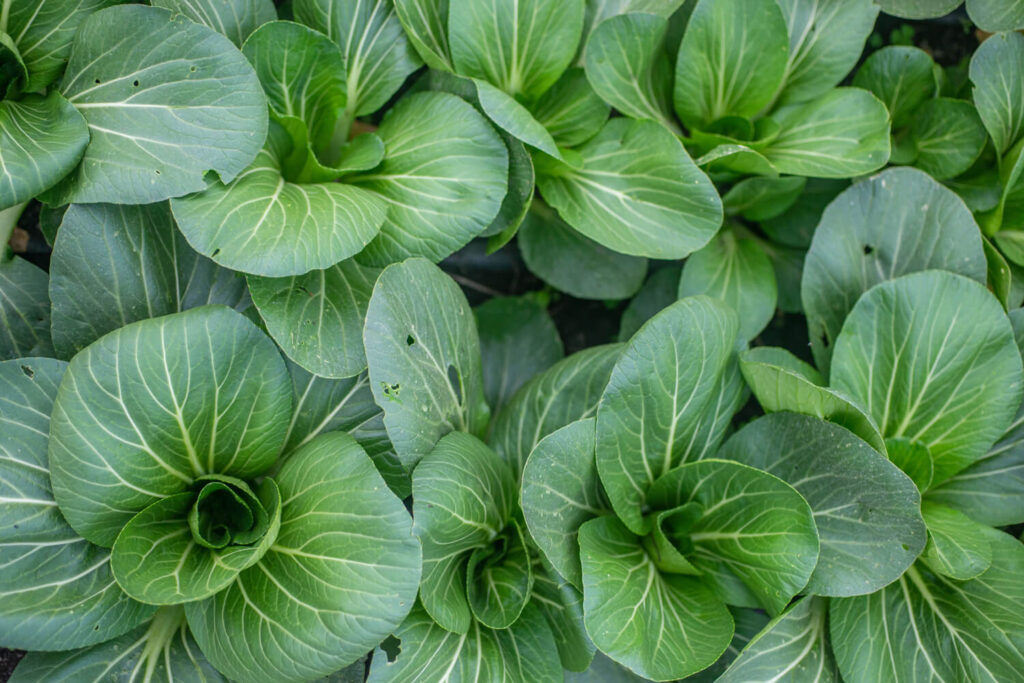 Though Sweet Farm feels rural, it's centrally located between Santa Cruz, San Jose and San Francisco. "When we founded Sweet Farm, we knew we wanted to make it accessible to all people, but we also had to make it sustainable as an organization," Nate explains. "Being here near Silicon Valley and the Bay Area made it possible to have corporate groups come out and do retreats and volunteer days." The fees charged for corporate events offset the cost of Sweet Farm's education program, which allows public school students the opportunity to come out for visits. "It's a Robin Hood model, if you will," Nate clarifies, "to make sure the whole community is supported. And we've done that with all of our programs."
Nate and Anna both have demanding full-time day jobs—he's a nuclear power consultant for a number of organizations, including the Department of Energy, and Anna is CEO at Bad Robot Games. As Sweet Farm continues to grow, Nate focuses primarily on building funding and choosing the agricultural technology projects used in the farm's veganic gardening; Anna concentrates on animal rescues and expanding their education program. To keep Sweet Farm running, Nate and Anna engage a staff of eight, including two full-time farmers, development and education directors. They also rely on a team of roughly 25 volunteers committed to spending an hour or two a week working with the animals and gardens, as well as running Sweet Farm's CSA and farm stand.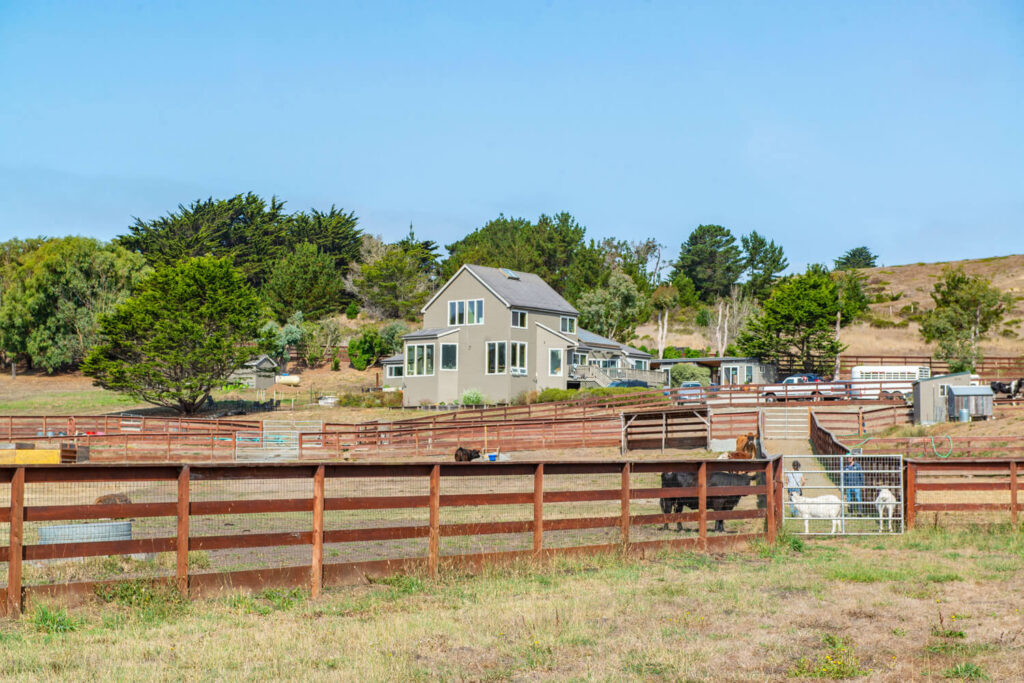 Because of Sweet Farm's dedication to avoiding all forms of animal exploitation, they use only veganic farming techniques to grow their diverse heirloom crops including beets, basil, eggplant, purple chives and squash, along with flowers like dahlias and sunflowers. As Nate walks carefully between rows of bright red strawberries, he talks about Sweet Farm's partnerships with humane and sustainable startups: "With our technology programs, we're helping entrepreneurs in food and ag tech all over the world get their companies and ideas off the ground to transform them into global game-changers."
Nate points to a scalable technology they use called biochar, created by Redwood City-based Bioforcetech. Biochar is created from human—rather than animal—waste. "It sounds weird," acknowledges Nate, "but a lot of times the biomass that comes out of waste water treatment plants is packed into bricks and tossed in a landfill. Bioforcetech burns it with little to no oxygen and turns it into a highly porous carbon that contains the microbes that make soil really rich, fertile and healthy." As another example, Sweet Farm partners with InnerPlant to further research into the development of a robotic pest spotting device that is capable of detecting pest, water, nutrient and fungal stresses in a matter of days as opposed to weeks.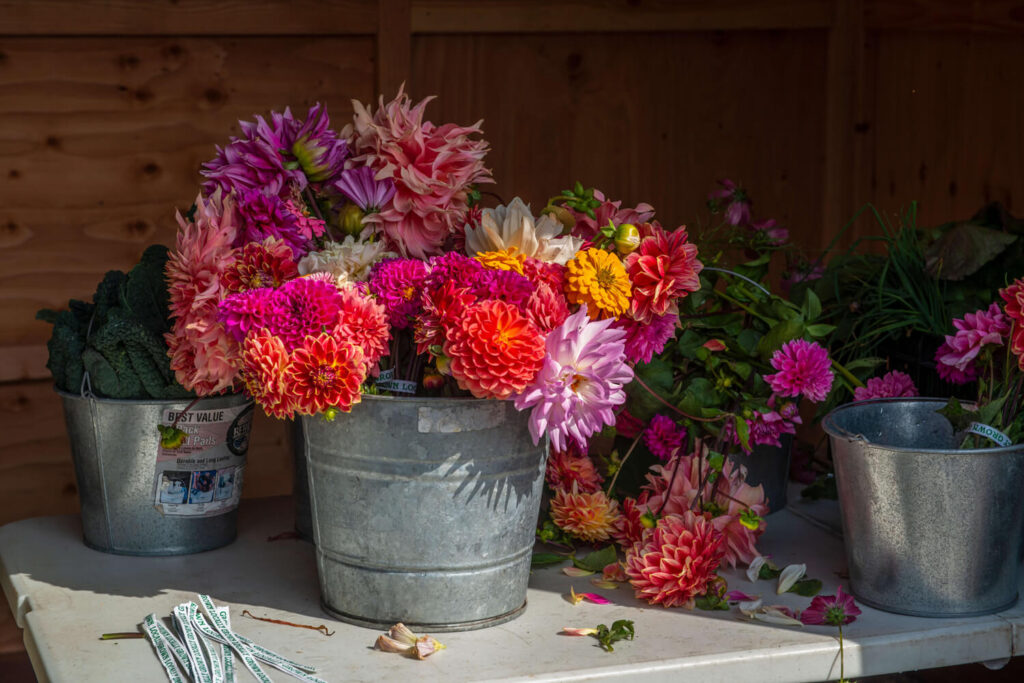 A timely illustration of Anna and Nate's innovative, get-it-done mindset is the wildly successful launch of Sweet Farm's "Goat 2 Meeting." Nate explains how the idea was conceived on March 25: "We had an emergency board meeting and one of our board members, Jon Azoff, said, 'I'm stuck in these video calls all day, every day, and it would be great to have one of the Sweet Farm animals jump in and have you tell us their story." Sweet Farm joined a meeting the very next day and then a few more the following day; by the end of the first week, they were booked a week out. After Goat 2 Meeting started gaining media attention, the quirky concept took off and they've now brought farm animals to over 6,800 meetings worldwide, reaching over 250,000 people.
When Goat 2 Meeting demand exceeded what Sweet Farm could independently manage, they reached out to ten other sanctuaries to spread the meeting time out to additional goats, llamas, horses and any other camera-ready farm creatures. They also partnered with GoToMeeting—the platform that inspired the playful play-on-word offering—to meet the technological demands of managing bandwidth and the difficulties of stabilizing phone cameras while walking over uneven pasture land.
As they creatively manage more complicated times, Nate and Anna look forward to further expansion, hopefully gaining more acreage in the next few years, while they grow their message of promoting farm animal welfare and working together to create a more compassionate world. Looking out over the land they've cultivated with their unique brand of principled commitment, Nate notes that Angel, a small black cow recently rescued by Sweet Farm, appears to be happily communing with Gizmo. "Animals dream, they get excited about things, they get into mischief," he says. "Every animal rescue is fulfilling. We try to give voice to the voiceless."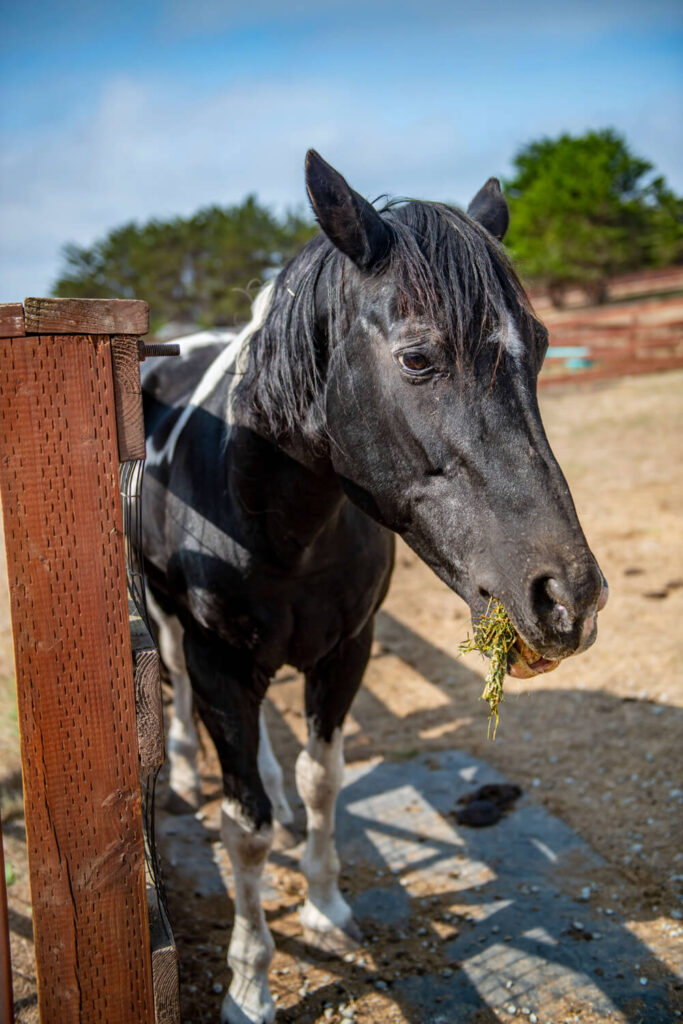 Sturgis

Even with the loss of one eye due to ocular cancer, Sturgis is a handsome devil of a stallion who keeps defying the odds. After arriving at Sweet Farm with an array of health issues, he was initially given only three to six months to live by the equine veterinarian who treated him. Sturgis has outlasted that prediction by five years. He is now best friends with Sweet Farm's steer Gizmo, and they're frequently seen playing and napping together in the pasture. Watch how their sweet relationship developed by searching "Sweet Farm Love Story" on YouTube.