Here's an interesting fact: Avocado trees are challenging to grow in Northern California and can live to be 400 years old. If you're lucky enough to have a healthy avocado tree, the logical takeaway would therefore be… hang onto it.
That was a Los Altos couple's plan when they started envisioning a rebuild of their 1950s-era 1,300-square-foot ranch home. In addition to preserving the property's thriving avocado tree, they were also in full agreement on the style of their dream home: California Mission Revival, complete with rounded archways, white stucco exteriors and clay roof tiles. They knew the final design had to accommodate multi-generational living, allowing for privacy and all the conveniences making aging-in-place possible. And all of this needed to happen on a 65'x170'-square-foot lot.
Enter Matthew Harrigan, founder and president of Saratoga-based Timeline Design+Build. "'Whatever you do, don't touch the avocado tree,' they told us," Matthew says, recalling the early guidance that triggered immediate architectural design constraints. "Because of the narrowness of the lot, it really forced the dining room to be in the middle of the house with no windows, no light and no view." A huge fan of natural light, Matthew refused to accept what seemed inevitable, drawing on decades of practical construction and engineering experience to find a solution.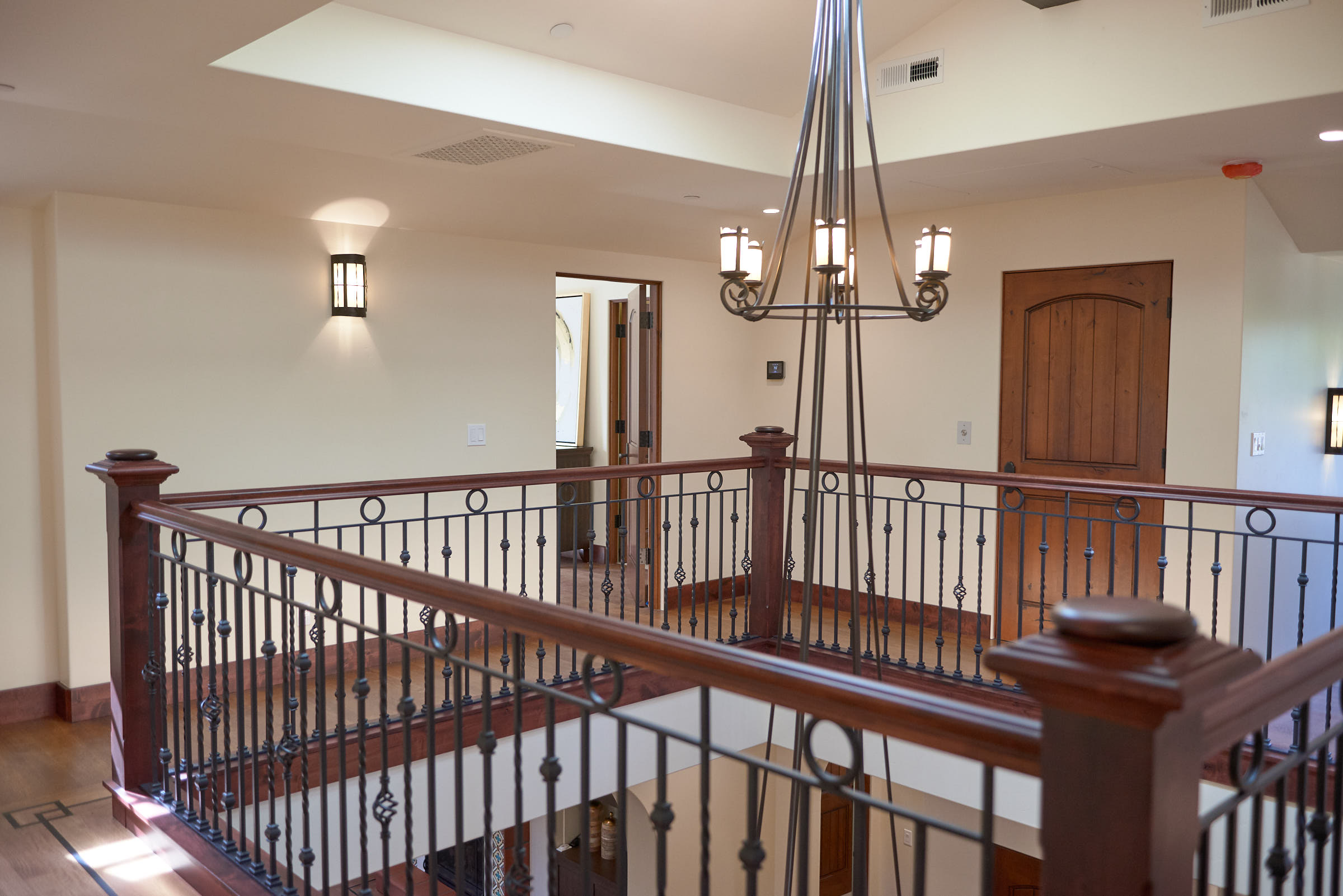 It's the kind of problem-solving that's second nature to Matthew. Growing up in Mountain View, Matthew was 11 years old when his parents bought a new house and hired a handyman to put in built-in cabinetry and a deck. Determined to provide a helping hand, Matthew tagged along, learning how to use a table and skill saw. By 12, Matthew had moved on to building decks for the neighbors and at 14, he took out an ad in the Los Altos Town Crier to get jobs for the cabinet-making business he was running out of his family's garage. When Matthew finally took woodshop at Mountain View's Awalt High School, he was a bit more ambitious than his classmates. "People were making little cut-outs of ducks, and I built a huge table with turned legs. That's kind of crazy," he reflects. "I don't think I even realized at the time how much more advanced I was. I've always had a passion for building."
Matthew applied that passion to his studies—civil engineering at Santa Clara University and Electrical Engineering at UC San Diego, before attaining a certification as an Interior Designer and becoming a California-licensed general building contractor. Dismayed by the inefficiencies and disorganization he experienced on job sites in the '80s, he decided to go into business for himself, founding Timeline in 1990. "I'm a very checklist/Excel/methodical kind of person. I felt if there was better pre-planning, we'd have better execution and a better end product," he says. "That's why I named it Timeline—to be organized in an efficient manner to get things done in a reasonable timeframe."
To achieve that goal, Matthew's firm takes a design-build approach. "For me, it's very important that you have a coordinated effort between the interior designer, the architect and the builder, and so historically, we've done it all in-house. I'm a big proponent of design-build." Over the course of Matthew's career, Timeline's team has completed over 700 residential projects, including remodels and custom homes. And that brings us back to that dilemma in Los Altos.
"I came up with the idea of opening up the ceiling to the second floor, and when I presented it to the client, they ended up loving it," says Matthew.
Working as a team, Matthew and Timeline architect Ope Tani and Shlomi Caspi designed a 5,400-square-foot home anchored by the dramatic element of a central dining room opening up to a second-floor gallery. With large skylights piercing through the roof, natural light pours down into the atrium below. Completing the effect, Matthew commissioned designer Roy Johnson of Roy's Lighting to craft a custom dimmable light fixture that felt authentic to the home's Spanish colonial influences. "It's the perfect light fixture," Matthew notes. "It has two levels of lights with a remote control. That way, if kids are asleep upstairs and have their doors open, they don't have to have light blasting into their rooms."
Future-proofing the home to accommodate evolving family dynamics helped guide design considerations; Timeline knew the household could potentially expand to include more children and two sets of in-laws. "Having three generations live here was the objective—creating a house suitable for multi-generational living," Matthew says. "Everyone has their privacy. The basement has its own unit. We have one guest room off by itself on the main floor and then three bedrooms on the upper level for the young family. With an elevator for aging-in-place and barrier-free shower designs, we've made a three-level home fully accessible."
The Los Altos couple also knew the exact style they wanted for their dream home. "They both love mission-style architecture, and so that was definitely what it was going to be," Matthew says. "They brought a real passion to it. They kept us on our toes because they probably have read more books about mission-style architecture than we have and they know everything about it."
Dating to the late 1800s, California Mission Revival draws its influences from colonial-style Spanish missions in California from the 18th and early 19th centuries. The architectural movement calls for simple materials and simple lines: white stucco, red roof tiles, oak floors. "There are no crazy roof lines. It's all gables and arches. Wooden beams. Wrought iron railings. And I just love the Saltillo tiles. They actually went down to Ensenada and got them custom-painted," says Matthew, summarizing the home's signature elements. "And covered porches to protect you from the heat and the sun, so that's what we've got out back."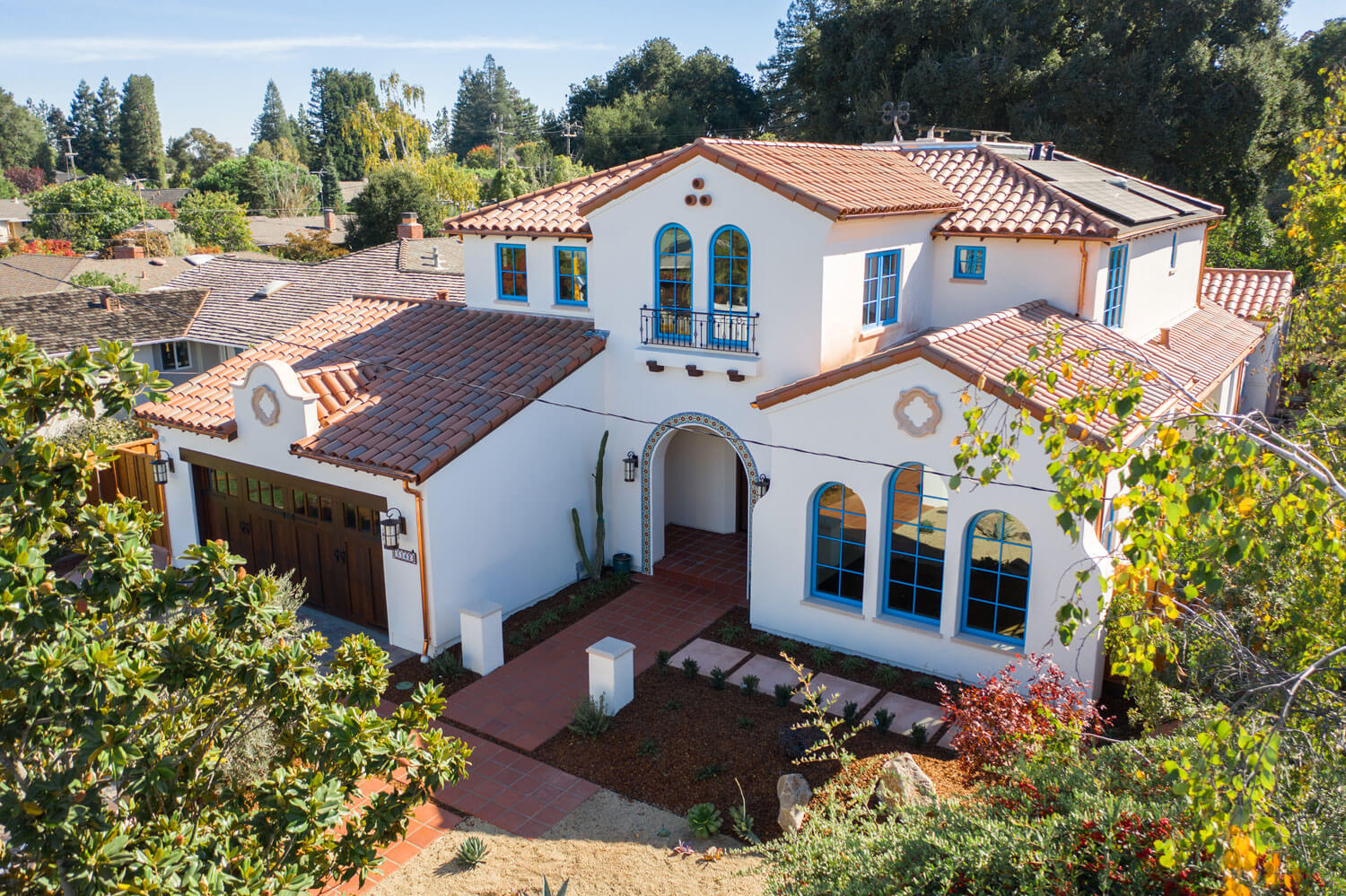 Guided by the desired architectural style, Timeline set a goal of adhering to authenticity as much as possible, while still affording the homeowners the luxuries of modern-day living. Authentic touches include a small Juliet balcony over the entrance door, wood windows and ornamental medallions on the exterior walls that are also carried through in the home's light fixtures.
As for modern-day concessions? Given the second floor's gallery design, Matthew suggested overhanging the trim around the perimeter of the railing, allowing for LED downlights: "Since there's not a hallway directly between the kids' bedrooms and the parents' bedroom, if the kids wake up in the middle of the night, they can safely follow the lights." And while the loggia, the covered patio with archways at the back of the house, is stylistically appropriate, the addition of heat lamps opens up the possibility of year-round outdoor living.
Another challenge Timeline faced was making the new home look at home on a street predominantly lined with one-story ranch houses. Matthew believes his company met its objective. "When we were having the public hearing, one of the planning commissioners said, 'That looks like the house that was there when it was all orchard,'" he recalls. "That was the plan, so we were successful. We wanted to give it a sense of history, a sense of age and place."
With the last roof tile in place, Timeline celebrated that success with its client, marking the milestone with a shared open house for colleagues, family and friends. As Timeline prepares to mark its 30th anniversary in 2020, Matthew sees the project as a perfect reflection of the business he literally built: "It's our job to dig out of the homeowner what their desire is, what their objective is, what their vision is and to take our expertise and bring that to life." tldesign.net