If you think eating something that's 100 years old would be crusty, you'd be right. But in the case of Little Sky Bakery bread, it's also delicious.
What began as a personal interest to bake with an ancient starter (with 100-year-old origins) for Menlo Park newcomer Tian Mayimin, evolved into cooking for two sets of parents the next month (who were visiting her and her husband Dan's new Menlo Park home) and ultimately into the popular Little Sky Bakery.
Little Sky (the English translation of Tian Tian, a family term of endearment for her) is a bakery run by Tian with help from Dan (a Stanford professor) and partner Yan Xu. Run out of their personal kitchen, via a Cottage Food License, the bakery currently delivers to homes in Menlo Park and Palo Alto (inquire about other areas) and can be found at Café Zoe in Menlo Park and at various local farmers markets on the Peninsula.
Tian and her team get up way before roosters to bake their bread fresh daily—varieties such as raisin walnut, olive rosemary, country, bulgur and challah. (This writer is enjoying a delectable sample of chocolate cherry pecan bread while writing this article.) Tian also whips up creations like lemon coconut scones, pistachio- and nutella-filled challah buns and a decadent chocolate pistachio apricot jam layer cake.
Bread baking begins with feeding the starter daily to make the naturally fermented bread. The main ingredients are flour, water, sea salt and wild yeast. The process takes two to three days. Tian shapes the breads the day before and then bakes the morning of sale days. For the Sunday Farmers Market in Menlo Park, she and her team are up at 2:00AM to bake enough bread. It concludes with customers lining up to buy Little Sky Bakery's high-quality artisanal goods—Tian and helpers quickly bag up the loaves, with Dan and Yan still baking away to replenish the stock.
As for her inspiration, Tian credits her family's ties to the wheat-rich region of northwest China. "I grew up being very familiar with dough and it being a very warm sense of family," Tian says. "My parents and grandparents were constantly experimenting with different dough."
It was at the outset of the business, when Little Sky Bakery was only delivering door to door in Menlo Park, that Tian discovered a sense of community in sharing her bread creations with neighbors. Now selling their bread much more broadly at markets, Dan notes the satisfaction in knowing that hundreds of people are eating their creations by the end of the day. "Showing up with bread, you really feel such a part of the community," Tian reflects. "There's something so special about being the local baker. Bread is a staple."
Prior to her baking career, Tian worked as a lawyer. She recalls having a client who created physical products based in Taiwan, which piqued her own desire to create something. Segue to today, and Tian draws parallels with designing new breads and creating new flavors and product development that many in Silicon Valley can appreciate.
"The part about baking that really appeals to me is the creation of really delicious things that people are so happy to get," she says. "I aspire to create X (bread). The ideal raisin walnut. The ideal country bread. My ideal. You're bringing the best of yourself into it."
Tian also loves the interaction she gets to have with customers. "The best of myself is the love of product and the love of engaging with people. This allows me to do both, which is why it's so fabulous. I'm amazingly lucky," Tian says.
As for Tian's favorite bread? It's raisin walnut. The best way to serve it? Tian suggests simply slicing it and spreading with butter. Alternatively, she says you can't go wrong with a gourmet nut butter and jelly sandwich—a new take on the ol' PB&J. Adding to the convenience, you can find quality nut butters and jams at your local farmers markets.
In thinking about her community, Tian is concerned with the modern trends of how we make food choices, even in a thriving, resource-abundant area like the Peninsula. We're susceptible to the quick and most affordable option, she points out, without taking into consideration the time, effort and quality of ingredients that go into food like fresh-baked bread. "We've gotten used to paying for bad bread in America," she says. "I can't believe it when I think about the work and effort and ingredient cost we put into a loaf of brioche."
The next step Tian envisions is a local brick and mortar retail location as the kitchen and home of Little Sky Bakery—which she hopes to make happen within the next few years. In the meantime, you can meet the sweet and personable Tian when you're shopping at a farmers market, as you make your selection before heading home to break bread with family and friends.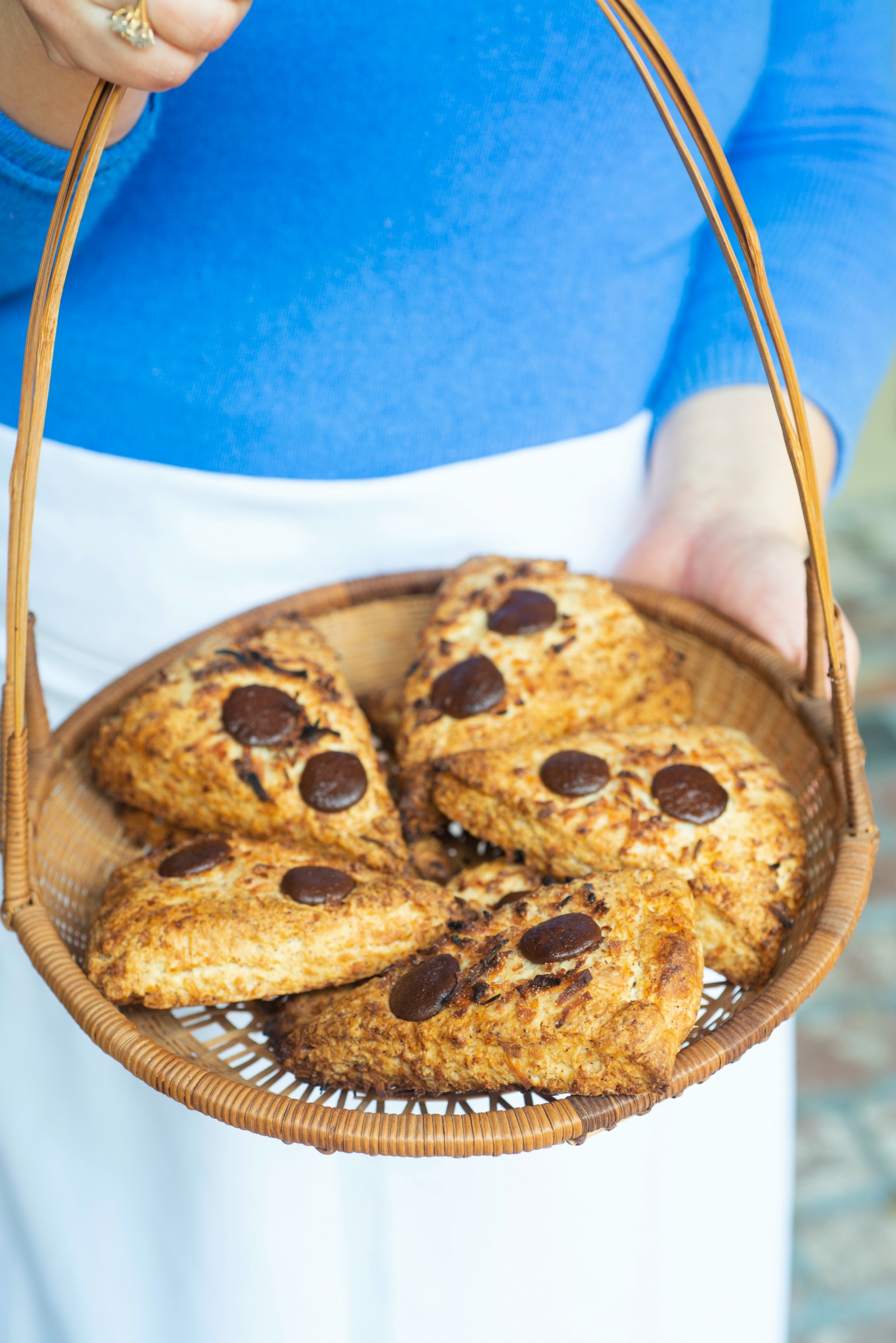 little sky bread delivery and farmers markets
Menlo Park and Palo Alto delivery: Monday, Wednesday, Thursday and Friday
Portola Valley Farmers Market: Thursday, 2:00PM-6:00PM, 765 Portola Road (year-round)
Downtown Palo Alto Farmers Market: Saturday, 8:00AM-Noon (mid-May to mid-December), Gilman Street @ Hamilton Avenue
Menlo Park Farmers Market: Sunday, 9:00AM-1:00PM (year-round), Chestnut Street
Mountain View Farmers Market: Sunday, 9:00AM-1:00PM, 600 West Evelyn Avenue (TBD in May/year-round)
what to do with no-longer-fresh bread 
There's nothing like fresh bread, but what happens when you have leftovers? Here's Tian's recommendation for making the most out of hard, week-old loaves. Make a ribollita. It's fast, easy and comes out looking fancy. "This is super simple, wholesome and a very hearty and flavorful dish," says Tian. "It's one of my favorite things to do with leftover bread. It's completely fine to use bread that's quite dry or old for this dish, since the tomato juices revive it right up."
make it
BRUSSELS SPROUTS RIBOLLITA
Ingredients
Bread (I like country bread but you
can use any type, preferably one
with a good crust.) Cut or rip it into
1-inch pieces (or smaller or larger
as you prefer).
Brussels sprouts, cut into pieces
Onions (usually ½ or 1, any type),
sliced
Olive Oil
Salt/pepper to taste
Garlic (optional)
Eggs (optional)
Chili flakes (optional)
Instructions
Heat oil in a flat pan. When it's hot, put in the onions (and optional) garlic and stir for a few minutes. Then put in the Brussels sprouts and cook on medium for another 5-8 minutes until the Brussels sprouts and onions start to soften. Add bread pieces. Cook for another 5-8 minutes until the bread has softened and soaked up the vegetable juices. Salt/pepper to taste. If you like a spicier dish, you can add some chili flakes. I sometimes crack an egg or two on the side of the pan so there's an egg over -easy with this dish.