It didn't start easy. Adam Azevedo was born with cerebral palsy, grew up around an abusive stepfather and experienced homelessness in San Francisco for several years. When he worked as a firefighter, he witnessed tragedies while battling wildfires and rescuing people after grim car accidents. 
Given his first-hand experience with some of the toughest challenges and suffering a human has to face, Adam could be excused for possessing a nihilistic attitude. But he remains unshakably enthusiastic.
"He's basically my therapist, my nutritionist and my trainer all in one," is how client Lauren Altbaier describes him. "The adversity he has overcome in his life is channeled into his motivation and care for others."
As the founder and CEO of the San Mateo-based mobile physical training and wellness company Lyfe2U, Adam emerged from hardships with a newfound purpose: Inspiring over 300 clients to live their healthiest lives. 
It's the same mindset he once used to push himself out of a vicious cycle of habits. Adam cuts a lean, athletic figure these days, but he still remembers stepping on a scale in 2006 and weighing 310 pounds. At the time, Adam was between stints working for Cal Fire, and still trying to work through the tribulations of his turbulent youth. In that moment—staring at the number on the scale—he realized he had to chart a more sustainable course for his life.
"I was drinking a little too much and eating unhealthily," he admits. "I'm kind of an all-or-nothing type of guy, so I needed to go all-in on the other way."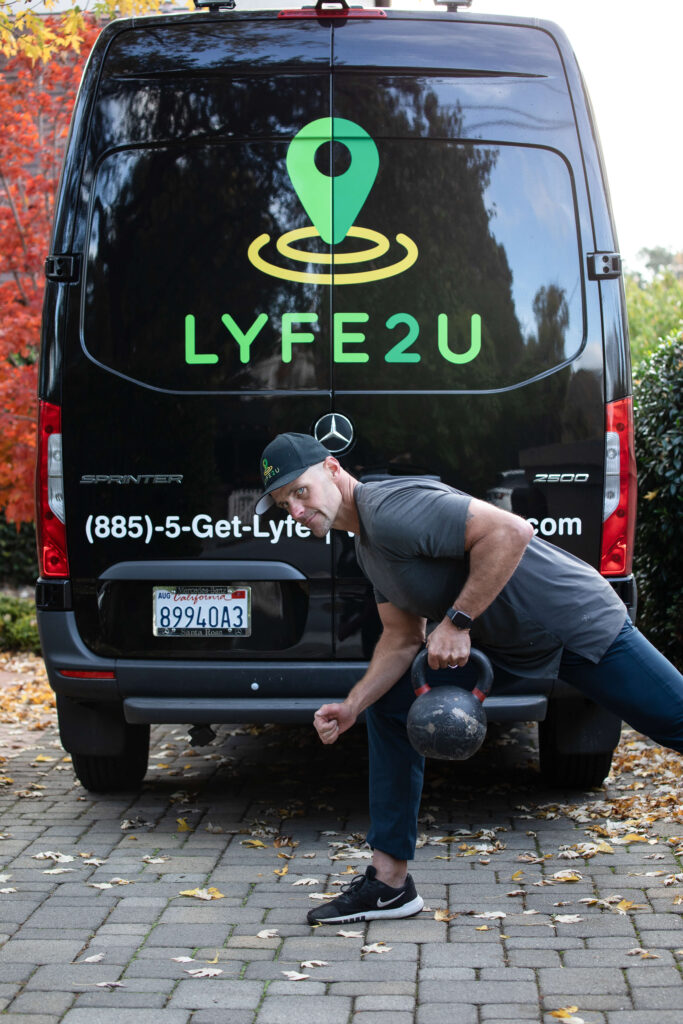 For Adam, "all-in" meant relinquishing drinking and reforming his diet. He says he cut off many friends who were poor influences on his lifestyle and then returned to the fire service. Pushing himself further, he completed a master's degree in psychology from California Coast University in Santa Ana. 
Hearing the unfamiliar terminology his therapists used, Adam was naturally curious about the science behind the advice they gave him. Earning his degree was also an extension of his therapeutic process, satisfying a desire to know what was going on in his head and better understand the abusive treatment in his past.
But the most lasting takeaway from his studies was learning the art of motivation.
"The mind is like the doorway into the soul," Adam says. "How do you affect the mind? You learn how the mind works, you learn psychology—if I could get people to change the way they think about things, then it would affect the way they live."
Today, Adam tells his clients how bad decisions beget bad decisions, whereas good decisions build upon prior good decisions. As past-Adam neared the end of his master's degree, he was taking his own advice to heart. With his physical and mental metamorphosis underway, he started helping other firefighters with unhealthy habits. He took charge of the firefighter fitness program for his district, writing comprehensive fitness plans for the stations.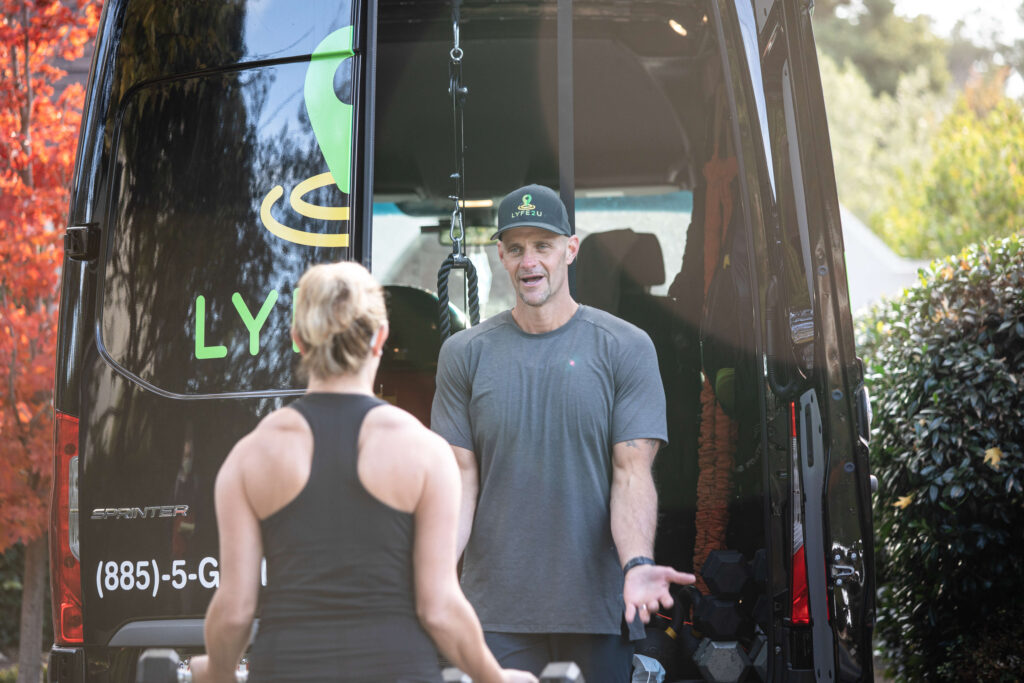 His fresh joy for life carried over to his day-to-day firefighting duties. Once, when called to the scene of a suicidal person, Adam revived the victim through CPR. He then sat with the person and relayed his own life story.
"When you live right, life works out," Adam says with a relaxed confidence. "When you eat right, you feel better. When you exercise and move right, you feel better."
Adam greatly credits his close family for his turnaround. He's known his wife, Lyndia, since he was nine years old. He says she has supported him through his darkest hours and that his goal for Lyfe2U is to grow the company to a point where Lyndia can retire from her job as a nurse. 
When the couple had their son, Rudy, in 2014, Adam says it was another transformative moment for him: His identity morphed from firefighter to "Rudy's dad."
"My whole goal in life is that he would never have to experience anything that I did as a child," Adam says. "To make Rudy's life better than mine—that's all I really live for." For Adam, the sentiment only intensified with the birth of his daughter, Neyali.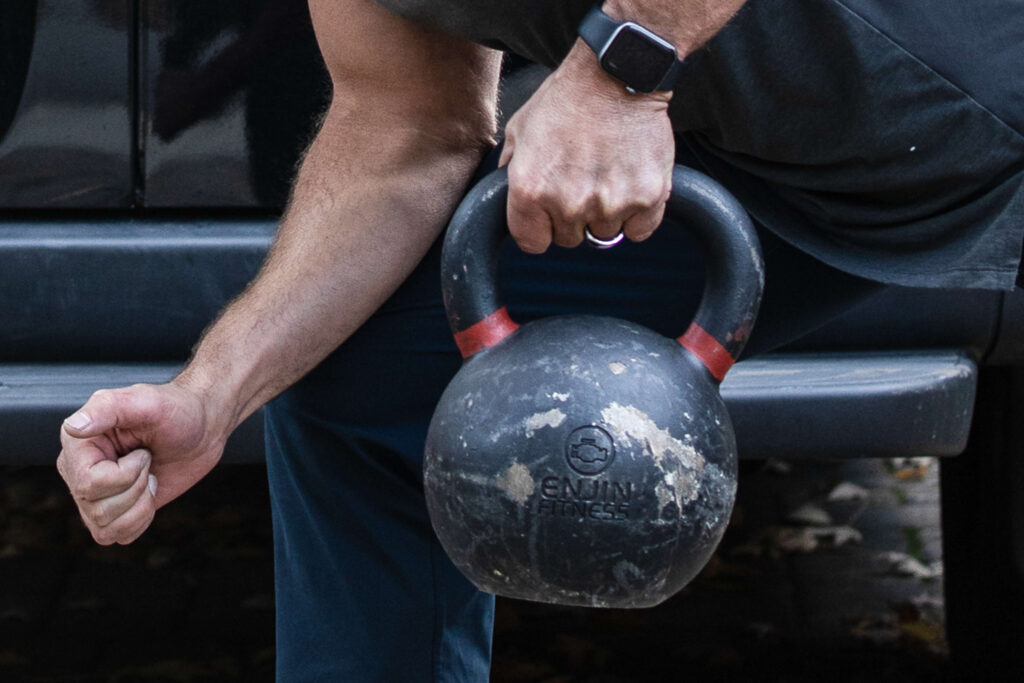 The idea for Lyfe2U came to Adam after his experience working as a personal trainer. Adam's self-taught motivational skills and natural ability to build relationships set him up for success when he landed a job at a local Equinox gym. There, he learned the nuances of personal training and saw up-close how well his voice resonated with clients.
"One woman I trained had a goal to 'feel comfortable' in a gym," Adam recalls. "Within two weeks, we're doing pull-ups and lifting weights, and she had this look of empowerment in her eyes. I realized that through fitness, other than just getting buff or losing weight, I could really help change people's lives."
Adam launched his own gym and personal training service in 2018, and his community of support continued to grow. In 2020, as each Peninsula industry encountered obstacles, Adam was quick to adapt to his trainees' demands for outdoor or virtual workouts.
"Ninety percent of my customers said, 'I don't want to give this up because it has become a part of my lifestyle," Adam recounts. "As a trainer, that should be where we are focused. My goal for them is that in a year, they wouldn't even need me."
Working with his team of Lyfe2U trainers, Adam offers an array of health and fitness opportunities to match the needs of a diverse client base, whether it's a young athlete, a 50-year-old seeking to regain his former "football body" or a 75-year-old working on balance. Adam's retrofitted moving van now stores a jungle of gym equipment, which allows Adam to train clients in their driveways, yards or public parks. He also conducts virtual group fitness classes and nutrition seminars, as well as coordinating corporate wellness programs.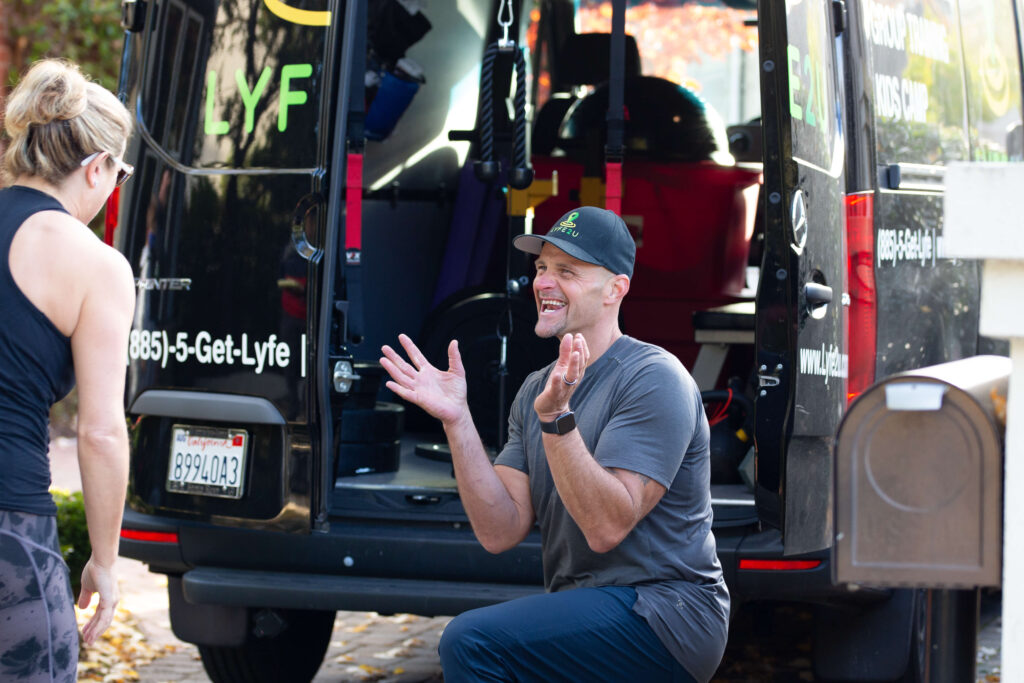 Ultimately, he just wants to make healthy living more enjoyable for each client—however that manifests itself.
"My goal is that you'll always feel better after rather than before," Adam says. "In training, you hear all the time, 'no pain, no gain.' But that's not my model. I want you motivated to work out the very next day."
Given the success of Lyfe2U, Adam also started coaching other gym coaches and personal trainers on how to work with clients outdoors and at their homes. He relays how the personal and intimate relationships that he builds with clients are held with sincere regard and respect.
"I don't take it lightly that someone lets me onto their property to help them exercise," he says. "They let me use their restrooms and they let me meet their kids. With almost everyone I work with, I'll work with multiple members of their family. This is a huge honor."
Take, for example, the entire Altbaier family, all of whom have become Lyfe2U clients. For the last year, Adam has worked with Lauren on her strength and conditioning. After seeing Lauren's progress, her husband Chad began joining them in their Burlingame driveway. Then Chase, their 10-year-old son, started doing speed and agility drills. "It's become a real family affair," observes Lauren. 
Heading into 2021, Adam continues to embrace what he calls "a complete transformation of perspective." Whereas he used to wonder, "Why do all these bad things happen to me?" he now finds himself pondering, "Why is life so good to me?" It's a mindset (and eventual reality) shift he tirelessly works to convey to his clients: "Life is way too great to not be lived to its fullest—I'm a perfect example of that."
Adam's 2021 Top Tips:

+ Be grateful. Expressing gratitude for what
you have helps you forget what you don't.

+ Set realistic goals that start small and build
upon each other. 

+ Serve others by giving of your time,
talents or treasures. 

+ Move more tomorrow than you did today.

+ Embrace the feeling of an increased heart-
rate and sore muscles. 

+ Pick a fitness goal to achieve each month, e.g.
walk or run a mile, perform a 1-minute plank.

+ Drink fewer calories.

+ Eat more locally-grown seasonal foods.

+ Be creative with a variety of food choices.