Words by Christina Chahal
"When you go to any city or village in France, you will encounter a very nice place to shop and a very nice terrace to have a pastry and coffee. It's hard to find that experience in the Bay Area and I am surprised, since it's always beautiful and shiny outside."
Such was the observation-turned-inspiration of Laurent Pellet, the Lyon, France native behind Maison Alyzée. His authentic French bakery and cafe opened first in Mountain View and more recently in Burlingame.
"I want to create the feel of a high-end French pastry cafe and have people come in and say, 'Wow, this is like Paris!'" notes Laurent, a former business executive who, with his wife Jelena, an electrical engineer, moved to Silicon Valley in 2011. As their lives and family expanded in Menlo Park, they kept thinking about a concept to share the traditional elegance of France with their friends and neighbors here on the Peninsula.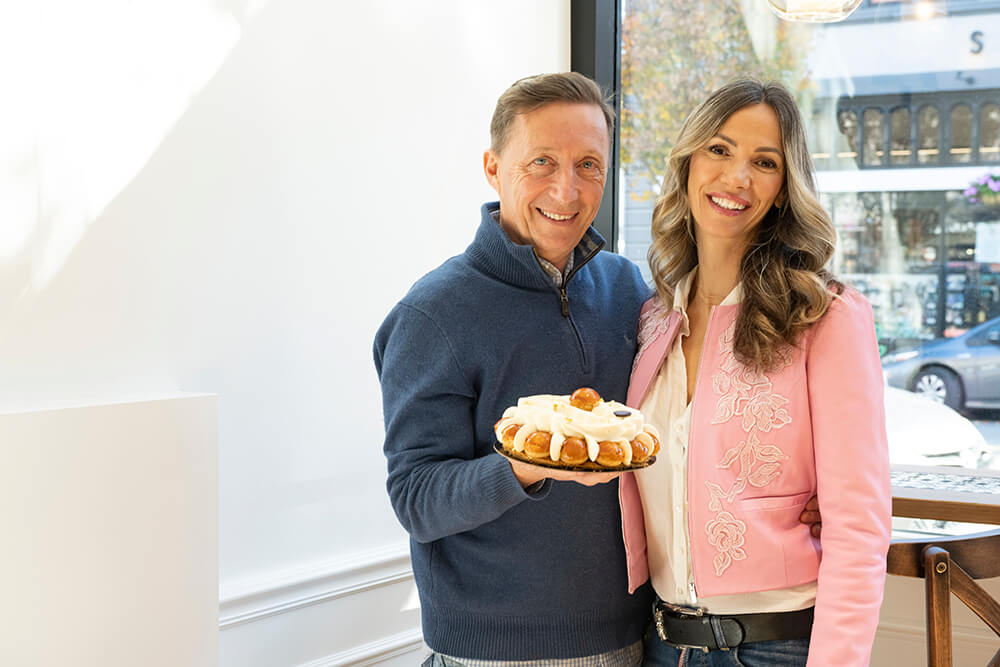 "I like beautiful things, I like art, I like design," asserts Laurent. "My thoughts were, we have such knowledgeable people around and they are very clever. They are just waiting for a unique type of product to come to them. Pastry is art. Pastry is infinite art in terms of creation."
By "unique," Laurent means only the highest quality. He offers the most refined French pastries and breads—croissants, baguettes, cakes and other desserts—he can provide, in addition to a few savory light lunch items such as quiches and croque monsieurs. In order to accomplish that goal, he and Jelena assembled a team that understands what they want to achieve. They rely on the talent of master bakers from some of the top French pastry schools, two of whom have been assistants to one of the Meilleur Patissiers, the best pastry maker named annually in France.
"When I speak to my chef, I tell him, 'There is some beautiful product that I want to make,' and he'll say, 'They only have these in Michelin star hotels.' And I say, 'Fine,'" explains Laurent. "We source only the best ingredients, the best chocolate, nuts, butter, flour. I don't compromise because I care about them being good."
Customers who may be new to handcrafted French pastries initially indulge in something familiar, such as Maison Alyzée's signature chocolate cake tart. "I have never seen one of our chocolate tarts left uneaten," declares Laurent. He explains that people may start with chocolate, but then he'll guide them to a more unconventional dessert like the Harmony, a sophisticated delight created with a praline crust, dark chocolate brownie, milk chocolate mousse and dark chocolate ganache, all made with luxury Valrhona French chocolates.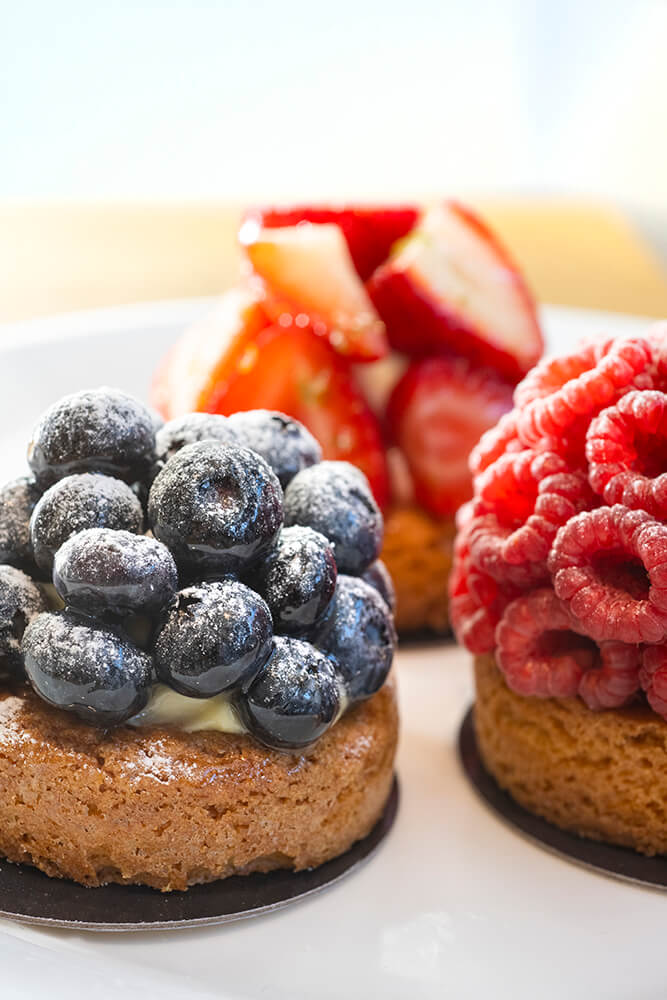 "The Harmony is a complex dessert because it's more interesting, with the opposition between chocolate and the praline crust," notes Laurent. "It's beautiful from a design point of view with its shiny dome."
Those who are already familiar with fine French pastry will be pleased to find the Maison Alyzée version of French classics like the mille-feuille, puff pastry prepared with French butter and vanilla cream. Or the Paris-Brest, a pâte à choux (or puffed dough) prepared with almond and hazelnut cream.
Laurent describes his pastries as being low on sugar, in fact as low as possible. "If you put in too much sugar, it will be sweet but not necessarily good," he points out. "We try to make it more modern and more light."
Part of the Maison Alyzée experience is learning about the structure and ingredients of the desserts. When Laurent meets a customer, he tries to explain what each pastry is all about and share his enthusiasm for what makes it special. "It's not about selling a cake," he says. "It's about sharing because I care. It's not a mercantile but a philosophy."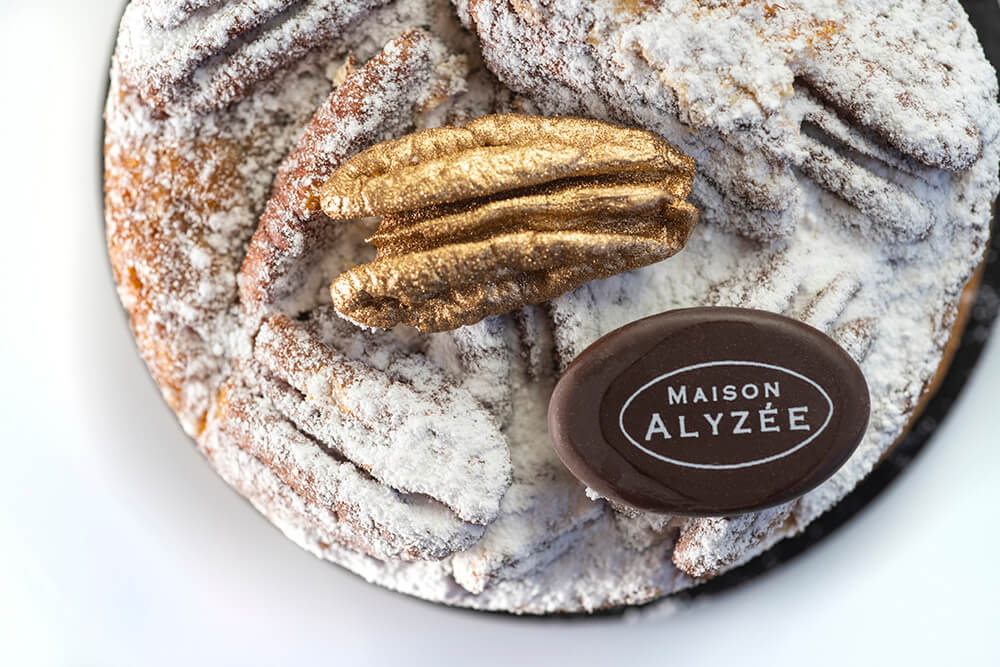 That philosophy extends to the decor, such as lighting, tables and accessories sourced directly from France. Laurent and Jelena went to great lengths to infuse elegance into the space, so that whether you're in the Trocadero neighborhood of Paris enjoying a pastry with a view of the Tour d'Eiffel or on Burlingame Avenue enjoying the California sun, it will be the same table, the same chair, from a long-standing, handcrafted furniture company in France. "Of course, the beautiful desserts and the cakes make people feel special most of all and I want customers to feel special," notes Laurent. "I explain to the team, this is how I see the Maison Alyzée brand: elegance, refinement and style." Jelena nods in agreement, adding, "When people walk in and they have a huge smile, we know we are doing something right."
Moreover, Laurent and Jelena really appreciate how the local community has encouraged them on their way to becoming small business owners. "It's nice to be in an environment where you feel supported," reflects Laurent. "For a European, it is really something unique the way that people here like to help, to reassure you in what you're trying to achieve."