words by Sheri Baer
When it comes to pure imagination, forget Willy Wonka. Step inside the world of Timothy Adams. Bold striped walls of magenta pink and bright sky blue. Polka-dotted boxes. Champagne coupe towers. Leaping rabbits. A menu of luscious sipping chocolates. And a tantalizing display case of truffles so exquisitely crafted that they overload the senses. 
"It's an inside-out candy box fantasyland" is how co-owner Adams Holland captures that first impression. "We want childlike delight when someone walks in here—you want to be inside the box."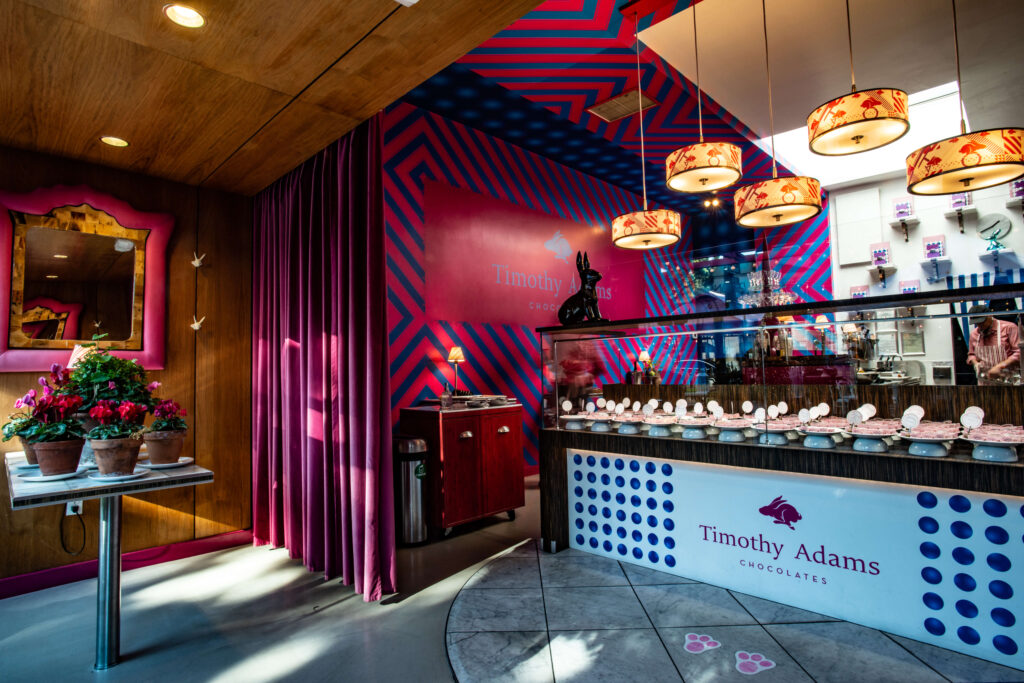 For Adams and his partner, Timothy Woods, this life-sized candy box, also known as Timothy Adams Chocolates, represents a blending of their first names and shared passions for the culinary arts, fashion and design. "We are really selling happiness," says Tim. "Everyone can get one piece of chocolate—it's a luxury item that's approachable for everyone."  
Going back 30 years, this sweet journey started in Fresno, where they were both working in restaurants. Within three months of meeting, they bought a house together and by 1995, just two years later, they had designed and launched their first restaurant, Echo. "It was farm to table before farm-to-table was even a term," says Adams. "It was really a spectacular place with Tim in charge of this beautiful, beautiful menu." For the next 10 years, the couple kept busy with Echo and design commissions—but on a trip to Amsterdam, they began to hear the call of the cacao bean. "We went to this chocolate shop called Puccini Bomboni," recalls Tim," and we fell in love with the chocolates. We just ate them all day long."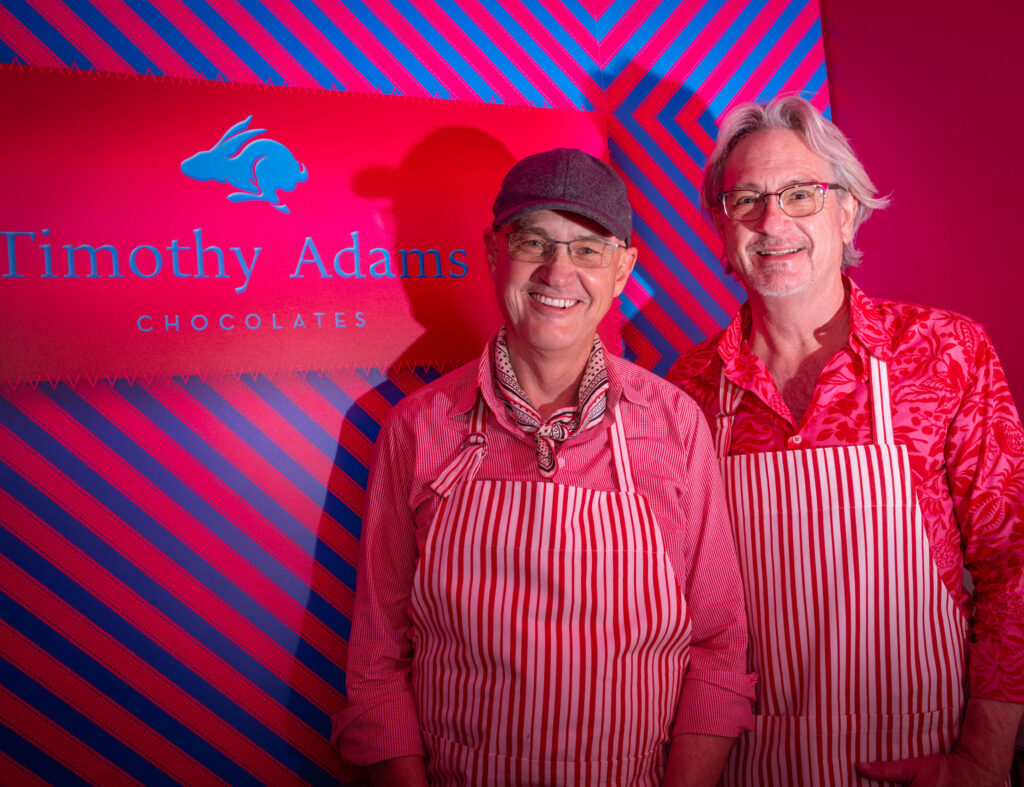 Eating chocolate. Talking about chocolate. Thinking about chocolate. Learning about chocolate. Tim gleaned inside tips from Puccini Bomboni, attended the Callebaut Chocolate Academy in Chicago and took classes from Alice Medrich, the Cocolat chain founder known as the "First Lady of Chocolate." In 2006, the pair obtained a cottage industry license and officially became chocolatiers. After moving to the Bay Area, they initially sold to farmers markets and stores like Emily Joubert's and Neiman Marcus. In 2014, a stop to check out a chocolate shop on Bryant Street in Palo Alto instead revealed a "Closing!" sign—which led to the brick-and-mortar opening of Timothy Adams Chocolates. 
What patrons currently see in the display case is the third edition of truffles produced in the store. When Timothy Adams first launched, they started with a hand-rolled approach, followed by a molded stage, similar in shape. And then in 2015, Tim and Adams began imagining their personal chocolate holy grail—the deceptively simple-sounding "button." 
"We both have this addiction to fashion," confesses Tim, explaining that it's woven into every aspect of the store—whether it's graphics resembling clothing labels, stitching patterns on the walls or the use of buckles on boxes instead of bows. For years, the couple assembled a vintage button collection, captivated by the intricate artistry and whimsy. The potential for a creative connection crystallized, but it wasn't until the world slowed down in 2020 that they found the time to execute on their ultimate confectionary vision.    
"I took our button collection and I hand-illustrated everything in black and white," Adams recounts, "and we sent the designs to our graphics person with our color collection." With final artwork in hand, they tapped a team of culinary artisans to create silkscreens with tinted cocoa butter—each color a separate screen. "It's really an amazing process," he marvels.
Adams and Tim dove into reselecting chocolate vendors—narrowing samples from all over the world down to their top 20. "They all have different usages and ingredients, which you have to know before you even begin with the tasting," says Adams. Nodding, Tim chimes in: "We want to be using the best all-around everything in what we're doing."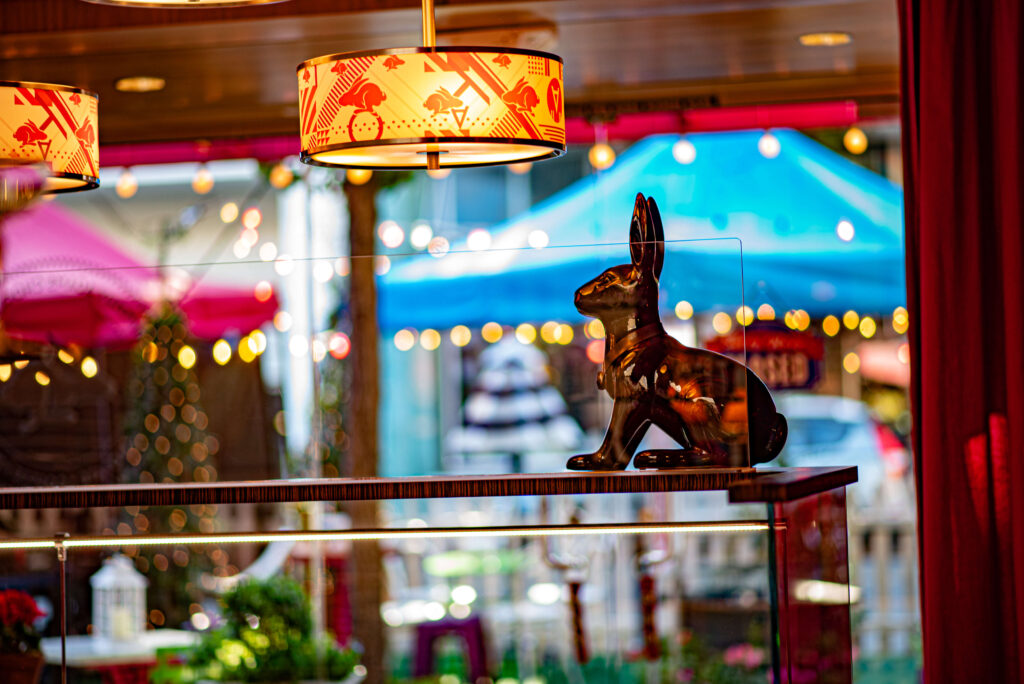 The shop (outside of seasonal surges) produces about 1,000 chocolates a day—small batches of 45 at a time. Beyond the use of a tempering machine and an electric mixer for marshmallow, every recipe is mixed by hand with a wire whisk. Whiteboards at the back of the shop outline which flavors are getting made. "After that's decided, we have to prepare all the chocolate molds where the silkscreens are placed," relays Adams. "It's the warmth of the couverture chocolate going into the molds that sets the pattern to the chocolate itself." 
Tim reviews the recipes at hand. "We have quite a few different caramels going on," he notes, before gesturing to a glistening tray of brittle. "There's a pistachio praline. We make our nut pralines in the old French manner—we pound them and fold them into the ganaches." Mint is on the agenda too. "We cover fresh spearmint with cream and soak it in the refrigerator for a minimum of 24 hours," Tim reveals. "Then we strain the mint out and use the scented cream to make the filling." 
How does a flavor find its vintage button match? Adams shares some of the thinking behind that process: "Hazelnut Praline has the crown on it and the Coffee Cream design is a little jarring, like a good buzz from a caffeine high. Orange just reminded me of citrus, we chose a more ornate image for the Passion Fruit and the 99% Dark Chocolate seemed heavy like the weight of an anchor."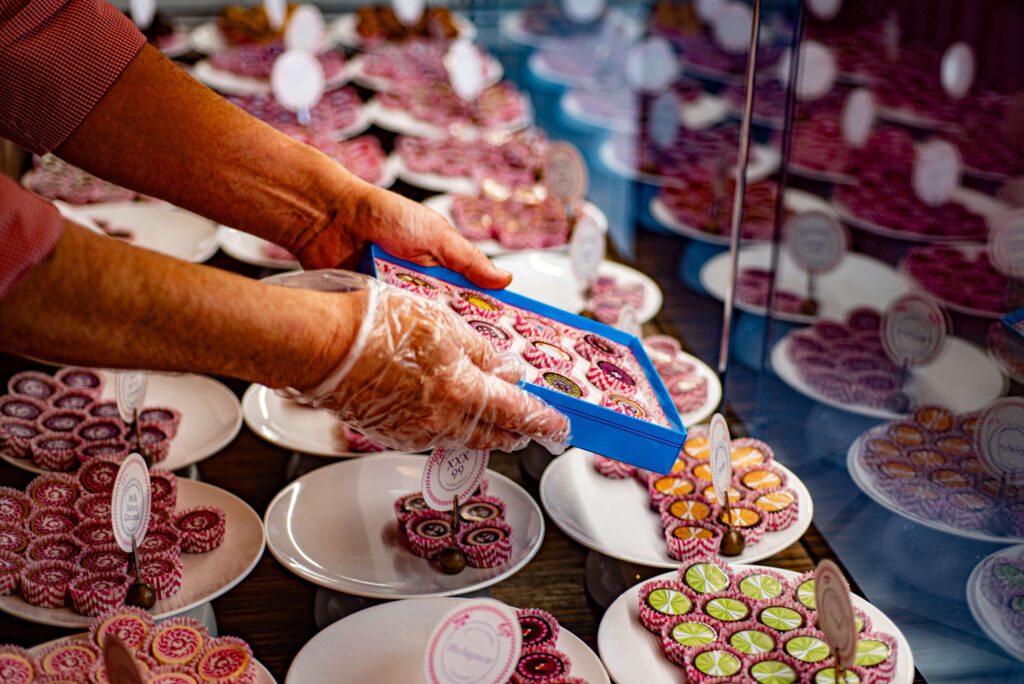 Stepping into the store is like entering a couture shop. "Everything is handmade and every detail is attended to," says Adams. "Your job is to stand on the other side of the case and make a few choices." For patrons, the selection process can be paralyzing, frequently triggering a helpful series of questions and prompts: Do you know what you like? Should I help you select them or should I select for you? Do you like nuts? Caramels? Berries? Alcohol or family-friendly? 
For Valentine's Day only, the shop offers an extra assist: a $38 pre-boxed 12-button offering featuring Raspberry, Passion Fruit, Rose, Madagascar, Salted Caramel and Crème Fraîche. "There will be a line out the door all day long," says Tim. "At Christmas time, they buy multiple boxes, but at Valentine's if they are buying multiple boxes, they have issues you don't want to hear about," he jokes. 
With popular chocolate-making workshops currently on hold, Tim and Adams remain focused on the online and in-store shopping experience. Also on the menu: coffee, tea, a create-your-own selection of decadent sipping chocolates, along with a carefully curated menu of "bubblies." However, they're the first to admit "our whole heart is into the chocolates, the buttons themselves." With the shop going on its seventh year (and 30 years into their relationship), the pair continues to embrace a common vision. "We both always look for the magic in life," reflects Tim, "and we also want to produce the magic."