"When you 'world travel' as a designer, you have a constant pulse on the world's global trends," says interior designer Colleen Dowd Saglimbeni, and she should know. Before starting her Peninsula-based interior design business, she was a former fashion designer for some top brands, including the once-ubiquitous Spiegel catalog. For several years, Colleen was living her dream as a successful businesswoman with a globetrotting life.
"A huge part of that job entailed around-the-world trips where we would start in the Pacific Rim, Hong Kong, Taipei, Seoul," recalls Colleen. "Then we'd go to India, lay over in London and come back home. So much of our time there was spent on factory floors, where the garments were being made, approving fit, fabrics and styles."
The world was her inspiration board, where Colleen would source ideas for new products and designs. "We would do a lot of our sample shopping in Europe," she notes. "We'd go to the fabric shows in Italy; we went to fashion shows and shopped in Paris. I look back and think, 'That was so fun!'"
Colleen's life as an artistic road warrior continued after she moved to the Bay Area with her husband for his job. She commuted from San Francisco to Chicago and around the world until external and personal developments gave her pause and prompted her to look for employment closer to home.
"I became pregnant and September 11 happened," she says, "and that changed the scene on travel." So Colleen sent a resume to Gymboree in Burlingame and got a coveted job as design director for Gymboree's Janie & Jack children's apparel and Janeville women's stores.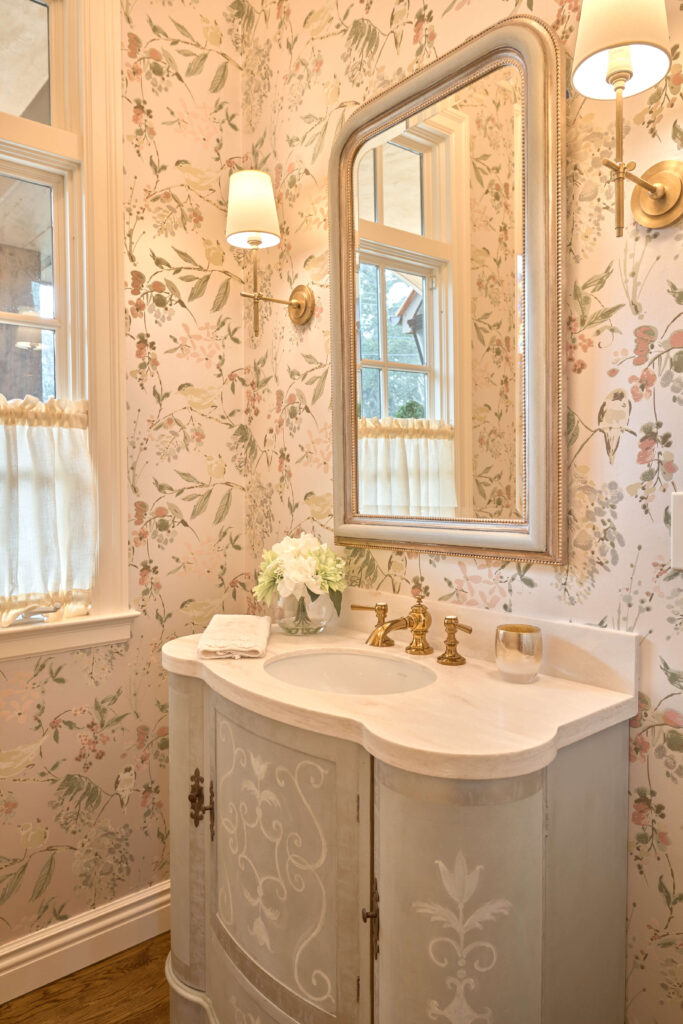 Looking back, Colleen recognizes that she committed to a creative path early in life. "I think I was really born to create and I definitely had a calling," she reflects. "I knew what I wanted to do very early on." Having grown up in the suburbs of Chicago, she eschewed the traditional college route for Otis Parsons School of Design in Los Angeles.
"As soon as I got to Parsons it was definitely an 'aha' moment," she says. "It was super exciting to have that epiphany and be surrounded by just incredible talent. You were judged not just by taking a test and studying, but on sheer ability. The fashion industry is so aggressive and can be very difficult, and it really prepared me for the real world."
Based on the successful track record that followed, Parsons prepared Colleen very well—but she ultimately realized that something needed to give. "I had two kids and my husband's job wasn't flexible, so I took a step back," she says. "I went from the top of my career to doing some freelance work." Then Colleen made another pivotal shift: "I just thought, 'I love interiors and I love fashion—why not marry them together?' They're so similar."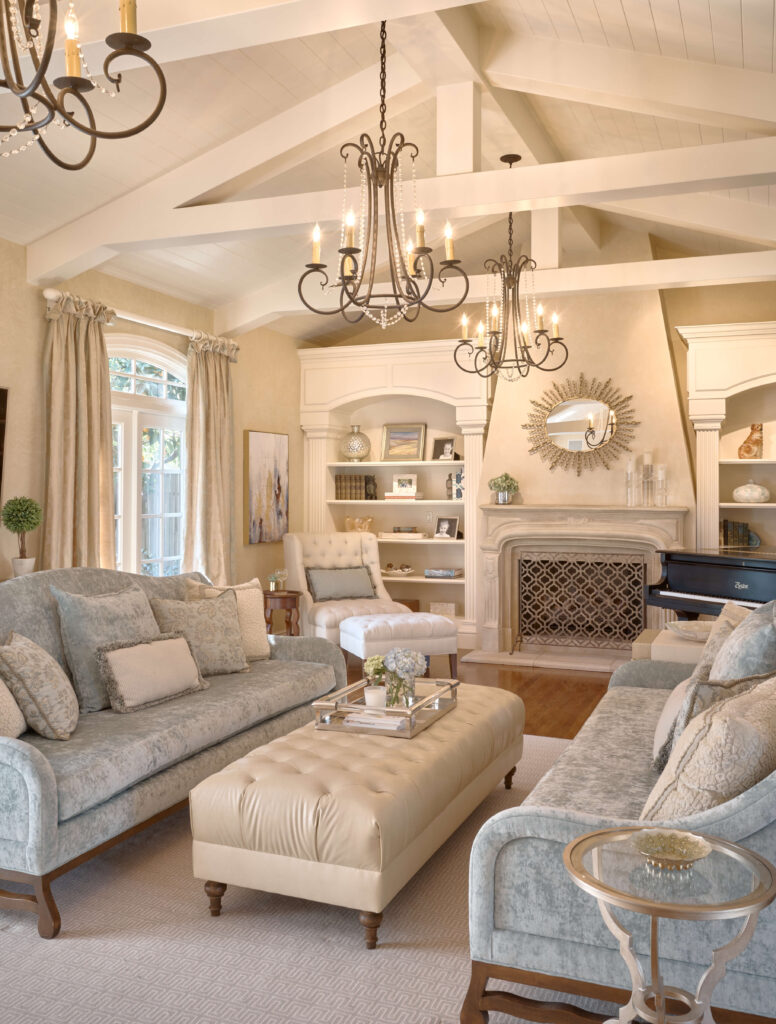 That's when CDS Interiors was born. Launched in 2006, it's been nonstop project after project, one successful client relationship at a time.
"My first projects came when all my friends were having babies and there was a need for ideas for children's rooms, and they didn't want something generic," Colleen says. "So I would come in and I would do hand-painted murals and monograms on the wall, things like quilt bedding and window treatments. For the older kids, I picked out wallpaper and did custom-upholstered headboards and pillows with beautiful trim and higher-end fabrics."
And while Colleen was creating special rooms for their children, the parents would peek in and take notice. "I started with kids rooms and then one friend after another would ask, 'I really need help with my master bathroom' or 'I would love a new bedroom.' It started very small and then my business just took off."
Colleen is now living and designing out of her home in Hillsborough, and a favorite project is a Menlo Park home she recently completed for a young family.
"It's a beautiful home," effuses Colleen. "A builder built the home to live in so the details like the moldings and the doors are exquisite and just the quality of the house is incredible. I came in and freshened up the overall look and feel and customized the interiors. All of the furniture in the living room was custom designed and made locally."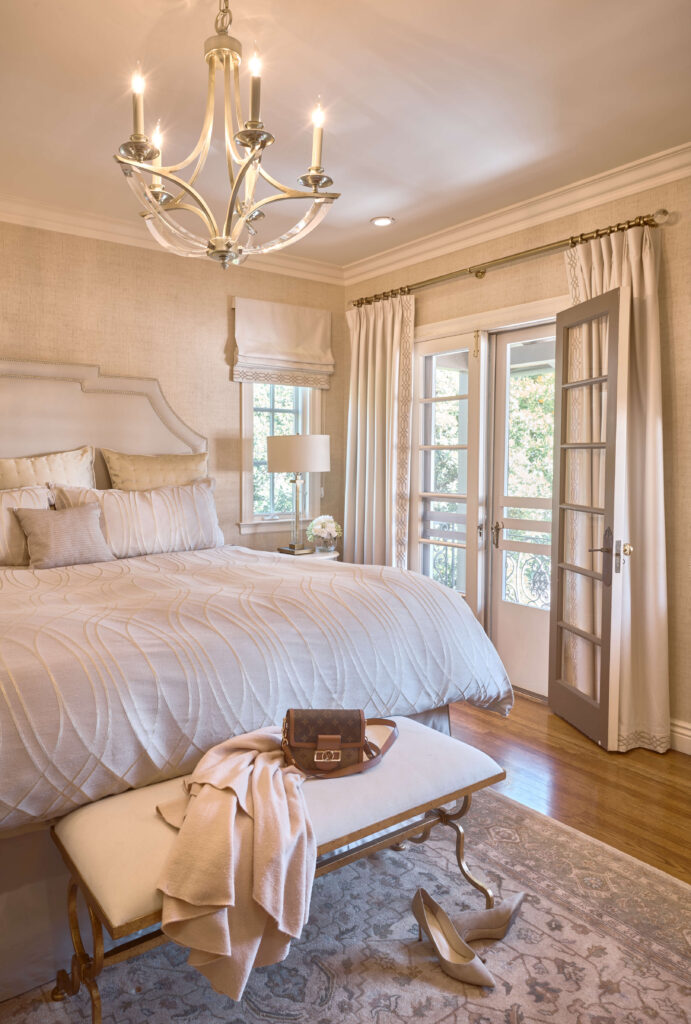 Colleen says her specialty is working with each client to personalize their style. "They wanted a home rooted in tradition, and my philosophy is that I always have to go with what the home tells me," she says. "I can't do mid-century in a traditional Tudor, and their home kind of spoke to that, but they didn't want it to look like their grandmother's house. So a lot of the fabrics we used look luxurious, but they are actually performance-based because their children are so young."
Another creative challenge for Colleen was how to update the look of all their antiques.
"For the dining table, I was told, 'This is my grandmother's and I love it but I hate it because it's so traditional,' so we reupholstered and replaced the springs in six of the dining chairs. We chose to do them in a really cool snake-printed leather with nailheads and then we added new armchairs that had a fun, updated shape." With a smile, Colleen adds, "It's not like your mother's traditional—it's more like a hip and updated traditional."
Colleen's goal is making sure that every house tells its own story. "I am not what you would call a stamp designer; there are designers who leave a similar look on all of their projects, but my philosophy is that it's not my home, it's your home," she says. "And so my goal is really to bring out the personality of what my clients want, to nudge them towards the impeccable design that they would do themselves. So in the end, it looks uniquely theirs."